When two-year-old Isabella Santos was diagnosed with neuroblastoma, a cancer affecting the sympathetic nervous system, in 2007, her mother Erin Santos was understandably crushed. Yet she fought alongside her daughter as hard as she could. For Erin, there was never a thought that, after losing everything, she would one day become a symbol of hope to countless families fighting pediatric cancer around the country.
During Isabella's battle, which included constant flights to New York City and then Philadelphia in search of effective treatments, Erin would often feel alone. The exhaustion resulting from chemotherapy and other treatments would only exacerbate the "terrible twos," and Isabella would throw fits followed by days of the silent treatment.
Looking for someone (or something) to vent to, Erin started a blog.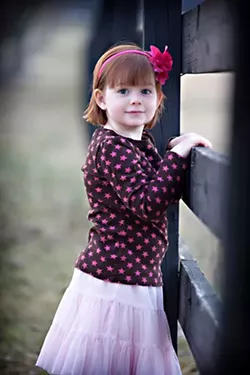 That blog caught my attention in 2008 and the unfiltered, raw emotion expressed within made me feel as if I had known her for years. I'd often find myself obsessively checking for new posts every day while in class at the local community college, fearing the worst possible news. Thousands of others across the country made a similar connection during Isabella's fight.
Erin's refusal to sugarcoat her experience and her knack for using humor to deal with the situation she and her daughter found themselves in would sometimes garner criticism, but for the most part, her writing drew praise from those who couldn't otherwise imagine what she was going through.
Erin continued to write as her daughter underwent five relapses, each time her chances of survival reducing drastically. She also founded the Isabella Santos Foundation (ISF) during this time, originally for help paying the mounting medical bills and funding the constant flights in and out of town. Within about a year and a half of founding ISF, it transitioned into a charity that helps fund collaborative pediatric cancer research both locally and nationally.
On June 28, 2012, after nearly five years of fighting, Isabella succumbed to the cancer. Erin continued to run ISF in her daughter's honor, while also continuing to write. She maintained her blog and published a column in The Huffington Post in 2013 titled "Awareness... What a Bullshit Word," lambasting the idea that raising awareness for pediatric cancer — or any given disease — can be an effective way of fighting it.
On September 24, ISF will run its 9th annual 5K/10K/Kids Run for Kids Cancer. This year's slogan is "Cancer messed with the wrong city." In the days leading up to the race, CL caught up with Erin to talk about how that slogan was inspired in part by the embarrassing passage of HB2, the limitations of treatment opportunities in Charlotte and why awareness still is and always will be a bullshit word.
Carrie Watts
The ISF Dream Team kicked off their most recent season in July 2016 with a visit to Isabella's gravesite, "to remind everyone of our purpose for running."
Creative Loafing: How did ISF begin and how has it evolved?
Erin Santos: We started the first year to help with medical expenses because we were going to New York to get treatment. But then once we started to meet more families and stuff like that, we saw that the treatment options were so terrible, so within that next year we switched it and had it all go toward research. It took about a year to have a turn to where it is now, which is more toward neuroblastoma research and stuff like that.
Luckily, we're a very grassroots effort, so we always had a great group of people around us who were our foot soldiers. A lot of time we were traveling or we were in treatment and whenever we had downtime that's when I would plug away at doing something for the foundation. Our races were always in September, and damn if she didn't relapse every August. It just felt like we would work, work, work, and then she would have a brain relapse and I'd be off the map for 30 days. We really had to push it towards a lot of the volunteers to keep things moving and just hope that we could show up that day. But then after she passed away we decided to bring in an employee and once I came on board everything changed, because now I devote my full time to that.
In the beginning it was hard because people were hesitant to give because they'd be like, 'Oh, well the Santoses make more money than me so why would I give to that?' But people didn't realize flying to New York and all that type of stuff, it was insane. While people want to support the family, I think we transitioned as, "Let's not just support her, let's support all of them." It's more purposeful giving to people to know that they're helping out the greater good instead of one person.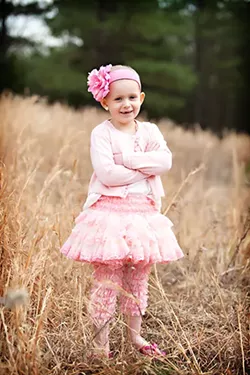 Heather Matthews
Isabella in 2011.
So where does the money go?
In the beginning we were giving to doctors that helped us along the way, but then as we started raising significant money we felt like it was our responsibility to become smarter about how we were giving. So that's when we started to find doctors that were doing things that were collaborating with other hospitals. We give a lot of money to Giselle Sholler out of Grand Rapids, Michigan. She heads up this group [called the The Neuroblastoma and Medulloblastoma Translational Research Consortium] with 25 other hospitals to where anything that she develops is eligible to go to any of those 25 hospitals, and Levine [Children's Hospital in Charlotte] is one of them.
This is the only way that we can give and make sure that kids in Charlotte can stay in Charlotte and the money that we raise is helping them but is also going to Charleston and Orlando and Columbus and Boston and all these different places.
There have been stories of charities both big and small misusing funds in recent years. Do you run into skepticism?
It's tough being a charity nowadays because I feel like people are waiting for you to fail. We're so hyper-aware of every dollar that we spend. We're at the point now that we probably need to hire eight people because we're so under water but we refuse to because we're trying to see what all we can do with the minimal resources that we have. It's insane, but I think it's just important to us staying where between 80 and 85 percent of our money goes to research. I just think that you can't support organizations that aren't doing that.
What organizations give you pause, for example?
Organizations that give big pots of money to other organizations like the American Cancer Society (ACS) or even St. Jude [Children's Research Hospital]. St. Jude doesn't have to raise another dollar for the rest of its life. They are PR geniuses. The ACS gives 3 percent of its budget to pediatric cancer research, and the majority of that goes to leukemia. So saying, 'Oh, I'm not going to support ISF because I support the ACS,' I want people to be more knowledgeable about where their money goes and whether that makes the most sense. And to think that, 'If my kid were diagnosed with neuroblastoma tomorrow, who's doing something that's going to save my kid?'
How do you keep ISF relevant despite Isabella's passing?
There's always going to be a shiny penny, and I know that people like to do what's new and hip and I completely get that. There's always going to be a kid behind Isabella that's new and exciting and everything like that. People want to get behind that but I think that they need to think about what the support that their giving is doing. If it's just a great, feel-good story and it's just bringing awareness to kids who have cancer, those things are all great but they don't do anything to save lives of kids.
It's not just about being on the Today Show and talking about a brain tumor or whatever, but what is that family doing that's going to change the life of my son if he were diagnosed with a brain tumor tomorrow. I think that's what we do a good job of; it's not just telling people what neuroblastoma is, or telling Isabella's story, it's kind of like, if you have a kid diagnosed tomorrow, we're the people that are helping you.
That sounds like it coincides with your thoughts on the myth of "awareness," which were well documented in your Huffington Post piece. Do you feel like that piece made a difference?
Carrie Watts
Erin and Dream Team runner Christina Sloat during a visit to Isabella's gravesite.
I do, because the thing is, you can put stuff out there and people think they're supporting you because they like your post, they share your post, they comment on something like that, but just being aware of what's going on and actually doing something is completely different. We're telling people, 'While we appreciate you reading my blog, do something about it.' I just think that too many people say they support children's cancer research but they send $20 a month to St. Jude, I don't know if that's really doing what needs to be done to change the lives of people like Isabella. I truly believe kids like her pass away because people don't do anything, or they think what they're doing is enough ... but it's not really any action, they're just being aware.
How effective are the current treatment options for neuroblastoma and pediatric cancer in Charlotte?
We were treated at Levine and Levine was absolutely wonderful in collaborating with [Memorial Sloan Kettering Cancer Center in New York City]. I think Levine knew when to take a backseat, which I think very few hospitals can maintain their egos well enough to do. Levine was great in that the care and bedside manner that we got there was unmatched anywhere that we've ever gone and so they're absolutely great at that. But I think they knew that for the forefront of treatment and the new things that were coming out, we were going to have to go somewhere else to get that.
I think you have to take your home city out of the equation and be the advocate for your child. Wherever the best treatment is is where your child should be. We need to make it to where that is Charlotte, and that's what we're trying to do. But as of tomorrow, it may not be the best place.
Are you optimistic for Charlotte's future in that sense?
I think in the next three to five years, kids are going to be able to stay. Because I think it is a business, hospitals know that if they don't offer the best ... Like with Levine, thank God for Greg Olsen [Carolina Panthers tight end whose son was born with a heart defect, inspiring his founding of The Greg Olsen Foundation, which runs The HEARTest Yard at Levine]. I mean, if your child has a heart problem, you're in one of the best places in the world. I think if we can get some foundations or charities backing Levine [in pediatric cancer research], we could be similar. I want to be helping push that cart up the hill. I don't want to have anyone have to leave. So I think that [Levine] knows that that's where they need to go and they're trying.
This year's race slogan is "Cancer messed with the wrong city." Why?
We try to do a different type of theme every year. We picked this initially because we just felt like the support that we get here locally is amazing. We don't have to beg and plead to get sponsors anymore, which is great, because I think people are starting to know us. Of course, we always need more.
But I think that with the recent things that are happening in Charlotte, I'm noticing when I travel that people are like, "Ughh, you're from Charlotte?" I think because of HB2 and being in the South, we're still dealing with a lot of black/white issues, and I think we just have a stigma against us. I try to tell people when I go somewhere, "That's not Charlotte. That's areas of North Carolina that I've never been to. I don't know where those people live, but those people aren't my friends. They're not people who support our foundation."
I kind of feel like I just want people to know that good things are coming out of Charlotte. I feel like it's been a long time since something new and innovative has come out of Charlotte that we can all be proud of. I know Girls on the Run was a great thing and I think that we're due for something new coming out of Charlotte that people can be proud of and I want that to be us. To kind of show that we're not the HB2 laws, that's not us.
Heather Matthews
Isabella in 2011.
What's your wish moving forward as far as reaching the people of Charlotte in a more effective way?
We don't do well in your readers' segment. We do really well with moms and kids, but for some reason we cannot figure out how to have your group of readers do something.
It's OK. You can use the M-word.
(laughs) I hate to use the word millennial because it's so broad and wide-ranging. It's hard to get people who don't have children to believe in something like this. I know that these millenials, they love to have a purpose for giving. And I always feel like that once they find it, they are so into it. They'll give anything for those things that they believe in, and it's hard to get them to see, even if they don't have kids, how important this is, because it is going to be them some day. Treatment options and funding and all this, it goes dog-ass slow and if you're 27, you know what, things may not be different for the next two or three years but in five years it could be dramatically different.
We need to get those people behind us and see that, even if you're not raising a kid, that's still important because this is your future too. And I think they're doing so many different cross collaborations between pediatric and adult that it's really not just neuroblastoma, everything deals with immunotherapies and it's all starting to cross over.
I think that age group needs to be behind supporting something in our community, making Charlotte great again, getting behind something that's good and honest and true and what they believe in even if it doesn't affect them personally. I don't feel like you always have to have that "Oh, my kid went to school with Isabella and that's why I'm involved with it."
What can people expect at this year's race?
First of all, getting people to come to a race is hard. There's so much competition. There's one every weekend, and I feel like races nowadays — I do the [Charlotte SoutPark] Turkey Trot, and I run it and I get my medal and my banana and I get in my car and go home.
We've created an event that is completely different from that. People show up at 7 a.m. and by noon we're like, "Hey, OK, it's time to go." We have a silent auction, a raffle, a kid's zone; it's a huge party and we want people to come there and have the experience of a different 5k/10k. Last year we had about 3,000 [people] and this year we're expecting to have around 4,000. We really want the scenery of the race to change. We want it to be more millenials. It's not all kid-focused. We want it to be something that applies to everybody. I also feel like when people come to our race, they come every year. They come and they're like, "This is insane. I had no idea." It's just such a great community feel. No one finishes and gets in their car and leaves, they stick around.
For more information about the Isabella Santos Foundation or to donate, visit www.isabellasantosfoundation.org.