What makes you lustworthy? I'm sexy, I'm sweet and I make guys want to take care of me. But, I'm also like one of the guys because I have attitude.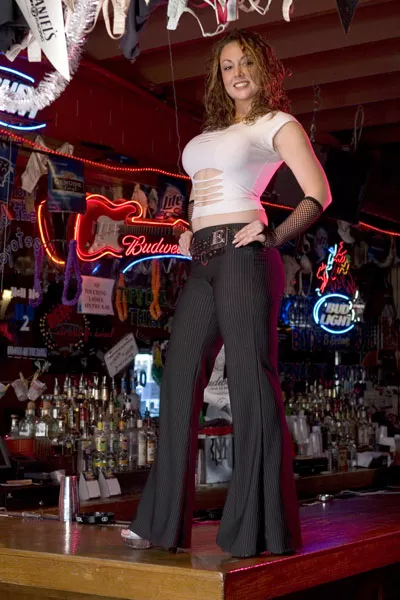 Most romantic thing you've ever done for someone? I like doing the whole bubble bath, strawberries, flowers, and champagne and stuff. I think that's romantic. I've always been the "Sugar Mama," so that's romantic. I'm always the one paying for everything.
Handcuffs or scarves? Handcuffs because they're sturdy. It's better than something like a scarf. Handcuffs mean something.
Who would you vote for: Barack Obama or Hillary Clinton? It would have to be a Libertarian candidate. I think the less government control, the better.
What's a deal-breaker for you? Being a whore. Serious players. If you're with another woman, then don't talk to me. I don't like cheaters. And cocky guys. Cocky like they think they're hot, they know they're hot, and you know, "What's up? Hey, give me your number." I'm like, "I'm not giving everybody my number." And they're like, "Oh, it's like that?" They get offended.
Best way to spend a Saturday night? If it's not dancing and drinking in a club, I'll be reading my little metaphysical hypnotherapy [book].
What job would you pick if you could do anything? I love to perform. It would be in the entertainment business. Not like a dancer. It would be an actress or a singer. Or eventually do something earthy, like going to the Peace Corps.
What do you do when you're not working? I'm doing aesthetician classes. It's like a healing field.
First date, third date or fifth date -- when do you put out? Depends on the guy ... or girl.
Lust List 2007
Dutifully serving Charlotte's SINful desires since 2006
Lust List
Bartender @ Coyote Ugly
Lust List
Doorguy @ Dixie's
Lust List
Boutique Manager @ Glamour Puss
Lust List
Doorgirl @ Forum
Lust List
Bartender @ CANS
Lust List
Head Stylist @ Lotus, Phillips Place
Lust List
Barista @ Starbucks
Lust List
Bartender @ Phil's
Lust List
Manager @ Abercrombie & Fitch, Carolina Place