(View From The Couch is a weekly column that reviews what's new on Blu-ray and DVD.)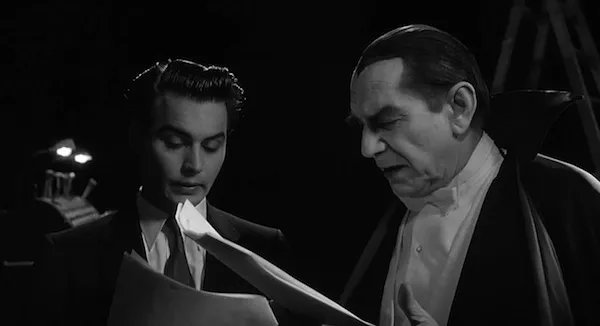 Johnny Depp as Edward D. Wood Jr. and Martin Landau as Bela Lugosi in Ed Wood (Photo: Disney)
ED WOOD (1994). Tim Burton's best movie also remains his biggest box office flop, more proof (as if we needed any) that quality and commerce rarely go hand-in-hand. A spirited Johnny Depp stars as Edward D. Wood, Jr., the hopelessly untalented, cross-dressing moviemaker whose eternally optimistic outlook serves him well as he goes to any lengths to get his pictures made. Boasting that he and Orson Welles are the only two people in Hollywood to write, direct, produce and occasionally star in their own movies, he relies on miniscule budgets and his offbeat friends to help him get such enduring turkeys like Plan 9 from Outer Space, Bride of the Monster and Glen or Glenda into the can. It's my bet that any other filmmaker would have made a dark, depressing movie out of this material — a downer about a sexually confused hack who surrounded himself with a gallery of freaks and rotted away in the bowels of Hollywood. But under Burton's sympathetic eye, this unique gem is actually a gentle valentine that celebrates the creative spirit, no matter how misguided that particular spirit happens to be. Yet for all its merriment, the movie's primary juice comes from the friendship between Wood and Bela Lugosi (Martin Landau), the once-prominent horror star downsized to a frail morphine addict by the time Wood met him. Their scenes are handled tenderly, and Landau delivers an astonishing performance that embodies irony, humor and pathos. Several critics' groups rightly cited Stefan Czapsky's crisp black-and-white cinematography and Howard Shore's ebullient music score in their year-end accolades, but the Academy's charity only extended toward Oscars for Landau as Best Supporting Actor and Rick Baker and team for Best Makeup.
Blu-ray extras include audio commentary by Burton and Landau; deleted scenes; a behind-the-scenes featurette; pieces on the makeup and production design; and a music video composed by Shore.
Movie: ****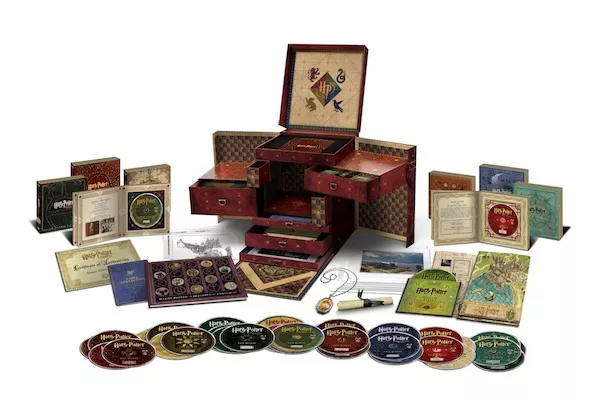 HARRY POTTER WIZARD'S COLLECTION (2001-2011). Film aficionados might have to take out sizable loans if they want to keep up with all the costly Blu-ray sets being released over the next few weeks. Indiana Jones: The Complete Adventures sells for $99.98, Alfred Hitchcock: The Masterpiece Collection hits the street at $299.98, and Bond 50: The Complete 22-Film Collection is priced at $299.99. All of that is chicken feed, however, when compared to the tag attached to Harry Potter Wizard's Collection, which is being offered at $499.99. What's more, while the other sets are new to Blu-ray, the Potter films have already been available in this format (both individually and together), meaning this new set is strictly for the diehards. In addition to containing the theatrical versions of all eight films (including 2-D and 3-D options for Harry Potter and the Deathly Hallows — Part 1 and Part 2), the 31-disc set also contains the extended cuts of Harry Potter and the Sorcerer's Stone and Harry Potter and the Chamber of Secrets.
The large box (weighing 19 lbs., according to the press material) also houses memorabilia designed exclusively for this collection: a poster of Hogwarts castle, a fabric map of Hogwarts and the surrounding area, a horcrux locket, concept art prints, and more. As for the bonuses on the discs, they include all of the features from the previous Blu-ray editions as well as over 10 hours of new material, including 50 Greatest Harry Potter Moments, A Conversation with J.K. Rowling and Daniel Radcliffe: Extended Version, and Designing the World of Harry Potter.
All Movies: ***
Peggy Dow, Charles Drake and James Stewart in Harvey (Photo: Universal)
HARVEY (1950). Playwright Mary Chase's Broadway hit Harvey won the Pulitzer Prize in 1945, so it wasn't too long before she was asked to co-write the inevitable screen adaptation. The result was a box office hit that provided James Stewart with one of his most popular roles. He stars as Elwood P. Dowd, a good-natured gentleman and frequent drinker whose best friend is an invisible rabbit that stands a little over six feet tall. Everyone naturally assumes he's crazy, and his sister Veta (Josephine Hull), worried about the family's plummeting standing in social circles, attempts to have him locked away in a sanitarium whose staff includes a dashing doctor (Charles Drake), his smitten nurse (Peggy Dow) and a hot-headed orderly (Jesse White). Stewart's Elwood P. Dowd is a soft-spoken philosopher and a friend to all — he's quite disarming, and so is this movie, which keeps audiences guessing as to whether Harvey the rabbit is a figment of Elwood's eccentric mind or really does exist. Stewart earned a Best Actor Oscar nomination for his gentle performance, while Hull won the Best Supporting Actress statue for her excitable turn.
Blu-ray extras include a special introduction by Stewart; the theatrical trailer; and two featurettes tied to Universal's 100th anniversary: The Carl Laemmle Era and The Lew Wasserman Era.
Movie: ***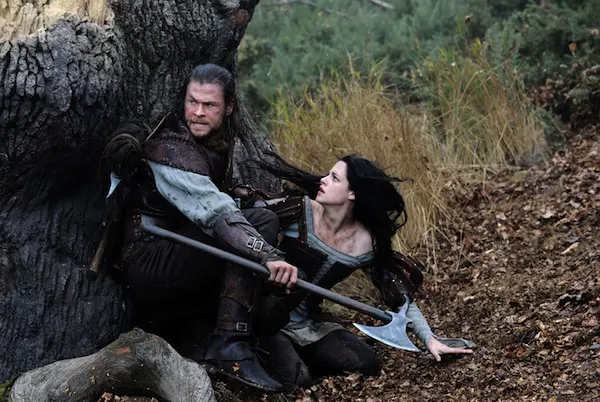 Chris Hemsworth and Kristen Stewart in Snow White and the Huntsman (Photo: Universal)
SNOW WHITE AND THE HUNTSMAN (2012). Let's get the obvious out of the way. No, not the fact that media twits and dim-witted fans need to stop making Kristen Stewart their sacrificial lamb for her affair with the film's director, Rupert Sanders (who, not surprisingly in this male-dominated society, has gotten off far easier) — what does her personal activities have to do with what's on screen? No, the obvious point is that Snow White and the Huntsman, the year's second outing centered around a forlorn princess, a wicked queen and a magnificent seven, is infinitely superior to Mirror Mirror, which proved to be about as appetizing as a poison apple. If it isn't a complete success, that's because its ambitions are often thwarted by its execution. Stewart embodies the most independent Snow White yet seen on film, and if she doesn't always seem comfortable in the role, she's certainly an improvement over Mirror Mirror's bland Lily Collins. Too busy to waste time washing the dwarves' dishes and waiting for her prince to come, she stands alongside all men (including Chris Hemsworth as the title huntsman) as they unite to bring down the fearsome, supernaturally endowed queen (Charlize Theron) who has usurped Snow's rightful claim to her kingdom. Sanders makes his feature debut with this picture, and his vision, tag-teamed with those of production designer Dominic Watkins, thrice-Oscar-winning costumer Colleen Atwood and the CGI gang, results in a rich look for the film, with its expansive kingdoms and daunting forests. Unfortunately, the story ultimately becomes more Tolkien than Grimm, with extraneous additions and radical reworkings meant to assuage moviegoers weaned on the Peter Jackson trilogy. Theron is excellent as the vicious ruler who, in a nice bit of unstated hypocrisy, rails against the tendency of men to suck the youth out of fair maidens before discarding them but then proceeds to do likewise in her own sorcerous way. She's a scary figure, a perfect counterpoint to Stewart's equal-opportunity Snow White.
The Blu-ray contains both the theatrical version and an extended cut that runs approximately four minutes longer. Extras include audio commentary by Sanders, co-editor Neil Smith and visual effects supervisor Cedric Nicolas-Troyan; a 360-degree tour of the kingdom; and a half-dozen making-of featurettes discussing the fairy tale, the characters and the production.
Movie: **1/2
Elizabeth Banks and Ben Falcone in What to Expect When You're Expecting (Photo: Lionsgate)
WHAT TO EXPECT WHEN YOU'RE EXPECTING (2012). Following in the footsteps of He's Just Not That Into You, Valentine's Day and New Year's Eve comes What to Expect When You're Expecting, another all-star idiocy that strands a number of good (and some not-so-good) actors in several thematic vignettes of competing dopiness. This adaptation of Heidi Murkoff's nonfiction guide is a tad improvement over the aforementioned titles, largely because it doesn't go out of its way to insult the intelligence of its viewers. That's not to say the picture is particularly funny or insightful, but at least it's relatively painless. Cameron Diaz and Jennifer Lopez, deemed first among equals (in other words, they're the only performers here who receive top billing and aren't integrated into the rest of the alphabetically arranged cast), are two of the five women facing the prospect of mommyhood. Diaz's fitness guru is pregnant, as are Elizabeth Banks' author, Anna Kendrick's food-truck manager and Brooklyn Decker's trophy wife. For her part, Lopez's photographer is planning to adopt an Ethiopian baby. All five women have somewhat supportive — and extremely vanilla — husbands or boyfriends, so don't expect to see any single moms here. Also don't expect to see any gay couples, any discussions of abortion (even though one struggling character unexpectedly finds herself with child), any worries about the financial hardships of raising an infant (Lopez loses her job but lands another one in precious little screen time), or any suggestions that childless folks can be just as happy as ones in possession of little bundles of joy. Like Battleship, this movie must cater squarely to Middle America; otherwise, what was the point of making the darn thing?
Blu-ray extras include deleted scenes; two behind-the-scenes featurettes (The Dudes Unscrewed and What to Expect and the Pregnancy Bible); and the theatrical trailer.
Movie: *1/2