We natives try to stick to the four main food groups: fried chicken, fried pickles, fried okra, and barbecue. And, yes, Charlotte also has a large number of cardiologists and vascular surgeons. At right is a list of some of the more popular foods and drinks in Charlotte, and where to find them. (You'll find these items on other menus throughout the city, too.)
FRIED CHICKEN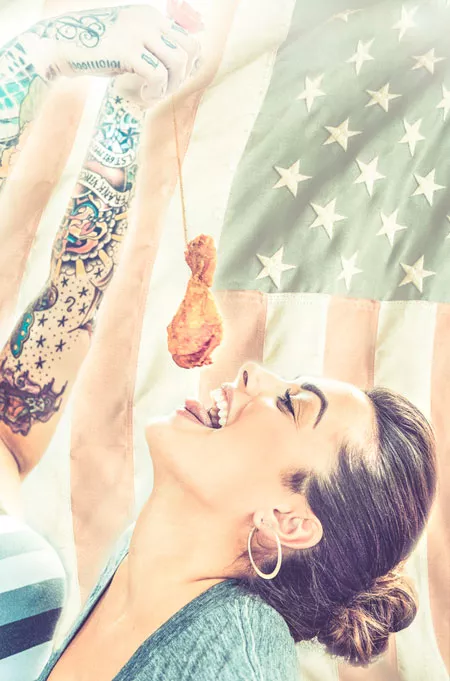 There is fried chicken and then there is Price's. In the past 10 years, Price's Chicken Coop (1614 Camden Road, a short walk from the Blue Line stop) has garnered national attention, but it's always had local folks' attention. People came to this spot with their grandparents and now bring their grandchildren. Take note: This is a cash-only, take-out business. There will be a crowd, but the line moves quickly and most of the employees will wait patiently if you do not know what you want — which is either a quarter or half (chicken); white, dark, or mixed.
BARBECUE
Barbecue unites Carolinians: This is the food of fund-raisers, social events and family gatherings. To be clear, in North Carolina the word "barbecue" is a noun, not a verb. You will see the words Eastern and Lexington on menus to describe the types of barbecue here. Eastern style is the meat of a whole pig finely chopped with a vinegar-based sauce. Lexington style is chopped or pulled meat from pork shoulders with a tomato-based sauce.
The flavor of Carolina barbecue comes from smoke, not sauce. Traditionally, pits operate 24/7; however, since barbecue restaurants have a tendency to burn down, many counties now have strict regulations for new establishments. The only barbecue restaurant in the state that I know of that still has a pit in the dining room is the family-owned Old Hickory House Restaurant (6538 N. Tryon St., near UNC Charlotte). Its meat — Boston butts and shoulders — is smoked over hickory. The tangy, thicker sauce is distinctly from the Alabama/Georgia area, where the family is from. You can smell the barbecue from outside the building, and inside you can order "outside brown," the crusty exterior meat.
For eastern-style barbecue, Bill Spoon's (5524 South Blvd.) is the place, though they no longer cook the whole pig. For weird barbecue, try the Deliverance sushi roll at Cowfish (4310 Sharon Road, an outbuilding at SouthPark Mall): pulled pork, barbecue sauce, and tempura onion strings rolled with seaweed and rice, then tempura battered and flash fried.
LOCAL FOODS
Harvest Moon Grille (235 N. Tryon St., Uptown) is a restaurant dedicated to showcasing local flavors and is owned by farmer and chef Cassie Parsons. She uses foods from her 10-acre farm, which specializes in Tamworth hog, a heritage breed; chickens, and shiitake mushrooms, with foods from area farms. Breakfast features farm-fresh organic eggs. Cheeses and meats are regional, if not local. Parsons is an inventive chef who plays with taste combinations, but always allows the inherent flavors of the foods to shine.
ALCOHOL
Moonshine is only part of the burgeoning hand-crafted small distillery movement in the state. North Carolina's Junior Johnson, of NASCAR fame, produces the totally legit Midnight Moon from his family's recipes at a micro-distillery in Madison. Moonshine is available in ABC stores (the only place liquor is sold in North Carolina), and is featured on area martini lists. Halcyon Flavors from the Earth (500 S. Tryon St., in the Mint Museum Uptown) offers a moonshine Peach Melba float.
North Carolina has more than 100 wineries. Only a few are as large as the Biltmore, Shelton and Childress. Family-owned and operated RayLen Winery & Vineyard, in the Yadkin Valley AVA (American viticultural area, a government-designated wine grape-growing region), produces 16 wines, but the best is the fruit-forward, medium-bodied Category Five, named for the most powerful hurricane and made with five varietals: cabernet sauvignon, cabernet franc, merlot, shiraz and petit verdot. Available on area wine lists.
CAROLINA FOODS
Many Charlotte chefs make their own pimento cheese, which is used in dips, on sandwiches or as an ingredient. Dish Southern Comfort Food in Plaza Midwood (1220 Thomas Ave.) crafts a delicious grilled pimento cheese sandwich.
(Photo by Natrice Bullard)
Around the corner is The Diamond (1901 Commonwealth Ave.), the place to get fried pickles. But fried pickles are available on most menus throughout the area, as is fried okra. Also look for banana pudding, peach cobbler, and corn bread on area menus. All three can be found at Simmons Fourth Ward Restaurant (516 N. Graham St., Uptown).