Welcome to EAT, a special publication dedicated to covering Charlotte's dining scene.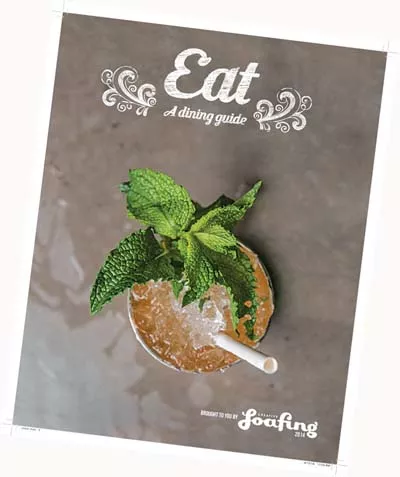 As we put together this inaugural issue, we learned one important lesson that we'll remember for next time around: Compiling and editing an extensive list of restaurants will directly influence your cravings, especially if you haven't eaten lunch. In the span of an hour, I longed for the Hangover Burger (with potato bacon hash, cheddar cheese, grilled onions, a fried egg and Bangburger sauce) from Bang Bang; some slurps of a steamy, fragrant bowl of pho from Lang Van; a few nibbles from a cheese plate, accompanied by a glass of red, at Wooden Vine; and just one bite (or three) of the succulent seasonal catch at Halcyon while seated on the patio.
That hard-earned lesson is part of the reason I'm baffled as to why Charlotte's food scene gets overlooked time and again. In early August, Southern Living came out with a list of the 100 best restaurants in the South. None of our local restaurants were featured.
I'd like to think the writer might have a crazy ex who resides here, and she avoided visiting Charlotte completely. With the fierce growth of dining options here, as explored by Keia Mastrianni, many of them helmed by top-notch talent, the exclusion had to have been intentional.
No matter. The local food scene will continue to thrive, whether it's recognized nationally or not, because of the people working to support it.
Like the farmers who grow and produce what ends up on your glistening white plate. We asked Carlea Farms' Leah Wagner and three other local farmers to share some seasonal recipes using the best of our flourishing local agriculture. (We can't wait to find October beans so we can try out the farm casserole.)
Like Bryan Diliberto of ProChef USA. He's the guy many area restaurants use to sharpen their knives. A sharp blade can make a world of difference in the kitchen. Read about him here.
Like the talented mixologists and beverage directors who invest time in creating cocktails that are not only innovative, but good for us, too. The five drinks we feature in this story give a new, or old, meaning to raising a glass to your health.
Like you: diners who enjoy an inspired meal in one of the city's many independently owned restaurants.
We hope you enjoy this restaurant guide and continue to support Charlotte's burgeoning dining culture. No matter what Southern Living says or doesn't say, we've got plenty of delicious offerings to talk about.
— Kimberly Lawson, editor