EARTH TO ECHO
**
DIRECTED BY Dave Green
STARS Teo Halm, Brian "Astro" Bradley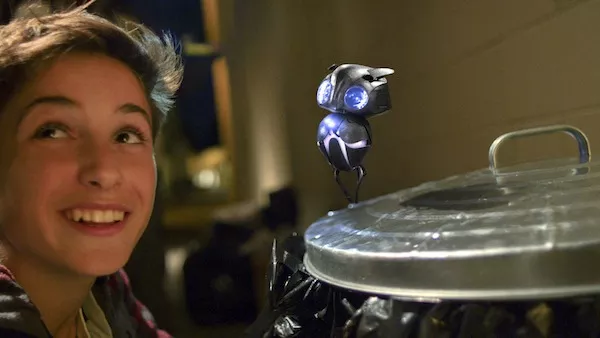 Teo Halm in Earth to Echo (Photo: Relativity)
How do we know that the film industry's love for the found-footage format (or variations thereof) has reached its ridiculous nadir? Because here we have a children's movie employing this filmmaking fad for no discernible reason. What's next? A found-footage animated feature? A found-footage porn flick? A found-footage State of the Union address?
Then again, it's entirely possible that the folks behind Earth to Echo opted for this mode of moviemaking solely to distract from the fact that the picture is nothing more than a shameless rip-off of 1982's E.T. The Extra-Terrestrial, right down to utilizing similar poster art and comparable narrative beats to relate the story of a childlike alien who requires assistance from a bunch of suburban kids (Teo Halm, Brian "Astro" Bradley and Reese Hartwig, all appealing young actors) in order to get off our rock and journey back to his own planet. But E.T. isn't the only movie being siphoned here: The addition to the group of a blonde (Ella Wahlestedt) who's more mature than the guys smacks of Super 8, while the wayward alien unfortunately looks like the headache-inducing Bubo the mechanical owl from the original Clash of the Titans.
"E.T. phone home," bleated the otherworldly star of the Spielberg classic. "E.T. text Earth" would work as a new rallying cry, since a film that's often as charm-free as Earth to Echo only serves to remind us of just how much we've missed the little guy.