(View From The Couch is a weekly column that reviews what's new on Blu-ray, DVD and Streaming. Ratings are on a four-star scale.)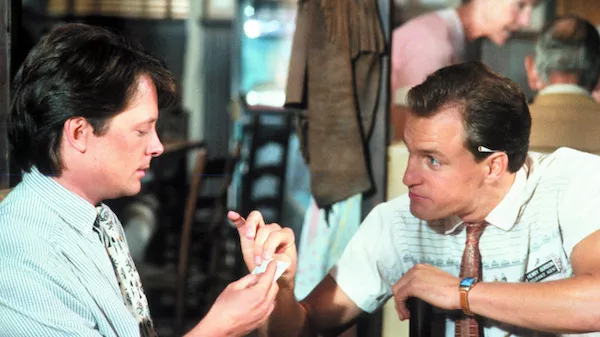 Michael J. Fox and Woody Harrelson in Doc Hollywood (Photo: Warner)
DOC HOLLYWOOD (1991). The venerable "fish out of water" plotline is handily employed in Doc Hollywood, a lightweight comedy that proved to be a modest box office hit back in the summer of '91. On his way to Los Angeles and a lucrative new career as a plastic surgeon, materialistic Washington, D.C. doctor Benjamin Stone (Michael J. Fox) finds himself stranded in the tiny town of Grady, South Carolina, where, after being accused of reckless driving, he's forced to work off his community service hours as the hamlet's new physician. Although he initially can't wait to get out of this dead-end place, he eventually begins to appreciate the leisurely lifestyle and even falls for the local ambulance driver (Julie Warner). Doc Hollywood takes place in the sort of cinematic fantasy world generally reserved for science fiction flicks (despite being set in the rural part of the Carolinas, bigots, winos and rabid Jesse Helms-Strom Thurmond supporters are nowhere to be found), and it's the sort of pandering pablum concocted by Hollywood elites who in real life wouldn't be found dead frequenting a one-horse town like Grady. But the film isn't without its sizable charms, most provided by its ingratiating cast. Fox and Warner are both likable, while David Ogden Stiers offers some amusing moments as the burg's eccentric mayor. Woody Harrelson is on hand as well — he plays a local yokel threatened by Stone's arrival — and his quip directed at a former Cheers co-star provides the biggest laugh in a tender tale that otherwise illustrates that love, not laughter, is the best medicine.
The only Blu-ray extra is the theatrical trailer.
Movie: **1/2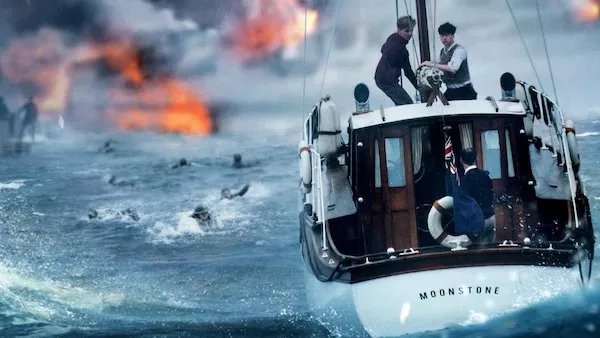 DUNKIRK (2017). Upon its theatrical launch, Dunkirk was hailed in some quarters as one of the greatest war films ever made and in other corners as a typically overrated Christopher Nolan endeavor. Neither claim is accurate, although it should be noted that the enthusiasts are closer to the mark than the Nolan naysayers. Certainly, Dunkirk hardly belongs in the same class as Apocalypse Now, Saving Private Ryan or any of the other superb combat flicks that have been produced over the past 100-odd years. Focusing on the unlikely — some would say miraculous — evacuation of over 300,000 surrounded Allied soldiers from the French beaches over the course of a few days in 1940, the movie is stripped down in terms of its characterizations. A few recognizable actors appear here and there — Tom Hardy as a courageous pilot, Cillian Murphy as a shell-shocked soldier, Kenneth Branagh as a concerned officer, and Bridge of Spies Oscar winner Mark Rylance as a British citizen commandeering one of the rescue boats — but most of the cast is comprised of up-and-comers whose boyish faces are often hard to distinguish in the darkness and under the dirt. Yet to suggest that Dunkirk is a movie lacking in emotion because it's lacking in sharply etched players is incorrect. Nolan's strength here is his ability to place audiences right into the thick of the various struggles taking place by air, land and sea. Backed by Hans Zimmer's forceful score as well as sound effects that probably deserve this year's Oscar, he comes up with a movie that works beautifully as an aural and visual assault. This in turn heightens the senses in terms of what's at stake for all these soldiers and civilians, and viewers with any semblance of empathy will easily be engaged, enraged and, ultimately, inspired.
Blu-ray extras include a multi-part behind-the-scenes piece.
Movie: ***1/2
Reese Witherspoon in Election (Photo: Criterion)
ELECTION (1999). This adaptation of Tom Perrota's novel, from the team of writer-director Alexander Payne and writer Jim Taylor, is a movie of unexpected savagery and caustic wit – and one that retains its edge and importance even two decades down the road. Matthew Broderick delivers one of his finest performances as Jim McAllister, a popular high school teacher who fosters a personal vendetta against Tracy Flick (Reese Witherspoon), a brainy overachiever who will stop at nothing to be elected president of the student government. Tracy initially has no competition for the post, but Mr. McAllister manages to talk dim but sweet-natured jock Paul Metzler (Chris Klein) into running against her; the field becomes even more crowded once Paul's younger sister (Jessica Campbell) throws her hat into the ring as an outsider (Perrotta's source material was a thinly veiled look at the Clinton-Bush-Perot race). Witherspoon's breakthrough work here remains a career high point: As Tracy Flick, the actress adopts a pinched speaking manner and a superficially perky demeanor that in themselves speak volumes about her character's mental makeup. Tracy is a dynamic figure, and as Mr. McAllister's coup d'etat against her reverses itself and allows her to deal him a coup de grace, we chillingly realize who's providing the real education in these hallowed halls. Payne and Taylor earned an Oscar nomination for Best Adapted Screenplay — they would later win in that category for 2004's Sideways, with Payne nabbing another scripting statue for 2011's The Descendants.
Blu-ray extras include audio commentary (from 1999) by Payne; a new interview with Witherspoon; a 2016 behind-the-scenes piece; and Payne's 1990 UCLA thesis film, The Passion of Martin.
Movie: ***1/2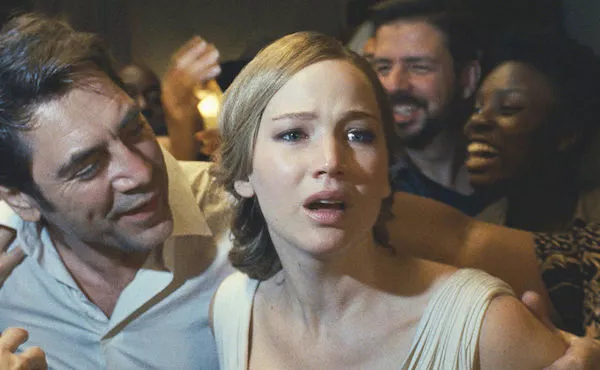 Javier Bardem and Jennifer Lawrence in mother! (Photo: Paramount)
MOTHER! (2017). On the critical compilation site Rotten Tomatoes, where mother! enjoys a 68% Fresh rating, the consensus blurb reads in part that the film "may be too unwieldy for mainstream tastes." That's putting it mildly, to say the least. (Apparently, it's also too unwieldy for Rex Reed, whose hysterical — in both senses of the word — blurb on the site states that it might be "the worst movie of the century.") Upon its theatrical release, mother! became only the 19th film to ever receive an F grade from CinemaScore opening-day audiences — even keeping in mind that these folks routinely give A grades to Alvin and the Chipmunks entries, that registers as incomprehensible overkill. Writer-director Darren Aronofsky, responsible for such dazzling if downbeat achievements as Requiem for a Dream and Black Swan, is behind this one-of-a-kind oddity in which an earthy woman (Jennifer Lawrence) who's happily married to an often aloof poet (Javier Bardem) finds her life disrupted by the arrival of a pair of guests (Michelle Pfeiffer and Ed Harris). Counting Luis Buñuel, Ingmar Bergman and 1960s-era Polanski among its apparent influences, mother! is ugly, disturbing, and not for everyone — it's also fascinating, thought-provoking, and rich with religious allegories. Lawrence is phenomenal in a difficult role, ably assisted by Bardem and the other players.
Blu-ray extras consist of a making-of featurette and a piece on the makeup effects.
Movie: ***1/2
Lon Chaney Jr. and Victor Mature in One Million B.C. (Photo: VCI)
ONE MILLION B.C. (1940). A box office smash in its day, this prehistoric picture remained highly influential after its release, and its visual effects footage proved so potent that it was employed in countless other movies over the course of the next three decades. Co-directed by Hal Roach and his son Hal Roach Jr. (with early involvement by D.W. Griffith), this centers on the Rock Tribe, whose members are greedy, murderous and slow-witted, and the Shell Tribe, whose members are generous, friendly and intelligent (in modern parlance, the Rock people are basically conservatives while the Shell people are obviously progressives). Tumak (Victor Mature in his first starring role) is a Rocker who's banished by his cruel father Akhoba (Lon Chaney Jr.) from his tribe, and it's only after he meets Loana (Carole Landis) and the rest of the Shell people that he begins to behave decently. There's a welcome strain of humor that flows throughout much of the picture, and the dinosaur creations include men in costumes, animals in costumes, and other critters rendered large through photographic effects. Surprisingly, this mishmash works beautifully the majority of the time, and there's a climactic volcanic eruption to raise the excitement level even higher. An Academy Award nominee for Best Special Effects and Best Original Score, this was remade in 1966 as the equally popular One Million Years B.C., starring Raquel Welch.
Blu-ray extras consist of audio commentary by film historian Toby Roan and a generous still gallery that includes behind-the-scenes shots, international movie posters and lobby cards, and more.
Movie: ***
Miranda Richardson, Jake Gyllenhaal and Tatiana Maslany in Stronger (Photo: Lionsgate)
Short And Sweet:
BIG BUSINESS (1988). This underrated farce is catnip to anyone who's a sucker for mistaken-identity plots (like, uh, me), as two sets of twins — one urban, one rural — are mismatched at birth, leading to complications when all four women end up in New York City decades later. Bette Midler and Lily Tomlin are terrific as they each tackle two distinct parts, while director Jim Abrahams (who had previously worked with Midler on their hit Ruthless People) adopts the right pace to complement the clever screenplay.
Big Business is being re-released on Blu-ray as part of a Double Feature deal with 1991's middling Scenes from a Mall, starring Midler and Woody Allen. There are no extras.
Movie: ***
STRONGER (2017). Jake Gyllenhaal contributes a typically committed performance to this true-life tale focusing on Jeff Bauman, a young man who lost his legs during the Boston Marathon bombing in 2013. Working from a script by John Pollono (itself based on Bauman's book), director (and NC School of the Arts grad) David Gordon Green foregoes any pumped-up melodramatics and simply allows Gyllenhaal and co-star Tatiana Maslany (as Jeff's supportive girlfriend) to provide the story with the honest emotion it requires.
Blu-ray extras include a behind-the-scenes featurette.
Movie: ***
==============================
FROM SCREEN TO STREAM
(Recommended films currently available on streaming services)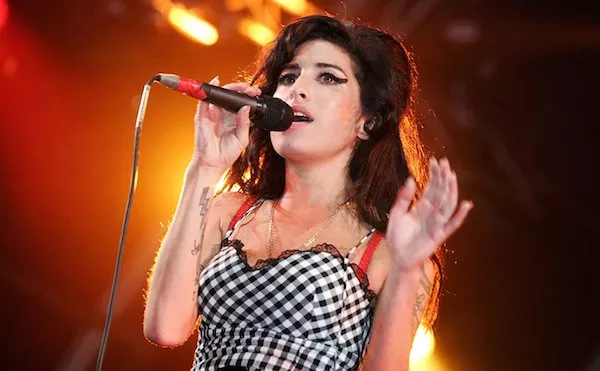 AMY (2015). At the 50th Annual Grammy Awards in 2008, Amy Winehouse was the big winner, nabbing five prizes. But there are no winners in this look at the rapid rise and even more rapid downfall — and death — of the British singer-songwriter. There are only losers — in a literal sense, the friends who lost their dearly beloved (such as her childhood chums), and, in a less charitable sense, the enablers who frequently looked the other way as she repeatedly turned to drugs and booze. That the bad guys tower so prominently over almost every aspect of this Oscar-winning documentary makes Amy an especially difficult watch. It's depressing to witness how this young girl from London, this phenomenal talent with the sultry, soulful voice, got swallowed whole by the fame she didn't necessarily seek out but which arrived as a result of her incredible gift. This is poignant material, with the outrage mostly emanating from the presence of the sleazebags who effectively co-opted her life for their own sordid pleasures. Naturally, there's the paparazzi, but more to the point, there are the two men who should have loved and protected her more than anybody else in the world but instead betrayed her at every turn: her vile father Mitch Winehouse and her creepy husband Blake Fielder-Civil. Both are cut from the same cloth — heartless bastards who abandoned her when she was an unknown, only to reappear after she amassed her fortune and then proceeded to use her vulnerability to their own advantage. It's difficult to ascertain which of the pair is the bigger scumbag — or, to put it in philosophical terms, if you had only one bullet, which of these lowlifes would you choose to put down? (Amazon Prime)