When Deana Pendragon aka Big Mamma D performs with her burlesque crew at UpStage, they like to get up close and personal with the audience. Pendragon opens the shenanigans by walking through the crowd, making an already intimate show even more hands-on (but it's really hands-off, as you well-behaved folks know, you can't touch the burlesque performers), as she greets many of her repeat fans that have become more like family and friends over the years.
That will be the case one last time on Oct. 8, when Big Mammas House of Burlesque makes an appearance at UpStage for the venue's farewell show.
UpStage transitioned into a performing arts space in 2012. Before that, the venue had been known as Wine Up, since opening in 2003. Longtime Wine Up/UpStage owner Kelly Oyama says that after the NoDa property — which includes other businesses like Neighborhood Theatre, Boudreaux's, and Salud — was sold for $5.6 million to LCRE Partners, she received a call from Tyler Foster, the property's former owner, and was told to vacate in 30 days.
"I was like 'Wow, after 13 years, really?!' The whole thing was really bizarre," says Oyama, who admits she didn't have a solid leasing agreement in place.
LCRE Partners declined to comment as it relates to the details around the close of the business, but Aaron Ligon, broker/principal of LCRE says, "We are not forcing out tenants and we plan to work with every tenant there that has a lease and that is a part of that property." He adds that they are planning maintenance and cosmetic improvements, which includes replacing the roof, but no demolition. "We're excited to be a part of the neighborhood."
Though Oyama is skeptical over the property's future, one thing is sure: The timing couldn't have been better. Oyama says was ready to say goodbye to the venue. She returned to run it last year, after three years of management by Michael Ford, who fostered the growth of theater performances there.
"He was very much the reason that so many people who were doing plays came. There are a lot of people out there that know Michael, he was very active in that community," says Oyama, who has no plans to open UpStage or a similar venue in another location.
She attributes leasing issues, rent expenses, increased construction and lack of parking as contributors to UpStage's gradual financial decline. According to her, it wasn't making substantial money or drawing large crowds, despite efforts made by Ford.
When Oyama returned to operate the venue last year, she began charging $250 a week for performances, which were previously free to performers/performance groups.
UpStage closes for good on Oct. 8.
"I can't run this place on air. It's hard to get people in the door. These people in the arts community, they're great and I would love to work with them, but on a Saturday night we might get 16 people out to a play. The rent is almost a $1,000 a week, so you don't have to be a mathematician to figure out that can't work," she says.
Theatre/performance groups like Three Bone Theatre, Stephen Seay Productions and Big Mammas House of Burlesque put on shows somewhat regularly at the venue. There were also regular spoken word nights from Touch One Productions and monthly improv shows by Improv Charlotte.
Stephen Seay currently doesn't have a replacement venue for shows lined up, but hopes to find a similar spot to UpStage.
Pendragon, who was recruited to the venue by Ford and started performing there in 2012, says that she believes theatrical arts "just aren't well supported in NoDa."
"I'm sad that we're losing it but we have a potential replacement venue for [Big Mammas House of Burlesque], which is good. It is my hope that we'll be able to continue at the new Actor's Theatre of Charlotte location," says Pendragon.
"They are possibly looking for late night shows, shows that wouldn't start until maybe 10:30 p.m., so it's my hope that we'll get to move in that direction. We'll still always be at the Visulite Theatre. I've already solidified my dates or 2017 there."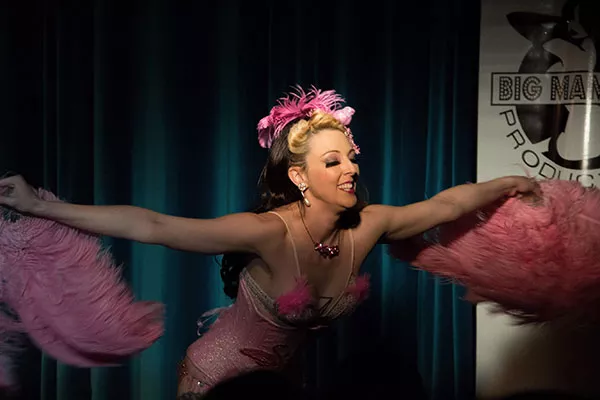 Ophelia PopTart of Big Mammas House of Burlesque at an UpStage performance in April. (Photo by Eric Cutchin)
Pendragon also notes that shows at Visulite Theatre tend to sell better than those at UpStage, though she's unsure as to why. Experience-wise, UpStage provides a more cabaret-style atmosphere.
"The stage is only about 8 inches high as opposed to the stage at Visulite, which is 4 feet. It's much more intimate and very up close and personal."
UpStage's final shenanigans, featuring Big Mammas House of Burlesque will be themed around "Disney After Dark." Behind the bar will be former UpStage bartender, Leigh Ann Stevens, who is returning for the final hurrah to mix drinks, hopefully, until the bar is dry.