For years Matthew Tyndall would hear rumors of Charlotte's crappy music scene. He wasn't aware of the city's crappy scene, but he knew of its good one. So Tyndall, a co-partner in the local digital production company Priceless Misc, decided it was time to showcase it.
He and Priceless editor Erik Button, who fronts the local punk band Dollar Signs, kicked around the idea of bringing together some of the city's best bands and solo artists in a compelling way that would shine a larger light on the local scene.
"Erik and I kept talking about how we wanted to film some Charlotte music," Tyndall says.
The problem was coming up with the right location. They finally found one at a sprawling new arts complex on Statesville Avenue. "After visiting Camp North End early this year, we thought it would be the perfect venue," Tyndall says.
Button and Tyndall (seated) check out the footage from Down Yonder at Camp North End. (Photo by Alex Cason)
The project — shot this past summer in an abandoned building on the complex — became Down Yonder at Camp North End, Vol. 1, a series of videos and a limited-edition kit that includes a t-shirt, CD and digital download. It features songs by eight very different Charlotte acts: Dollar Signs, popular post-punk outfit Junior Astronomers, indie-punk duo Alright, Americana duo Sinners & Saints, free-jazz duo Ghost Trees, the electronic singer-songwriter duo of Bless These Sounds Under the City, and singer-songwriters Alexa Jenson and George Banda.
Tyndall assembled a production crew of about 20, including several people connected to the Evening Muse: owner Joe Kuhlmann served as Down Yonder's sound guy; Button, who hosts the Muse's Find Your Muse open-mic night, oversaw the selection of artists; and Banda is a regular performer at the open-mic series.
"We just called up a bunch of our friends and invited everyone out for a day of shooting," Tyndall says. The crew shot the whole thing in one 16-hour whirlwind of a day on June 10. "We then went over the next month or so and cut down all the videos into a stand-alone video that had two songs from the artists [as well as] interviews."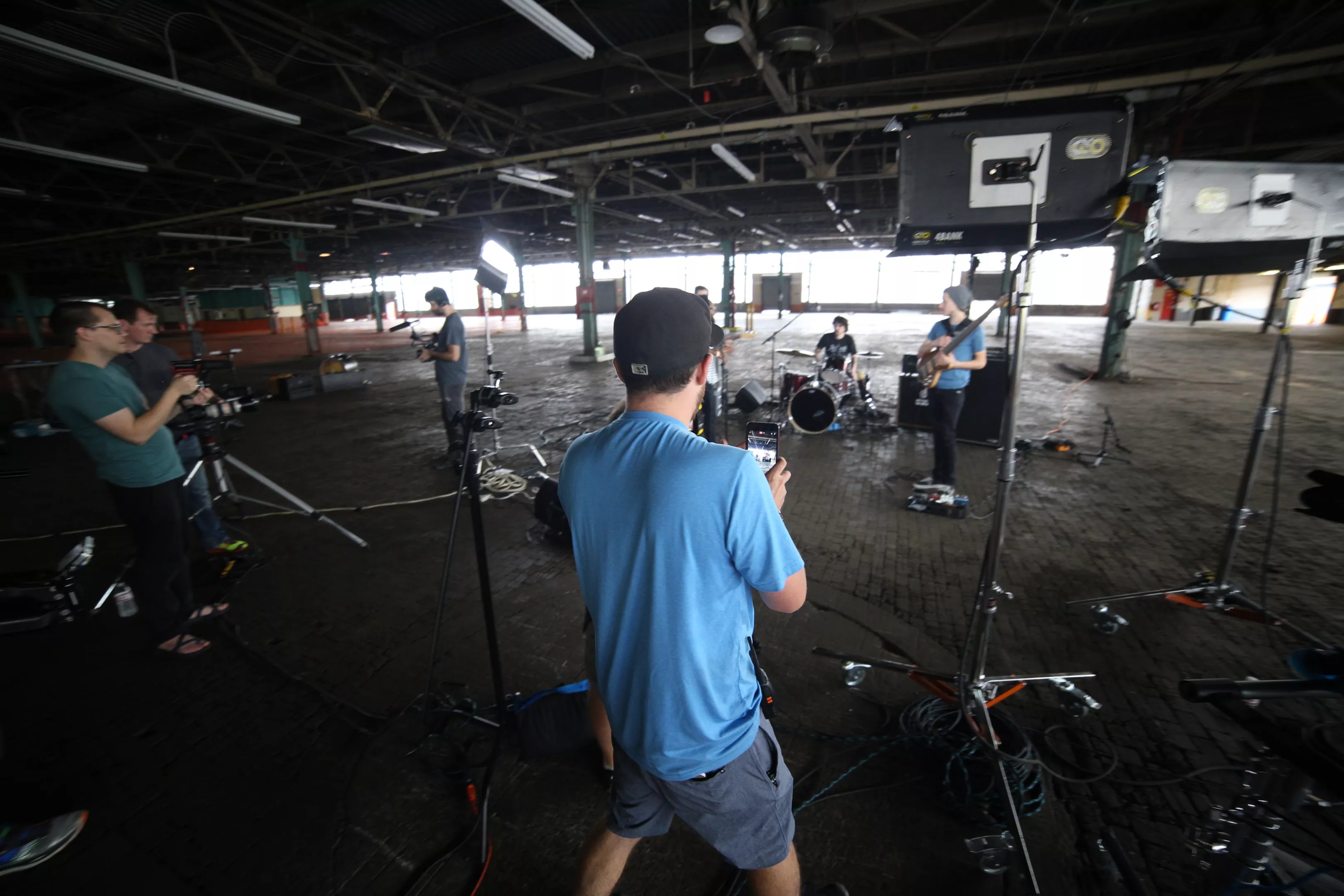 Kieran McMahon (from far left), Jere S. Thomas and Tyndall shoot Junior Astronomers. (Photo by Alex Cason)
The idea, Tyndall says, was "to present this as an introduction to all these great Charlotte bands and push back against that stupid thought of Charlotte not having any local music."
In a video documenting the making of the project, Play My Songs for Free - Inside Down Yonder, Vol. 1 at Camp North End, Button explained how he chose which acts to include. "I wanted to try and find people that both are established acts, like Junior Astronomers, who have been big on the scene for as long as I've been here, mixed with musicians like Alexa Jensen, who's graduating high school today," he said.
Tyndall launched a website for Down Yonder, where you can watch the videos, see photos from the shoot, and read about how the project came together and the people who made it happen. The music is also available on Spotify and iTunes, and the proceeds from the sales of the CD/download kit go to the organization Girls Rock Charlotte, which teaches and encourages confidence and leadership through music-making.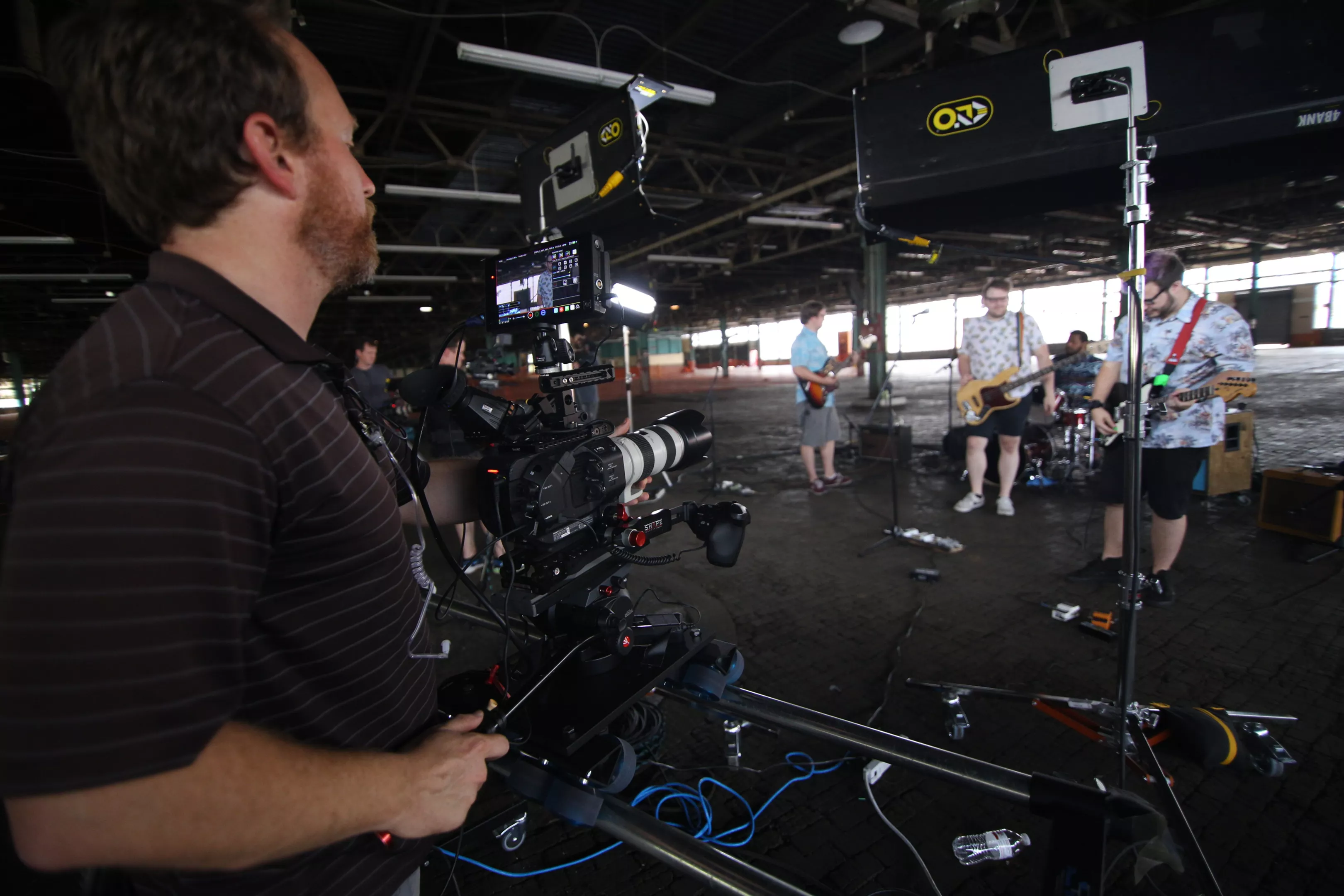 Dollar Signs prepare to be shot. (Photo by Alex Cason)
"It was a really good project where we had a lot of creative freedom to work with some great people in Charlotte to create something really unique to help grow the creative scene here in town," Tyndall says.
"It was a long day," Khulmann adds, laughing.
"It was super fun," Banda says of his contribution. "Just to see so many supportive people who are willing to come out and say, 'Look, we have something germinating in this city. We should give it a little more light.' That's amazing to me."
The big question is: Will there be a Down Yonder Vol. 2?
"We definitely hope to do more," says Tyndall's copartner at Priceless Misc, Justin Ruckman.
Stay tuned.
Watch Play My Songs for Free - Inside Down Yonder, Vol. 1 at Camp North End.
Play My Songs for Free - Inside Down Yonder, Vol. 1 at Camp North End from Down Yonder on Vimeo.