Ursula Douglas never stops racing against a 45-day clock.
The veteran nurse says it takes an average of 45 days for an uninsured, low-income pregnant woman to obtain Medicaid coverage for her pregnancy. Forty-five days is the time required to unspool the red tape — fill out paperwork, wait for processing and approval, locate approved health-care providers, and finally make a first prenatal appointment. Forty-five days, as far as Douglas is concerned, can be the difference between a healthy baby and a constant cycle of developmental problems and poverty. Forty-five days will always be too long.
Photos by Mert Jones

Ursula Douglas, program manager at Nurse-Family Partnership
Douglas is program manager for Care Ring's Nurse-Family Partnership. Care Ring is a local nonprofit organization providing preventive health care for Charlotte's uninsured and underinsured through the Nurse-Family Partnership, a low-cost clinic and a physicians' outreach program. Care Ring is part of a safety net for uninsured North Carolinians, and because of issues with the Affordable Care Act and Gov. Pat McCrory's decision earlier this year to reject the expansion of Medicaid, that net will continue to stretch.
"By not expanding Medicaid, we're putting the most vulnerable at risk," Douglas says, her slim build nearly hidden behind boxes of pamphlets and baby toys in her 6th Street office. Patches of afternoon sunlight filter in from the small window behind her desk and catch dust on a set of Dr. Seuss counting blocks — One Fish, Two Fish, Red Fish, Blue Fish. Douglas can't sit still for more than a few minutes, shifting in her chair as she glances at Medicaid requirements on her desktop computer and checks her phone for texts from the women she serves.
Nurse-Family Partnership patients are usually women with unplanned pregnancies who do not have health insurance and were not receiving any health care prior to becoming pregnant. Ninety-one percent are unmarried, and their median annual household income is $13,500. Some are eligible for Medicaid for Pregnant Women, which terminates at eight weeks postpartum — eliminating coverage for ongoing needs like lactation support, birth control and postpartum depression treatment. Others are not eligible at all. The N.C. Senate approved reductions in eligibility as part of the budget passed in May. Eligible patients must now make less than a certain percentage of the current poverty level; for a single mother and her child, that comes to about $21,250 per year.
The Medicaid restrictions are largely the product of Republican backlash against the Affordable Care Act, which requires almost all Americans to buy health insurance or pay a fine. To protect low-income individuals and families, the law created an online exchange for government-subsidized plans and called for the poorest to be covered by expanding Medicaid. Expanded eligibility and benefits would have provided health-care coverage for an additional 178,000 of North Carolina's low-income women of childbearing age, according to a report issued Oct. 22 by advocacy group Action for Children North Carolina. The federal government promised to cover the full cost of Medicaid expansion for the first three years, but in 2012, the U.S. Supreme Court ruled that states couldn't be forced to expand Medicaid.
North Carolina, along with every Republican-led state in the South, rejected the expansion. As a result, two-thirds of currently uninsured single mothers in those states will be without insurance even after Obamacare kicks in, according to an analysis by The New York Times.
Those mothers are left to rely on organizations like Care Ring. In some cases, the nonprofit's involvement is the difference between health and homelessness. Gloria Miller, an Arkansas native who moved to Charlotte with her mother to build a support system after unexpectedly becoming pregnant, found herself without adequate food, transportation or shelter after she and her mother had a falling-out.
Gloria Miller, 22, with her 5-month-old son Kevin Ringo
"If it wasn't for her," Miller says of Douglas, whispering while her 5-month-old son naps in a nearby room, "I would have figured it out, but it would have been harder and it would have taken longer. I had just moved here, and I didn't have any other resources." The soft-spoken 22-year-old lives with her baby at a Charlotte Family Housing shelter, which provides long-term housing for families with young children. Douglas, once a teenage mother herself, secured Miller a spot there when she could no longer stay with her mother, bringing her nutritious meals and supplying bus passes so she could continue to work.
The Nurse-Family Partnership also helped Miller apply for Medicaid, and during the process, served what Douglas considers one of the program's most critical roles: prenatal care and support during the 45 days.
Most uninsured women with unplanned pregnancies, explains Douglas, wait longer to tell anyone or seek help, especially if they're young. Add the Medicaid lag time — and the possibility that a woman might not even be eligible — and mothers are often well into their second trimester before being seen for prenatal care. By then, undetected problems and unaddressed issues, such as smoking and inadequate nutrition, could already have done irrevocable damage to mother and fetus.
"It's the difference between an uninsured woman finally getting seen by a Medicaid provider at 26 weeks pregnant versus being seen by a nurse virtually the same day she reaches out to us," says Douglas, of the Nurse-Family Partnership, which sends registered nurses to visit patients in their homes at least every other week throughout pregnancy and for the first two years of their children's lives. For women waiting or ineligible for Medicaid, the Nurse-Family Partnership often provides the only care they receive.
But these are the women and children that the Affordable Care Act was arguably meant to serve.
"It's sad, and it's shameful," says Don Jonas, executive director of Care Ring. "The Affordable Care Act was sold as bending the curve for health care to allow those frozen out of the market or too poor to afford insurance to be insured. We spent so much time as a country debating this bill over a conservative free-market approach, and yet the population that reformed health care was supposed to help is not being helped at all."
Miller says she hasn't looked into the health-care exchange and doesn't think she would be able to afford a subsidized plan. Her son is currently covered by Medicaid for Infants and Children, but Miller would lose eligibility for this program if her monthly income exceeded $1,915 — or just under $12 an hour at a full-time job.
"Imagine you're doing everything right," Douglas says. "You're working 35 hours a week, you're still managing to breast-feed exclusively, you're doing everything with your child in mind. Then one thing happens and you lose all your support, and you suddenly have nowhere to go."
It's this proximity to the margins that makes health care a critical financial issue for young parents like Miller — and puts even subsidized plans out of reach. Another Nurse-Family Partnership patient, whom Douglas preferred to keep anonymous, earns about $300 per week working full-time at Wal-Mart and foregoes insurance because she cannot afford premiums in addition to childcare. "Childcare is a hugely expensive factor for most of these families," Douglas says.
Jonas worries that people unfamiliar with the insurance process will enter the subsidized market only to return to low-cost clinics like Care Ring's after being confronted with the expenses of premiums and co-pays. And that influx could further strain the organization, which charges only $50 for clinic visits and otherwise relies entirely on donations and grants.
The burden is greater, he says, because of the decision not to expand Medicaid. In October, The Kaiser Family Foundation determined that 318,710 North Carolinians fall into the "coverage gap" between those unable to participate in the Affordable Care Act health exchange and those not eligible for Medicaid. Jonas estimates that 160,000 people are still lacking insurance in Mecklenburg County alone — a population larger than that of all the towns in the county combined. Between 60,000 and 80,000 of those people would have been eligible for Medicaid had it been expanded.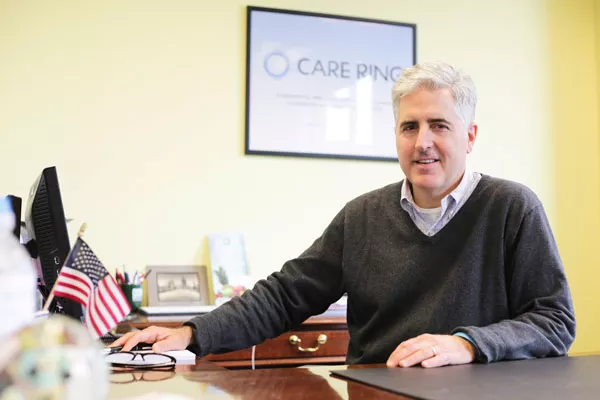 Don Jonas, executive director of Care Ring
"It's frustrating," Jonas says, because for Republicans arguing against expanding Medicaid, "the script was already written. There was no discourse, and there was no Plan B."
And the script, it seems, might have been altered.
THE MCCRORY administration hinged most of its arguments against Medicaid expansion on the assertion that Medicaid was "broken." N.C. Department of Health and Human Services spokesman Ricky Diaz said in a statement issued Oct. 18 that McCrory was hesitant to expand Medicaid before "we first reform the system to improve the quality of care while controlling costs." But an investigation conducted by nonprofit agency North Carolina Health News suggests McCrory officials withheld information that would have depicted Medicaid as a far less broken system.
Documents obtained by North Carolina Health News through a public-records request show that Department of Health and Human Services employees hired by McCrory made strategic edits to the department's response to an audit of the Medicaid program. Specifically, incoming department Secretary Aldona Wos and then-Medicaid head Carol Steckel deleted paragraphs that depicted administrative costs and budget issues far more favorably, including the fact that North Carolina's Medicaid administrative costs are lower than most states rather than 30 percent higher, as the McCrory administration claimed. The digital document displays tracked changes, allowing the deleted passages to remain intact.
Department of Health and Human Services officials also addressed exceeded budgets in the original document, writing that surpassed expenditures were the result of "other factors such as consumption and price, not lack of oversight." But Steckel also edited out that explanation, resulting in a document that fully accepts the auditor's criticisms.
Steckel resigned from the department two weeks before North Carolina Health News released its findings, leaving her post after just eight months to accept a position with WellCare, a Florida-based company that provides Medicare and Medicaid managed-care health plans to 2.2 million members. (Managed-care plans are designed to help reduce out-of-pocket costs for beneficiaries of Medicaid and Medicare.)
With holes poked in the accuracy of the audit, McCrory hinted in a speech at conservative think tank The Heritage Foundation on Oct. 21 that a new federal regulation "might force [North Carolina] to do Medicaid expansion whether we want to or not." McCrory said the regulation, which expands the ability of hospitals to assume some uninsured patients are likely to qualify for Medicaid, could result in the state paying medical costs for people who are mistakenly presumed eligible. But Jonas says presumptive eligibility applies only to patients who would be eligible under current Medicaid criteria, and the regulation has nothing to do with expansion.
"It's a smokescreen," Jonas says. "[McCrory] is chasing after the wrong ball."
While many hoped North Carolina would follow in the footsteps of Ohio, which on Oct. 21 became the fourth GOP-controlled state to expand Medicaid under the Affordable Care Act, McCrory struck down conjectures with a statement issued Oct. 28.
"I will not sacrifice quality care for the people truly in need nor risk further budget overruns by expanding an already broken system," he said, calling the possibility of a special session to expand Medicaid "out of the question."
For those unable to get quality care from either Medicaid providers or subsidized health plans, however, options are slim. Douglas says pregnant women who are ineligible for Medicaid or stuck in the 45-day approval limbo often wind up in hospitals' labor and delivery triage units, utilizing what should be an emergency service for routine prenatal care or, worse, catastrophic events like preterm births that result from preventable causes. And patients' lack of coverage doesn't erase the resulting expense.
"Things like neonatal intensive care unit stays for premature babies are a massive financial drain on the hospital system," Jonas says. "The money has to come from somewhere."
Additional expenses come later, says Douglas, when children have health problems and developmental delays as a result of premature birth or poor prenatal care. Mothers who receive little to no prenatal care are more likely to have premature or complicated births, and their babies are more likely to have delayed physical, cognitive and intellectual development, according to the U.S. Department of Health and Human Services' Child Welfare Information Gateway.
Until more young parents can obtain health coverage, Douglas and her team of nurses will continue to fill the gaps — because, she says, there's more at stake here than Medicaid budgets.
"We do this all for the babies," Douglas says, tapping a framed photo of her own daughter, now grown. "We are nurturing mothers so children will thrive. We see women who haven't felt successful at anything in their lives, and here they are doing a phenomenal job at raising children who will be ready to learn when they reach our schools. That's why there's such a rush for coverage, because prenatal health affects so much."
And that's why Douglas still visits Miller and her son every week, checking for developmental milestones, calling to check in on her day off — still running a race that begins with a 45-day ticking clock and doesn't end, really, until a bewildered pregnant woman becomes an empowered mother.
"Lately, Ursula's been bringing me magazine articles and parenting books," Miller says. "And books to read [to] the baby. He's hitting every milestone." Miller speaks haltingly when she recounts her brush with homelessness. But when she talks about her son, her voice grows louder, more solid, more sure. She doesn't know if she'll still have Medicaid next year, or how long she'll be in Charlotte Family Housing, or how politics and posturing will define "quality care."
But she knows that her 5-month-old sits up straight and tall, all by himself, when she reads to him. Just as he should.