Sixty years ago, on Monday, Sept. 4, a brave and dignified Charlotte teen endured unspeakable abuse simply to attend school. Dorothy Counts was just 15 when she walked through a chaotic and hateful gauntlet of snarling white students and parents, head held high, to reach the doors of Harding High School for her first day of classes.
On the streets of Paris, writer James Baldwin saw media images from Charlotte on that historic day and returned to the U.S. to lend his support to the civil rights movement.
"Facing us, on every newspaper kiosk on that wide, tree-shaded boulevard, were photographs of 15-year-old Dorothy Counts being reviled and spat upon by the mob as she was making her way to school in Charlotte, North Carolina," Baldwin wrote. "There was unutterable pride, tension, and anguish in that girl's face as she approached the halls of learning with history jeering at her back."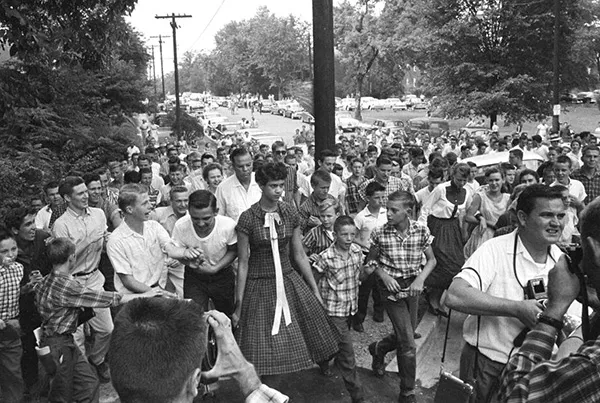 A teenaged Dorothy Counts walks to Harding High School in 1957. (Photo courtesy of the Charlotte Observer)
Those words begin the 2016 Raoul Peck documentary I Am Not Your Negro, based on Baldwin's unfinished manuscript for Remember This House, and narrated by actor Samuel L. Jackson.
"It made me furious, it filled me with both hatred and pity, and it made me ashamed. Some one of us should have been there with her," Baldwin continued. "It was on that bright afternoon that I knew I was leaving France. I could simply no longer sit around in Paris discussing the Algerian and the black American problem. Everybody else was paying their dues, and it was time I went home and paid mine."
The monumental actions of a Charlotte teenager influenced a towering figure of American literature to come back home and fight racism — fight the attitudes of the people, some of whom are surely still walking the streets of Charlotte today, who jeered and mocked a young student who arrived at school during an earlier vicious period in American history simply to learn.
In this issue, news editor Ryan Pitkin sits down with Dorothy Counts-Scoggins to talk about what life has been like for her since that day 60 years ago. To be sure, she has never stopped working to promote education equality and social justice in this city — even as nasty, bigoted local politicians such as Bill James have tirelessly worked to turn back the clocks on education for black students and dignity for black citizens of Charlotte.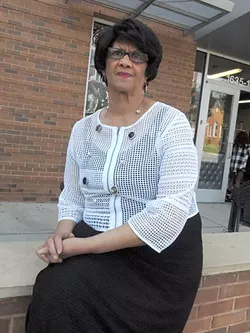 Counts-Scoggins today. (Photo by Ryan Pitkin)
Pitkin also interviews Pamela Grundy, author of a new book on race and education, Color & Character: West Charlotte High and the American Struggle over Educational Equality, for this issue. In her book, Grundy brilliantly documents the dramatic historical arc of an all-black high school that became a model of integration in the 1970s, only to return in more recent years to a school that is once again segregated along racial lines.
The history of West Charlotte High is a microcosm of what's happened across the nation over the past 15 years. Much of the resegregation of Charlotte schools is directly attributable to bigotry and stereotyping by local politicians such as Bill James, who in 2004 infamously wrote, "The education problem at CMS is mostly a black problem and specifically a moral problem with behavior in the black community."
Sadly, James' skewed views of morality and Charlotte's black community — four years before the election of America's first black president — represent the egregious bigotry and stereotyping nationwide that ultimately led to the election of America's current hateful president, and the resurgence of hate groups such as the white supremacists that recently wreaked havoc and death in Charlottesville, Virginia.
Dorothy Counts-Scoggins today expresses disappointment that the progress prompted by her bravery as a 15-year-old student — and the bravery of so many other young black students and activists — has been systematically undermined by the same old racism that infected this country more than six decades ago.
"I never thought that 60 years later we would be back to where we're still fighting for that which we were trying to fight for then," she tells Pitkin. "This whole thing around racism is a part of this, and it's not just the schools . . . Through my whole life, I just never thought in this day and age we would be facing the kinds of things we're facing today: the hatred and the bigotry."
Make no mistake about it: Ms. Counts-Scoggins is not giving up. As a member of the Council of Elders and the Historic West End Neighborhood Association, she remains active in making sure Charlotte residents in historically black neighborhoods are heard over the noise of developers who have no qualms about leveling homes and communities to build overpriced condos.
"I'm the kind of person," Ms. Counts-Scoggins tells Pitkin, "I just do what needs to be done, and my reason for doing it is because it's the right thing to do. It's a moral issue."
If you don't read anything else this week, read Pitkin's interviews with Dorothy Counts-Scoggins and Pamela Grundy. And let their words motivate you to act. The moral future of our city and nation depends on those who live by a moral code. And despite their words, politicians like Bill James are not among those people.