With the popularity of Pinterest and WeddingWire, it can be difficult to see past the millions of existing, and often very good, ideas to formulate an original one. Sure, these sites can be useful for sourcing ideas and items to supplement your own vision, but much of the content is the same, creating the unfortunate situation where we attend the same wedding seven times in two years.
Luckily, per the theme of this section, here are a few ways to replace done and doner trends we've all seen with memorable details for your big day.
1. Rather than spending $7 gabillion dollars on a videographer for your big day, utilize a company like StoryMix Media (www.storymixmedia.com) or IDOcam (www.idocam.com). They'll send portable camcorders for you and your guests to use throughout the evening and then will edit and create a lovely video, set to music of your choice. This gives your guests an activity and a stake in the final product, and can provide some pretty hilarious snippets.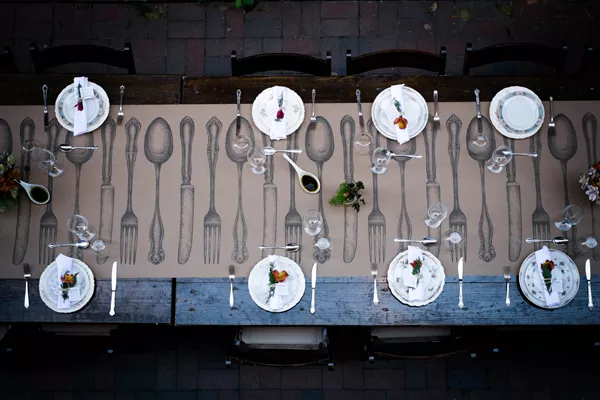 Classy vintage rentals, courtesy of Vintage Charlotte
2. If I see one more mason jar at a wedding, holding either beverage or flowers, I may launch into a violent episode. Enough is enough, you guys. Instead of opting for this cliché, use vintage glasses thrifted from places around Charlotte, such as The Sleepy Poet on South Boulevard. For example, the use of mid-century glasses for a '50s-themed wedding is visually interesting, and puts the "fun" in functional as a funky favor for guests. Vintage Charlotte (www.vintage-charlotte.com) also offers rentals, if you would prefer not to purchase the number of glasses required to serve your guest list.
3. Handheld bouquets for your bridal party can pop a cap in your budget's ass, if you're not careful. Although they can be good for photos and for giving your one awkward bridesmaid (we all have one) something to do with her hands, many arrangements can be uninspiring. In lieu of bouquets, purchase or make your bridesmaids clutches or gloves. For my wedding, I created box clutches out of clear acrylic storage boxes and fancy drawer pulls and they were one of my favorite touches. My awkward bridesmaid carried Cheetos in hers.
4. Rather than having a tired old guestbook or matted photo, create a notebook paper pattern on a large piece of white fabric and hang it as an interactive tapestry in your reception venue. Have friends and family use permanent or paint markers to write or draw pictures of their version of love and then back the fabric for use as a tablecloth down the road.
5. Instead of traditional favors such as baked goods or sachets of potpourri, which most people never eat or use, give guests a note of thanks informing them that a donation has been made to a worthy charity in their honor. You could also give literal favors, meaning guests would receive individually addressed notecards with a choice of three (relatively easy and true to your strengths) favors that they can cash in on at any time. Examples could be technology troubleshooting, a batch of your famous home brew, or the use of your karaoke machine.
6. Yes, sparklers do make for some really beautiful night photographs, but they are overdone — overdone, I say! Instead of sparklers, make DIY party poppers (with plain push pop containers) or confetti slingshots (think Y-shaped branches or antlers) for your guests. Your drunk uncle will love these. Paper Skyscraper on East Boulevard has large rolls of wrapping paper with metallic detail and geometric designs, ideal for making bulk confetti. Repurposing leftover wrapping paper or colorful tissue paper is another, more cost-effective way to get the job done.