It shouldn't be this way, Johnny Moss thought.
It was April 2004, and Moss, founder and front man of veteran punk outfit Dirty South Revolutionaries, was dismayed by what he saw going down at the Punk Strikes Back festival at Tremont Music Hall. The event was meant to celebrate D.I.Y. attitude and music in Charlotte, but bands, fans and factions weren't getting along.
"At the time metal core was still fairly new," Moss remembers. "These [metal] kids were coming in and doing that rock 'n' roll thing where they [felt they] had to tear down the foundation in order to eventually become part of it."
So the metal kids started making fun of the punk rock guys, and vice versa, Moss continues. In that pre-iPhone era, confrontations were face-to-face. Jeering commenced. Insults were slung. Fights broke out.
"I thought, 'I can fix this,'" Moss recalls with a chuckle. "Me and my big ego."
Moss decided to throw a truly wide-open D.I.Y. music show, a big tent affair where all genres were welcome. He booked as many upstart metal core outfits as old school punk bands on the bill, while also incorporating rockabilly, rock 'n' roll and more.
"I said, 'Let's do all this together.' There's no point in fighting and making fun of each other," he continues. The upshot of Moss's fix is the Dirty South Fest, which celebrated its 14th year last summer. A fall version of the event, naturally enough called Fall Dirty South Fest, kicks off its second iteration Oct. 24 at Skylark Social Club. Before that, DSR plays a set at the Milestone Oct. 19.
For those who have followed Moss and his bands — in addition to DSR, he also fronts the outlaw country band Johnny Moss and the Bastards Out of Carolina — the eclectic nature of these festivals comes as no surprise. A diverse mix of genres — metal, hardcore, punk and even a bit of country — has been the hallmark of DSR's sound ever since they released their debut album, Queen City Underground, in 2004.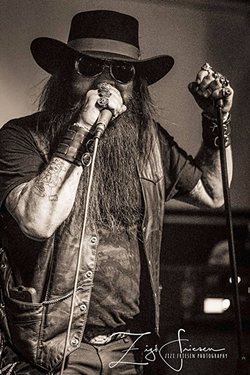 Moss belts it out. (Photo Courtesy of Johnny Moss)
"We just make what we want," Moss says of DSR's sound. "Since we're such a weird mix of people, the music comes out [as a mix]." Stocky, sporting a bushy beard and wearing more rings on his fingers than rapper T.I., Moss looks the hardcore punk dude, but the soundtrack of his youth was classic country. He grew up near Deep Gap in the mountains of northwest North Carolina, where the songs of Johnny Cash and Hank Williams Jr. seemed to be playing nonstop.
"Some might consider it a third-world country within the United States," Moss describes his childhood home. He remembers living with his mother in places without running water or indoor plumbing. When he was 6 or 7 years old he met an illustrious neighbor. "I was at Deep Gap General Store and there was a man playing guitar by the pot-bellied stove in back," Moss says. "My mom told me that it was Doc Watson, and that he was pretty popular in those parts."
Moss's country connection runs in the family as well. On his mother's side, he's kin with Johnny Cash. But when Moss started making music at age 14, it was punk rock and grunge that stirred his blood. He tried out for a local band on guitar, and while he was at it he grabbed the mic. While Moss's bandmates told him that he was a terrible player, they loved his rough-hewn vocals. Soon Moss needed to get into a bigger music scene than rural Appalachia, but when he made the jump to Charlotte it wasn't ambition that prompted his move, it was homelessness.
"I was all over the place," Moss remembers. "Living, bouncing and squatting." He settled in Concord, where he co-founded DSR in 2004. Things started happening fast. DSR got signed to Tent City Records, a label run by Choking Victim drummer Skwert. The band was scheduled to record their debut album in New York City when Moss's mother died.
"I remember leaving my mother's funeral and crashing one night, and then going to new York City to record the first album after that," Moss says. The young punk band finished their album, started touring constantly and fell for every rock 'n' roll pitfall possible, Moss says. "We had egos the size of Texas," he continues. "We couldn't walk through the door they were so big."
Drug abuse took its toll on band members, and the group also fell in debt to their thanks to astronomical recording costs. In the years since, Moss has paid off the debt and looks forward to being able to sell DSR's debut at future shows.
The band's rocky financial start inspired Moss to find a way to help other young bands avoid the music business traps that ensnared his band. In effect, Moss began to put his unique spin on D.I.Y. Moss reasoned that, in addition to doing it for yourself, why not help others do it too? Around the time that he started the Dirty South Fest, Moss launched a record label, Mechanical Pig Records — but he cautions that the word "label" is an inaccurate term.
"We loosely followed what [English anarchist punk band] Crass did," Moss explains. "They didn't believe in ownership, so I don't really own the label." Mechanical Pig is a loose collective, and Moss is just the guy who makes some of the decisions, he continues. He brought the people together and they all started helping each other.
Dirty South Revolutionaries [from left] Jesse Glanz, Sam Fleming, Johnny Moss, Adam Lane, Tyler Bryant. (Photo Courtesy of Johnny Moss)
"We just put a bunch of contacts together — T-shirt printers, studios and venues." Like Moss's band and the festival he launched, the collective is not constrained by musical genre.
Mechanical Pig teamed with self-described "student loan-core" band Dollar Signs to release their 2017 EP Life is Ruff.
"That's a band you'd never think we'd be associated with," Moss says. "But I refuse to think that it has to be one way or the other." Meanwhile, DSR goes from strength to strength. Moss credits the band's longevity to his songwriting partnership with Adam Lane.
"Adam's been by my side for 15 years now, and he's helped me through it all," Moss maintains. The band has gone through three lineups by Moss's count. While former members who brought a rowdy energy have fallen by the wayside — Stephen Stoner has reportedly gone off the grid onto an organic farm and Pete Ager is in jail under suspicion of murder — Moss and Lane have stuck it out. The pair is currently writing the band's next album. Moss says that the new record will be a back-to-basics rock album, pulling back from the go-for-broke variety of their 2015 release Dead Astronauts.
"We'll reel it in a little bit," Moss says. "That album was too eclectic even for us. We're a hardcore band and we had a bluegrass part in there."
Photo Courtesy of Johnny Moss)
Those bluegrass elements have found a place in Moss's country band, but true to form, Johnny Moss and the Bastards Out of Carolina is just as eclectic in its own way as Moss's other projects. Drawing on Moss's love of Americana, bluegrass and outlaw country, the band has attracted a broad spectrum of Charlotte musicians, including Nic Pugh from Jaggermouth, the Alternative Champs' Dave Massi, Scott Roby from Prowess, and farewell Abatross's Dréa Atkins, whom Moss is dating.
"We've had so many random people that you'd think would never cross paths in a band. In the same outlaw country band we had a black man, a feminist and a gay man," Moss says. "This is what we are, and it's great." With decades in the music business, Moss attributes his success and durability to — believe it or not — being humble.
"Being egotistical, rowdy and nihilistic is one thing. It makes for great stories but at the end of the day it doesn't really get you anywhere in music. You need to ground yourself and be yourself," he says.
Given Moss's successful strategy of coupling a D.I.Y. approach with his talent for pulling people together to work for the collective good, it's wise counsel. And Moss has one more piece of sage advice: For God's sake, don't change your band's name.
"It's the worst mistake you can make," he says, adding that your band name is your brand, it's how people know you. "At the end of the day, I made a brand and I stuck to it, and that made a hell of a lot of difference."