(View From The Couch is a weekly column that reviews what's new on Blu-ray and DVD.)
Rachel Weisz and Jeremy Renner in The Bourne Legacy (Photo: Universal)
THE BOURNE LEGACY (2012). No Matt Damon? No problem! With the actor having ably tackled the role of Jason Bourne in the trio of films based on Robert Ludlum's best-selling Bourne trilogy — and with attempts at bringing Damon back for a fourth, uncharted Bourne project falling through — the studio opted to head in another direction with The Bourne Legacy. To be sure, it's about as useless a sequel as, say, More American Graffiti or The Sting II (yes, those films really do exist), and its sole, cynical purpose is to keep a franchise on life support so as to generate a few more box office dollars before the inevitable flatline. Fortunately, Tony Gilroy, who scripted the Damon Bournes, has remained with the project — he's now writer and director — and his continued involvement at least insures some sort of narrative cohesion. That's not the case initially, as the film does little to welcome back those folks who don't have the original trilogy in their DVD or Blu-ray library: In between scenes introducing us to the character of covert operative Aaron Cross (Jeremy Renner), there's much talk regarding the concurrent actions of Bourne himself, and viewers might need to acclimate themselves to the info overload concerning Treadstone, Pam Landy, Noah Vosen and other keywords that would draw up the series in a Google search. Eventually, the movie settles down and focuses on the efforts of Cross to evade a government that now views him as expendable; his only ally is Dr. Marta Shearing (Rachel Weisz), a scientist who finds herself similarly disposable. Thanks to Weisz's performance, her character becomes the audience surrogate more than Renner's impenetrable Aaron Cross, who isn't given enough dimension to emerge from Jason Bourne's shadow. The action sequences, a vivid draw in the other films (particularly The Bourne Ultimatum), run hot-and-cold here: A battle inside Marta's home is superbly orchestrated, but a climactic chase through the streets of Manila is overbaked, particularly when one notes that the assassin in pursuit proves to be as indestructible as a T-1000 sent from the future.
Blu-ray extras include audio commentary by Gilroy and other key crew members; deleted scenes; a look at the challenge of reviving the franchise; a discussion about the character of Aaron Cross; a featurette on the filming of the climactic chase; and a piece on the picture's location shooting.
Movie: **1/2
Hugh Jackman in Butter (Photo: Anchor Bay)
BUTTER (2012). Julianne Moore won an Emmy Award earlier this year for her performance as Sarah Palin in the HBO film Game Change, but don't expect the cinematic equivalent (read: an Academy Award) to land in Jennifer Garner's lap for her performance as a Sarah Palin clone in the satire Butter. It's not that there's anything wrong with Garner's work here, but everything about this film is played at such a high wink-wink, nudge-nudge level that it's impossible to imagine anyone will be bowled over with its obvious politics. Still, for those who aren't Tea Party sycophants and/or FOX News zombies, there are some modest chuckles to be found in this comedy set in a small Iowa town. Bob Pickler (Ty Burrell), the county's 15-time butter-carving champion, has been asked to step aside and let someone else have a crack at the title, a request that sends his glory-seeking wife Laura (Garner) into a tizzy. Laura views the contest as a stepping stone to politics and elects to enter the competition herself so that the Pickler family will continue to be represented. She does face three challengers, although her ditzy acquaintance (Kristen Schaal) and her husband's stripper-mistress (Olivia Wilde) pose no threat. The only real competition comes from a young black girl named Destiny (Yara Shahidi), a foster child who, with the encouragement of her latest set of parents (Rob Corddry and Alicia Silverstone), takes up the knife and discovers that she has a real talent for this unusual hobby. Will the privileged Laura, who makes no apologies for being "white and tall and pretty," win the opportunity to make it to the state finals? Or will Destiny be able to offer hope and change to the region? Yes, the whole enterprise is that obvious, from Laura's disdain for "the liberal media" to her aspirations to reach the White House. With the exception of a miscast Hugh Jackman as a slow-witted car salesman, the performances aren't bad, but the film's skewering of Middle America is so soft, you could easily cut it with — what else? — a butter knife.
Blu-ray extras consist of deleted/extended scenes and a gag reel.
Movie: **
Anne Hathaway in The Dark Knight Rises (Photo: Warner Bros.)
THE DARK KNIGHT RISES (2012). The third time's usually not the charm when it comes to blockbuster sagas (X-Men, Spider-Man, The Matrix; need I continue?), but any worries that writer-director Christopher Nolan's Batman trilogy would drive itself off a cliff with this concluding entry were quickly dispelled upon the film's release. The Dark Knight Rises may not match the giddy heights of its predecessors, but it often comes damn close. Set eight years after the end of The Dark Knight, this picture finds Bruce Wayne/Batman (Christian Bale) lured out of self-imposed isolation by two newcomers to Gotham City: a cat burglar named Selina Kyle (Anne Hathaway) and Bane (Tom Hardy), a man-mountain so intimidating that even Bruce's faithful butler Alfred (Michael Caine) urges his master to run the other way. Alfred and a rookie cop named John Blake (Joseph Gordon-Levitt) interestingly take turns providing our hero with a moral compass, with the latter declaring that Batman needs to save the city and the former insisting that Bruce Wayne needs to save himself. The beauty of this dichotomy as presented by Nolan (once again co-scripting with his brother Jonathan Nolan and David S. Goyer) is that both men are right, and the challenge for Bruce/Batman is to sacrifice neither Gotham nor his own life. That's a tall order, though, what with Bane instigating a reign of terror that topples the local government, neutralizes the police force, and pits the citizens of Gotham against each other. If there's a flaw in The Dark Knight Rises, it's that the midsection sags: The scenes of Bane taking over could stand being trimmed, and there's a lengthy chunk when Batman seems like a supporting player in his own saga. The film isn't overlong even at 165 minutes, but some of that middle-act excess would have been better served by more Bale, more Caine, and especially more Hathaway. The rumors that the supposedly miscast actress would sink this film were clearly off the mark: Hathaway doesn't quite own the role as Michelle Pfeiffer did in Tim Burton's Batman Returns, but she's nevertheless one of the highlights of this endeavor. Her Selina Kyle (interestingly, she's never called Catwoman in the actual film) is a fascinating character, a possibly bisexual woman (Juno Temple's Holly seems more like her GF than her BFF) whose athletic prowess is matched not only by her sharp intellect but also her quirky sense of humor. She provides The Dark Knight Rises with most of its levity; the rest of the time, this brooding, bruising movie is content building its reputation as a black beauty.
Blu-ray extras include numerous making-of featurettes focusing on the action scenes, the effects work and more; pieces on the characters of Bruce Wayne, Selina Kyle and Bane; and a lengthy look at the history of the Batmobile through the years.
Movie: ***1/2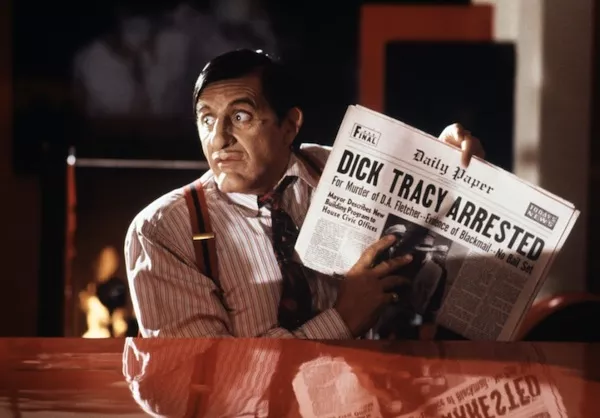 Al Pacino in Dick Tracy (Photo: Disney)
DICK TRACY (1990). Here's the working definition of style over substance, as Dick Tracy's limp script is completely overwhelmed by some of the most tremendous production values seen in a movie over the past quarter-century. This is director-producer-star Warren Beatty's live-action interpretation of the comic-strip character created by Chester Gould in 1931, with the filmmaker cast as the honest, square-jawed detective who spends his time fighting a menagerie of grotesque crooks. Chief among these villains is Big Boy Caprice (Al Pacino), who hopes to convince every criminal in town to work under him and thereby increase profits while perpetually staying ahead of the law. Big Boy's moll is a sultry singer named Breathless Mahoney (Madonna), although she's more interested in seducing Tracy. For his part, our hero has a lady love in Tess Trueheart (Glenne Headly) and a sidekick in an orphan who simply calls himself Kid (Charlie Korsmo). The basic, bright sets designed by Richard Sylbert are amazing to behold (he only employed a half-dozen different colors), as are the makeup creations by John Caglione Jr. and Doug Drexler. And the supporting cast is packed with quality actors of all sizes, from household names like Dustin Hoffman (who steals the film as the aptly named Mumbles) and Dick Van Dyke to character actors such as Seymour Cassel and Mary Woronov. But the script by Jim Cash and Jack Epps Jr. (known for such treasures as The Flintstones in Viva Rock Vegas and Turner & Hooch) is thimble-deep and only traffics in cliches, while Beatty seems tired in the central role — he would have been terrific in the part 10 years prior, but as it stands, his Tracy needs his pension more than another crime to solve. Nominated for seven Academy Awards (including Best Supporting Actor for Pacino, in the same year the group weirdly ignored him for Best Actor for The Godfather: Part III), this nabbed three statues: Best Art Direction & Set Decoration, Best Makeup and Best Original Song (Stephen Sondheim's "Sooner or Later (I Always Get My Man)," crooned by Madonna).
Aside from a few trailers (including one for Who Framed Roger Rabbit, which is, yes!, finally coming to Blu-ray), there are no extras.
Movie: **1/2
The cast of The Joy Luck Club (Photo: Disney)
THE JOY LUCK CLUB (1993). Despite its standing as a mammoth bestseller, author Amy Tan's The Joy Luck Club was hardly guaranteed to become a lucrative motion picture (remember, this was the year that, among other blockbuster triumphs sucking up dollars left and right, Spielberg's dinosaurs conquered the screen and Harrison Ford took it on the lam). But working as adapter alongside Oscar-winning scripter Ronald Bass (Rain Man) and with the project safely in the hands of accomplished director Wayne Wang (further blessings came from Oliver Stone in the form of executive producer), Tan fashioned an emotionally draining experience that proved to be a modest hit during the fall of 1993. Expertly interweaving a number of flashbacks with present-day scenarios, this details the lives of four Chinese women and their often prickly relationships with their Chinese-American daughters. An examination of the lofty expectations parents often place on their offspring, this handsomely produced picture deftly hits all the right notes: often funny, often somber, and always moving. The large cast includes several familiar players, including Ming-Na Wen (Dr. Jing-Mei Chen on TV's ER and the voice of Mulan) as June, one of the daughters, and former so-called "Brat Pack" member Andrew McCarthy as Ted, a suitor of one of the other women.
There are no extras on the Blu-ray.
Movie: ***1/2
Geoffrey Rush and Liam Neeson in Les Miserables (Photo: Sony)
LES MISERABLES (1998). Victor Hugo's classic novel has brought to the screen on well over a dozen occasions, including a 7-hour silent version from France, the 1935 Hollywood take with Fredric March as fugitive Jean Valjean and Charles Laughton as Inspector Javert, a 1978 TV movie featuring Anthony Perkins as Javert, Claude Lelouch's marvelous 1995 update starring Jean-Paul Belmondo, and, of course, this month's musical adaptation. But even with a cinematic legacy that stretches back a full century, this rendition is a welcome addition to the canon. Liam Neeson delivers one of his finest performances as Valjean, the former convict who rises above his lot in life to emerge as a wealthy, compassionate and respected man in 19th century France. But his hopes for a peaceful existence are dashed by the arrival of Javert (Geoffrey Rush), the humorless lawman from his past who's determined to bring him down. Issues of charity, integrity and the true nature of justice are handled with great aplomb by director Bille August (Pelle the Conqueror) and screenwriter Rafael Yglesias (From Hell), who only falter when tackling the romance between Valjean's adopted daughter Cosette (Claire Danes) and the revolutionary Marius (dull Hans Matheson) in less-than-riveting fashion. As the tragic Fantine, Uma Thurman contributes a strong turn that powerfully plays off Neeson's unconditional empathy.
The only Blu-ray extra is a behind-the-scenes featurette.
Movie: ***
ParaNorman (Photo: Universal)
PARANORMAN (2012). The stop-motion animated feature ParaNorman comes courtesy of the same production company (Laika Entertainment) responsible for Coraline and Corpse Bride, so parents had best not rent this for their small fry and expect to see talking cars or dancing penguins or anything else that would send the wee ones off to Dreamland with a smile on their face and a teddy bear (not Ted, of course) in their arms. Instead, this PG-rated attraction is open season on any child who's still afraid of the dark, so perhaps it's best to plop them in the next room watching A Bug's Life for the umpteenth time. Everyone else, though, can expect a good time from this imaginatively designed and sharply scripted tale about young Norman (voiced by The Road's Kodi Smit-McPhee), a sensitive boy who, like Haley Joel Osment, sees dead people. This ability makes him the freak of his town (aptly named Blithe Hollow, a nod to both Noel Coward and Washington Irving), and only the equally lonely Neil (Tucker Albrizzi), the butt of endless fat jokes, wants to be his friend. But when Norman's estranged uncle (John Goodman) warns him that Blithe Hollow will soon be destroyed by a centuries-old witch's curse, it's up to Norman and Neil — reluctantly accompanied by the school bully (Christopher "McLovin" Mintz-Plasse), Norman's shallow sister (Anna Kendrick) and Neil's lunkheaded brother (Casey Affleck) — to uncover the witch's secret, fend off shuffling zombies, and prevent the panicky townspeople from obliterating their own community. In the wake of toon blockbusters like Brave and the Ice Age and Madagascar sequels, this charming and often very funny piece unfortunately got lost in the crowd, but it's arrived on Blu-ray and DVD just in time for Christmas. It's a sound choice to pop into the player during the holidays ... provided the tots are in the next room watching A Charlie Brown Christmas instead.
Blu-ray extras include audio commentary by writer-director Chris Butler and director Sam Fell; various making-of featurettes; and a behind-the-scenes look at the process of creating stop-motion animation.
Movie: ***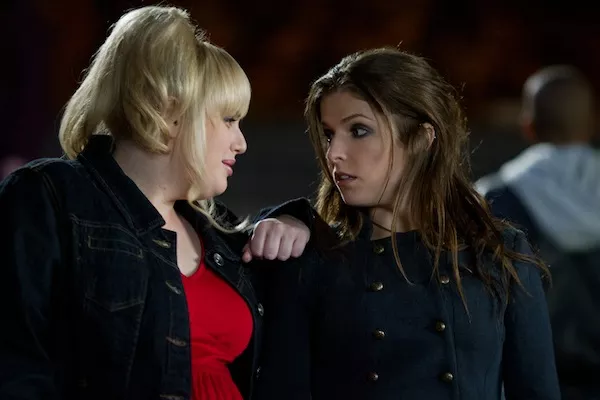 Rebel Wilson and Anna Kendrick in Pitch Perfect (Photo: Universal)
PITCH PERFECT (2012). With the musical comedy Pitch Perfect, a fat star is born. I called Rebel Wilson a fat star? Yeah, so you twig bitches out there won't do it behind her back. I'm paraphrasing, of course, but this line of defense is employed by the character Fat Amy in this winsome film that generates an awful lot of off-kilter laughs. On paper, Pitch Perfect sounds like it's one step removed from Glee or two steps removed from High School Musical. In actuality, it marks the feature-film debuts of both Broadway director Jason Moore and TV writer Kay Cannon, and their creds — Avenue Q for him, 30 Rock for her — hammer home the fact that this won't be the usual teenybopper romp. Admittedly, the film's resolutions are never in doubt, and, as with all modern comedies, there has to be at least one gross-out scene (the fluid of choice here is vomit). Yet the movie is exquisitely cast down to the smallest role, and when the laughs flow, they do so with relentless fury. Anna Kendrick stars as Beca, a college freshman who's corralled into joining the all-girl a capella outfit, the Bellas. Captained by a shrill martinet named Aubrey (Anna Camp), the group hopes to snatch the national trophy away from its hated cross-campus rivals, the all-male Treblemakers. As with Bridesmaids (which this movie clearly tries to emulate, right down to a copycat poster that's now being used for the Blu-ray cover), there's a richness to the leading characters that's punched across by the energized actresses. Kendrick projects edgy intelligence (and can she sing!), Brittany Snow offers good cheer as the bubbly Chloe, and Camp is so brittle, you fear she might crack in two. Yet the movie clearly belongs to Rebel Wilson. While a delight in Bridesmaids (as one of Kristen Wiig's daft British roommates), she was competing against a wide range of scene-stealers. Here, she clearly takes the trophy for her raucous performance as Fat Amy. What's most refreshing about the character (and kudos to Cannon for writing her this way) is that she's all about being confident and taking control — a rare break from American movies that do nothing but marginalize, mock or pity its plus-sized women. How cool is Pitch Perfect's attitude toward its MVP? When we see Fat Amy on spring break, she's in a swimming pool surrounded by attentive hunks. Rarely has girl power seemed so rockin' on screen.
Blu-ray extras include audio commentary by Moore and producers Elizabeth Banks (who appears in the film) and Max Handelman; separate audio commentary by producer Paul Brooks; a behind-the-scenes featurette; and deleted, extended and alternate scenes.
Movie: ***
Santa Claus Conquers the Martians (Photo: Kino Lorber)
SANTA CLAUS CONQUERS THE MARTIANS (1964). By the time Santa Claus Conquers the Martians benefited from national exposure thanks to a 1991 episode of Mystery Science Theater 3000, aficionados of turkey cinema had already been familiar with this mind-numbing movie for years. A staple at those "worst film festivals" that were in vogue during the late 1970s and early 1980s, this inept achievement nearly rivals Plan 9 from Outer Space and Robot Monster in its overwhelming incompetence at every level. Long a prisoner of the public-domain realm, the film has finally been accorded a decent release from Kino Lorber, the specialty outfit known more for releasing landmark motion pictures from the likes of Fritz Lang and Buster Keaton than for putting its muscle behind grade-Z efforts. But bless them for taking the time: Santa Claus Conquers the Martians should be, uh, enjoyed by everyone at least one in their lifetimes. The film concerns itself with the well-meaning but ill-advised scheme by the Martian rulers to kidnap our Santa Claus and make him cheer up the sad little children on the Red Planet (one moppet is played by a 9-year-old Pia Zadora, long before she became a multiple Golden Raspberry Award winner during the 1980s). John Call essays the role of Santa, and his slightly maniacal leer and constant groping of the kids make one long for the days of Miracle on 34th Street's Edmund Gwenn. At any rate, it's not long before our hero is cheering up everyone on Mars with his rancid jokes. One sample offering: "What's soft and round and you put it on a stick and you toast it on a fire and it's green? A Martianmallow!" Meanwhile, three nefarious Martians plot to kill Santa and the two earth children accompanying him, but their plans are largely foiled by the wacky antics of Dropo (Bill McCutcheon), who's fighting his label as "the laziest man on Mars." During the course of the film, Mr. Claus also has to contend with a scary robot named Torg - actually, some guy in a painted cardboard box - and an equally frightening polar bear - in reality, another schmo in costume. And speaking of "costume," wasn't there anybody on the set who had finished high school, so they could have corrected the misspelled "custume designer" credit at the beginning? Ah, well, enough grousing. Let's sit back and sing along with the film's endlessly played anthem: "Hooray for Santy Claus! Hoo...ray...for...San...ty...Claus!"
Blu-ray extras include a great collection (approximately 45 minutes) of vintage cartoons, TV plugs and commercials, all related to the holidays; a stills gallery; and the trailer.
Movie: * (but **** for bad-movie buffs)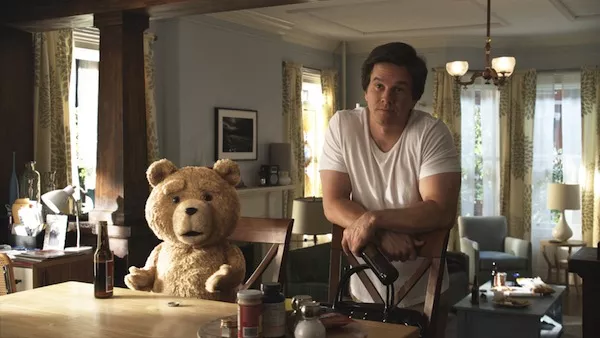 Ted (voiced by Seth MacFarlane) and Mark Wahlberg in Ted (Photo: Universal)
TED (2012). Rude, raunchy and decidedly non-PC, Ted finds writer-director Seth MacFarlane managing to wring every last drop of comic potential out of a dubious premise. We first meet Ted during the 1980s, when friendless child John Bennett receives him as an ordinary Christmas present and, thanks to a well-timed falling star, discovers that his wish to have a live teddy bear has come true. Ted naturally becomes a celebrity, even appearing alongside Johnny Carson in a bit of Forrest-Gump-meets-JFK sleight of hand, but he's forgotten over the ensuing decades, and he now spends his time on the couch, sharing bong hits with the grown-up John (Mark Wahlberg). John has a loving girlfriend in Lori (Mila Kunis), and while she's been generally good-natured about the friendship between John and Ted, she realizes that it's time John accepts adult responsibility so they might consider a real life together. She basically makes John choose between her and the bear, and it's to the film's credit that she's not presented as an overbearing (no pun intended) shrew but as the most sensible person in the picture. Prostitutes, rich doofuses, fat kids, 9/11, Jews, 80s music, Susan Boyle, James Franco, testicular cancer — pretty much everything's open for funny business in Ted. Favorably adding to the mirth are some superb cameos — not the lazy sorts that mark too many other modern comedies, but ones that are expertly woven into the fabric of the story (love the Flash Gordon shout-outs!). Whether he's wooing Kunis or roughhousing with Ted, Wahlberg is a lively presence in this film. As for Ted, we have no problem accepting him as a living, breathing entity, thanks to the effects work that seamlessly places him in the thick of the action. To be honest, I'm more impressed with the comparatively low-tech look of Ted than the been-there-done-that razzle dazzle of films like The Amazing Spider-Man and Men in Black 3 — a startling declaration that might make some wonder if I've spent too much time myself on the couch with the bong-banging bear. I'm raising my original theatrical rating by a half-star: The movie plays just as well on a second viewing as on the first, meaning the laughs are just as potent and the performances just as ingratiating.
The Blu-ray contains both the R-rated theatrical version and an unrated cut that runs seven minutes longer. Extras include audio commentary by MacFarlane, Wahlberg and co-scripter Alec Sulkin; a making-of featurette; deleted scenes; a gag reel; and a look at the filming of the epic hotel-room fight between John and Ted.
Movie: ***1/2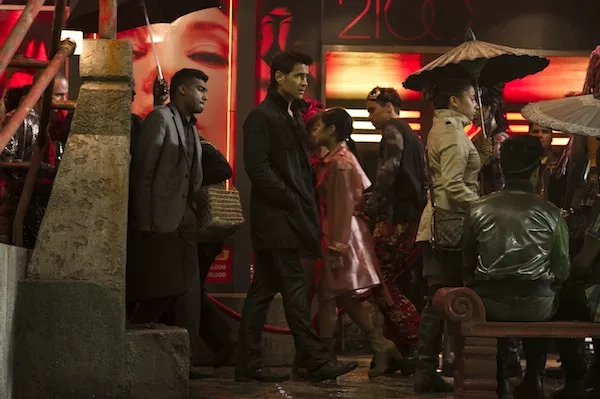 Colin Farrell in Total Recall (Photo: Sony)
TOTAL RECALL (2012). Author Philip K. Dick wrote "We Can Remember It for You Wholesale" in 1966 — a short story, it told of a working-class man who, long wanting to travel to Mars (which in this future setting has been colonized), visits a corporation that specializes in memory implants. But as the procedure gets under way, it seems as if he has actually been to Mars, previously working there as a secret agent with a license to kill. In 1990, director Paul Verhoeven and various screenwriters took this premise and expanded on it, turning the short story into the feature-length Total Recall and having their protagonist actually visit Mars rather than just remembering it. This version was released on Blu-ray earlier this year, so it's easy to revisit it and notice just how much the 2012 take manages to reduce the scope of the story, turning it from spectacle to footnote. Colin Farrell tackles the Arnold Schwarzenegger role: He plays Douglas Quaid, whose trip to the memory-implant joint unleashes disturbing memories that suggest his present life — complete with boring job and hot wife (Kate Beckinsale as Lori) — isn't exactly what it seems. Sure enough, Quaid finds out that he's no ordinary laborer but rather a highly skilled government operative who switched sides and joined the rebels to topple the existent, and oppressive, hierarchy. Seeking to further establish his true identity, he hooks up with his former squeeze, a freedom fighter named Melina (Jessica Biel), and her comrades in arms. Director Len Wiseman and his scribes have completely removed the Martian element found in Dick's story and Verhoeven's film, electing to keep the action earthbound. Restricting Total Recall to Earth is a dubious decision, but whatever — as long as the movie delivers the goods, I guess it ultimately doesn't matter if it's set on Earth, Mars or Tatooine. But without the enjoyable Mars material, Wiseman and company do nothing to fill in the blanks. The movie is just the usual CGI soullessness, relentless in its narrative monotony. It especially devotes an ungodly amount of screen time to a series of endless chases — so many, in fact, that I had to wonder if the performers were being paid by the mile. The picture offers fleeting homage to Verhoeven's original — the three-breasted prostitute! the stocky woman at customs! — but it displays little innovation it can call its own. Instead, it offers explosions full of sound and fury but signifying nothing so much as yet another tiresome endeavor with little on its mind.
The Blu-ray includes both the theatrical PG-13 version as well as an unrated cut that runs an additional 20 minutes. Extras include audio commentary by Wiseman; Total Recall with Insight, an optional mode that allows viewers to watch the film with Wiseman popping up to offer behind-the-scenes tidbits; the featurette Science Fiction vs. Science Fact; a look at various action sequences; and a PS3 playable game demo for God of War: Ascension.
Movie: *1/2
Justin Timberlake, Clint Eastwood and Amy Adams in Trouble with the Curve (Photo: Warner Bros.)
TROUBLE WITH THE CURVE (2012). Following the worst performance of his career — his co-starring role opposite an empty chair at the Republican National Convention (the current Oscar campaign is understandably being built around the chair) — Clint Eastwood returns to sturdier terrain with this baseball drama. But why? Back in 2008, the accomplished filmmaker stated that the box office hit Gran Torino would mark his final performance and he would thereafter concentrate on directing unless a phenomenal script came his way. The screenplay for Trouble with the Curve, the first for writer Randy Brown, certainly showcases a character that plays to the actor's strengths, but the rest is so warmed-over that it's hard to see what caught Clint's squint. The international icon stars as Gus Lobel, a legendary scout whose best days might be behind him. Gus is handed what might be his final assignment: He's to go to North Carolina and analyze the potential of a high school batting sensation named Bo Gentry (Joe Massingill). (Incidentally, how is the state of NC represented in this film? Know that the sign in front of a local motel reads, "LOWEST RAT_S IN TOWN.") As a stand-alone feature, Trouble with the Curve is pleasant yet persistently predictable, the sort of acceptable early-evening fodder that evaporates from memory before the week is even out. Yet in examining the complete arc of Eastwood's career, it becomes difficult to justify the existence of the movie. What particularly makes the film out of place is that the elderly man that Clint portrayed so powerfully in Million Dollar Baby and Gran Torino here has nothing else to say, nowhere else to go. The religious undercurrents and prickly family relationships have already been mined to death by the movie star in far superior works. No one is really required to stretch in this picture, but Amy Adams (as Eastwood's estranged daughter) and Justin Timberlake (as a former player) do manage to surprise or please us in a few scenes. But while it's always great to see Eastwood back in the cinematic saddle, one gets the sense that he's merely going through the motions. He repeatedly kicks a coffee table that gets in his way, yells at a waitress to bring him his check, blows off the advice of well-meaning doctors — in short, he does everything but bellow, "Get off my home plate!"
Blu-ray extras include a discussion with Eastwood and his frequent producer Robert Lorenz, here making his directorial debut; and a featurette in which Adams and Timberlake talk about their characters.
Movie: **1/2