Camera shy: Demarco Matthews says festival organizers should be heard and not seen. (Courtesy of Demarco Matthews)
THREE YEARS AGO, Demarco Matthews was living in Charlotte running the Showroom Gallery on North Tryon Street, where he held pop-up concerts, food events, art exhibits — all kinds of events designed to give a platform to local artists. But what Matthews really wanted to do was put on a big hip-hop festival to rival the more indie-rock-based Hopscotch Fest in Raleigh, the more jazz- and soul-based Art of Cool in Durham and the heavy-metal headbanger's ball Carolina Rebellion at the Charlotte Motor Speedway in Concord
"There wasn't any large-scale hip-hop festivals," Matthews, 31, says. "I mean, there were festivals, and some of them have had people like Common and Nas come and perform, but those weren't specifically hip-hop-based festivals. There was nothing that was catered more to your 18-to-30 group that's more into hip-hop."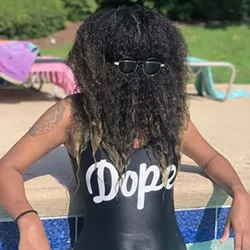 Zen so dope: Raleigh's Zensofly is one act not to be missed. (Photo from her Facebook page)
Matthews is remedying that situation with Made From Scratch, an indie-hip-hop festival in Concord on Saturday, July 14, featuring relatively big-name major-label acts like rapper Curren$y and Atlanta R&B singer Elhae, along with a plethora of Carolinas artists including Charlotte's Elevator Jay and Cyanca, DiAmond Miller, from Rock Hill, Trent the HOOLiGAN, from Wilmingon, the alt-pop singer Zensofly, from Raleigh, among others.
Matthews, who grew up in Jacksonville and studied marketing and graphic arts at Winston-Salem State University before moving to the Queen City, has been based in Atlanta for the past few years. We caught up with him to find out why he's coming back to the Charlotte area to put on Made From Scratch.
Creative Loafing: Why not just do this in Atlanta, where you're based?
Demarco Matthews: Atlanta already has festivals like this, so why contribute there when this area doesn't have anything like it at all? There would be no reason for me to do this in Atlanta.
When did you start thinking about organizing a big festival like this without corporate backing?
Made From Scratch was just an idea. I'd been working on festival concepts for a while. I've been doing concerts, productions, exhibitions and whatnot for about 10 years. I had an art gallery in Charlotte near uptown where we were doing exhibitions and concerts and art parties, and I just wanted to scale that type of environment up to something bigger, while at the same time shedding light on the talent that the Carolinas and the Charlotte area has. This was like my third attempt at coming up with a concept and this is just the one that felt the best, it felt right -- the way we decided to go about choosing the acts and everything.
And how did you go about choosing the acts?
We thought it would be a good idea to bring some national acts in and to align them with local talent that we felt deserved the attention. So the concept for choosing the national acts is that we wanted the average fans to have a chance to vote on who they'd like to see at the festival. We picked 60 artists that had some national attention -- ones we felt could fit our budget -- and then ran them on the website (madefromscratch.xyz) for about two or three months to let people vote on who we should bring. Basically, the fans just went onto the website and clicked the heart in whatever artist they wanted to see and then we tallied up the votes. Based on that, we selected the artists that most of the people wanted to see.
Cyanca. (Photo by Saymawaleh)
Did you do the same with the local artists on the bill, like Cyanca and Elevator Jay?
We chose those artists based on what we saw people talking about on social media. I wasn't following Cyanca or Elevator Jay, but for example, if other people were quoting those artists and talking about those artists, we would check them out. I knew of Elevator Jay, but I came across other people that I followed on Instagram and Twitter posting his stuff, quoting his music and stuff like that. So we did it based off people being interested in those artists, and not just the artists and their friends and cousins and girlfriends -- that wouldn't seem as authentic. We felt like if strangers are quoting your lyrics and doing selfies to your songs and lip-syncing along, that's a good [indicator] of being a successful artist.
What was the ultimate goal?
We wanted to mesh the signed underground artists, whether or not they were on a major label, with our local talent within the Carolinas region. And we didn't want it to be just hip-hop -- like I said, we have Zensofly, who's more of a pop/alternative artist, and Elhae, who's more of an R&B artist. So we didn't want to do just hip-hop, but we did want to keep it a hip-hop-based festival.
Did I read somewhere that you'll also have panels at the festival, like at Hopscotch?
No, this is just a one-day festival to start off. I didn't want to take on too much right away without knowing what I'm getting into. But we would eventually like to include panels. My thing with panels is that I don't like it when [the attendeees] leave them without information they can use and get results from. I mean, you can go on all day and talk about your accolades and what you've accomplished, but what can you offer? I'm one of those guys who does a lot of research and listens to a lot of podcasts to see what successful people are talking about. Education is very important to me. So if we had panels, I'd want them to be educational. I'd want them to be presented like I feel a panel should be presented.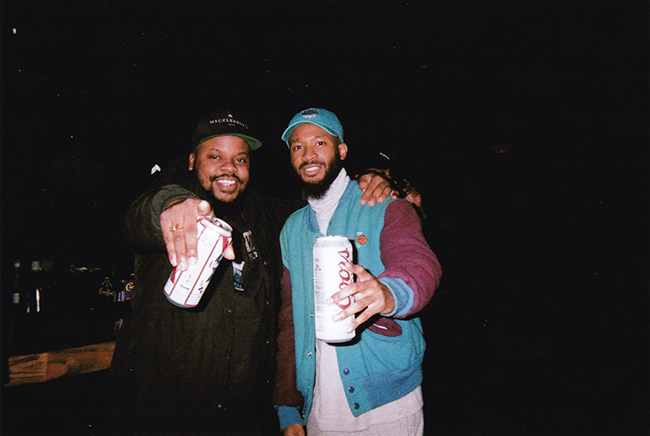 Rapper Elevator Jay (left), who will appear at the festival, hangs with Lute (right), who, sadly, is not on this bill. (Photo by David Butler)
We recently had the New Era Music Fest here in Charlotte, which was a locally based hip-hop festival. What makes yours different?
Yeah, New Era -- it was good. But we wanted to do a mix of local and national, more like Hopscotch.
When I asked you to send a photo for this piece, you sent one of yourself with your back to the camera. Why so camera shy?
I just don't care for the camera all that much. I'm not trying to get attention for myself. I'm behind the scenes. If someone catches me, then I got caught, but I'm not looking for the camera. I may tell you to point the camera at someone else, or to get this shot or that shot, but as far as me being the star? That's the last thing on my mind.