Brunache (left) rocks her Strat with Death of August; her longtime band mate Helena Radeva is at far right. (Obscvre Photography)
Amirah Brunache was only 15 when she met 13-year-old Helena Radeva at the Guitar Center near UNC Charlotte. The two budding shredders began jamming together, eventually forming Death of August. Soon, the band was gigging around at local and regional venues like the now-shuttered Amos' SouthEnd, the Somewhere Else Tavern in Greensboro and the Underground at the Fillmore Charlotte.
Last year, Death of August recorded and released a monster of a song, "Equinox," that's powered by Brunache and Radeva's beefy slabs of vintage Black Sabbath-like riffs over gurgling bass and clattering drums. (Listen to it at the bottom of this story.)
Radeva writes and sings the lyrics, and plays a black cherry Schecter Hellraiser; Brunache strikes the rock-star poses and kicks out the jams on her koa-topped Les Paul and red Fender Strat. They've enlisted Emily Cox to lay down the bottom end.
Brunache, now 20, and Radeva and Cox, both 18, have gone through drummers like the fictional headbangers of Spinal Tap, but that hasn't kept Death of August from writing tons of new songs or planning an upcoming full-length album.
In the mean time, the band will play The Milestone on April 27 — minus Cox, who's undergoing surgury on her hand and will be temporarily replaced by bassist Angus Smith of the Charlotte band Written in Gray. Smith's band mate, drummer Brooks Anders, will be holding it down behind the kit and (warning: another obligatory Spinal Tap joke here) hopefully won't blow up.
Brunache and her Les Paul strike a pose. (Photo by Steve Moore)
For her part, Brunache cuts a commanding figure on stage, shaking her multi-colored hair and power-riffing on her sleek and curvy axes. We recently spoke by phone to the Brooklyn-born, Charlotte-raised guitar hero about her six-string pyrotechnics and powerhouse rock band that marries the metal menace of Metallica with the vintage, husky, femme-empowering shout-alongs of the Runaways or L7.
Creative Loafing: In "Equinox" I hear a lot of old-school influences — Tony Iommi of Black Sabbath in the guitars, Metallica, and maybe some Blue Oyster Cult in the melody. Have you listened to a lot of old '70s and '80s-period metal?
Amirah Brunache: Oh yeah, I've definitely listened to those bands, Metallica especially, and Black Sabbath. Some of the guitarists that I really love are like Eddie Van Halen, Tony Iommi, Marty Friedman and Steve Vai. When I was younger I was basically listening to a lot of hard rock and classic rock, like Zeppelin, Aerosmith, Pink Floyd, stuff like that. I had a friend who was into a lot of those bands, and I was playing a lot of Guitar Hero at the time, which has a lot of that music on it, and I found it really interesting.
Is Death of August your first band?
Yeah, this is my first band. When I started playing guitar I never really had the intention of playing in a band. I just played because it was fun. And then I started playing with Helena, our singer/guitarist, in like 2013 when I was 15 and she was 13. I was in high school and she was just finishing middle school. We weren't initially a band, we were just kind of jamming together. Then we were like, 'Oh, we should form a band.'
What was the first guitar you owned?
My very first guitar was one of those little First Act acoustics that you get at Walmart. But I didn't learn to play on that, because I accidentally broke it. The first electric I got was like a knockoff of a Fender Strat.
How did you get started playing?
I started playing guitar when I was 12. I was in seventh grade. For the first month I tried to teach myself, but that didn't really go anywhere, so I started taking lessons at the Guitar Center. That's where I met Helena. Also, my dad [Newton Brunache] plays bass in a couple of bands. His older band did a lot of classic rock covers, but he has a newer band [Battle Axe] that's a lot more on the metal side.
Do you ever jam with him?
We've played together a couple of times, probably not as much as we should, but you know, we're always playing around in the house, so it gets really loud sometimes. [laughs] Actually, I have a show with his band next month. [Death of August and Battle Axe will share the bill at the Rabbit Hole on May 25.]
Really? What's it gonna be like playing on the same stage with your dad?
It'll be real fun. Playing with bands in general is a lot of fun, but when your dad's in the band, it's like, yeah, that's even cooler.
I've watched a few of your YouTube videos and notice you really understand the importance of stage presence. In metal, maybe even more than other genres, a guitarist's stage presence has always been super important, putting the lead guitarist on equal footing with the lead singer -- like Jimmy Page was always at least as important as Robert Plant. Have you spent a lot of time studying other guitarists' moves and looks?
Definitely. A lot of the guitarists I love -- whether it be like Slash or Eddie Van Halen or Steve Vai -- whenever they play, the focal point is always on them, because they just have so much stage presence. I remember always wanting to look like that onstage, because they look so cool, you know? Like when you see a guitar player shredding -- it just looks cool.
So yeah, I think stage presence is very important, because I don't want to be standing there just playing, I want to put on a show and look exciting onstage. No one's gonna want to watch you if you're just standing there. They'll get bored and watch something else.
You also play a Gibson Les Paul, which not only sounds great but looks great. Was looks a factor in your choice of guitars?
Yeah, well, that's actually an Epiphone Les Paul, but...
Eh [laughs], that's Gibson enough...
Yeah.
Any other guitars?
The other guitars that I have are a Strat -- like now I have an actual Fender Strat -- and an Ibanez acoustic.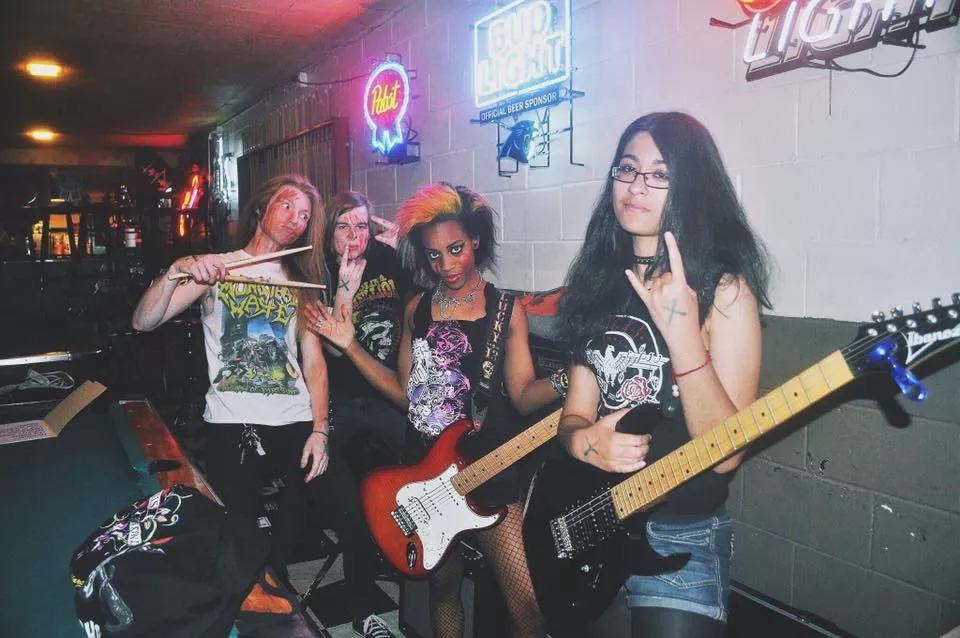 Flashing devil horns by the pool table. (Photo courtesy of Death of August)
I saw a photo of Death of August doing an acoustic show -- do you do the same songs in your acoustic sets that you do plugged in?
When we do acoustic shows or acoustic open mics, it's just kind of a way to play without having to have a full band. It's more laid-back, you know. We do some of the same songs, but a lot of our original songs wouldn't really work acoustically, so we do some covers -- like we do the Ramones song "Needles and Pins," and we do a Rise Against song, and we even do Bob Marley's "Three Little Birds." So it's kind of like half and half.
Charlotte has a pretty robust metal scene. How close is your band with other bands, like Den of Wolves or Blackwater Drowning?
I would say we're pretty tightly knit with the other bands. I mean, the metal scene really is great in Charlotte. There's so many great bands. Every time I go to a show I'm just blown away, and I try to go to as many local shows as I can, just because I love to get out there and support the scene. You mentioned Blackwater Drowning -- they're one of my favorites, they just blow me away every time I see them live. We've played with them maybe once. And then there's also this band called Kairos -- I don't know if you've heard of them, but I like them a lot, too.
I understand this is the first time you're playing The Milestone. What's it feel like to be performing at such a legendary club that's had so many great bands over the years: Bad Brains, COC, Fugazi, Hole, Nirvana -- on up to all the cool bands that play there nowadays?
Nirvana played there? I didn't know that. [pauses] I've been going to The Milestone for like the last two years, and it's such a great venue. Every time I go there, there's always a great lineup of bands, so it feels really good to finally be able to play there myself.
You recorded "Equinox" with Barry Sams of Skinn Jakkitt. Now that you have that out there, when will you have enough material for a full-length album?
We already have enough material for a full-length album. We have quite a few songs that we haven't even played live yet, so material is not really the issue -- it's the recording part that we have to do. But we'll hopefully have something out later this year.
Where would you like to be five years from now?
I'd like to be playing more shows on a regular basis. I think it'd be cool to do some touring, out of state and all that.
How about just a year from now?
[laughs] I'd like for us to have a drummer.
__________________________________________________________________________________
Listen to "Equinox":