I got this attitude, cause I was born in North Carolina.
Don't ever tell me that we weak down here; we went for Obama...
— Dead Sea $crilla, "Bird on a Branch"
There are two things that Red Jesse doesn't want to hear. One is that the people of North Carolina or the South at large are somehow different or meaner or more intolerant than people in other parts of the United States today. The other is that folks in any community can't be good neighbors.
"Yeah, we're split down the middle and there's a lot of disagreement about politics — there's disagreement in every region of the United States nowadays," he rants. "But don't tell me that you own this place just because you're uncomfortable with your neighbor and revolted by your neighbor, instead of being interested in your neighbor and caring about your neighbor."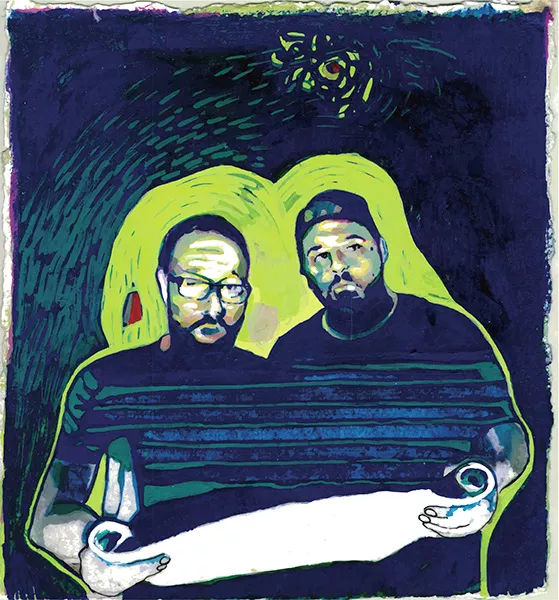 Dead Sea $crilla: Red Jesse (left) and Fred Rock.
Red Jesse is sitting at a bistro table outside of Central Coffee alongside his Dead Sea $crilla partner Fred Rock, explaining the genesis of "Bird on a Branch," a powerful track on the duo's upcoming debut album, Dead Year's Eve. "On that song I'm talking to conservatives here in Charlotte, but also liberal northerners who might look at the South and think we're all backwards hicks," Jesse continues. "I'm talking to both." He pauses and glances over at the traffic whizzing by against the backdrop of towering new condo developments.
"The truth is, even lots of conservatives here aren't backwards hicks," he continues. "There are just huge differences of opinion about how we should treat one another."
Bucking stereotypes and treating one another like neighbors is important to the two guys of Dead Sea $crilla. And in that regard, Red Jesse — born Jesse Boykin Kimmel at Charlotte's Presbyterian Hospital — fits well within the nobler traditions of Southern rock. But Dead Sea $crilla is no Southern rock band. Red Jesse and Fred Rock — born Joshua Chapman in San Francisco, but raised up in Charlotte — are rappers who have been writing, recording, performing, partying, putting up YouTube videos and becoming adults together in the Charlotte area since 2010.
On December 6, Dead Sea $crilla launches its month-long Wednesday night Gift Rap residency at Snug Harbor in Plaza Midwood. The show features a wide range of adventurous guest artists including the experimental hip-hop duo StereoLoud, instrumental art rockers El Malpais, rapper Nige Hood's Folk Rap Band and slam poet CB. $crilla also has partnered with Second Harvest Food Bank to kick off the Nice Tidings food drive at the event, gathering up groceries to help feed the hungry and homeless during the holiday season.
Subsequent Wednesdays boast equally strong lineups of Charlotte-area artists, poets and musicians: theatrical mad hatter James Cartee, formerly of the fringe theater company Citizens of the Universe, emcee Shadow and acoustic duo Sticks & Stones (Dec. 13); indie rockers The Business People and LeAnna Eden, nerdcore rapper Sulfur from ThoughtCriminals, and poet Bluz (Dec. 20); closed out by heavier rockers Hectagons and Blu House (Dec. 27). On the final night, $crilla will officially release Dead Year's Eve, and the album's producer, Justin "Aswell" Blackwood, says it's about damn time.
"There's a certain excitement and relief that come with a long-awaited debut record, ya know?" Blackwood says.
Long-awaited is no exaggeration. Kimmel and Chapman, both 31, have been making rhymes together for too long not yet have a full-length album. They initially met as teens attending Northwest School of the Arts — Chapman a visual artist (he creates all the artwork for $crilla) and Kimmel a long-haired, budding singer-songwriter who worshipped Bob Dylan and Townes Van Zandt. But the two didn't bond over music back then.
"We both loved art and we talked a lot about art," Chapman says, then looks over at Kimmel and laughs. "I don't know how much he remembers about that period, but. . ."
"I was stoned every day," Kimmel interjects. "Josh has this iron-clad memory and will say stuff to me like, 'Remember that painting that you did? And I'm all, 'Uh... no. But I'm so glad that you do."
The only mention of music that Chapman recalls from that period is the time he came into class after having just seen the Eminem movie 8 Mile. "Jesse said, 'Yeah, I saw that, too. Good movie,'" Chapman remembers. "I was like, 'OK, I guess he likes rap.'"
Jesse: The Myspace years.
Fast-forward eight years. Kimmel had given up his dreams of being the next Dylan and had begun to rap. Chapman was making beats. One day, Chapman connected with his old friend on Myspace. "I saw that he was doing rap, and I was just blown away," Chapman remembers. "Because not only was he really, really good, but I just had the hardest time envisioning this kid with long blond hair rapping." Chapman says he isn't sure what his intentions were when he hit up Kimmel, but the reconnection was fortuitious. "Jesse was the one who responded with, 'So let's get together.'"
The two began making beats and rapping together, but it was a little awkward at first. "Rappers have big egos, so a lot of our early stuff was learning where to step and where not to step," Chapman says. "It started out with, 'Hey, I got a verse. Do you have a verse?' And we developed a really strong friendship that way from the beginning. That was very fundamental to us still working together and rapping after all these years."
If you comb YouTube, you'll find early videos of Kimmel and Chapman rapping as Dead Sea $crilla in 2011 and 2012 at local dives. Back then, Charlotte's rap and rock communities were as rich as they are today, Kimmel says, but there was less communication among the different groups of musicians.
"People didn't know one another. People didn't do shows with one another," he says. "And that's happening now; that's what's different now. People are talking together. They're doing stuff together."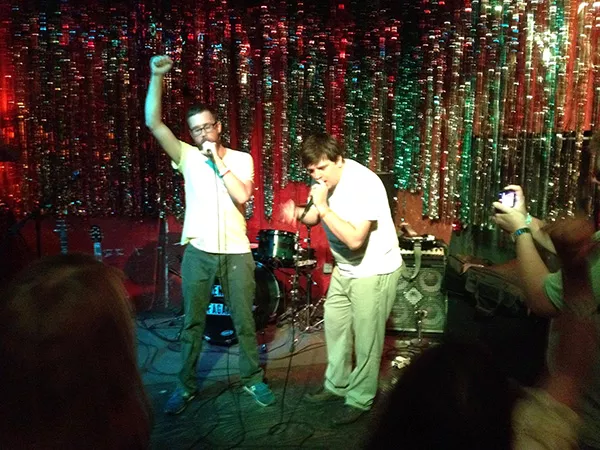 $crilla on fire in the early days, 2011.
Kimmel's role in Dead Sea $crilla (in addition to rapping) is networking and talking to club owners and other musicians. He says that curating the lineups for the Gift Rap residency has been rewarding in a way that it may not have been in earlier years. He contacted LeAnna Eden, Nige Hood and Blu House after hearing about the Bla/Alt Black Music Festival and volunteering to work at the event. "I knew LeAnna as an acquaintance before, but it wasn't until the Bla/Alt Festival that I actually got to see her band perform," he says. "And I saw Blu House for the first time, and Nige — he's a real delight."
Kimmel and Chapman were already familiar with most of the other acts peforming at Gift Rap. "Getting Hectagons and El Malpais comes down to our connections with [member] Buck [Boswell], who has booked us over and over at The Milestone," Kimmel says. "And then Sulfur from ThoughtCriminals — we've done many shows with him and Mikal kHill. And then Exactly from StereoLoud." He pauses. "If you wanna talk about hip-hop talent on the rise — every new project StereoLoud puts out is strange and interesting. They are fearlessly themselves."
Sulfur, kHill [pronounced Kill] and rapper JT from Rock Hill, South Carolina, all make appearances on Dead Year's Eve, a powerful and ambitious debut album and a giant creative leap for $crilla. Kimmel and Chapman had released an earlier EP, Here There Be Monsters, way back in 2010, and though it's good, it's nothing compared to the dizzying range of music on the new album. Chapman's beats and Blackwood's production fire up songs like "Salt," which has a trap groove, and turn tracks like the buzzy "Chez-Moi" and sublime "Homing Beast," which includes sung vocals, into spare beauties. And then there's future classic "Bird on a Branch," set amid sounds of chirping birds and other brushstrokes of Martin Denny-esque exotica.
"That's one of Jesse's shining moments to me," Blackwood says. "I'm blown away with his ability to speak on socio-political topics without being preachy and yet remain relevant and fun."
The track started out as a sing-songy hook — "Little tiny baby bird on a branch / With no mama, baby perched on a branch" — that Chapman came up with while $crilla was headed to a performance in Chicago. "It was just this silly thing we came up with, but that's how a lot of these things develop," he says. "These silly little things become bigger concepts that take on very intimate meanings to Jesse and me. Essentially, the bird on the branch is Jesse, and the hook is about this very cruel world that we live in: There's a tiny baby bird on the branch, his mom hasn't been home in a week, and now he's got to get off of the branch because there's predators everywhere."
"Bird on a Branch" is about taking chances, jumping into the fray, expressing oneself, drawing boundaries, calling out injustices, challenging belief systems. "I'm just trying to be a grown up / If I find that I'm wrong, then I come right," Kimmel, as Red Jesse, raps. "If I slip, then I own up / That's just how the Kimmels and Chapmans shown us."
The two members of Dead Sea $crilla couldn't have come from more different backgrounds. Kimmel grew up in Davidson, his dad a biology professor and mom an English major who worked at the classical public radio station WDAV. With four older half-brothers, two from each parent, and an older sister on his dad's side, Kimmel was inundated with music as a kid. His parents loved the Beatles and his brothers gravitated to music ranging from Dylan, Van Zandt and Loudon Wainwright III, to Radiohead, to the golden-age hip-hop of Schoolly D, up to Notorious B.I.G.
"While I was going to North Carolina School of the Arts for piano, I got into Aesop Rock and Blackstar and Deltron," Kimmel remembers. "But when I came home and told my brother that I'd gotten into rap, he said something about Biggie and I said, 'Well, I'm not sure I like Biggie too much.'" He laughs. "My brother looked at me and said, 'Sit down and shut up!' He put on Ready to Die and that's when my life changed, man. It was OutKast and Biggie from then on."
Chapman discovered music after his family moved from San Francisco, where his father served in the Army, to Charlotte when he was five. His dad, a plumber, had a soundtrack for their trips to Chapman's little league baseball games. "He had this nasty Toyota truck and would play '80s hair metal," the rapper says, and laughs. "That was my first exposure into music. Then he got way into DMX and Tupac, and on the way to baseball games, that's what he'd play. And that was my first experience with rap music."
$crilla — Fred Rock (left) and somebody wearing a mask — at the Milestone.
The two say their different backgrounds and belief systems — Chapman considers himself a Christian while Kimmel is a nonbeliever — enrich Dead Sea $crilla's music. "It's sparked a lot of late-night debates and talks between the two of us," Chapman says. "What's been interesting for me is to be able to talk about these things with somebody I respect so much. I learn a lot from Jesse, and our conversations pour out into our music. It's very present and we eventually would like to explore that more."
They're already exploring it in tracks like "Bird on a Branch," in which Kimmel references religious faith and name-checks 13th-century philosopher and theologian Thomas Aquinas. "I'm a huge fan of history and I have a huge appreciation for faith, though I'm not a religious person myself," Kimmel says. "I have a deep respect for where religion sits in our culture, even though I have complicated feelings about it. But that's more about the way men wield religion than it is about religion itself."
He sighs. "To to be honest, being close friends with Josh, and us working together as artists for so long, has been a lesson in humility for me," Kimmel says. "Because, you know, there's so much misunderstanding between neighbors in America over differences in opinion and differences in politics and differences in religious belief. But to me, there's no better proof that neighbors can be close together, no matter what, than my partnership with Josh." He pauses, and looks over at Chapman. "Because the main thing with us is that we have tons of common ground; we have so much more in common with each other than differences."
Chapman says being a duo instead of two individual emcees working alone strengthens their ability to provide a wider outlook in their music and in the Charlotte community at large. They see themselves in the tradition of rap groups ranging from Run-DMC to Stetsasonic to OutKast on up to Run the Jewels. "I can listen to one individual emcee, and it's not a problem," Chapman says. "But I love the dynamics of two people working off of each other. To me, that's the real essence of what hip-hop is. When you're watching it onstage, it's just so rich, you know?"
And that's what Dead Sea $crilla would like for their Gift Rap residency this month to show — that despite our differences, we all can work off of each other and be neighbors, no matter how we see the world. We all can enrich each others' lives. We all can care about each other.
Happy holidays, all!