(View From The Couch is a weekly column that reviews what's new on Blu-ray and DVD. Ratings are on a four-star scale.)
Blake Lively in The Age of Adaline (Photo: Lionsgate)
THE AGE OF ADALINE (2015). Blake Lively, in her best role — and best performance — since her breakout turn in 2005's The Sisterhood of the Traveling Pants, plays Adaline Bowman, who was born near the start of the 20th century but who, through a scientific phenomenon that the film amusingly states won't be discovered and named until 2035, remains glued to the age of 29 following an unusual car accident. In essence, she's like Highlander but with better body odor, staying eternally youthful while those around her age. Because of this, she never stays in one place for more than a decade and never allows herself to become too attached to anyone. That changes, though, once she meets Ellis Jones (Michiel Huisman), a wealthy guy who falls completely for our heroine. Adaline initially resists his advances but soon finds herself in a relationship, a decision that culminates with a fateful journey to meet his folks (Harrison Ford and Kathy Baker). A high level of suspension of disbelief — we're talking Code Red, people — is required to enjoy The Age of Adaline, and the film is charming enough and accomplished enough that we willingly give ourselves over ... to a point. From the very premise to a couple of head-smacking coincidences, the movie mightily tests our willingness to go with the flow. To its credit, it succeeds throughout most of its length, but then overplays its hand with a climactic development that's egregious in the extreme. What's required is a bittersweet resolution and a sense of acceptance and understanding on the part of the characters; what's delivered is a forced ending that's more market-driven than organic. Scripters J. Mills Goodloe and Salvador Paskowitz would argue that they're looping back to the beginning and tying everything together. But the ending doesn't feel like a confirmation, just a betrayal.
Blu-ray extras include audio commentary by director Lee Toland Krieger; a making-of featurette; deleted scenes; and a piece on YouTube star Anthony Ingruder, who plays Ford's character as a young man.
Movie: **1/2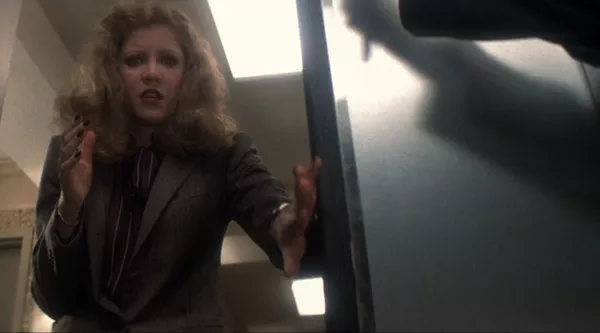 Nancy Allen in Dressed to Kill (Photo: Criterion)
DRESSED TO KILL (1980). Brian De Palma's career has been idling for quite some time now — his last three films, 2006's The Black Dahlia, 2007's Redacted and 2012's Passion, were savaged by critics and ignored by audiences (Redacted even made my own year-end 10 Worst list) — so we should thank various studios' home entertainment arms for releasing some of his earlier, better works on Blu-ray over the past few years. On the heels of Criterion's Blow Out, Universal's Scarface, Twilight Time's Body Double and Shout! Factory's The Phantom of the Paradise comes Criterion's Blu-ray edition of what arguably might be his most controversial movie (and that's saying a lot). Dressed to Kill remains a prime example of how De Palma is able to marry his awesome technical prowess to the material, using his dazzling feats of cinematic derring-do to propel his stories rather than bury their weaknesses. This one uses Alfred Hitchcock's Psycho as a starting point before veering off in its own deliciously twisted direction, centering on a sexually frustrated housewife (Angie Dickinson), her patient therapist (Michael Caine), an imperiled prostitute (a wonderful Nancy Allen) and a razor-wielding psychopath. This compelling thriller was the first movie that, as a teen, made me aware of the art of filmmaking and, by extension, the necessity of film criticism, and it still floors me after all these years. Pino Donaggio's music score, alternately dreamy and frenzied, is simply wonderful; ditto Gerald Greenberg's editing and Ralf Bode's camerawork. The silent cat-and-mouse game set inside a museum is a remarkable sequence, and the elevator scene remains one of the greatest set-pieces in thriller history.
Blu-ray extras include an informative 44-minute making-of featurette from 2001; new interviews with De Palma, Allen, Donaggio, producer George Litto, shower-scene body double Victoria Lynn Johnson and poster designer Stephen Sayadian; an homage to Bode (who passed away in 2001); a superficial 10-minute piece about De Palma's battles with both the ratings board and the social critics who condemned the film as misogynistic; an amusing comparison between the unrated, R-rated and TV network versions of the film; and a discussion of the film by Keith Gordon (who plays Dickinson's teenage son).
Movie: ****
Blythe Danner in I'll See You in My Dreams (Photo: Universal & Bleeker Street)
I'LL SEE YOU IN MY DREAMS (2015). It's an understandable injustice that Gwyneth Paltrow is far more famous than her equally (more?) talented mom, Blythe Danner. After all, Paltrow has enjoyed plenty of leading roles in films (including an Oscar-winning one for Shakespeare in Love), while Danner has almost been exclusively relegated to supporting turns over the course of her lengthy career. But director Brett Haley, a graduate of Winston-Salem's UNCSA, has graciously handed the veteran actress a plum starring role in I'll See You in My Dreams, a confident feature angel-kissed with an enviable cast (extending well beyond just Danner) and an often lovely script penned by Haley and Marc Basch. Danner stars as Carol, a widower who lost her husband 20 years ago and is in the process of losing her ailing dog in the film's first few minutes. With her faithful companion no longer at her side, Carol now drinks her wine and eats her salads by herself in an empty house, with her social life consisting solely of playing cards with her three friends (Mary Kay Place, Rhea Perlman and Nebraska Oscar nominee June Squibb). Her life soon gets shaken up, though, by the near-simultaneous arrival of two men: Lloyd (Martin Starr), her 30-something pool boy, and Bill (Sam Elliott), an eligible bachelor her own age. Haley nicely contrasts Carol's relationships with the pair, showing how her friendship with Lloyd allows her to engage with a kindred spirit (he gets her out of the house for beer and karaoke) while her romance with Bill provides her with the tenderness and closeness she hadn't even realized she missed. Haley and Basch fill their script with gently humorous incidents (the seniors smoking pot, Carol's close encounters with a rat), but these almost feel like filler when compared to the complex human connections at the heart of this sensitive film.
The only Blu-ray extra is a making-of featurette.
Movie: ***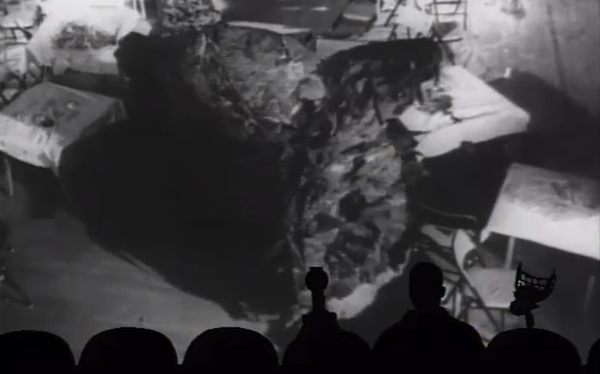 The MST3K gang watches the killer-carpet movie The Creeping Terror (Photo: Shout! Factory)
MYSTERY SCIENCE THEATER 3000: VOLUME ONE (2015). When Shout! Factory first began releasing its volumes of MST3K episodes in 2008, it commenced with Volume XIII (aka the 20th Anniversary Edition). Were the Shout suits mathematically challenged? Not at all; instead, it was because the previous authorized distributors, Rhino Home Video, had already released 12 volumes of comedy gold, and Shout! merely picked up the trail. With that initial dozen becoming harder to find — and more expensive to purchase — it's positively a godsend that Shout! has now re-released Volume One, a hopeful sign that the other 11 collections will eventually follow. As the DVD text explains, "[Volume One] had fallen out of print, and the only available copies cost as much as a used car... We've upgraded the presentation a bit, but most importantly, it's available again and you won't need to sell an organ to buy it." Certainly, a household budget should make room for this set, comprised of four '60s-era turkeys produced by Crown International Pictures. Catalina Caper (movie made in 1967; featured on MST3K in 1990) is a substandard beach flick in which former Disney star Tommy Kirk and friends take on some crooks. The wraparound segments make this episode, particularly the Mads' innovative invention (tank tops... literally) and the 'Bots' hilarious reluctance to include Buck Rogers in the 25th Century's insufferable robot Twiki in their prayers. The Creeping Terror (movie made in 1964; featured on MST3K in 1994) didn't need the show to earn its Hall of Shame standing; it's long been regarded as one of the all-time worsts, with the 1980 book The Golden Turkey Awards featuring it as one of the nominees in the category The Most Ridiculous Monster in Screen History (it was rightly beaten by the title absurdity in Robot Monster). The aliens in this astonishingly awful endeavor look basically like crawling shag carpets, and the Satellite of Love crew dutifully pelts it with references ranging from Ingmar Bergman to Bruce Willis. Bloodlust (movie made in 1961; featured on MST3K in 1994) is a limp adaptation of Richard Connell's classic story "The Most Dangerous Game," with a big-game hunter stalking human prey on his island. The hunky hero is played by Robert Reed eight years before he found fame as dad Mike Brady on TV's The Brady Bunch, but the SOL riffs extend far beyond the boob tube, with the classy likes of The Piano, The Crying Game and Days of Wine and Roses drawn into the conversation. Lastly, The Skydivers (movie made in 1963; featured on MST3K in 1994) hails from the mind of writer-director Coleman Francis, renowned for having all three of his feature productions (this, The Beast of Yucca Flats and the must-be-seen-to-be-believed Red Zone Cuba) skewered on the show.
DVD extras include a featurette on Crown International Pictures; a Q&A with Trace Beaulieu and Frank Conniff (aka Dr. Forrester and TV's Frank) at Screamfest 2014; and theatrical trailers for all four movies.
Collection: ***1/2
Mitch Pileggi (bottom) in Shocker (Photo: Shout! Factory)
SHOCKER (1989). The tragic passing of Wes Craven on August 30 — he died of brain cancer at the age of 76 — led to many assessments of his career as a director (often writer-director), from his first feature, 1972's notorious The Last House on the Left, to his last, 2011's Scream 4. It's no secret that I've never been a fan: He never made a movie that I out-and-out endorsed (The Hills Have Eyes, Red Eye and Swamp Thing come closest), but there have been plenty that I hated (among them The People Under the Stairs, Wes Craven's New Nightmare, Cursed, My Soul to Take and the absurdly overrated Scream). Shocker, alas, ranks among his absolute worst, with his attempt to create another enduring villain like A Nightmare on Elm Street's Freddy Krueger falling woefully flat. Horace Pinker (Mitch Pileggi) is the monster of note, a mass murderer who enjoys slaughtering entire families. The detective on the case, Don Parker (Michael Murphy), is frustrated at his lack of progress, more so after Pinker kills his wife and kid. But Parker's adopted son Jonathan (a typically awful Peter Berg) has some sort of psychic link to Pinker, mainly through dreams (sorry, no Freddy Krueger cameo), and he's able to assist in the capture of the madman. A date with the electric chair doesn't kill Pinker but instead makes him stronger, since he prayed to the TV gods (stay with me) to allow him to exist in ethereal form and continue his reign of terror. Badly written and poorly paced, Shocker also suffers from the sort of broad humor best suited for a Looney Tunes cartoon. Pileggi goes deliberately over the top as Pinker, and it ain't pretty to watch; the actor would later settle down and enjoy sustained success as FBI Assistant Director Skinner on TV's The X-Files. Look also for Ted Raimi, Sam's little brother and Joxer on TV's Xena: Warrior Princess, as Jonathan's friend Pac Man.
Blu-ray extras include audio commentary by Craven; separate audio commentary by producer Robert Engelman, director of photography Jacques Haitkin and composer William Goldstein; interviews with Pileggi, co-star Cami Cooper and executive producer Shep Gordon; a still gallery; and the theatrical trailer.
Movie: *