There are certain singer-songwriters, brilliant ones, who live and work in towns across the United States. White guys, in their 50s and 60s, who've benefitted in countless ways from the advantages of their demographic classification, yet remain unsung heroes of music in the Woody Guthrie continuum. These are guys who never achieved the recognition of a Bob Dylan or Steve Earle. The larger pop world pays little attention to their work, but they create anyhow, because that's what they do. Guys like Nathan Bell, over in Chattanooga, Tenn., or Butch Hancock, out in West Texas.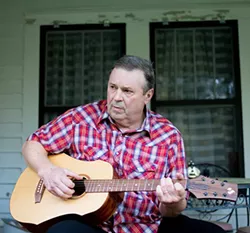 Here in the Charlotte area, we have David Childers.
Childers is a longtime advocate for the poor who's used his Mount Holly law practice to help people navigate the complicated social security, disability and SSI systems. In his off time, he's written poetry, painted and recorded 15 albums of country, folk and rock, sometimes in the experimental vein of late-period Tom Waits records. Childers' songs revolve around the characters he's encountered growing up on the rural margins of Charlotte, and the religious zeal that defines those characters' lives.
Since 1995, he's issued a string of titles including Blessed in an Unusual Way (2002), Jailhouse Religion (2006), Burning in Hell (2007), and Serpents of Reformation (2014). His latest, Run Skeleton Run, comes out this week on Ramseur Records, and Childers has scheduled several area performances including an album-release party at High Rock Outfitters in Lexington May 13 and a Memorial Day show with Shovels & Rope May 28 at the Whitewater Center.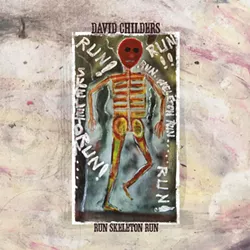 Produced by Don Dixon (R.E.M., Fetchin Bones) and featuring notable contributions from the Avett Brothers, Skeleton just may be the record that gets Childers, at 65, his largest audience yet. The album is more musically consistent, and less experimental, than much of Childers' works, with songs — from the traditional folk of "Belmont Ford" to the old-school country of "Greasy Dollar" and the gorgeous "Ghostland" — that are more straightforward, though still packed with the richly developed characters and narratives Childers is known for. Although Blessed, Jailhouse and Serpents all are brilliant song-cycles focused on the way religion is interweaved and often twisted into the fabric of Southern life, you almost have to be a longtime follower of Childers, or a deep listener to context, to fully grasp their intent.
At a show several years ago in New York, some audience members walked out on Childers when he sang "George Wallace," from Jailhouse; they'd completely missed the point of the still-relevant tale of how the notorious Alabama governor had risen to political fame on a platform of hate and racism.
"As soon as they heard the words 'George Wallace,' they're like, 'Oh my, he's a racist,'" Childers said in 2013. "But you know, you talk about writing about history — some people get it, some people don't."
I caught up with Charlotte's best-kept secret of folk music last week to chat with him about the new album and his life in general, circa now.
Creative Loafing: Run Skeleton Run is very different from your last album, Serpents of Reformation. What was your aim with Serpents?
David Childers: That record didn't get much attention. [Laughs] A lot of people didn't know how to take it, because it had so many different voices. We were using people's voices like different instruments — like a different horn. Robert [Childers, his son] and Neal Harper just took the whole thing, processed it and did all the effects. I would lay down whatever they told me to, and then leave and go home and go to bed, and they took it and did a lot of magical things with it. But it was too weird and different for a lot of people. My thing with this [new record] is that I wanted it to be heard.
Bob Crawford of the Avett Brothers is a longtime champion of yours. Was it he who came to you about doing the new album?
Yes. Bob called me up in 2015 and asked if I wanted to do another record with Don Dixon. He told me he wanted to do a record of me that people would take note of, and he wanted to make the best record we could make. I had worked with Don on [Childers' 2003 album] Room 23, and Bob likes that record a lot. [Ramseur Records head] Dolph Ramseur likes it a lot. And Scott Avett likes it a lot. And they had the power to make this happen [laughs], so I sure wasn't going to argue with them about it.
Did you start writing new songs for it right away?
They're not all brand new, but I'd say the majority of them are. There's one song on it, "Manilla," that's pretty old. It was on my [1995 debut] album Godzilla! He Done Broke Out! But I was never happy with that version. This one's a lot better. And there's another song, "Bells," that's been around for a while, too, but I never played it. I'd forgotten all about it, you know, because I write a lot of songs, and they come and go, and some of them just don't have the right feel for a particular time.
You took a break from music in 2007 and told me at the time that you were done with performing. What was going on?
Childers' album 'Room 23'
It had just become a grind, man. I mean, goddamn — the band was high energy, and you add to that all the long driving, very little money, and just a lot of discouragement and a lot of rejection. You make a record like Room 23 and no label is interested in it. I was frustrated. But you know, anybody that does anything like music or art, or having a law practice, or opening a restaurant, or whatever — there's those periods of uncertainty where you don't know who's got your back or what the next move's going to be.
What prompted you to come back?
I owe an eternal debt to the Avett Brothers, especially Bob. I felt like I wasn't worth nothing. And he let me know that that wasn't true. And now [with the latest project], knowing that I was writing songs that are going to be on an album that's going to be treated the way an album ought be treated — that's inspiring.
Does that determine how you write — if you know it's going to be, as you say, treated the way an album ought to be treated?
Nah, not really. I have no constraints. But that's the beauty of being on an independent label — they let me do what I want to do. And I think it's a rare thing for an artist these days to be able to be completely themselves. Ramseur is not looking to sell a whole lot of records. I mean, they want to, and of course, we all would love that, but it's more about them having the respect and love for what I do as an artist to support it. That's something you dream about as an artist. That's why I call Bob my patron saint. And Dolph — I don't know, he's a little more Mephistophelian. [Laughs] But I love him. I do.
Childers and members of the Avett Brothers run with 'Skeletons'
When you say "do what I want to" as an artist, what do you mean?
I just want to have good songs. For me, it's like writing a book of short stories or poems. I want to have songs that are visual and visceral, that tell some kind of story, and that do what I like music to do — make people move or give them an emotional reaction. It's more about the individual songs being fit into a pattern, like a tapestry. [Laughs] That's kind of a cliché, isn't it? But like Edgar Allan Poe, In Sunshine and Shadow — that was a book I read as a kid that left an impression on me of what a literary work of art should be.
One of your little short stories on this record is "Radio Moscow," with its line, "somewhere a finger is twitching by a red telephone while he's listening to Radio Moscow." That seems to resonate in the current political environment. Was it intentional?
Actually, I wrote that song about five years ago, so the whole thing with Trump wasn't out there then. The song is about my own alienation as an adolescent, where I felt like I didn't fit in at all, because I didn't. But if it makes people aware of what's going on now — that something really important and outrageous has happened in this country — then I'm all for it.
To be honest, I saw that aspect of the song when stuff started coming out last July about [disgraced former National Security Advisor Michael] Flynn and about Malcolm Nance's book on the hacking of the election. People who were paying attention to what was happening could see the pattern — here's this president who's got financial ties to Russia and a lot of other corrupt places. So last summer, when we were talking about what video we were going to make, I said, "This is the one we should do the video for." It was serendipitous.
When you say you didn't fit in growing up in Mount Holly, what do you mean?
Well, it's odd that I still live in this same town. And I mean, I got my own thing now that I'm very comfortable and happy with, as far as a life. But when I was a kid living maybe a mile and a half from where I am right now, it was not a happy time.
Why were you not happy?
I lived in a dysfunctional family environment. My parents fought a lot. I was unhappy in school. I was a teenage alcoholic. I went through a lot of failure, then rejection by my peers. I wallowed in self-pity.
And how does "Radio Moscow" address that?
Well, the radio, you know — it told me that there was a bigger world out there; that you could leave this place. And at the same time, reading Thomas Wolfe's Look Homeward Angel helped me understand that, too. Hell, I got my folks to send me off to a military school just to get away from here. It felt liberating to me to have guards walking outside the door at night to make sure you're studying. [Laughs] So that song is really a reflection on who I was then.
The album opens with one of your poems read by Scott Avett. Is there a difference to you between writing poetry and writing songs?
If I'm writing poetry I tend to want to keep it more austere and sparse, although there's a song on the album, "Ghostland," that started out as a poem and I converted it into a song by putting a rhyme scheme in it. In my poetry I avoid rhyme schemes.
But I think there's places where the two merge. Like with [the proto-socialist Scottish poet] Robert Burns — he's called a poet, because he was, but his poems were songs. And of course, William Blake — he had his Songs of Innocence and Experience. You can sing those. [Sings a line of Blake poetry.] So it's a murky thing.
The thing is, I don't worry about it. It's like with painting, I just do it. For years I had that editor or professor or critic in my ear, chattering away, but I finally wiped all that away. I don't remember when I did it, but it was a good thing to do.
Now that you're back to recording and performing regularly, do you feel like you've found a new groove?
Oh yeah. I'd already been feeling like I wanted to do something more like I did back when I started, with an acoustic guitar and songs where you can hear the words and stuff. I had gotten real grouchy for a while. I really didn't want to have contact with people. I just wanted people to leave me alone. But really, I had gotten sick of myself. I had gotten sick of seeing my name in the paper or my picture here and there. I was a minor-league celebrity and getting sick of it. [Laughs] I guess I'm still kind of like that guy in "Radio Moscow." I have my limits with people.
But you have to give yourself another chance. And that's what I did. I've always been lucky like that. Things happen at the right time. I've been jumping from one sinking ship to another for a long time, but I like the one I'm on now. It seems pretty solid. It's floating along pretty good.