Twenty five years after the release of Susan Faludi's book, Backlash: The Undeclared War on American Women, the backlash she spoke about remains, even as women around the world continue to shatter glass ceilings.
Just as in the years following Faludi's book, when millions of Americans believed that Anita Hill lied or Nicole Brown Simpson got what she deserved, there are still many who believe that Hillary Rodham Clinton is somehow an even bigger liar than the typical politician. All the while, perhaps the most sexist presidential candidate since the days of suffrage sits atop the GOP in 2016.
In the sports world, it can be even tougher for women to get the respect they deserve. With NASCAR in town this week, it's worth taking a look at the treatment of Danica Patrick by fans and the media.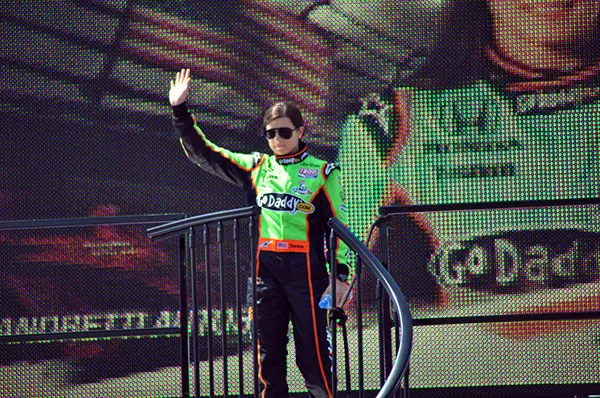 Photo by Bryce Womeldurf
Danica Patrick lost her GoDaddy.com sponsorship in 2015, although the company has remained supportive and a spokesperson stated they aim "to keep her in the GoDaddy Family."
Patrick is not the first of her kind; Sara Christian, Ethel Flock and Louise Smith all drove in stock car races for a decade immediately following the Second World War. Three decades later, a powerful feminist wave swept along women racers like Janet Guthrie, Lillian Vandiver and Sylvia Thompson.
What makes Patrick different is her fame and the resulting pressure. Despite being the first woman to lead the Indianapolis 500 — finishing third in 2009 — and a top-10 finish in the 2013 Daytona 500, Patrick has been roughly criticized by analysts within the sport and in 2014 was named one of the top five most overrated athletes in the world by CBS New York.
When Patrick made the jump from the IndyCar Series to stock cars in 2012, NASCAR was looking for a savior. "She was welcomed with open arms because she would bring eyeballs to a sport in decline," says Mary Jo Kane, director of the Tucker Center for Research on Girls and Women in Sport at the University of Minnesota.
Not everyone was so welcoming, however. Patrick's failure to quickly reach the top of the sport led to a royal backlash. Richard Petty trashed Patrick, stating in 2014 that she could only win "if everybody else stayed home." Again this year, Petty lived up to his last name when he confirmed his position during Daytona, saying, "She just settled in where she's at. She ain't gotten no better or no worse."
Attacks like these from Petty and more harsh ones from his son Kyle and others in the media do not surprise Kane, who worries that Patrick's hyper-sexualized branding will not help female athletes.
"There's nothing wrong with her marketing herself on her looks," Kane says. "However, it leads to a double standard where her performance is judged more harshly because so many people perceive that her spot is a function of her looks. This means she is getting far more criticism than other drivers who perform at a similar level."
Nancy Hogshead-Mankar, civil rights lawyer and three-time Olympic gold medalist in swimming who recently founded Champion Women, a nonprofit committed to using sport to improve the lives of girls and women, says women athletes are judged in this way whether they appear in sexy Super Bowl commercials, like Patrick has, or not.
"Part of the dilemma women face is that they have to be good at two things: actual performance and appearance," she says.
Expecting Patrick to dominate NASCAR immediately would be ridiculous. Even lower expectations were probably unrealistic, given the cruel math behind NASCAR's competitive culture.
Experts say hitting a baseball is the hardest task in sports because even the best fail nearly seven out of 10 times, but in terms of failure, being a NASCAR driver is much more difficult. Elite drivers lose nine out of 10 races, and very good drivers fail 99 out of 100 times. Michael Waltrip lost his first 462 Sprint Cup races — more than three and a half times the amount of races Patrick has participated in to this day — before winning Daytona in 2001.
In 2015, only 11 drivers won NASCAR Sprint Cup races. The list of talented, veteran drivers who did not win a single race last year includes Ryan Newman, Jamie McMurray, AJ Allmendinger, Greg Biffle and Clint Bowyer.
Newman, who almost stole the 2014 Sprint Cup championship, has lost 100 races in a row. McMurray is zero for his last 88. Allmendinger has won just once in 296 career races. Biffle has won 19 Sprint Cup races and is a likely Hall of Famer, but he's lost his last 105 tries. Bowyer has finished in the Top 10 in 44 percent of his 373 career races, but he's mired in a 125-race drought.
The backlash from analysts and Internet comment boards would have one believe Patrick is a weak driver who shouldn't be on the track, but no one says any of her peers should lose their respective rides. In the 2016 Sprint Cup standings, McMurray is 14th, Allmendinger is 17th, Newman is 18th, Danica is 23rd, Biffle is 24th, and Bowyer is 26th.
What Patrick really needs now is a win. Unlike her five peers, Patrick is zero for her career, which is at 130 races and counting. Many insiders and fans think she is destined to be little more than NASCAR's Anna Kournikova. Despite the use of their appearance to generate sponsor dollars and media interest, they are not comparable.
Criticizing Patrick for not winning is like criticizing Klay Thompson for not being as good a shooter as Steph Curry. Patrick works incredibly hard at her craft and has repeatedly shown her ability to adapt and improve. It's only a matter of time until she gets her first win.
It's possible to be outstanding at something without being the best, but that may not be good enough if you're different from everyone else. As Patrick told Kelley Earnhardt Miller on the Fast Lane Family podcast last year, "In racing, it is super unique still [to be a woman]. I don't shy away from it because I understand that it's helped me get to where I am today. But if I don't have good days on the track, I always notice the media will fade away, and it seems really sad and nobody wants to talk to me."
If anything goes wrong for the 10 car, Patrick gets crushed. During Friday practice before the Dover race two weekends ago, a gear failed in Patrick's car, which caused her Nature's Bakery/Autism Delaware car to catch fire and drop oil all over the track. Nasty crashes for Tony Stewart, Patrick's team owner and a strong supporter over the years, and McMurray followed after they hit the oil. Patrick immediately raced to check on her fallen colleagues.
Who could blame Patrick for equipment failure? A lot of people, apparently. An inaccurate and malicious Sporting News headline read, "Danica Patrick causes crash at Dover; Tony Stewart involved."
The Internet trolls were much worse, as they're wont to be, directly attacking Patrick's skills within minutes. One troll named Mr. Big Balls — an interesting moniker for a man hiding behind a psuedonym to insult women on the Internet — on the Yahoo comments board epitomized the worst elements. "She should be making sammmiches (sic) and blowing her husband not wrecking cars and jeopardizing Nascar (sic) drivers (sic) health with her so called (sic) skills and #$%$ luck," he wrote.
Two days later, when Jimmie Johnson's car failed to change gears on a late restart during the Dover race and triggered a massive pileup, no one blamed Johnson. Of course, Johnson deserved no heat — and neither did Patrick.
If Patrick's mere presence in the sport brings out the worst elements of a profoundly conservative culture, Patrick's appeal to girls suggests a brighter future for women in motorsports. That devotion reminds many of the love generated by the UNC women's soccer dynasty, one of our state's greatest teams. "Mia Hamm gave us a new notion of what sport means in the South," says Tom Hanchett, former staff historian of the Levine Museum of the New South.
"I try and use gender for the positive, inspiring little kids," Patrick told Earnhardt Miller. "Growing up, my dad never really compared me to other girls. He always was pushing for me to just be the best. That's the perspective I take on everything is how do you become the best at it, and it's really genderless. Why not be the best?"
Patrick's brand of feminism is a bit limited, which is understandable, according to veteran observers. "Danica Patrick's inability to talk about sexism is no different than Michael Jordan's inability to talk about racism," says Hogshead-Mankar.
Humpy Wheeler, former President and General Manager of Charlotte Motor Speedway, has said, "The working man of the South is still the core race fan of NASCAR." To wander out among the thousands of men partying in the Charlotte Motor Speedway infield is to feel that vibe as it relates to Patrick. Nobody thinks much of her racing skill, and they are more than willing to throw shade on her personal life, too.
"Sexism is profoundly embedded in our culture. It's not unique to Danica, but it's exacerbated by the role she plays," asserts Kane.
Research by the Tucker Center shows that 40 percent of all athletes are women, yet only four percent of all athletes are represented in the media. Patrick has done an amazing job of drawing attention to her brand, but has she gained anything in the long run for the sisterhood?
Not necessarily, according to Kane. Five years ago, in an article entitled "Sex Sells Sex, Not Women's Sports" in The Nation, Kane wrote, "Media images that emphasize femininity/sexuality actually suppress interest in, not to mention respect for, women's sports."
As Hemingway once said, "There are only three sports: bullfighting, motor racing, and mountaineering; all the rest are merely games."
Hemingway's quote points to the continuing tension about what auto racing is. Is it a sport, something less or something more? Anyone who knows how to drive has probably raced somebody somewhere, which makes it feel relatable and perhaps less heroic. Yet the potential for death cuts the other way, making it seem more fraught with meaning than, say, the major three American sports. The threatening nature of the sport makes Patrick's gender-busting role potentially even more significant.
The day Patrick finally wins a Sprint Cup race will draw tremendous media attention, and may even lead to a short ratings boost for the sport. But it will not end the backlash against Patrick. That would take a hot streak that only a handful of racers seem capable of. Without a red-hot Patrick, cultural change in NASCAR nation will be gradual, at best.
While this country almost seems set up for the first woman president, the idea of a Wonder Woman on the race track may still be decades away.
Tucker Center for Research on Girls and Women in Sport
Mary Jo Kane
Sprint Cup
Richard Petty