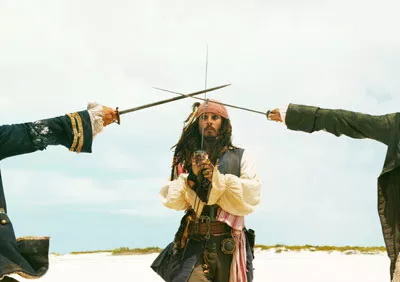 SHAKY SWORDPLAY Jack Sparrow (Johnny Depp) laments that it takes three to tangle in Pirates of the Caribbean: Dead Man's Chest
The fan frenzy surrounding Pirates of the Caribbean: Dead Man's Chest (**1/2 out of four) has reached such a fever pitch that had producer Jerry Bruckheimer merely shot two hours of Johnny Depp filling out his tax returns and released it under the Pirates moniker, it still would have scored a $75 million opening weekend without breaking a sweat. Luckily for the moviegoers who turned 2003's first installment, The Curse of the Black Pearl, into a $305 million smash, that's hardly the case, and it's difficult to imagine that this latest chapter won't emerge as this summer's top moneymaker.
Yet at 145 minutes, Dead Man's Chest ends up providing too much bang for the buck. That's just about the same running time as its predecessor, but that film wore its length better, given that the screenplay had its hands full establishing the setting, introducing numerous characters, hammering out its weighty plot, and still finding time to include a number of action scenes that operated in the best swashbuckling tradition.
Certainly, those expecting amazing feats of derring-do won't be disappointed by this new film. The effects-driven action scenes are clearly the picture's highlights, and they alone make Dead Man's Chest worth the price of admission. But on the heels of Superman Returns, a movie of substance that nevertheless made sure not to skimp on its adventure quota, this one too often rings hollow. The first Pirates felt like both an organic movie and the theme park attraction on which it was based; this one just feels like a roller coaster ride, full of momentary thrills but leaving little in its wake except a sudden desire to rest for a minute. It isn't breathless as much as it grows tiresome, and it's especially depressing to see how little the characters have been allowed to evolve.
Those who found Curse's plot a bit on the convoluted side might as well not even attempt to unscramble the goings-on this time around. But the central thrust finds Captain Jack Sparrow (Depp) tangling with the ghostly Davy Jones (Bill Nighy) in an effort to save his own soul from eternal damnation beneath the sea's surface; it's possible that his scheme will require sacrificing his friends Will Turner (Orlando Bloom) and Elizabeth Swann (Keira Knightley), but that's a compromise the self-serving Jack can accept.
Equally as impressive as the action scenes are the fantastical creatures that parade before our eyes. Davy Jones basically has an octopus for a face, while his crew members are just as gruesome. And for the nostalgists, there's a formidable squid that seems to have glided right out of Disney's classic live-action version of 20,000 Leagues Under the Sea.
But the best fantasy tales are often the ones in which the special effects are subservient to the characters, not the other way around. Depp's still a lot of fun as the scurrilous Sparrow, but a headline-grabbing performance that seemed blazingly original the first time around no longer has the power to surprise, and there's no effort on the parts of scripters Ted Elliott and Terry Rossio to make up for that by deepening the character in any way. Bloom's Will and Knightley's Elizabeth are even less developed, and except for a couple of quips (him) and tirades (her), it's hard to remember anything of substance that they do during the course of the film. Instead, it's the makeup-sporting actors who steal this one, particularly Nighy as the ruthless Davy Jones and Stellan Skarsgard as Will's spectral father, "Bootstrap" Turner.
A word of warning: Since this is the middle film in a proposed trilogy, it follows the lead of The Empire Strikes Back, Back to the Future Part II and The Matrix: Reloaded. In other words, there's a beginning and a middle, but no end: In true cliffhanger fashion, the picture abruptly concludes with one final twist, requiring viewers to come back in a year to see how the storyline plays out. Here's betting that this will be one return engagement audiences won't skip.
GAME BOY, ADVANCE One of the crossword tournament enthusiasts spotted in Wordplay.
WHILE THE FADDISH "reality shows" on TV choose to spotlight petty and manipulative individuals with no discernible grasp of anything beyond their own 15 minutes of fame, many of the recent "reality movies" — I refer to documentaries, of course — prefer to focus on talented and intelligent people whose interests serve to enhance and illuminate the society in which we live. Whether it's the wordsmiths in Spellbound and Word Wars or the dancers in Mad Hot Ballroom and Rize, these folks have found viable, even inspiring, ways through which to channel their creativity, in effect bringing out the best in themselves and, consequently, paying tribute to the American notion of "the pursuit of happiness."
Wordplay (***1/2 out of four) follows in this tradition. An entertaining and enlightening documentary on, of all things, crossword puzzles, this lovely piece showcases the power of the American language and the pure, untainted joy that puzzle aficionados feel as they interlock their answers in the grids found within the pages of the New York Times. The film's central figure is the Times' crossword editor Will Shortz, who also serves as the puzzlemaster on NPR. Shortz provides some history on the origins of the crossword puzzle and also talks about the folks who help him come up with the brainteasers featured in the newspaper. Chief among these is Merl Reagle, who, in one of the film's most intriguing episodes, shows us how he creates a crossword puzzle from scratch (not from the top left corner, as many might think, but from the middle of the grid).
Celebrity puzzle fans also have their say. Bill Clinton describes his thoughtful approach to tackling the puzzles and reveals that the same strategy can also be applied to diplomatic matters. Ken Burns notes that civilization, as represented by major cities like New York, is comprised of grids (streets) and boxes (buildings), and that the crossword puzzle format is a logical extension of this. And Jon Stewart cracks wise about whether it's best to tackle the puzzles with a pen or a pencil, at one point joking that "I'm so confident, I'm going to use a glue stick."
As in all these docs, the movie wraps up with a major competition, in this case the 28th Annual American Crossword Puzzle Tournament held in Stamford, CT. This finale will inevitably be compared to the nail-biting contest at the end of Spellbound (a great film that's already established itself as the gold standard in this sub-genre), and in that respect, it does fall short of generating the same level of tension and excitement. But because we're watching a documentary about intellectual excellence, we're not really expecting to find our hearts racing anyway. Wordplay functions as a playful celebration of brain power, and in that respect, it gets its point Across. And Down.