"Lord help me not to be just a barber but an example of you."
That phrase, dubbed as the "barber's prayer," is inked on the skin of local barber and stylist Brandon Locklear. Barber's poles, with those definitive red and white spiraling stripes, line both sides of the quote, a meaningful mantra that Locklear strives to live by. The tattoo also documents one of his life accomplishments — he got the barber's prayer tattoo the same week he graduated from barber school back in 2009.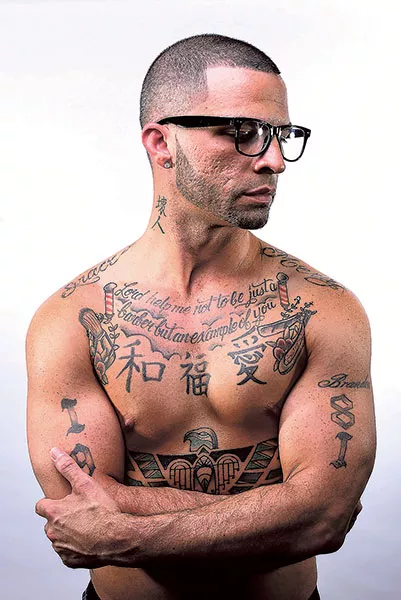 Brandon Locklear (Photo by Kevin "Surf" Mitchell)
Locklear is one of many Charlotteans whose portraits will be featured in Inked, an exhibit of photography featuring portraits of tatted up individuals. The exhibit opens with a reception on June 29 and runs through July 8 at The Gallery South End.
Teens and mentors that make up the local nonprofit organization Creating Exposure for the Arts shot the images featured in Inked. The program started back in 2010 and this is the first time its works are being exhibited. The program will continue to expand as students join and shots are added to the collection. The organization's mission is to provide opportunities for teens and young adults to get involved with the arts through a variety of programs geared toward photography and journalism.
Mark Pendergrass, founder and executive director of Creating Exposure, has been teaching and mentoring photography and journalism students for more than a decade. The idea for Creating Exposure began in 2001 and he worked in several similar programs and with other organizations up until its official recognition as a nonprofit in August 2015.
"We try to create opportunities to produce art, so that kids can be exposed to different skills and aspects of life," says Pendergrass, who was introduced to photography at a young age through church and school programming in Manhattan, New York where he grew up.
He hopes that members of the organization can further develop their craft after finishing programs and they will return to mentor others. With that in mind, he also realizes that not everyone will go on to pursue a career in the arts. And that's ok with him.
The idea is to introduce students to a new way of life. Through various ventures provided by Creating Exposure, students will be naturally exposed to influential people, places and things while learning valuable life lessons.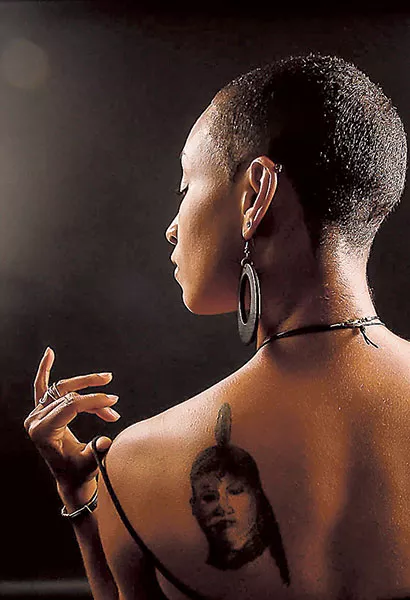 Jajuana Moonie (Photo by Troy Montgomery)
For Inked, one of many projects he plans to continue, he took students to shoot in studios as well as the YMCA, on street corners, at tattoo and barber shops and on college campuses. Of the latter, Pendergrass notes that through the experience some of the kids got their first introduction to a college campus.
"One of the things I tell kids is that the worst thing that can happen from picking up a camera and being involved in a program like this, is they would be the best photographer in their family. You'll learn about photography and other things you didn't know about."
Some folks, like Kevin "Surf" Mitchell, have went well beyond being the designated family photographer. Mitchell ventured in and out of the program and has since made a career out of photography. In addition to attending Northwest School of the Arts, he honed his craft through experiences with Creating Exposure and now has his own photography studio in Charlotte.
Going full circle, Mitchell returns to Creating Exposure meetings to help mentor students within the organization and to guide them in the art of shooting and photography techniques.
These days, Mitchell is known for his "Couch Surfing" series, which touches on themes such as homelessness and is comprised of photographs that feature a couch with a person sleeping on it in front of historic monuments and popular destinations.
For Inked, he shot the solo shots of Locklear, as well as shots of Locklear with celebrity/model/tattoo artist Dutchess Lattimore.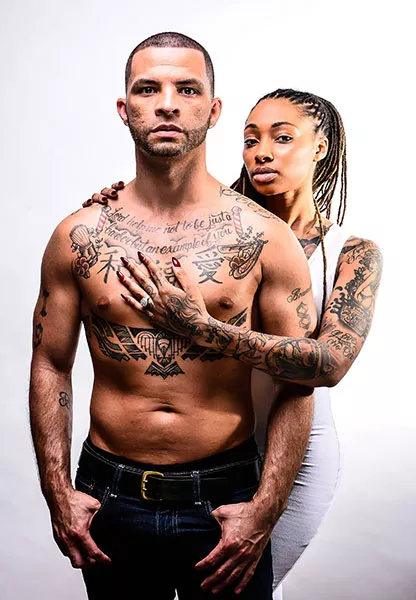 Brandon Locklear and Dutchess Lattimore (Photo by Kevin "Surf" Mitchell)
Lattimore, who starred in VH1's reality series Black Ink Crew, currently resides in Charlotte. In November of 2015, she opened her own tattoo shop Pretty-N-Ink on South Tryon Street.
Other celebrities featured in the exhibit include Charlotte-born Anthony Morrow, a basketball player for the NBA's Oklahoma City Thunder.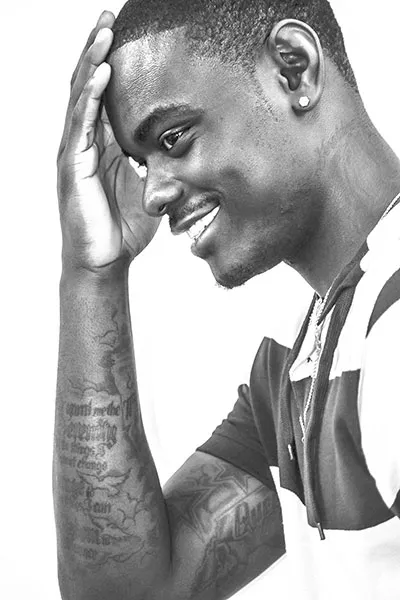 Anthony Morrow (Photo shot by Gianna Pendergrass)
The photograph of Morrow was shot at a barber shop by Pendergrass' daughter, Gianna Pendergrass. Now 16-years-old, she has been shooting since she was five-years-old and thinks of members of the group as brothers and sisters.
In total, the exhibit features 15 photographs shot by 10 members of Creating Exposure during a six-year time span. Despite appearances by several celebrities, most of the images are of everyday people.
The shots contain a diverse group of folks, who vary in ethnicity, age and occupation. Many of those featured were chosen at random by students who were on a mission to capture the one thing they all have in common: ink.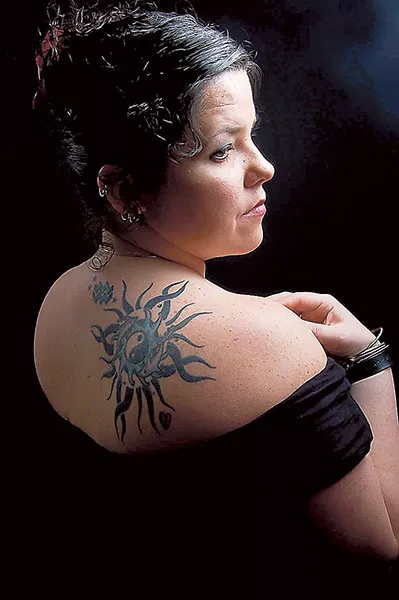 Jen Wilson Cowan (Photo by Hakiym Roach)
"What drew me to Inked was wanting to understand the background of the stories behind peoples tattoos," says Mitchell, who also helped in remastering photographs in the exhibit. "You have people that have tattoos to have tattoos but some people have tattoos because an event from their life."
Joseph Johnson, a student in Creating Exposure for a decade — he joined the program when he was 13 and he's 23 now — was used to getting smack-talk for his rose tattoo. The flower, surrounded by a name and dates, was exposed during the summer month's when he'd skateboard shirtless around town. While most folks assumed he was smitten and had gotten a girlfriend's name inked onto his skin, that wasn't the case at all. For Johnson, the tattoos serve as a memorial to his mother who died when he was just two-years-old.
"Every tattoo I have has a story. I don't just get them to get them. And for each tattoo somebody asks me about, I give them an explanation and story behind the tattoo," he says. "For that one, it was the story of my mother and me not knowing her but hearing stories about her through other family members."
Although the exhibit doesn't feature a photograph of Johnson's tattoos, there are works that he shot and assisted in shooting with others.
Like Johnson, Locklear shares a similar family memorial on his skin — his grandmother's name.
"When she passed away I got that tattoo because she was a big part of my life and it symbolizes her and how she was always there for me," Locklear explains.
At the top of Locklear's shoulders, you'll see the words "grace" and "mercy," two attributes that helped him years back when he was diagnosed with cancer. On his stomach, there's a tribal eagle design that he says represents freedom and pays homage to his Native American roots.
Though Locklear isn't a part of Creating Exposure, his experience in serving as a model and muse for the students has had a profound effect on him. "Experiencing new things can cause you to grow," he exclaims. He goes on to cite a quote from Oliver Wendell Holmes, Jr.: "A mind that is stretched by a new experience can never go back to its old dimensions."
For Johnson, a similar thought prevails and he shows his exuberance to continue his current endeavors with the organization. "My biggest lesson is that I learned to give back and see an opportunity in everybody," he says. "Mark [Pendergrass] sees the opportunity within somebody and gives them a chance to prove themself and go out and make a difference in the world. I'm more than willing to give back and to show the younger generation that there are always opportunities."
For more information on Creating Exposure and how to get involved, visit creatingexposure.com.