It's a quarter to noon on a Friday, and the Uptown lunch crowd that's lined up in front of Hazelnuts Crêperie is already starting to overflow into the lobby of its 200 South Tryon St. location.
For owner Asi Agajan, seeing the crowd of crêpe-seekers fill the lobby is a welcome sight. He can still recall a time, not too long ago, when lunchtime in the lobby looked very different.
"I used to spend hours in the Overstreet Mall handing out menus during lunch to get people to come visit us," he says. "It was really challenging at first, especially in this location at the back of the building."
Agajan opened Hazelnuts Crêperie in 2012, at the tail-end of the financial crisis. He recalls a drastically different food scene in Charlotte back then.
"This building was half empty then. Everything was really quiet. We were at the dead-end back of the building. People had no reason to come back here."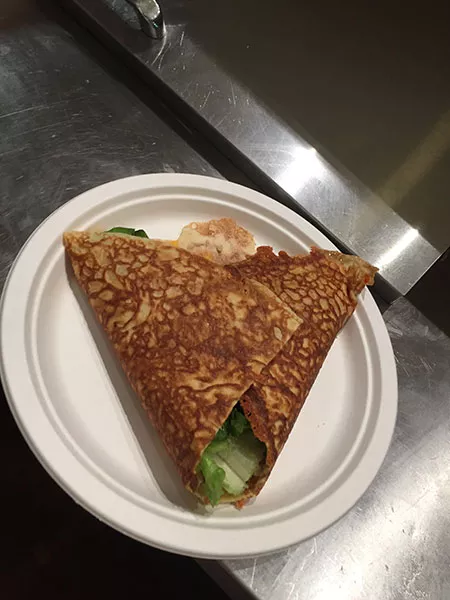 Hazelnut's signature curry chicken crêpe. (Photo by Madeline Lemieux)
With just two griddles in the kitchen and a small staff, Agajan recalls feeling slammed if ten people came in for lunch. After a year of uncertainty, his perseverance finally paid off.
"Something just changed. All of a sudden people were coming, we got busy and I didn't have time to hang out in Overstreet handing out menus anymore."
Agajan added more staff to the kitchen and installed more griddles to accommodate the increase in demand and production.
"People were talking about it with their friends, coming with their coworkers," he says. "We started noticing excitement brewing around the product. It was pretty unique, especially for Charlotte."
Opening a fast-service crêperie in post-recession Charlotte was just one on a long list of gambles to pay off for Agajan. It all started in New York, where he managed a retail business and found himself craving a change of pace.
"I was in a position where I had nothing to lose, so I closed my business and said 'I'm going to go get a job in a restaurant and see what happens,'" he says. "The first place to hire me was a crêperie."
Once Agajan mastered the craft, he began to fine-tune his vision for a sweet-and-savory one-stop crêpe shop. That vision followed him south when he visited the Carolinas on a whim and fell in love with the Queen City.
"There are so many pockets with their own identity," he says. "That was a big thing for us. So I found this space and just got rolling."
The next order of business was devising a menu of sweet and savory crêpe options.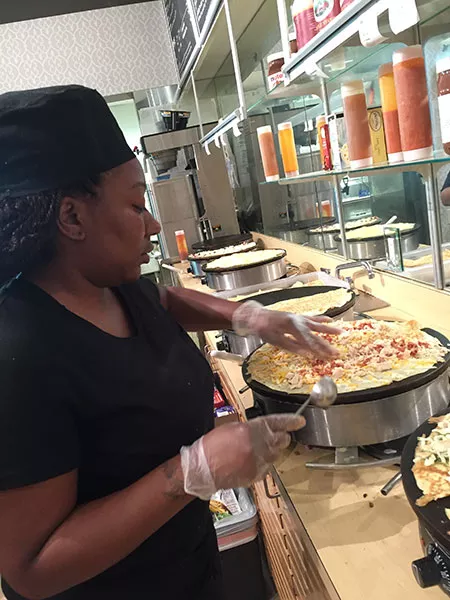 A member of the kitchen staff gives us a demonstration on how the crêpe magic happens. (Photo by Madeline Lemieux)
"A lot of the recipes are influenced by my personal experiences," Agajan explains. "There's kind of an international influence." He credits his love of Indian food for inspiring the Chicken Curry crêpe — a "non-stop bestseller."
Maple Dream, a popular breakfast crêpe, was inspired by a customer who visited Hazelnuts in their early days.
"She was from Vermont, and she came in and created this crêpe with maple syrup on it," he says. "She ate it and said, 'This is awesome!' so we tried it out as a special and people went crazy over it. It's been our best-selling breakfast crêpe since then."
Weathering the storm has paid off for Agajan, who opened a second Hazelnuts location in 7th Street Public Market. "At the market, it's more leisurely," he says of the new location. A third location is set to open later this year at south Charlotte's Blakeney shopping center.
In addition to opening more crêpe stands across the city, Agajan has toyed with the idea of launching a food truck or mobile catering service. One thing that isn't on the agenda, though, is expanding the menu.
"We're gonna stay focused on crêpes, that's what people really enjoy about the concept," he says. "People like that we specialize in something. I think it's part of what makes us successful."
Other crêpe spots — under different ownership — like Crispy Crepe in South End and Crepe Cellar Kitchen and Pub in NoDa, are creating more options for folks around Charlotte to try the French-inspired treat.
"Five years ago, there wasn't that much activity and I had to drag people in off the streets," he remarks on how he's watched Charlotte's food scene evolve. "Today, the economy is stronger and there's more variety. There's a lot more business, and you have a lot of people looking for something a little bit outside of the box."
Agajan still sees plenty of opportunity to create crêpe converts in Charlotte.
"A lot of people aren't familiar with what we do," he says. "Their friends say 'let's get crêpes,' and they just think of the traditional, soupy French crêpes with three ingredients."
"People are surprised by our style of crêpes. We're more like sandwich crêpes, and those people will leave here saying, 'I didn't want to try it, but I'm glad I did because it wasn't what I was expecting.'"