The first thing Craig Bove asks his students when they show him something they've written is, "What is it?'"
"I make them define it," says Bove, who's taught music theory, music history and composition at Central Piedmont Community College since 1998. Bove is a performer and composer of "new music," contemporary compositions that challenge audiences to consider sounds not often associated with songs and melodies. It's an experimental field, but Bove has little use for abstraction. For him, music must draw on how people sense and interpret the world. It also should tell a psychological story, and it must be realized in the real world.
"Any idiot can have a fancy idea," says Bove, who also leads the Out of Bounds Ensemble, a Charlotte-based new music quintet. "But it has to be rendered as something that is real and acoustic."
Bove builds on the groundwork laid by his mentor and former teacher Morton Feldman, a pioneer of indeterminate music — works associated with the New York avant-garde art world which also included composer John Cage and visual artist Jackson Pollack. Indeterminate music embraces chance and the choices made by the interpreter.
It's an approach that emphasizes the value of material, the acoustic reality of the composer's environment, whether is comes from an expensive instrument, or just the sounds you hear when you open a window.
"I ask [students] to find their own voice and what it means to find that voice in a contemporary environment," says Bove, who refuses to take credit for his student's successes and explorations.
"They're already enthusiastic when they arrive. They're already curious. It's incumbent upon me to maintain that enthusiasm by asking questions such as, 'What is it?' and 'What else can it be?'"
Creative Loafing: What inspired you to compose music?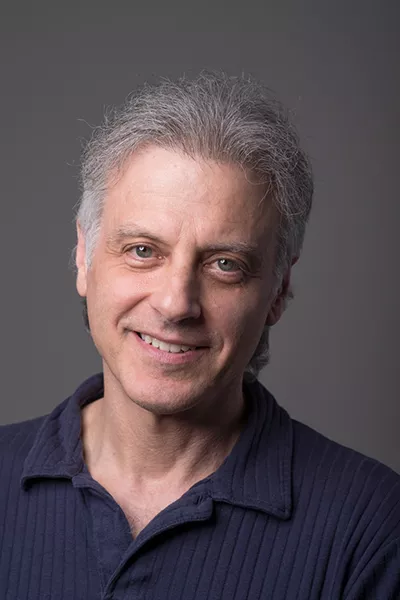 Craig Bove (Photo by Logan Cyrus)
Craig Bove: Growing up in the 1960s and 1970s I became fascinated by what I heard, and I started plucking away on my dad's mandolin. My mom and dad saw my interest and got me a guitar. I started playing and became immersed in it. I got into the progressive rock that was going on in the early 1970s. I dug into the guitar because of Steve Howe, who played with the rock band Yes. I was fascinated by the sounds he made because he was so unique. He was dirty as hell, and kind of gritty.
You've referred to composing as creating psychological narratives. What does that mean?
The sound world that I'm writing is a metaphor for what's going on in my head. It's an extension of the fiber of who I am, or what's going through me at any particular time. I try to reflect those changing states that we sense, which is how we interpret the world around us. We sense many things. We sense with our head, our eyes and our instincts. What I'm trying to do is show how those senses can be realized metaphorically through sound, and how those sounds are waves that are resonating outwardly from what's resonating inside. It's an awareness of what is going on intuitively. How do you realize it? How do you work through it to make it tangible? What are the intervals involved? What is the color involved? What is the register involved? It is a representation of what's going on inside of me as a composer. It's not just throwing stuff on the page and seeing if it sticks.
You're finding a musical way to express what we all do. We're taking a bunch of stimuli and then we come up with a story of reality.
Yes, and the sonic world is a metaphor for that. That's why I have titles to my pieces, such as "Aftermath," "Apparition," "Remains," "Risen," and "Restoration." They're all encapsulations of these psychological states represented through sonic metaphors.
Your Out of Bounds Ensemble has a remarkable line-up of local musicians. What's its primary purpose?
It's a collaborative effort between myself and [musicians and composers] Ron Parks, Tomoko Deguchi, Mark Lewis and Geoff Whitehead. At the time, 10 years ago, there was no consistent outlet for new works in Charlotte. We had been here for a while, and we had done occasional concerts here and there, but there was no fixed center. Our purpose is to find a place for new works to be realized. We've gotten students involved. We've had several concerts, which featured works by faculty composers and professional composers as well as students.
How did your piece "Risen" wind up on the recent Reflections on The Firebird?
The CD was just released a couple of months ago, but the recording was done in July 2015. The Bechtler Museum wanted several composers in the area to write an interpretive work that had the Firebird sculpture at its core. This is the shiny reflective sculpture outside the museum. [He's referring to the Firebird — L'Oiseau de feu sur l'arche, or The Large Bird of Fire on an Arch — by French-American artist Niki de Saint Phalle.]
The Bechtler Ensemble played the piece. They're another ensemble in town that now has new music at its core. It's starting to spread a little bit at a time.
At the Charlotte New Music Festival this past June, the Beo String Quartet played your composition Restoration. How did that come about?
The Beo String Quartet [Jason Neukom, Sean Neukom, Sandro Leal-Santiesteban and Ryan Ash] had been playing at the Charlotte New Music Festival for several years, and I got to know them from previous performances they had done of my work. They are just phenomenal players. It's great to hear someone interpret what you write with such care and such detail.
The piece itself is about restoring a fragment of a Bach cantata that I found. There are five measures of a Bach cantata. The rest of it is lost. So I attempted to restore that piece – hence the title – in a way that would reflect what Bach would have done. Then, I tried to see how [the cantata] would have an effect over time if other composers had tried the same thing. What if Debussy or Stravinsky had tried to restore it? I'm trying to get into these other composers' heads to see what they might have done with that same fragment. I'm kind of the moderator. The point is to get me out of the way and to see what kind of sound will be rendered.
What's next on the agenda?
A piece called "Chaos and Aftermath." It started life as a chamber work for the Bechtler Ensemble, suggested by the conductor Alan Yamamoto, who is division director at CPCC. He's putting together a concert of the Britten's War Requiem, which will happen in April 2018. In addition to that, [Yamamoto] wanted to create ancillary chamber concerts that also had to do with the concept of war. So he asked a group of composers, including myself, to write pieces that reflect the concepts represented in Britten's War Requiem. I thought of "Chaos and Aftermath" as much more than just the definition of war; I thought of it more broadly as conflict, and how conflict can be interpreted. This piece became a very personal response to the changing landscape of the past year or so — how that landscape has been divisive, and how that divisiveness is difficult to justify, negotiate or equivocate.