(View From The Couch is a weekly column that reviews what's new on Blu-ray and DVD. Ratings are on a four-star scale.)
Pat Boone and Shirley Jones in April Love (Photo: Twilight Time)
APRIL LOVE (1957). It's a shame the Golden Raspberry Awards (aka the Razzies) have become the final word in bad cinema, since that group's mostly made up of fanboys who always go for the same safe and predictable targets. (Ooh, multiple nominations for all the Twilight movies? How daring! How envelope-pushing!) Handing out "worst" awards didn't use to be such a timid pastime, though: Witness the Harvard Lampoon's Movie Worsts awards, which began in 1940 and lasted into the early 1980s (the Razzies began in 1981). These folks went after the large and, in many cases, unexpected targets, and they frequently received the wrath of film fans incensed at their selections. I mean, any group whose Ten Worst Movies selections over the years have included such genuine classics as Spellbound, Rosemary's Baby, Deliverance, American Graffiti, Blazing Saddles and Raiders of the Lost Ark clearly isn't afraid of controversy. Today, the inclusion of April Love on the outfit's list of the Ten Worst Movies of 1957 (a roster led by Raintree County and including Funny Face, Peyton Place and Pal Joey) may not seem like a big deal, but it's almost certain that it irked many moviegoers of the day. The film was a beloved box office hit (it grossed roughly the same amount as that year's Elvis Presley smash, Jailhouse Rock), and it provided a showcase for popular new star Pat Boone. (The Harvard Lampoon took care of him as well, by awarding him the prize that year for the most inauspicious debut for Bernardine, which beat April Love into theaters by a mere two days.) It's difficult to imagine anyone getting so worked up over this film, a harmless piffle in which Pat plays the least likely juvenile delinquent in film history. His character, Nick Conover, got arrested in Chicago for stealing — make that borrowing — a car alongside his friends (all bad influences on young Nick, we're told), so he's ordered to make amends by spending the summer in the country with his Uncle Jed (the eternally endearing Arthur O'Connell, as folksy here as in the Elvis vehicle Follow That Dream and Otto Preminger's Anatomy of a Murder) and Aunt Henrietta (Jeanette Nolan). There, he finds romance with the neighboring Liz Templeton (the always adorable Shirley Jones) and redemption through his encounters with a temperamental horse. This earned a Best Original Song Oscar nomination for the title tune, a smash for Pat.
Blu-ray extras consist of audio commentary by Jones and film historian Nick Redman; the theatrical trailer; and an isolated score track.
Movie: **1/2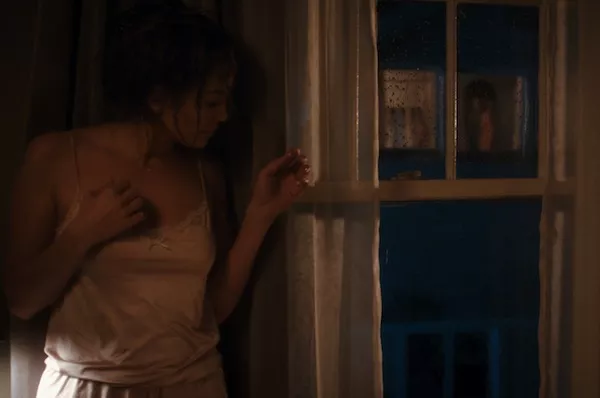 Jennifer Lopez in The Boy Next Door (Photo: Universal)
THE BOY NEXT DOOR (2015). Back in 1944, "The Boy Next Door" was a popular tune sung by Judy Garland in the musical masterpiece Meet Me in St. Louis. Fast forward to 2015, and The Boy Next Door refers to a turkey that induced groans in St. Louis, St. Ives and anywhere else this hellish drama popped up. Reminiscent of the dopey "women in peril" thrillers that blotted the landscape in the years surrounding Y2K — bombs that featured the slumming likes of Angelina Jolie, Halle Berry and Ashley Judd — this one stars Jennifer Lopez as Claire Peterson, a high school teacher wooed by her hunky new neighbor, 19-year-old Noah Sandborn (Ryan Guzman). Noah's hot for teacher, and when he makes a pass at her, she responds favorably to his pawing. But the morning after their rapturous lovemaking, Claire realizes she made a mistake; for his part, Noah professes to love her and goes bonkers when she spurns his further advances. It's at this precise point, when Noah goes from 0 to 60 mph on the psycho scale, that the film hits (with apologies to Mel Brooks) Ludicrous Speed. Noah's on-a-dime transformation is scarcely believable, and any character shadings are immediately stripped in order to turn him into a one-dimensional villain so hissable that one wonders if he also drop-kicks puppies on the side. As for Claire, she's the typical dunderheaded heroine found in thrillers of this low caliber, making so many mistakes in dealing with her stalker that you wonder how she can possibly possess the brainpower to master a light switch, let alone teach Homer's The Iliad to bored teens (maybe she was confusing this Homer with Homer Simpson?). The Boy Next Door is also the sort of daft picture in which a folder of incriminating evidence related to murderous deeds is conveniently named and resting conspicuously on a computer desktop, and where no one apparently has ever heard about this magical realm known as iCloud, where photos can be stored out of reach of home invaders seeking to destroy evidence. Back in 2002, Lopez starred in the abysmal Enough, another movie in which she's terrorized by a violent brute (albeit a husband rather than a lover). Perhaps The Boy Next Door should have been written as a sequel to Enough; that way, it could have arrived with the critic-friendly title Enough Already.
Blu-ray extras include audio commentary by director Rob Cohen; a making-of featurette; and deleted scenes.
Movie: *
Ernest Borgnine in Convoy (Photo: Kino Lorber)
CONVOY (1978). There have been movies based on a board game (Clue, Battleship), based on a stand-up routine (Bebe's Kids) and even based on a series of bubble gum cards (The Garbage Pail Kids Movie). Here's one based on a country song, and while the tune itself remains catchy, the movie proved to be the worst of director Sam Peckinpah's entire career. A road movie of the yee-haw variety, it makes the more enjoyable Smokey and the Bandit look positively Shakespearean in comparison and even allows the dim-witted The Cannonball Run to appear as mature and masterful as The Grapes of Wrath. The C.W. McCall radio hit serves as the linchpin for this insufferably shallow yarn in which a legendary trucker known as Rubber Duck (Kris Kristofferson) leads a caravan of trucks across America's highways while evading capture by corrupt sheriff "Dirty" Lyle Wallace (Ernest Borgnine). Along the way, Rubber Duck turns into a folk hero, and he must decide whether to become part of the Establishment (repped by Seymour Cassel's glad-handing governor) or continue to flip it the middle finger. Peckinpah and scripter Bill L. Norton suggest that the spirit of the American cowboy has been transferred to today's truck drivers — a ludicrous notion by any standard — but then don't even bother to provide much reflection on behalf of their theory, choosing instead to fill the picture with labored car chases and barroom brawls. The charismatic Kristofferson does what he can with his threadbare role, while Ali MacGraw, who arguably still owns the worst Oscar nomination ever given to a performer (Best Actress for Love Story), is typically terrible as the Duck's latest squeeze. Borgnine is, well, Borgnine, and his character turns out to be the most maddeningly inconsistent of the bunch. Peckinpah, deeply immersed in booze and drugs for the second half of his career, only made one more picture, the 1983 disappointment The Osterman Weekend, before passing away in 1984 at the age of 59.
Blu-ray extras include audio commentary by film historians Paul Seydor, Garner Simmons and Nick Redman; a lengthy making-of retrospective piece; three deleted scenes (shown through stills); a featurette looking at the film's posters from all over the world; and the theatrical trailer.
Movie: *
Joe Pesci, Ray Liotta and Robert De Niro in GoodFellas (Photo: Warner Bros.)
GOODFELLAS (1990). At the time of this classic's release, Martin Scorsese was quoted as saying, "What people don't understand is that a gangster's job is not to go around killing people. A gangster's job is to make money. That's the main thing." GoodFellas, then, is the story of a "family" of gangsters who make a lot of money — so much, in fact, that they hand out 20-dollar bills as readily as street activists hand out pamphlets. But they do go around killing people — lots of people. Writing the script with Nicholas Pileggi (adapting his own book Wiseguy), Scorsese crafts a mob movie that strips away all hints of romanticism and nobility — traits previously found in most flicks in this genre — and presents us with venal characters who represent the bastardization of the American Dream. Ray Liotta handles the largest role as Henry Hill, who's on balance nicer than his cohorts, while Robert De Niro receives top billing as the respected and deadly Jimmy Conway. Yet it's Joe Pesci who dominates the picture with his fierce performance as Tommy DeVito, an ill-tempered mobster who frequently displays the tendencies of a rabid wolverine. Scorsese's artistic temperament is in sync with the film's own pulse; for instance, watch how the camera smoothly weaves through corridors in the early expository scenes, yet note the choppy editing when Hill's life unravels later in the picture (the contributions of cinematographer Michael Ballhaus and editor Thelma Schoonmaker are invaluable). Considered by many to be Scorsese's finest achievement, it's certainly one of the premiere mob movies, and a motion picture so alive and full of energy that it continues to improve with each viewing. Nominated for six Academy Awards, including nods for Best Picture, Director, Adapted Screenplay, Supporting Actress (Lorraine Bracco as Henry's wife) and Film Editing, this deservedly nabbed Pesci the Best Supporting Actor prize.
GoodFellas is being re-released on Blu-ray in a 25th anniversary package that includes a remastering of the film as well as a 36-page photo book. Extras include audio commentary by Scorsese, Liotta and other cast and crew members; separate audio commentary by the real Henry Hill and FBI agent Edward McDonald; a making-of featurette; a new piece featuring interviews with Scorsese and various actors who have worked for him; a look at the storyboards; and the theatrical trailer.
Movie: ****
Timothy Spall in Mr. Turner (Photo: Sony Pictures Classics)
MR. TURNER (2014). With the exception of the marvelous Topsy-Turvy, Leigh's movies are generally small-scale efforts usually filmed in someone's house (past gems include Life Is Sweet, Secrets & Lies and Another Year), and they can be watched pretty much in any manner and on any device. But Mr. Turner, a look at the later years in the life of 19th century British painter J.M.W. Turner, is a work bathed in period opulence, so if you don't already own a large-screen TV, you might want to rush out and buy one before popping this film into the player. Its technical achievements are exemplary enough to have earned a total of four Academy Award nominations, and while the bids for Best Costume Design, Best Production Design and Best Original Score made sense, it's the nomination for Best Cinematography that most deserved its perch. On the 2014 landscape, only Emmanuel Lubezki's Oscar-winning camerawork on Birdman topped that of Dick Pope's efforts on this picture — some of his unique shots are beautiful enough to elicit awe and admiration, which makes this picture a perfect match between subject matter (artist) and presentation (artful). Timothy Spall plays the artist as a surly sort, harrumphing his way through life. It would be easy to show Turner as nothing more than a misanthrope — all the elements are in place — yet Leigh and Spall prefer instead to carve out a distinctive individual, a man who's curt to most people around him and who can be cruelly dismissive of the household servant (Dorothy Atkinson) who provides him with as-needed shags, but who deeply adores his genial father (Paul Jesson) and who, late in life, finds love and happiness with a widow (Marion Bailey) he meets during one of his seaside retreats. Mr. Turner milks many character details out of seemingly isolated incidents; one of the best involves Turner's fascination with this newfangled contraption called the camera, and how his approval of the device ultimately commingles with his fear that it will render him — indeed, all artists — obsolete. How it would have amused him, therefore, to learn that this invention, this camera, would subsequently pave the way for the creation of a medium that has now further enshrined him in immortality.
Blu-ray extras include audio commentary by Leigh; a deleted scene; and a featurette on Pope's cinematography.
Movie: ***
Tom Wilkinson and David Oyelowo in Selma (Photo: Paramount)
SELMA (2014). There were better movies released during 2014 than Selma — though all could be counted on just one hand with the thumb neatly tucked underneath — but were there any more topical, more important, more monumental? In a year that saw the United States take a huge step backward on the path to racial balance — a 12-month period in which scores of citizens found nothing wrong with unarmed black males being killed by (inept at best, evil at worst) white cops but found everything wrong with the casting of a black child as a fictional cartoon character — it seems only proper that 2014 found room for a film that comfortingly casts a ray of light into the darkness of despair. Selma may be set in 1965, but its issues, its conflicts and its idealism remain front and center five decades later. The film examines the period when Martin Luther King Jr. (David Oyelowo) sought and fought for equal voting rights — from meeting with a reluctant President Lyndon B. Johnson (Tom Wilkinson) to strategizing with his friends and colleagues, he works tirelessly for his cause, always aware of the dangers that face both him and his supporters. But King won't be deterred, and he ends up staging a landmark march between the Alabama towns of Selma and Montgomery. There's no need for pumped-up histrionics when history itself has provided such a compelling blueprint, and director Ava DuVernay wisely allows all emotions to naturally flow from Paul Webb's script. Selma is a film full of feeling, particularly when dealing with the heavy weight of tragedy. Oyelowo delivers a commanding performance as MLK, and as Coretta Scott King, Carmen Ejogo is also effective, with her scenes opposite Oyelowo in essence helping to humanize King and making it harder for the naysayers to accuse the picture of unfiltered hagiography. Not that the naysayers didn't try — in fact, the bigots quickly smelled blood. It's common practice during awards season for fact-based flicks to be placed under a microscope and inspected for elements that deviate even an inch from historical record (it's called "dramatic license," you morons), and in the case of Selma, it was the charge that Johnson's portrayal is inaccurate and unfair. Coming from Internet trolls who heretofore wouldn't have known LBJ from a PB&J, it's laughable and more than a touch pathetic. A Best Picture Oscar nominee, this won the Best Original Song statue for John Legend and Common's "Glory."
Blu-ray extras include audio commentary by DuVernay and Oyelowo; a making-of piece; deleted scenes; and the music video for "Glory."
Movie: ***1/2
François Truffaut and Isabelle Adjani in The Story of Adèle H. (Photo: Twilight Time)
THE STORY OF ADÈLE H. (1975). There was much grousing surrounding the Best Actress Oscar race for 1975, for while the year was a terrific one for movies (Jaws, Nashville, Dog Day Afternoon and more), it wasn't a particularly noteworthy one for lead actresses. As chronicled in Wiley-Bona's Inside Oscar, the New York Times, in a pre-nomination piece, wrote, "There are so few surefire candidates this year that the list may be downright embarrassing," while, after the nominees were announced, Ellen Burstyn (the previous year's winner for Alice Doesn't Live Here Anymore) was vocal in her protest regarding the dearth of roles for women and called for an Academy boycott of the Best Actress race. Yet there was one performance that almost everyone agreed was better than the rest, and it belonged to 19-year-old Isabelle Adjani. Her turn as Victor Hugo's love-crazed daughter in François Truffaut's The Story of Adèle H. nabbed her the Best Actress prize from the New York Film Critics Circle, the National Board of Review and the National Society of Film Critics, and one might assume she didn't win the Oscar because this was the year One Flew Over the Cuckoo's Nest steamrolled over the competition, winning all five major awards — including Best Actress for Louise Fletcher, a limited performer landing the role of a lifetime (and one, it should be noted, that many felt would have been in the Best Supporting Actress category had Academy voters enjoyed the luxury of more viable candidates in the lead slots). The Story of Adèle H. relates the true-life tale of a love so unrequited, it brings to mind the adage that someone might as well be talking to a brick wall. Adèle is so consumed with a young English lieutenant named Albert Pinson (Bruce Robinson) that she leaves the Hugo household in Guernsey and follows him to his station in Halifax, Nova Scotia. Pinson, who interestingly is never brought into focus enough to determine if he's a misunderstood innocent or (more likely if one reads the scant tea leaves right) a womanizing lout, wants nothing to do with Adèle, but she's a woman obsessed, stalking his every move and fabricating this grand romance for her own benefit as well as that of her family back home. Truffaut's study of Adèle is ofttimes almost clinical in nature, but Adjani, jump-starting a career that would include Nosferatu the Vampyre, Camille Claudel (another Oscar nomination) and Queen Margot, brings more than enough volcanic passion to the project.
Blu-ray extras consist of audio commentary by film historians Julie Kirgo and Nick Redman; the theatrical trailer; and an isolated score track.
Movie: ***
Richard Mulligan and Nick Nolte in Teachers (Photo: Olive Films)
TEACHERS (1984). Teachers is built like one of those classic black comedies where dark, sometimes even gruesome, humor is used to punch home the seriousness of the situation at hand. Considering its antecedents include the masterful likes of M*A*S*H (tackling senseless war), The Hospital (tackling medicinal bureaucracy) and Network (tackling the sensationalized media), there's no shame in the fact that it doesn't quite measure up. It's too often painfully obvious in its implications and heavy-handed in its delivery (a symptom of several other films directed by Arthur Hiller, like Love Story, Nightwing and An Alan Smithee Film: Burn Hollywood Burn), but that's countered by the assembly of an exceptional cast as well as the prevalence of themes that remain relevant to this day. Nick Nolte stars as Alex Jurel, a high school teacher whose idealism has long been replaced by exhaustion and alcohol — most Mondays, he doesn't even bother to show up for class. Alex's school is presently being sued by a student who graduated without knowing how to read or write; handing the case for the prosecution is Lisa Hammond (JoBeth Williams), who — surprise! — turns out to be one of Alex's former students. Lisa is seeking a teacher who will speak out for the student and against the school's ineffectual bureaucracy, but the shrewd superintendent (Lee Grant), oblivious principal (William Schallert) and cynical vice principal (Judd Hirsch) have already started circling the wagons, confident that not even the maverick Alex will cooperate with her. W.R. McKinney's script seeks to expose ineptitude wherever it exists, from the manner in which the parents of a rebellious teen (Ralph Macchio) fail to support their son to the teaching style of the dull Ditto Stiles (Royal Dano), who sleeps through every class while his students quietly write essays. Richard Mulligan amuses as a harmless nut who pretends to be a teacher and ends up being more effective than the real ones, while Laura Dern (as a student who gets impregnated by the gym teacher) and Morgan Freeman (as the attorney defending the school) show up in early screen appearances.
There are no extras on the Blu-ray.
Movie: ***