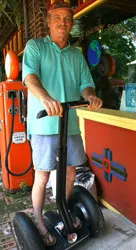 "IT" FACTOR: Mark Englander
Mark Englander heats his home with corn. His hot showers come courtesy of solar power. His toilet flushes -- like the whoosh of an airplane lavatory -- with less water than the standard low-flow commode. When he drives, he leaves in his wake not the stench of exhaust but the aroma of food, via his specially outfitted Mercedes that runs on cooking oil.
Englander, a one-time mayoral candidate (in the 1970s; he lost handily to John Belk) and owner of Charlotte Energy Systems, might just be a model of socially conscious living in Charlotte. (With a weakness or two -- he does smoke an occasional cigarette. But they're Native Spirits, not Marlboros, for what that's worth.) He cuts his energy use, opens his store for meetings to the (generally liberal/progressive) groups he believes in and stays abreast of what's happening in the community. "Always," he emphasizes.
But Charlotte generally isn't associated with living in what might be described as a socially conscious manner -- a manner linked with liberal politics but of interest to all folks concerned with reducing dependence on oil, consumption of natural resources and preserving decently paying American jobs. This is a car-oriented city, where consumption is a sign of status and "green" living is viewed with suspicion by (anecdotal evidence only) a substantial portion of the population. Mayor Pat McCrory isn't about to ban bottled water in an effort to reduce landfill waste, as San Francisco's mayor recently decreed.
Nevertheless, Charlotte does have a social conscience, says Marc Friedland, owner of Talley's Green Grocery, one of Charlotte's oldest natural food stores, "but it's under the blanket of corporate indifference."
Friedland, a third-generation grocer who started Talley's 16 years ago, says corporations are so dominant in Charlotte that independently owned businesses are endangered here more so than elsewhere. "There's this kind of corporate indifference that comes with big business," he says. "They put a lot of money into the city, but does that really translate into a social conscience in the community? It doesn't usually."
Does that mean most Charlotteans are doomed to lives of quiet desperation, augmented by consumption whenever possible? Of course not. It's quite possible to buy local goods and services without fearing you're sentencing some eight-year-old in Bangladesh to 18-hour days behind a loom. Here are a few tips that help you do more (albeit, in some cases, not much) than just switching to fluorescent light bulbs and turning up the thermostat a few degrees.
THE TALLEY MAN: Marc Friedland
1. Add organic foods to your diet. Even Harris Teeter offers a limited variety of organic meats and produce these days. You're not just saying "no" to pesticides; you're taking steps to preserve your health. "If you can't understand the words on the ingredient label, it's probably not good for you," says Friedland.
Are they more expensive? Yes, usually. But demand may help drive down prices. And if you cut out some processed foods, you might just be able to shuffle some cash around. "Can you put a price tag on your health?" Englander asks rhetorically. "You have to make priorities. We have people who shop here with food stamps. If you're careful, you can get by and have a much healthier diet without throwing money away at this corporate extravaganza of non-nutrition."
• Berrybrook Farm Natural Food, 1257 East Blvd., 704-334-6528, www.berrybrookfarm.com
• Earth Fare, 12235 N. Community House Road, 704-926-1201, www.earthfare.com
• Home Economist, 5410 E. Independence Blvd., 704-536-4663, 2707 South Blvd., 704-522-8123; 261 Griffith St., Davidson, 704-892-6191, www.hemarket.com
• Talley's Green Grocery, 1408-C East Blvd., 704-334-9200, www.talleys.com
2. Shop for cruelty-free clothing and goods, even when it comes to big purchases like diamonds (not exactly a weekly buy, but one with sociological implications in any case). Learn about finding conflict-free diamonds at The Conflict-Free Diamond Council.
Anyone can shop consciously online, but some local stores are making a modem less necessary. The most well-known of sweatshop-free goods locally may be American Apparel, the notorious purveyor of T-shirts and other knits. Its politics are so relentlessly odd that liberals don't know what to think -- and no one else seems to care. Its founder, Dov Charney, has been sued for sexual harassment. He's also been accused of resisting unionization attempts at his Los Angeles factory, where workers are paid much higher wages and receive benefits unheard of in most textile shops.
Friendly staffers at the tidy Camden Avenue store declined to talk about their company's socially conscious ethic and said they had been told in a conference call the prior day not to talk to media. Regardless, at least you can shop there under the belief that you're not keeping a child in Bangladesh in a factory 18 hours a day. And, of course, everyone needs some gold lamé leggings and a tight unitard.