When Blake Barnes opened Common Market on December 8, 2002, he didn't expect it to eventually become the go-to Thanksgiving hangout spot for folks with no family plans. But he couldn't afford for it not to be.
Barnes never closes up his little beer shop and deli on Commonwealth Avenue in Plaza Midwood, and that stems from his own hunger as a new small business owner 15 years ago.
"Originally, it was because we couldn't afford to not make any money every day; we just started doing it because it was like literally we had to," he says of his 365-day-a-year schedule. "If I could find me $100, that was enough to keep me going for the day.
By November 2013, Barnes was still grinding away on a daily basis, so he brought his family to the store.
"The first few years, my wife would bring the kids up and we would have Thanksgiving here," he says. "So that's kind of where the whole thing started."
During one of the early years, Barnes brought a TV with a built-in VCR (yes, VCR) and played Finding Nemo for his kids before dinner. By the end, a group of adults had gathered around the set as well.
By the third year, Barnes says word had gotten out that his place served as a sanctuary for the wayward on Thanksgiving — where punk kids estranged from their families rubbed shoulders with police forced to work a lazy, uneventful holiday.
At the time, Harris Teeter was closed on Thanksgiving, so Barnes would bring in last-minute necessities for those in a pinch. He still stocks his shelves with eggs, butter, cream cheese and other recipe items that may help folks in a bind.
This year, he's adding something new to the mix, keeping the deli open through the morning to serve freshly made breakfast sandwiches and grits bowls. He'll keep soups on and have pre-packaged sandwiches for sale through the afternoon, and he expects — as with all the previous years — that turkey will be the best seller.
"You know, it's actually one of my favorite days," says Barnes, who plans to work as the "third man" in the deli, which he says his employees hate but he enjoys.
"I get to see a lot of people who used to live here come back in town. And then also everybody is in a good mood; chill but in no big hurry, buying a lot of beer and wine, a lot of vices," he says, and laughs. "I like it just because it's almost like where we first started. The more smaller crowd, you know, time to actually talk to people. It's become quite a tradition."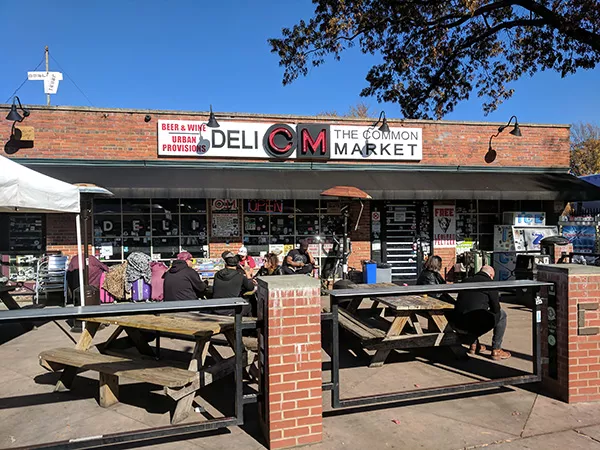 Common Market will be open for business all day on Thanksgiving. (Photo by Ryan Pitkin)
As the day progresses, Barnes expects the crowd not to remain so small. If the weather's nice, families like to come through the market as they're out enjoying a post-meal walk. Stool pigeons tend to hang around drinking specialty beers until the nearby bars open.
"They like to pregame with me and then they go to the bars," he says.
Barnes also gets more people coming in each year from the nearby Novant Health Presbyterian Medical Center — tired eyes who may have worked all night and are looking for that breakfast sandwich to kick off their Thanksgiving.
"There's a lot of new people at the hospitals," he says. "You know, this city has gotten big. It's 24/7, and sometimes they don't have any families, so they come hang out here."
As for the tired eyes behind the counter at the deli, Barnes will be taking care of them, too. He hasn't opened the deli on Thanksgiving in a few years, but that doesn't mean his employees forgot their value on that day.
"I did it the year before last, and the deli workers were like, 'Well, you offered those guys double time.' I was like, 'Alright. you win,'" he says, laughing. "But it's just that short little window they have to work, then they make a ton of to-go sandwiches and salads and all that grab-and-go stuff."
Then, hopefully, they join the party crowd, and everybody wins.