Like a lot of people, my interest in Central Piedmont Community College's new Academic and Performing Arts Center was piqued when tall columns began to rise on the building site. As they took shape ahead of the rest of the building, they looked like a folly from some 18th century architect's dream. "They are solid limestone!" exclaimed my architect friends.
It is those columns, described by architect Jeffrey Dalzell during a tour as being based on Roman interpretations of Greek Ionic columns, that still define the completed structure. And ultimately it's those columns that are most memorable as an exterior feature of Little Diversified Architectural Consulting's new building on the CPCC campus.
WINGED FAILURE? The new sculpture outside CPCC's Academic and Performing Arts Center
They are tall. So tall, in fact, that when you stand close they loom. From the road, driving by, their solid stone straightness is comforting in their classicism. They speak volumes. They speak of what we know; they speak of a vague but pleasant, blurry past. But do they speak of the future?
I was initially surprised that the building was neoclassical in appearance, and disappointed considering the exciting designs of contemporary "green" buildings springing up all over Europe, and in a few American cities. With a potentially great view of downtown Charlotte, this was a winning location to begin with, but the architects have played it safe.
Little & Associates took their job seriously, and to prepare for the design, they studied buildings such as Boston Symphony Hall and the Bolshoi Ballet in Moscow. They studied local Charlotte precedent and urban settings elsewhere. During the tour, Jeffrey Dalzell mentioned Dublin, a wonderful neoclassical city, and rightly emphasized the importance of "making street walls."
Dalzell's building does define the edge of Elizabeth Avenue and creates an open lawn in front of the main façade, and the designers worked carefully with existing sight lines as they placed their sliver of classicism into the modern city. Their building is displayed dramatically on this lonely patch, a floating fragment of a campus quad. The stretch of lost, lonely space remains bare and unprotected from traffic noise and fumes, creating few creature comforts.
The successes of Little's Academic and Performing Arts Center are largely due to the thoroughness and commitment of the designers to their interpretation of classical design. This combo administration arts building is less truncated than many of Charlotte's "takes on classicism" that sprout across the Queen City. These architects know their Vitruvius and Alberti.
The exterior, all about columns and the rhythm of windows lining rows of offices, is pleasing in a comforting, sturdy way. In the entry hall, I enjoy the Pompeii red walls of the entry hall. But as I look at the varying proportions of the interior, I find myself worrying, perhaps unnecessarily: will the freshmen and sophomores who inhabit this building mistakenly think of it as being classical? It isn't of course. Pleasantly professing classicism on the outside, the Academic and Performing Arts Center is no more classical overall than the bronze sculpture outside its doors. Sometimes nostalgic, sometimes "feel-good," ultimately this poem to the past may be an architectural dead end.
Not all is lost within, however. When we enter the auditorium, the theatrical hush of good acoustics falls over us, and we find ourselves within a jewel box. This wonderful space could be the raison-d'être of the building. Embedded within the structure's carapace, the 1,000-seat theater is acoustically fine; visually there is less truncation and the ornament is concentrated in hand-crafted details such as egg and dart molding. Acousticians and other specialists have perfected the "developing sound" and "flexible acoustics." No value engineering here.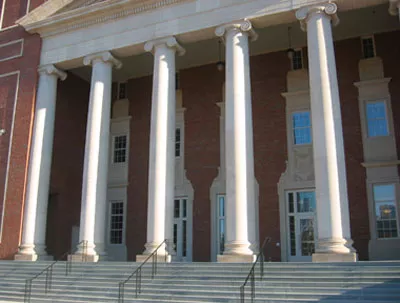 It's not in Rome or Greece, it's on Elizabeth Avenue
The balcony boxes on either side, with well crafted ivory-colored details, provide a feeling of symmetry. The scale and proportion are pleasant, slightly larger than the size of my high school auditorium, circa 1913, allowing me to experience my own rush of nostalgia. I learn from our guide that the neoclassical swags I thought so silly on the exterior of the building are actually "a little signal associated with theatre."
As a centerpiece of the campus, it's appropriate that this building be somewhat grand, and the auditorium is a real gem. I wish that all the thought and preparation, the evident love of material, placement and style, conveyed by the building, were also present in the sculpture recently dedicated in front of the building. From the street this artwork, "Aspire" by Greg Wyatt, is an almost meaningless tangle of dark bronze. Up close, several writhing bodies come slowly into focus, and yet "Aspire" has absolutely nothing to do with the building. Neither does it associate with the view of downtown over its overwrought and vaguely neoclassical shoulders.
Style-wise, the faux classical Greek and Roman aspect of this 21-foot tall cluster of figurative bronze bothers me more than the nostalgia of the building. Although "Aspire" is a different sort of art-in-the-public-venue than heavily oxidized Cor-ten Steel or arbitrary water fountains, it is "plop art." Plop art from a Pattern Book, in fact, picked out, according to the public relations handout, with CPCC "in mind."
In part this lack of important dialogue between building and art is due to the fact that art was not central to the original plan of the site. The Little and Associates 2000 master plan reveals a stunning lack of exterior art. I believe that conservative neo-classical architecture would play a more interesting a part in Charlotte's search for identity if more elegant, or witty, modern public art could stand in counterpoint.
Though the sculpture is described in the press release as a "winged muse" which relates vaguely to classical Greece and Rome, subject matter alone does not make something "classical." When will the Queen's Table of Charlotte, who commissioned the work by the New York-based sculptor, learn this very important lesson?
Meanwhile Charlotteans can only gaze ruefully on yet another public art fiasco, where client, art patrons, and sculptor betrayed the seemingly gallant efforts of the architects.