Everyone knows studying is important and all, but that can get boring. As the area colleges get back into the swing of a new semester, we, too, decided to get into the school spirit. With the help our summer interns Deborah Swearingen, Sean Billings and Brittaney Major, we bring you 26 lessons you need to know to live the college life successfully in the Queen City. We even broke it down for you ABC-style.
A is for avoiding the quiet of the library and instead studying at Amelie's French Bakery. Crack open your books at this French-inspired bakery in NoDa, while slurping down your favorite caffeinated beverage and devouring a salted caramel brownie. Amelie's is open all night, so come whenever. For the real nerds who need to study Friday and Saturday nights, expect a packed house. No worries; there's still seating in the atrium. (Deborah Swearingen)
2424 N. Davidson St. 704-376-1781. www.ameliesfrenchbakery.com.
B is for blazing up at Badin Road Drive-in Movie Theater. Located in Albemarle, Badin Road is the closest drive-in for college students in the area. An outdoor movie-going experience, tickets are $6 per person and most nights show a double feature. Get there early and chill with your friends as the sun sets behind the trees. You can even park a bit farther from the crowds and blow some trees of your own, if that's your thing. (Sean Billings)
2411 Badin Road, Albemarle. 704-983-2900. www.badinroaddrivein.com.
C is for country music at Coyote Joe's. If you consider yourself a boot-scooter or honky-tonker, or are just looking for a reason to bust out your cowboy boots, head here. In addition to some regular party nights (Wednesday nights, ladies get in free), C.J.'s has a healthy concert roster. Past performances include Jason Aldean, Little Big Town, Darius Rucker, Aaron Lewis and the annual acoustic Stout Pull. Plus side: According to its website, the private club offers annual membership to anyone 18 and up for $1.
4621 Wilkinson Blvd. 704-399-4946. www.coyote-joes.com.
D is for DefyGravity. Class and work can feel like a constant stress, but at this giant trampoline park you can kick up your adrenaline and forget that you're (almost) a full-time adult. A college night is held every Thursday 7 p.m.-9 p.m., and you get $2 off a ticket just by showing your student ID. See? Growing up might be tough, but being a student definitely has its perks. (D.S.)
8116 University City Blvd. 704-817-4660. www.defygravity.us/charlotte.
E is for excelling in trivia at Ed's Tavern, even if you're flunking Western Civ. Put away your worries and forget about your grades for a night 'cause we all know trivia takes a different kind of smarts. Come Wednesday for music trivia or try general trivia on Thursday if you're feeling brave. (D.S.)
2200 Park Road. 704-335-0033. www.edstavern.com.
F is for food trucks. Charlotte's got plenty of them, but if you've got the munchies, we recommend grabbing a mouthwateringly cheesy sandwich from Papi Queso's food truck. A grilled cheese sandwich stuffed with barbecue and mac and cheese? Yep, you read that correctly. Barbecue. Mac and cheese. Bread. Let's be real. You should be sprinting toward Papi's truck already. Follow @papiquesotruck on Twitter to find out where he's parkin' it on any given day. (D.S.)
704-579-1779. www.papiqueso.com.
G is for UNC Charlotte students' version of Jersey Shore's GTL: Guac-tan-latte. This can be accomplished in the same shopping strip across from campus. Hit up Chipotle for a burrito bowl and a side of guac; get your tan on at South Beach; afterward, grab your latte to go from the drive-through Starbucks — all without leaving the parking lot.
9335 N. Tryon St.
H is for hitting some hookah at [email protected] This spot, described by owner Darren "Jaz" Vincent as a "multicultural literary lounge," sells more shisha flavors (30) than books, but there are also board games, coffee, snacks and a full bar. The free Wi-Fi doesn't hurt, either.
2424 N. Davidson St. 9539 Pinnacle Drive. Ste. 203. www.redat28th.com.
I is for inhaling the good stuff; Infinity's End's got your back. Yearning for a decent pipe, bubbler or hookah? Infinity's End offers an expansive selection of hand-blown glass for whatever your late-night hobbies might require. Sure, these pieces can get a little expensive, but treat yo' self. (D.S.)
8640 University City Blvd. 704-247-9670.
7308-A E. Independence Blvd. 704-535-1710.
5119 A. South Blvd. 704-369-0223. www.infinitysend.com.
J is for jumbo Jenga at The Blind Pig. The classroom isn't the only place where you can develop your strategic and critical thinking skills. Take a break from all the crap school brings and concentrate on something a little more entertaining — like oversized blocks of wood. If urban planning isn't your thing, there are plenty of other games to choose from: Beer Pong, The Claw, Darts, Skeeball, Foosball and much more. While this spot may be appealing to those under the drinking age, Blind Pig is 21 and up. (B.M.)
453 E. 36th St. 980-819-9942. www.theblindpignoda.com.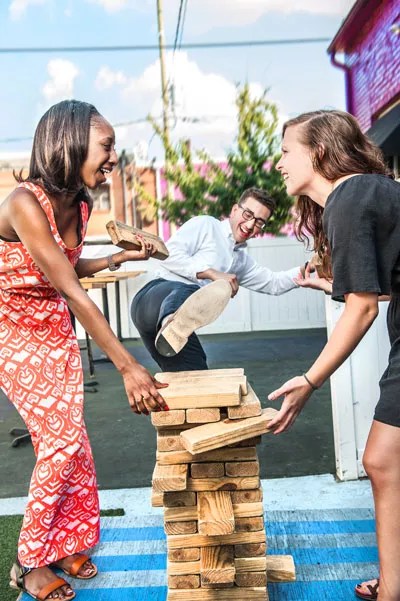 Justin Driscoll

CL interns Brittaney Major, Sean Billings and Deborah Swearingen hone their architectural skills on Jumbo Jenga at Blind Pig.
K is for kayaking at the U.S. National Whitewater Center. Because adventure.
5000 Whitewater Center Parkway. 704-391-3900. www.usnwc.org.
L is for taking it to another level at Label Me Thursdays at Label. This 18-and-up college night is hosted by one of the biggest clubs in the area every week, Friday morning classes be damned. The Facebook page boasts monthly, sometimes weekly contests. Past giveaways include, um, breast implants, a year's supply of Red Bull, concert tickets and more.
900 N.C. Music Factory Blvd. 704-910-0526. www.labelcharlotte.com.
M is for the Mint Museum. Prepare for your next art history research paper by hitting up this Charlotte institution. A stroll around the museum might be the perfect way to get those creative juices flowing. Save your pennies for food, broke students of Charlotte. Not only do you get $3 off admission when you show your ID, but it's free to visit on Wednesday evenings. (D.S.)
500 S. Tryon St. 704-337-2000. www.mintmuseum.org.
N is for newspapers — like Creative Loafing, so you know what's going on in town. Sure, maybe this is a little self-promotional; we have no shame. But newspapers have long been the best way to get to know a community and find out what there is to do.
O is for open mic nights. Sacrifice a night of Netflix, close the laptop and enjoy some live entertainment. Go to an open mic night and get a glimpse of Charlotte's undiscovered talent. You could be watching the next superstar before they hit it big. There are plenty of venues around town offering a stage to the unknown, but we dig Evening Muse, Jeff's Bucket Shop and Puckett's Farm Equipment. (S.B.)
3227 N. Davidson St. 704-376-3737. www.eveningmuse.com.
1601 Montford Drive. 704-525-0425 www.jeffsbucketshop.com.
2740 W. Sugar Creek Road. 704-597-8230. www.puckettsfarm.com.
P is for partying at Phoenix's Reign Thursday college nights. College Night at Phoenix is a perfect excuse to let loose with some fine-ass men and women from around the Queen City. The club scene for college students is limited, but Phoenix's Reign night is 18 and up. Yeah, some nights it might be a total shit show, but who cares? Get a group of friends together and enjoy being young, wild and free. (S.B.)
300 N. College St. 704-375-8765. www.phoenixcharlotte.com.
Q is for questioning your identity. Dear student: It's totally OK to explore your sexuality, no matter what your parents/pastor/friends tell you. Time Out Youth is an LGBT youth services agency that offers a safe environment, education and support for young folks ages 11-20.
www.timeoutyouth.org
R is for the revival of records. Vinyl is making a comeback, whether you're ready for it or not. At Lunchbox Records, you can spend hours perusing the selection of both old and new records. While doing so, you may even spot a famous musician. According to owner Scott Wishart, The Black Crowes, Gillian Welch and Glenn Danzig have all stopped in. (D.S.)
1419 Central Ave. 704-331-0788. www.lunchboxrecords.com.
S is for shopping in second-hand stores. Value Village is one of our favorites: seemingly countless aisles of discounted clothing and homegoods. See also: Buffalo Exchange, Goodwill and Salvation Army. Tuition isn't cheap. Neither is decorating your dorm room or buying clothes. Embrace the frugal life. (B.M.)
Value Village: 2917 Freedom Drive. 704-393-3492.
T is for $2.25 movies at Cinemark Movies 10. Located in Matthews, just off Independence Boulevard, this theater shows movies that have been out for a while, but at a much cheaper price. Tuesdays are Discount Days, where tickets are a whole $1 off. Make this your regular spot — this way, you'll have more money for the beer fund. (S.B.)
9508 Northeast Ct., Matthews. 704-847-5245. www.cinemark.com.
U is for used books, like those at The Last Word. Here, you can save money and make some all in the same place. Got those old TI calculators from high school? You can bring them here along with any other used video games, CDs, books, DVDs and more. And when you have some free time — because college students have lots of that, right? — check out the goods other people have brought in. (B.M.)
230 E. W.T. Harris Blvd. Ste. B11. 704-966-9673. www.thelastwordcharlotte.com.
V is for volunteering. Your college years are more than just studying and partying. Check out Hands on Charlotte, a nonprofit service organization that provides folks with easy access to volunteer opportunities. Don't be a waste of a human being: Get out and build a fence or something.
www.handsoncharlotte.org.
W is for wine, of course. The Wine Vault's patio is a popular spot for UNCC folks to get together, grab a bottle or three and bitch about the same ol' same ol': university politics, the financial aid office and the cost of books. Professors have been known to post up there as well. Maybe you'll catch yours on an off-day, and the buddy vibe will carry over at finals time.
9009 J. M. Keynes Drive. 704-548-9463. www.headwino.com.
X is for the giant X's you'll get on your hand at Level Wednesdays at Suite. If you're underage, that is. Sure, those bold markings might feel embarrassing, but it's a small price to pay to be able to party with the big dogs at this EpiCentre spot on College Night. The dance floor can get pretty packed, but Suite has an impressive patio for partiers to catch their breath. Shake it fast with your friends and pretend that you're in a city much larger than Charlotte for a night. (D.S.)
210 E. Trade St. 704-971-7878. www.suitecharlotte.com.
Y is for hot yoga at Yoga One University. The studio offers a few $5 classes each week, as well as a volunteer program where you can exchange work time for free classes. Here's your chance to stretch your body, destress and cleanse your soul for a price that won't piss off your parents. (D.S.)
10039 University Blvd. 980-237-0489. www.y1now.com.
Z is for Zizi's Vegan Restaurant. Maybe healthy eating is your thing. Maybe it's not. Either way, everyone can use a refresher from time to time. Deliciously blended with milk, raw almonds, banana, flaxseed and agave, a Brain Power smoothie will help you detox after a rough night out. If you're looking for something a little more substantial, try a chipotle and black bean veggie burger. It makes for an awesome pick-me-up after eating campus food for weeks. (D.S.)
7945 N Tryon St., Ste. 110. 704-595-9170. www.awesomevegan2go.com.