(View From The Couch is a weekly column that reviews what's new on Blu-ray, DVD and Streaming. Ratings are on a four-star scale.)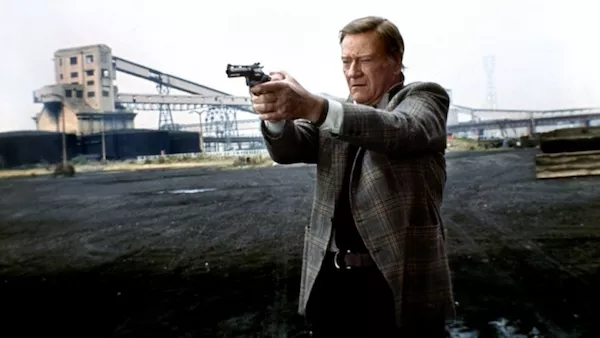 John Wayne in Brannigan (Photo: Kino & MGM)
BRANNIGAN (1975). Admittedly, it's not nearly as much fun as when Detroit cop Eddie Murphy went to Beverly Hills, but fans of John Wayne will nevertheless get a modest kick out of watching his Chicago lawman head to London in this easy-to-take programmer. The Duke plays Lt. Jim Brannigan, an Irish-American copper who's sent to the U.K. to bring back a crime boss named Larkin (John Vernon). Before he can get his man, though, he discovers that Larkin's been kidnapped by some British thugs demanding a sizable ransom; this forces him to reluctantly work in tandem with an easily agitated London police chief (Richard Attenborough) and Larkin's oily lawyer (Mel Ferrer). The numerous culture-clash gags aren't nearly as sharp or humorous as one might hope, and while it's great to see so much of London in the 1970s — Tower Bridge, Piccadilly Circus, Heathrow Airport, and, of course, a traditional English pub (The Lamb Tavern) — there's too much of an emphasis on lengthy chases and stakeouts when what we really want to see are more interactions between Wayne and his co-stars. Brannigan's relationship with Attenborough's frustrated commander is well-executed, with the men supporting each other one minute and verbally sparring the next; almost as engaging is the Yank's friendship with a bright British officer (Judy Geeson) who's assigned to look after him. Wayne holds the screen as effortlessly as always; he would only make two more films — the same year's disappointing True Grit sequel, Rooster Cogburn, and 1976's elegiac Western The Shootist — before succumbing to cancer in 1979, at the age of 72.
Blu-ray extras consist of audio commentary by film historian Nathaniel Thompson and filmmaker Steve Mitchell, and theatrical trailers.
Movie: **1/2
Chuck Norris in Code of Silence (Photo: Kino & MGM)
CODE OF SILENCE (1985). Arguments can be (and have been) made for such efforts as The Octagon and Lone Wolf McQuade, but pound for pound, Code of Silence is arguably the best film that Chuck Norris has ever headlined. Much of the credit goes to director Andrew Davis, who would go on to helm three more well-regarded actioners (Above the Law, The Package and Under Siege) before reaching his career pinnacle with the excellent big-screen adaptation of The Fugitive. Davis keeps the pace percolating in this Chicago-set drama in which honest cop Eddie Cusack (Norris) has his hands full tangling with two warring crime families, protecting a mobster's innocent grown daughter (Molly Hagen), and standing up to a corrupt, over-the-hill colleague (Ralph Foody). As an actor, Norris might possess all the dramatic range of a bowling ball, but he's been suitably stoic on many occasions, and his role here proves to be a particularly snug fit. (Best quip: "If I want your opinion, I'll beat it out of you.") There's also a good performance by Dennis Farina as Cusack's partner — interestingly, Farina was still a real-life cop when cast in this film and had yet to give up the beat in order to devote himself full-time to acting. I could have done without the law enforcement robot that figures heavily in the climax (amusingly, it comes off as an early version of the ED-209 seen two years later in RoboCop), but in most other regards, Code of Silence is a solid addition to the well-worn cops'n'robbers genre.
Blu-ray extras consist of audio commentary by Davis; separate interviews with Hagen, co-star Ron Dean, co-scripter Michael Butler and composer David Michael Frank; and theatrical trailers.
Movie: ***
Kathy Bates and Jennifer Jason Leigh in Dolores Claiborne (Photo: Warner)
DOLORES CLAIBORNE (1995). Kathy Bates, who won the Best Actress Academy Award for her performance in 1990's Misery (recently released on Blu-ray and reviewed here), here headlines another psychological thriller based on a Stephen King novel. Bates plays the title character, a small-town Maine resident accused of murdering her rich employee (Judy Parfitt). Dolores's estranged daughter Selena (Jennifer Jason Leigh), now a New York reporter, reluctantly returns for the investigation being conducted by a detective (Christopher Plummer) with his own personal vendetta. Throughout her stay, Selena remains combative with her mom, all while contending with hazy memories of her dad (David Strathairn), an abusive alcoholic who died under mysterious circumstances while she was still a child. Director Taylor Hackford and scripter Tony Gilroy take their time in relating this somber tale, yet at 132 minutes, the movie doesn't feel overlong — for that, credit the sustained mood of unease established by Hackford as well as a story that remains compelling even as some of the particulars become obvious before they're revealed. The performances by Bates and Parfitt are formidable – their scenes together are the movie's strongest — while the contributions of composer Danny Elfman and cinematographer Gabriel Beristain stand out on the technical side.
Blu-ray extras consist of audio commentary by Hackford and the theatrical trailer.
Movie: ***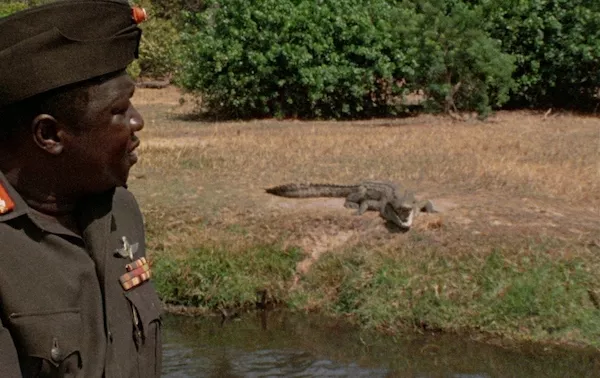 The Ugandan dictator and friend in General Idi Amin Dada: A Self-Portrait (Photo: Criterion)
GENERAL IDI AMIN DADA: A SELF-PORTRAIT (1974). As a teen, I was fascinated with the particulars surrounding Operation Thunderbolt, which meant I also became absorbed with the life of Idi Amin, the brutal Ugandan dictator who allowed Palestinian and German terrorists to hold their Jewish hostages (eventually rescued by Israeli commandos in the aforementioned operation) at Entebbe Airport in the summer of 1976. This documentary from French director Barbet Schroeder (Reversal of Fortune) was released two years before that international incident, yet it eerily includes a moment when Amin states that he would gladly welcome any anti-Semitic terrorists into his country with open arms. Despite ample ceremonial footage (much of it apparently at Amin's insistence) that grows tedious, this is nevertheless an effective peek into the mind of the eccentric president whose reign (1971-1979) resulted in the destruction of his country's economy and, horrifyingly, the slaughter of up to a half-million people. Opening up for the camera, Amin comes across as alternately shrewd, idiotic, charismatic, and off-putting. And in a frightening modern context that brings to mind our own country's current leader, he also comes across as narcissistic, infantile, and very, very dangerous.
Blu-ray extras consist of interviews with Schroeder (from 2001 and 2017), and an interview with journalist and author Andrew Rice (The Teeth May Smile But the Heart Does Not Forget: Murder and Memory in Uganda).
Movie: ***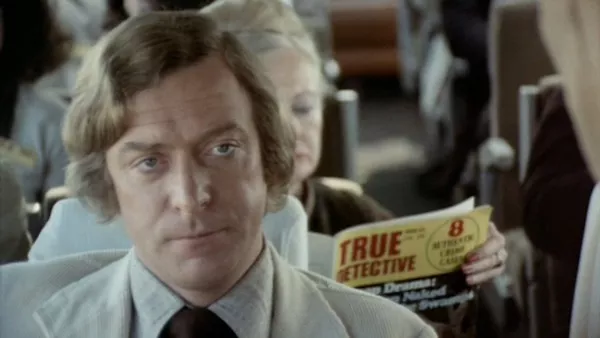 Michael Caine in Pulp (Photo: Arrow & MGM)
PULP (1972). Pity poor Pulp. Michael Caine, writer-director Mike Hodges and producer Michael Klinger enjoyed such success with 1971's Get Carter that they opted to immediately reunite for another film the following year. Unfortunately, Pulp didn't take hold – a real shame, since it's a pleasant diversion packed with no small measure of caustic quips and a savory supporting role for Mickey Rooney. Caine stars as Mickey King, a successful author whose smarmy pseudonyms include the likes of Gary Rough and Les Behan and whose bestselling book is titled My Gun Is Long. He's approached by the jovial Ben Dinuccio (Lionel Stander) to ghostwrite the autobiography of Preston Gilbert (Rooney), a former gangster who became a movie star but now lives away from the spotlight somewhere in the Mediterranean. It's a seemingly straightforward assignment, which makes Mickey wonder why he's constantly being shadowed and why it seems that his life might be in danger. There's a mystery in Pulp, but it takes a backseat to most other facets of the film, particularly the vibrant characterizations and the low-simmer humor. And while the movie doesn't stir memories of classic noir as much as it traffics in British quirk, the filmmakers nevertheless insist otherwise: Bogart impersonator Robert Sacchi, as a shady American operative, points at a bird and is told it's a Maltese falcon, while Lizabeth Scott, cast as Preston's ex-wife, looks a bit like Lauren Bacall (indeed, Scott once co-starred with Bogie in 1947's Dead Reckoning). Incidentally, the music score is by The Beatles producer George Martin — one of the few he created for the silver screen.
DVD extras include interviews with Hodges, director of photography Ousama Rawi, and editor John Glen (who later directed five James Bond films), and the theatrical trailer.
Movie: ***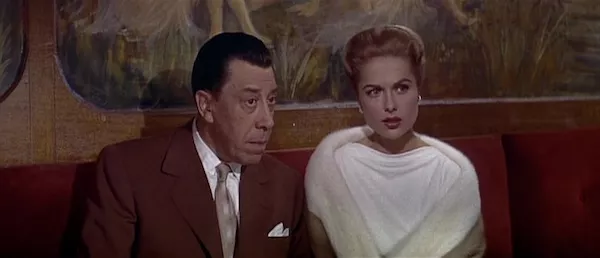 Fernandel and Martha Hyer in Paris Holiday (Photo: Kino)
Short And Sweet:
THE AMICUS COLLECTION (1972-1974). This box set contains three horror flicks produced in the early 1970s by Amicus Films, the upstart company that had found some measure of success as a lower-rent version of Hammer Films. The anthology film Asylum (1972) employs the title establishment as the backdrop for its tales of menace; And Now the Screaming Starts! (1973), set in 1795 England, finds a bride (Stephanie Beacham) trying to unlock the mysteries of her haunted mansion; and The Beast Must Die (1974) is more Agatha Christie than Lon Chaney Jr., as a millionaire (Calvin Lockhart) tries to reveal the werewolf among the weekend guests at his country estate.
Blu-ray extras include audio commentaries, interviews, and theatrical trailers.
Collection: **1/2
PARIS HOLIDAY (1958). Paris Holiday was an attempt to score an international hit by casting American idol Bob Hope opposite the extremely popular French comedian Fernandel. The result is a mixed bag, with Hope as an actor who becomes involved with murder and intrigue while in Paris on business. Hope and Fernandel (clearly playing second fiddle to his Yankee counterpart) are both pleasant but don't conjure up any screen magic together — of course, considering that neither speaks the other's language, that's not a huge surprise. Still, there are many bright bits along the way, although the climactic helicopter chase feels endless.
There are no Blu-ray extras.
Movie: **1/2
==============================
FROM SCREEN TO STREAM
(Recommended films currently available on streaming services)
Alan Rickman in Eye in the Sky (Photo: Bleecker Street)
EYE IN THE SKY (2016). One of the 10 best films of 2016 (see complete Best & Worst list here), this military movie for modern times is a riveting drama that asks whether the certain death of one innocent person is worth more or less than the hypothetical deaths of dozens, maybe hundreds, of innocent people. To their enormous credit, director Gavin Hood and writer Guy Hibbert offer no easy answers and take no easy outs, electing instead to keep viewers as conflicted and uncomfortable as the characters on the screen. From her command center in England, Colonel Katherine Powell (Helen Mirren, in a role originally written for a male actor) realizes that she might have the opportunity to take out Al-Shabaab terrorists shacked up in a house in Nairobi, Kenya. With the support of a fellow officer (the late Alan Rickman), she orders a drone strike to be carried out by the stateside Air Force pilot (Aaron Paul) assigned to the detail, but he balks when it appears as if a little girl will become collateral damage in the bombing. Thus begins a back-and-forth between various military and government officials as they argue over the best course of action. Barkhad Abdi, the Somali chauffeur who earned an Oscar nomination for his debut performance in Captain Phillips, is excellent as a Kenyan agent monitoring terrorist activities up close (perhaps too close), and it's touching to see Rickman in his final big-screen appearance (his turn in the subsequent Alice Through the Looking Glass was only a vocal one — and a tiny part, to boot). (Amazon Prime)