With a Thursday morning vote held on Jan. 12, Charlotte-Mecklenburg Schools took a step closer to implementing a major solar initiative expected to save millions of dollars in operating costs.
Creative Loafing first reported on the Repower Our Schools coalition in August 2015, at which time the group was in the early stages of trying to build support among CMS board members for a full transition to solar energy by CMS over the coming decades. In February 2016, the coalition helped release an in-depth report from the N.C. Clean Energy Technology Center at N.C. State University laying out the ways CMS could do just that.
The study's aim was to offer "possible pathways to 100 percent renewable schools." By installing grid-connected rooftop solar arrays on top of CMS buildings, the study asserts, the public school system could save $42 million over 25 years. According to the report, CMS currently spends about $18 million per year on electricity generated by fossil fuel and nuclear power plants
On Thursday, the CMS Policy Committee voted in approval of including the Repower Our Schools initiative in CMS' updated Environmental Stewardship and Sustainability Policy. The updated policy now moves on to the full school board, which could take up the issue during its Jan. 24 meeting.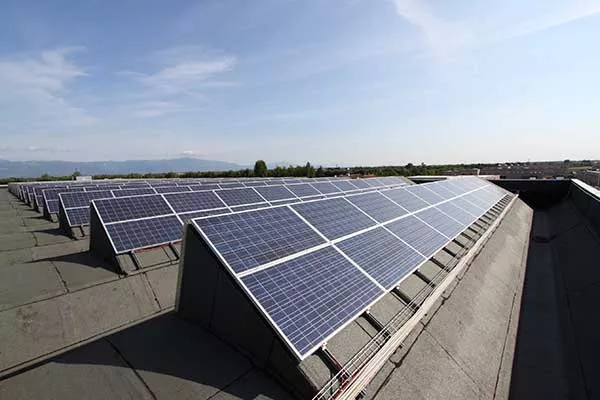 The "Roadmap to 100% Renewable Electricity" report details a plan for CMS to transition fully to solar energy using photovoltaic systems like the ones pictured above.
"At this point, we don't think there's going to be much of a debate," said Michael Zytkow of Greenpeace North Carolina when asked how he thinks the plan will fare with the full Charlotte-Mecklenburg School Board.
However, Mark Jones, the district's director of maintenance, pointed out at Thursday's meeting that "solar and wind are supplements; at some point in time you're going to have to go back to the grid in order to maintain energy consumption within the facility."
The updated policy states that CMS "commits that the district will continue and strengthen its efforts to operate in a manner that protects and conserves our air, water and land resources, improves the environment, and promotes environmentally sound behavior, including a commitment to energy conservation and to renewable energy strategies."
"When you look at CMS' budget, behind personnel costs, energy costs are second," said DeAndrea Salvador, executive director of the Charlotte-based Renewable Energy Transition Initiative, one of 28 environmental advocacy groups that support the proposal. She says the money CMS saves on its electricity bill would enable the school system to "pay teachers more, provide more textbooks and spend more on technology."
CMS board member Tom Tate, chair of the Policy Committee, said the process is about more than the money for him, however.
"Most of us don't just want to do this for the cost savings," Tate said.
He said he's also concerned about the impact of energy production on the planet.
"I'm so glad we're doing this," he added, "but I'm not convinced yet that it says we're actually going to move toward renewable energy."
Zytkow said he would have liked the CMS Policy Committee to include a more specific timeline and a method of implementation in its policy update. "They have a lot of recommendations, but we want to make sure that they fully follow through," he said, adding that environmental advocates would continue to watchdog CMS' progress on the solar initiative.
The next step, the committee agreed, is adding the initiative to the CMS budget. "Putting up money solidifies your commitment," said CMS Commissioner and Policy Committee member Ruby Jones, "We want to start actualizing some of these things."
Greenpeace North Carolina is the lead advocate for Repower Our Schools, an offshoot of a national campaign known as Solarize. The organization helped introduce the idea to CMS students and teachers with its "Rolling Sunlight" truck in early 2015. The truck is outfitted with a solar array on its roof and was used to help give students a hands-on education about renewable energy.
Ryan Pitkin
Hanna Mitchell (second from left) addresses a group of advocates at a CMS board meeting in August 2015, in Repower Our Schools' early days.
Such hands-on technology has long been touted by Repower Our Schools advocates as an added benefit to transitioning CMS to renewable energy, and Jones recognized as much at Thursday's meeting, saying he was excited about such opportunities.
The Rolling Sunlight truck toured North Carolina schools in the spring of 2015, just before the Repower Our Schools initiative was launched.
"We went around and spoke at schools and talked to teachers about solar energy. While we were there, we made popcorn for the kids using solar energy," said Zytkow, a former CMS teacher. "The kids really liked it," he said, adding, "We opened up the truck and showed them the batteries, too."
For Greenpeace, a group known for jumping aboard ships in the Arctic and other dangerous stunts meant to draw attention to various environmental issues, Repower Our Schools seems tame. When asked why Greenpeace North Carolina decided to focus on solar energy for schools, Zytkow said, "A lot of it stems from the fact that, at the end of 2013, we had meetings with a few hundred people in attendance and we asked our membership what they wanted to do. They wanted solutions-oriented campaigning."
North Carolina currently ranks second in the country for installed solar capacity, and Charlotte, the state's largest city, is often referred to as an "energy hub" due to the large number of energy companies in the area.
The Repower Our Schools plan is part of a broader trend among school systems seeking to use clean energy to cut expenses and meet environmental goals.
The CMS' Policy Committee reviewed 18 North Carolina school systems' energy and environmental policies before Thursday's vote.
"We're starting to see the word sustainability appear in some of those schools' policies," said Phil Berman, Executive Director of Facilities for CMS, "And we recognize that renewable energy is going to become more of an issue in the future."
CMS is not the first North Carolina school system to work on solar initiatives. In 2012, Warren County Schools installed its first large-scale solar panel project on the roof of its high school and estimates that it will save $20 million over 25 years.
In Winston-Salem, a student-led coalition is pushing that school district to transition to 100 percent renewable energy. And in Durham, the school board commissioned a long-term study after the Clean Energy Technology Center produced a report indicating the district could save $480,000 for every megawatt of solar energy produced," or an average of about $336,000 for each school that achieves 100% renewable electricity."
For both the Charlotte and Durham studies, the "road map" study was based on the state's current regulatory environment following the expiration of the state's renewable energy tax credit at the end of 2015.
Charlotte-based Duke Energy, the nation's largest energy producer, is helping schools, too. In September, the company announced it is investing $300,000 in solar energy systems through NC GreenPower, a Raleigh-based nonprofit. Those funds are intended to help up to 10 schools.
"North Carolina is a leader in solar installations and education," said David Fountain, Duke Energy's North Carolina president, via a press release. "These installations will give students a chance to see solar power production firsthand – and provide an opportunity to learn about the attributes of this growing energy resource."
Local governments are jumping on the bandwagon as well. In Dec. 2016, the Boone Town Council in western North Carolina unanimously passed a resolution demanding that the entire United States move to 100 percent renewable energy by 2050 "for the purpose of avoiding climate catastrophe." The mountain town — home to Appalachian State University — was the first town in the United States to pass such a resolution.
It's doubtful the small-town resolution will have much impact on an incoming presidential administration that looks upon environmentalists and climate change alarm-ringers with disdain, but it's becoming clear that — at least on some issues — North Carolina can be progressive, as they stay ahead of those who continue to have cold feet on global warming.
*A version of this story was originally published by our news partners at Southeast Energy News.