(View From The Couch is a weekly column that reviews what's new on Blu-ray and DVD.)
Alice Englert in Beautiful Creatures (Photo: Warner Bros.)
BEAUTIFUL CREATURES (2013). Emma Thompson delivers the worst performance of her distinguished career, Jeremy Irons resists the urge to have the producers sign his paycheck even as the cameras are rolling on him, and the exaggerated accents by a significant chunk of the cast are no more authentically Southern than the Great Wall of China. And so it goes with Beautiful Creatures, writer-director Richard LaGravenese's dreary adaptation of a Young Adult novel penned by Kami Garcia and Margaret Stohl. Set in a fictional South Carolina town — the type where Civil War reenactments are more popular than Christmas, books like To Kill a Mockingbird are banned, and Burt Reynolds bombs like Stoker Ace and Cannonball Run II play annually in the town's solitary movie theater (actually, just assuming on that last one) — the story focuses on rebel without a clue Ethan Wate (Alden Ehrenreich) and the strange situations he encounters when Bella Swan — excuse me, Lena Duchannes (Alice Englert, Jane Campion's daughter) turns up as a new student at his high school. Ethan works hard to befriend the girl, who is otherwise ostracized by local goobers — like the Bible-thumping Mrs. Lincoln (Thompson) — who already fear her eccentric uncle (Irons). Ethan eventually learns that Lena comes from a family of Casters (the preferred word for witches) and, like Luke Skywalker before her, she will end up either succumbing to the dark side or crusading for good by taking up arms against an evil parent. Sparkly vampires suddenly look very appealing when compared to the Gothic witches on display here. For all the vitriol directed at the shaky Twilight series, all of its entries are definitely better than this dull and insipid movie, a trial run meant to gauge viewer interest in another series aimed at younger audiences. Given its anemic $19 million gross, I'd say all bets are off.
Extras in the Blu-ray Combo Pack (out next Tuesday) include deleted scenes; a piece on adapting the book to screen; featurettes on the visual effects and the costume designs; and the theatrical trailers.
Movie: *1/2
Tom Hanks in Cloud Atlas (Photo: Warner)
CLOUD ATLAS (2012). Next to the criminally overlooked Seeking a Friend for the End of the World, this adaptation of David Mitchell's heady 2004 novel earns my vote as the most underrated film of last year. The picture is one of those moviegoing experiences — like Terrence Malick's The Tree of Life, Stanley Kubrick's Eyes Wide Shut or pretty much anything by Lars von Trier — guaranteed to divide audiences into love-it-or-hate-it camps, stroke heated water-cooler or Internet-board discussions, and leave fans and foes alike circling each other with the same wary disregard as West Side Story's Sharks and Jets right before they rumble. Cloud Atlas is designed to shred apathy by invoking some sort of sizable reaction from viewers, and in that respect, it's a great success. Whether the particulars of the film itself succeed is entirely up to each individual viewer. After all, one person's emotional insight is another's pretentious blather, and with six stories filling out nearly three hours, folks are going to be feeling satisfied or sickened — or maybe a bit of both. Dealing with themes of reincarnation, oppression and interconnectedness, the half-dozen stories would probably feel fairly conventional on their own. "Half-Lives: The First Luisa Rey Mystery," for example, feels like a dinner theater production of The China Syndrome, while "An Orison of Sonmi-451" borrows from V for Vendetta, Soylent Green and just about every other dystopian sci-fi flick this side of The Hunger Games. Yet with Mitchell's book as the blueprint, the writer-director team of Tom Tykwer (Run Lola Run) and siblings Andy and Lana Wachowski (The Matrix) somewhat streamline — yet still retain — a multi-webbed narrative structure that allows all the individual episodes to cumulatively pack a soulful punch. What's more, the principal actors (including Tom Hanks, Halle Berry and Jim Broadbent) all play several parts in various plotlines — it sounds like stunt casting, and perhaps it is, to a degree. But the decision is ultimately a sound one, with the perpetual presence of the familiar faces working toward the idea that all of humanity is inexorably tied together, and that our stories — whether conveyed through writings, music, media or plain old campfire chats (all evidenced here) — serve as essential ripples shimmering over an ocean of time.
Blu-ray extras include several behind-the-scenes featurettes that examine the book-to-film adaptation, the shared vision of the three directors, the approaches taken by the actors, and more.
Movie: ***1/2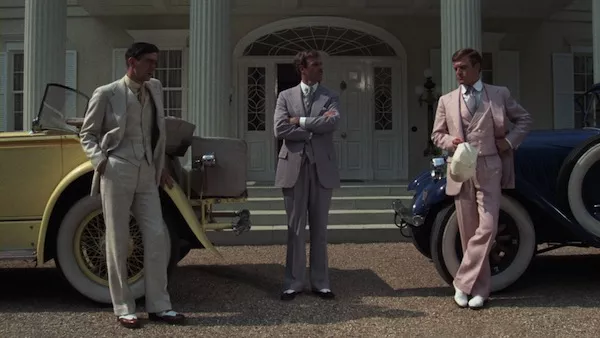 Sam Waterston, Bruce Dern and Robert Redford in The Great Gatsby (Photo: Warner)
THE GREAT GATSBY (1974). In the same year that Francis Coppola was writing and directing both The Godfather Part II and The Conversation, he also set aside three weeks to whip out the screenplay for this adaptation of F. Scott Fitzgerald's great American novel (after Truman Capote was fired for turning a couple of major characters into homosexuals). With British director Jack Clayton at the helm, the film was acknowledged as a technical triumph — it won Oscars for its costume design and Nelson Riddle's scoring — yet dismissed on most other counts, resulting in disappointing reviews and OK but hardly exceptional box office. Yet I've always had a soft spot for this third film version of Fitzgerald's Jazz Age tome, which at least attempts to be more faithful to its source material than most big-screen adaptations. The picture's near-insurmountable flaw is the grotesque miscasting of Mia Farrow as Daisy Buchanan, who turns her character into such a simpering nerd that it's inconceivable so many men would be falling all over themselves to bask in her company. (First choice Ali MacGraw would have been even worse; personally, I'd like to have seen Faye Dunaway give it a shot.) Yet Robert Redford offers an interesting take on mysterious millionaire Jay Gatsby, Bruce Dern and Karen Black provide juicy support as illicit lovers Tom Buchanan and Myrtle Wilson, and Sam Waterston is terrific as narrator/Gatsby pal/moral center Nick Carraway. This version may not possess the razzle-dazzle of Baz Luhrmann's current theatrical interpretation (reviewed here), but pound for pound, it makes for a more satisfying watch.
There are no extras on the Blu-ray.
Movie: ***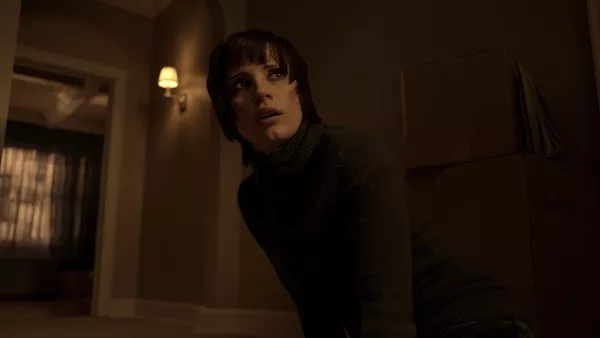 Jessica Chastain in Mama (Photo: Universal)
MAMA (2013). This standard horror yarn is notable only as part of Jessica Chastain's grand scheme to reveal herself as the most chameleonic actress since Meryl Streep began her film pilgrimage in the late 1970s. Mama presents Chastain in yet another light: Rather than a flighty Southern belle (The Help), a soft-spoken Texas housewife (The Tree of Life) or a driven CIA agent (Zero Dark Thirty), she's now playing a goth chick, complete with jet-black cropped hair hugging her noggin and a position in a local punk band. The movie begins with a crazed father failing in his attempt to murder his two children before turning the gun on himself (an homage to the opening of Nicolas Roeg's Walkabout?). Instead, the two girls (Megan Charpentier and Isabelle Nelisse) spend the next five years living in a cabin in the woods, with only a spectral mother figure to protect them. Once the kids are located, they're placed in the care of the deceased dad's brother (Nikolaj Coster-Waldau) and his girlfriend (Chastain). But as the children begin warming up to their surrogate parents, the malevolent Mama responds in a jealous rage, physically assaulting various adults, violently inhabiting their bodies and — better clutch your seat for this one — unleashing an army of fluttering, sputtering moths. Guillermo del Toro has a fairly impressive resume as a director (Pan's Labyrinth, Cronos, etc.), but as an executive producer, he'll seemingly slap his name on anything short of an Adam Sander comedy. Here, he's lending his clout to help writer-director Andres Muschietti expand on his own 2008 short of the same name. That 3-minute effort, available both online and in this Blu-ray/DVD/UltraViolet Combo Pack, sought only to provide a chill and succeeded; this 100-minute feature dilutes the primal terror with its obvious plotting, thin characterizations and heavy use of CGI. And while the child actresses are quite good, only Chastain makes an impression among the grown-ups, and that's more for our willingness to chart her career trajectory than for anything connected to her thin role. When the most memorable aspect of a movie character is her choice of T-shirts — for the record, she likes wearing one that plugs The Misfits — it's proof that everything else, from the psychology to the scares, will similarly remain on the surface.
Blu-ray extras include audio commentary by Muschietti and co-scripter Barbara Muschietti; a making-of featurette; deleted scenes; a look at the visual effects; and the original 2008 short.
Movie: **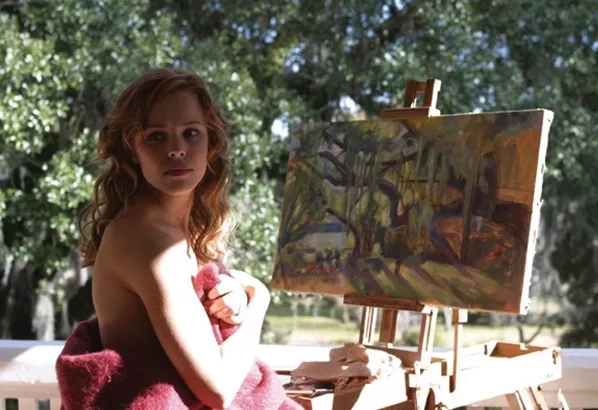 Rachel McAdams in The Notebook (Photo: Warner)
THE NOTEBOOK (2004). This audience favorite remains the best movie based on a Nicholas Sparks best seller, and while that sounds like damning with faint praise, the truth is that this box office hit ranks as a stirring love story and houses some excellent performances. The story is fairly standard stuff that we've seen before in some variation or another: She's young, beautiful and rich, he's young, handsome and poor, and they're forced to contend with obstacles both personal (her disapproving mom) and public (World War II) in order to keep their love alive. Nick Cassavetes is too demure a director to make this always pulsate with the proper degree of overriding passion — as the son of minimalist indie filmmaker John Cassavetes, such instincts probably don't come naturally to him — and despite some moments that will move anyone who's ever lost someone to Alzheimer's (raising my hand here), the modern-day sequences featuring James Garner and Gena Rowlands occasionally feel less like organic storytelling and more like a gimmick. Yet the main reason to catch this is to watch the terrific performance by Rachel McAdams, whose luminescent work, coupled with her turn as the meanest of the Mean Girls, marked her at the time as a compelling newcomer. (She was most recently effective in a supporting role in Terrence Malick's To the Wonder.) McAdams is so vibrant, in fact, that it's easy to overlook the fine contributions of Ryan Gosling as her soft-spoken sweetheart — until you realize that shortly before this film, he had first made a name for himself as a neo-Nazi skinhead in The Believer.
The Notebook has just been re-released in a limited edition Blu-ray/DVD/UltraViolet gift set that includes a collectible locket, a 96-page journal and six postcards featuring images from the movie. Extras on the discs include audio commentaries by Cassavetes and Sparks; making-of featurettes; deleted scenes; and McAdams' screen test.
Movie: ***