Sliding around on ice and slush, walking through the Great White Way in bone-chilling wind and snow, parking more than a quarter of a mile from my mom's front door, and needing to excavate my car three times anyhow — with tools unsuited for the purpose — had one beneficial side effect. On this year's two-week pilgrimage to New York, I could worry far less about overdoing my calorie intake.
My excavation labors were only successful on two of the three occasions they were necessary. So I had to call the Brooklyn Academy of Music and regretfully tell them that my wife Sue and I would be unable to attend Benjamin Britten's Billy Budd that night. That put a dent in my annual opera roundup, but my Broadway and off-Broadway surveys were unscathed. Here's the rundown of Broadway reviews (off-Broadway coming soon!).
Matthew Murphy
After Midnight
After Midnight (***3/4 out of 4) — Everything old is new again. That's the clear impression I had on a Friday evening at the Brooks Atkinson Theatre when the crowd went wild for a set of Duke Ellington big band arrangements that were up to 87 years old, excavated by the Jazz at Lincoln Center All-Stars without a single note out of place. If you think that crowd was similarly elderly, guess again. It was more diverse than the crowd we'd seen at the Carol King musical the previous week — by age, race, and gender.
Jack Viertel, who conceived this show, and JALC artistic director Wynton Marsalis, one of its co-producers, obviously knew what they were doing. They mix the Ellington core with numerous novelty numbers, raunchy blues, and Tin Pin Alley, heavy on the Harold Arlen — as arranged by Ellington. Dulé Hill hosts the show and sets the Cotton Club atmosphere with sprinklings of text by Langston Hughes. Hill also sings, most memorably on Arlen's "I've Got the World on a String," balloons in tow.
Adrian Lenox does the novelties, "Women Be Wise" and "Go Back Where You Stayed Last Night," a rad change from her Tony Award-winning stint as the purse-clutching mom in Doubt. Both Hill and Lenox have plenty of charm and personality, but they're somewhat upstaged by tapdance phenom Jared Grimes, the dance duo of Julius "iGlide" Chisolm and Virgil "Lil' O" Gadson, and tapdance duo Phillip Attmore and Daniel J Watts. Carmen Ruby Floyd, Rosena M. Hill Jackson, and Bryonha Marie Parham waste no time asserting themselves as a vocal trio, each one soloing on a bar before harmonizing lusciously on Arlen's "The Devil and the Deep Blue Sea."
Fantasia Barrino was the guest artist when Midnight opened in November. She gave way to K.D. Lang on February 11, and Lang absolutely kills it, seemingly caring what the audience thinks for the first time that I've seen. She has her own way with Arlen's "Stormy Weather" and Dorothy Fields' "On the Sunny Side of the Street" (in a Quincy Jones arrangement that invokes the chart he wrote for Ella Fitzgerald and the Basie band), but she brings down the house with Cab Calloway's "Zaz Zuh Zaz," proving she can distress her marvelous voice with a prodigious Satchmo growl.
If you've never experienced the groove or the power of "East St. Louis Toodle-oo," "Creole Love Call," "The Mooche," "Black and Tan Fantasy," or "It Don't Mean a Thing," After Midnight will fix your Ellington erudition in a New York minute. Vanessa Williams, Toni Braxton, and Bobby Daye are among the stars lining up for the guest artist slot once Lang gives way on March 9.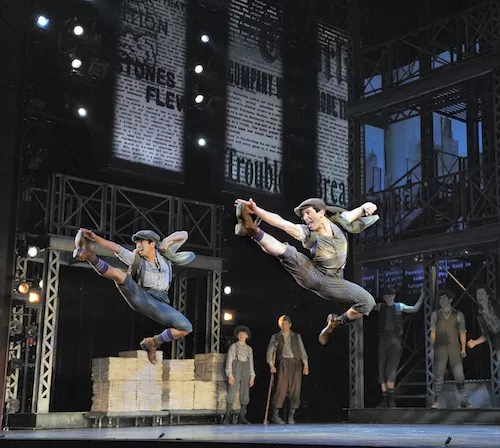 Deen van Meer
Newsies
Newsies (***1/2) — Recent hit musicals by Harvey Fierstein have habitually championed the underdog: African Americans of Baltimore in Hairspray and transvestites in Kinky Boots. Next to these, Newsies may have seemed somewhat bland when it opened in the spring of 2012, recounting the 1899 strike by lowly newsboys against a media Goliath, Joseph Pulitzer. Perhaps Fierstein's edginess seemed dulled by the fact that, unlike his previous movie adaptations, this one had come through the Disney digestive tract. Nor was Newsies waving the banner for gays or trannies.
Or maybe the Congressional constipation of the past two years has made the issue of income inequality more urgent, relevant, and hot-button in 2014. Gays after repeal of DOMA and legalized gay marriage? Not so much. Whatever the reason, I was blindsided by how powerful Newsies is, telling the story Jack Kelly and his compelling struggles. He must come to grips with his talents as an artist and a leader, deciding whether he's truly willing to mobilize a citywide strike against the deprivations and police nightsticks that Pulitzer can wield against him.
We and New York World reporter Katherine Plumber see that Jack's low opinion of his own potential and power are the poisonous fruit of his poverty. The rocky Jack-and-Katherine romance is wholesome and conventional, but Katherine's presence eventually doubles the plotline — with a pre-suffrage edge that's pretty strong for Disney. Music by Alan Menken with lyrics by Jack Feldman deservedly won the Tony Award over Once, capped by the showstopping "King of New York." Even more sensational is the Christopher Gattelli choreography, which also earned a Tony statuette.
Cory Cott has been playing the moody, gifted hero for nearly 18 months and totally owns him, while Liana Hunt, who took over as Katherine a week before I saw her, gives Jack all he can handle. John Dossett has played Pulitzer from day one, giving him more texture than Fierstein has written. The victory won by the newsies falls short of a revolutionary triumph, but after all the energy, vitality, valor, and bravura that went into their strike, I felt a genuine and powerful uplift.
Joan Marcus
Outside Mulligar
Outside Mullingar (***1/4) — While it follows on the heels of John Patrick Shanley's Pulitzer Prize-winning drama, Doubt — and his subsequent screen adaptation — Outside Mullingar is far more akin to Shanley's Moonstruck, centered on romantic feelings instead of ethical issues. Irish farmer Rosemary Muldoon tries to ignite new hope and ardor in her farmer neighbor, Anthony Reilly, though she has been deeply ambivalent about him since childhood.
Since she's 35 and he's 42, and since Anthony's father is mulling over his will — and cutting Anthony out — Mullingar has much of the same autumnal flavor as Moonstruck. What's missing is a similar riot of eccentricity, magic, and love juice, the sense that love is a giddy thing at any age. Shanley's Italians were boisterous, profligate, and uncontrollably unfaithful, but his Irish are shy, moody, and vengeful, not your ideal kindling.
Brian F. O'Byrne doesn't bring any more comedy to Ireland as Anthony than he brought to the Bronx as Father Flynn in Doubt, but without histrionics he brings out the full anguish of a man who has made little of his life and feels unworthy of love. In her Broadway debut, Will and Grace star Debra Messing delivers most of the positive fire that Shanley has to offer here, vivacious, earnest, and burdened by a lifelong secret. Peter Maloney, as Anthony's dad, reminds me of a couple of Martin McDonough's curmudgeons, but not quite as mean or funny and somewhat sweeter.
Dearbhla Molloy plays a marginal role as Rosemary's mom, correcting a few inaccuracies that creep into the old man's account of the past. There's a disputed 40 meters of land separating the Reillys from the Muldoons, and the unraveling of its origins becomes crucial to Anthony and Rosemary finding common ground. Shanley navigates this denouement with his usual adroitness: he may not be probing as deeply this time around, but he hasn't lost his touch. (Through March 16)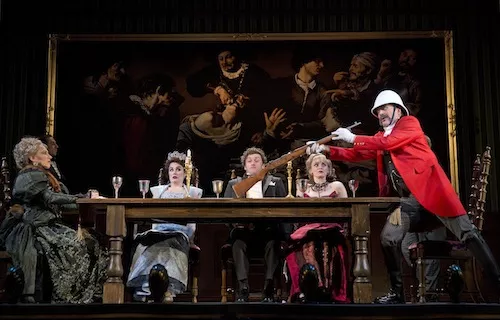 A Gentleman's Guide to Love and Murder
A Gentleman's Guide to Love and Murder (***) — As they did in years past with Triumph of Love and The Mystery of Edwin Drood, critics are adoring the artificiality of this Jefferson Mays showcase while it struggles to gain traction with the general public. Leaning heavily on Roy Horniman's Israel Rank: The Autobiography of a Criminal, a novel that also spawned the screenplay for Kind Hearts and Coronets, Sir Alec Guinness's comic romp, Robert L. Friedman's book introduces us to D'Ysquith Family castaway Monty Navarro, who sets about murdering his way to his wrongful inheritance.
All of these pesky D'Ysquith men and women are portrayed by Mays, just as Guinness played the D'Ascoyne Family in the 1949 film. Here Alexander Dodge's set design perpetually assures us that we're watching a burlesque or a puppet show or a desiccated melodrama, while the patter of Steven Lutvak's score further invites us to take all this in as purely cerebral fare.
Notwithstanding Mays's virtuosity, the drollery becomes tiresome by the end of Act 1, as most of the D'Ysquiths are dispatched. Fortunately, as the plot thickens after intermission, comedy and romance freshly bloom. Monty's hunger for riches has been whetted by the rejection of his longtime lover, Sibella Hallward, but during his strivings to become worthy of her, he attracts the attention of Phoebe D'Ysquith, a warmer, more available option than the sizzling Sibella, who has already married for money.
Keeping the two women unaware of each other creates a Herculean labor for Monty, and the hilarity of this farcical episode isn't marred by the precious proscenium-within-a-proscenium set. The climactic dining scene, where Mays plays Lord Adalbert, the last and most boorish D'Ysquith in line for the family fortune, far surpasses his previous comedy exploits. As he previously proved in his menacing supporting role in Ghost the Musical, Bryce Pinkham is a powerful presence in his own right, urbane in all of Monty's romantic, comedic, and narrative chores — setting the table handsomely for Mays's superb eruptions. Sexy and smart, Lisa O'Hare makes a stunning debut as Sibella, nicely counterbalanced by Lauren Worsham as the sweet and grounded Phoebe.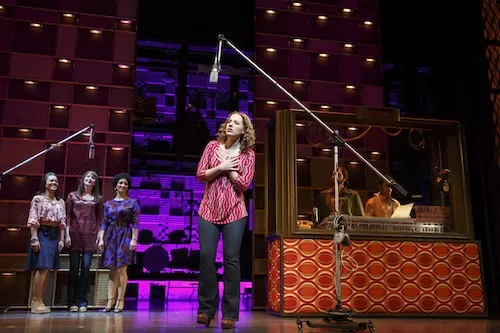 Beautiful: The Carole King Musical
Beautiful: The Carole King Musical (***) — Before she became a megastar with her blockbuster album, Tapestry, Carole King wrote a multitude of hit songs for other artists: "Take Good Care of My Baby" for Bobby Vee, "Natural Woman" for Aretha Franklin, "Will You Love Me Tomorrow" for The Shirelles, "The Locomotion" for Little Eva — King's babysitter! — and "Up on the Roof" for The Drifters. So a musical about King's early days, when the composer remained largely in the background, promises to vary the program instead of sending our star to the piano over and over to play her songbook.
Providing the book, Douglas McGrath helps the show's producers hedge their bets even further, widening the story to embrace the partnership of Barry Mann and Cynthia Weil, stablemates in Don Kirschner's hit factory at 1650 Broadway — friendly rivals of King and her first husband, Gerry Goffin. That move tosses extra hits onto the Beautiful playlist — including "On Broadway" and "You've Lost That Lovin' Feeling" — and keeps the show's love light burning when the flame goes out of King's marriage.
Sadly, orchestrator Steve Sidwell also labors to widen the appeal of the score, with the result that, sung by the recreated doo-wop groups, "Will You Love Me Tomorrow" and "On Broadway" become glitzy, brassy messes, trading in their original charms for Broadway crassness. Yet the raucousness of those arrangements may explain why I was so unexpectedly moved when Jessie Mueller, as King, communed with such songs as "Take Good Care of My Baby," "It's Too Late," and "Natural Woman." Mueller is an oasis of simplicity and directness, her performance luminous and pure.
Jake Epstein keeps Goffin likable through all his instability and infidelity, showing best in "Up on the Roof." Jarrod Spector as Mann, Anika Larsen as Weil, and Jeb Brown as Kirschner all help to keep us thinking outside the jukebox with their liveliness and individuality, combining with Mueller on the most touching dramatic moment of the show, their "You've Got a Friend" farewell. Notwithstanding their efforts to diversify their show, McGrath and Sidwell's have failed to diversify their audience. On the Wednesday we attended, the matinee crowd was almost entirely middle-aged white women.
Bronx Bombers (**1/4) — After his paeans to the Green Bay Packers (Lombardi) and the rivalry of Magic Johnson and Larry Bird (Magic/Bird), Eric Simonson has extended his championship tour with a fresh tribute to the New York Yankees, backed by the Yankees themselves and Major League Baseball. The result is wildly and disastrously ambitious, arrogantly presumptuous, and catastrophically inchoate.
We begin at the Boston Sheraton as Hall of Fame catcher Yogi Berra, now coaching the Yankees, tries to act as peacemaker in the wake of a notorious explosion at Fenway Park in June 1977. Manager Billy Martin has yanked Reggie Jackson off the diamond for not charging a single hit to right field, and the egotistical Reg had to be restrained from tearing Billy's head off when he reached the dugout. A day later, Martin is agonizing over the possibility that the equally volatile team owner, George Steinbrenner, will fire him for humiliating his expensive superstar.
Here the writing and acting are rather good, particularly when we see the spot-on cowboy qualities of Keith Nobbs as Billy, Francois Battiste's conceited swagger as Reggie, and Bill Dawes' lunchpail manliness as Thurman Munson, the Yankees' captain. Berra, comically squat and bow-legged in Peter Scolari's badly misjudged portrayal, is unable to bring the warriors to accord, so he goes home to vent his anxieties to his beautiful devoted wife Carmen.
Now Simonson goes completely off the rails, for Act 2 adjourns to a Yogi dream, set up as a banquet where past Yankee greats are invited to assemble, dine, and offer counsel on taming the Bronx Zoo. But the august assembly of Babe Ruth, Lou Gehrig, Joe DiMaggio, Mickey Mantle, and Elston Howard spend most of their time admiring one another, giving us a taste of their most memorable traits, and — in the cases of Ruth-Gehrig and Mantle-DiMaggio — reviving old animosities.
Whether Berra takes comfort from these antagonistic precedents is unknown, for instead of beaming back to the 1977 pennant race, we flashed forward to the Yankee locker room in 2008, where Yogi gave way to Derek Jeter as the valedictory speaker at ceremonies commemorating the last game played at old Yankee Stadium. Notwithstanding Simonson's blundering scenario, Chris Henry Coffey was splendid as the cold, sartorially elegant DiMaggio and Christopher Jackson was uncanny in replicating Jeter's thoroughbred walk.
Simonson succeeded in one dubious regard: he gave new meaning to the fearsome Yankee nickname, the Bronx Bombers. The show lasted less than a month at Circle in the Square, bombing out on March 2.