Perhaps it comes with age, but, at some point, there comes a time when you have to do what makes you happy in life. The frustrations of doing otherwise aren't worth it and easy joyful feelings can mean the world to you. That's how Chris Robinson views the Chris Robinson Brotherhood. The former frontman of the Black Crowes grew tired of facing a constant uphill battle with the Southern-rock band but has found freedom with the CRB for the last four years.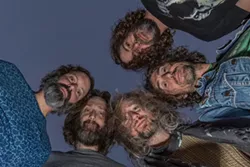 "I'm just fucked up in the head enough to believe that the only way you can make something amazing is to put your heart and soul into it every single night and every day, wherever you are," Robinson says. "Somewhere along the line, I just felt like where we used to charge across the open field, we couldn't get over the hill. I think it's pretty easy to see that the [Black Crowes] should have stayed broken up after 2000."
That's not to say the Crowes didn't have plenty of good times in the years when they reunited after that, but it's easy to see Robinson's joy when he's on stage with CRB. There's an ease to his performances. Sure, he's playing smaller places than he did with the Crowes — the band performs at the Chop Shop on Sept. 12 — but he's ok with the organic approach to building a fan base.
"What a unique opportunity to have a second chance to build something from the ground up with all of the stuff that you know now," Robinson says. "To be in a band with all of the people that I'm in a band with now is the complete opposite of anything I ever had in terms of — not to sound new-agey — it's a real nurturing place. There's no hurry or tough-guy telling you what to do. It's all on our tempo."
Robinson's conversational tone is just as easy-going. He speaks in sentence fragments that go wherever his mind wanders in the moment. During our chat he pogoes easily between Carolina barbecue, the Grateful Dead, his history with the Crowes and the future of the CRB.
His music plays much the same way. The band never hesitates to let the music stretch out with concerts often lasting around three hours. Throw in a one or two-hour soundcheck and you've got to love what you're doing to spend that much time doing it. He also notes that he practices playing guitar whenever he gets a chance. Yep, Robinson's flexing far more musical muscle with the CRB than he ever did as the Crowes singer.
"Some people will inevitibaly see [me playing guitar] and be interested," Robinson says. "It's a different presentation, but it's still soulful. It's still rock 'n' roll and friendly. I work hard at my guitar. I practice all the time and try to put in the hours. You can't be the schlep in this band, you have to be able to get down."
Where the Black Crowes were pushed by Southern rock infused with soul, the CRB leans far heavier on those soulful roots with clear influences by the Grateful Dead, Levon Helm and the Tulsa music scene with artists like Leon Russell evident in every song.
Robinson says that while the Crowes' reunion tours had plenty of highlights, he's not the same person he was back when that band started. When you're young, he says, you have a fire and energy where everything is new and you want to rebel through drugs and the counter-culture. With age, he has gotten more introspective.
"I'm deeper," he says. "I want to roll around in it more. I don't have to sing like I did when I was 22. I can sing like I do at 48. My musical mind needs to be in harmony with the other parts of my life. This band allows that. I'm into harmony. I'm into melody. I'm into expressive imagery."
Part of what makes CRB able to view the expanse of their music on a nightly basis is the songs themselves. Robinson notes the architecture of the songs has to be strong if you're going to branch out during the live set.
"To me, part of the psychedelic aspect of music is it being hand-made and custom and not being like any other one," he says. "Every one of our shows is custom-fit to your trip. I feel that way about our songs and shows. We laughed when we called it a 'farm-to-table psychedelic band.'"
For a band with a solid live show, heading into the studio might not seem like the appropriate choice, but Robinson says he loves the opportunity it presents for the band to craft its songs.
"We're playing two new songs this year and have six or seven we're working on," Robinson says of the band's plans to hit the studio in January. "I love playing live, but making records is a real privilege. It's the most interesting way to present our music in another format. We try to get the best sounds and performances for the ideas and that's the only way the songs are ever played like that. They'll be similar, but they'll never be the same again."
Aside from song-crafting in the studio, Robinson says he's happy to take his time with CRB as a band and let it grow organically. Each time the band hits the road, the group is performing for larger crowds. So, he's happy doing it just like he did decades ago.
"The last time I tried to do this, it was 1987 and the band was called Mr. Crowe's Garden," he says with a laugh. "When we started [CRB], we had no issue putting 15,000 miles on the van by driving up and down California, playing shows every night and writing new songs. That's how you realize if you want to be in a band together; setting up our own gear and sleeping on the bus. There's no, 'I'm going to the hotel and I'll see you at the next gig.' We had to establish a connection on all levels. How rare is it to have a small, but loyal, group of people who enjoy what we put out and are into the idea of joy being a commodity?"