(View From The Couch is a weekly column that reviews what's new on Blu-ray and DVD. Ratings are on a four-star scale.)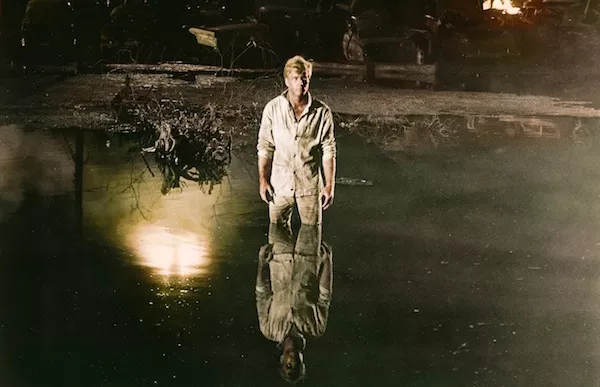 Robert Redford in The Chase (Photo: Twilight Time)
THE CHASE (1966) Set in Texas (but of course), The Chase focuses on a small town in which practically all of the well-scrubbed, well-to-do characters turn out to be brutish, racist and adulterous gossipmongers who spend most hours getting drunk, getting laid — usually by someone else's spouse — and getting violent with the town's peaceful black citizens. The news that former resident Bubber Reeves (Robert Redford) has escaped from prison and possibly killed a man in the process stirs the yahoos into a vigilante rage, one that the decent Sheriff Calder (Marlon Brando) has trouble containing. Meanwhile, Bubber's wife (Jane Fonda) is having an affair with his best friend (James Fox), although she still cares enough for her husband that she'll do anything to aid him. This might be a case of too many gourmet cooks spoiling the broth, as the well-documented conflicts between producer Sam Spiegel, director Arthur Penn and screenwriter Lillian Hellman (adapting Horton Foote's play) doubtless had something to do with the haphazardness that plagues this interesting if erratic endeavor. Brando, Fonda and Redford are all miscast, conveying too much intelligence to be convincing as the rubes on display here (in what universe would a redneck named Bubber look and talk like the WASPy Redford?). This leaves the more convincing turns to come from the other all-stars cited lower in the cast list, particularly Angie Dickinson as Calder's supportive wife and Robert Duvall as a weak-willed bank officer. That's Marlon's older sister, Jocelyn Brando, as Mrs. Briggs, and look for Paul Williams as one of the town youths.
Blu-ray extras consist of audio commentary by film historians Lem Dobbs, Julie Kirgo and Nick Redman; the theatrical trailer; and an isolated track of John Barry's score.
Movie: **1/2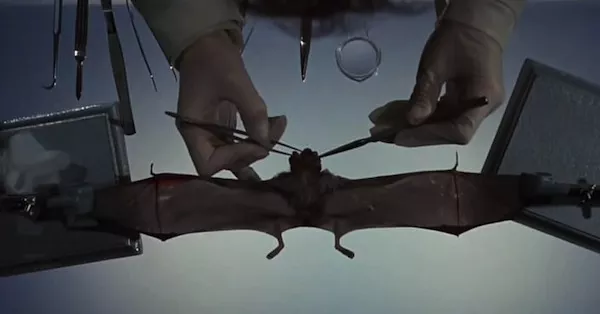 Chosen Survivors (Photo: Kino)
CHOSEN SURVIVORS (1974). It's the end of the world as we know it, but just before the bombs drop, 10 people and a military supervisor are whisked into an underground lair, tasked with spending the next few years riding out the nuclear aftermath in anticipation of eventually reemerging and repopulating the planet. But before long, they realize that they're sharing living quarters with thousands of vampire bats that have made their way into the complex from the surrounding caves. Call me charitable, but the plot for Chosen Survivors has always struck me as tasty enough to work as a savory slice of science fiction-cum-horror — a 10 Little Indians scenario with a bloodthirsty twist. Unfortunately, the film wastes its potential thanks to the inert direction by Sutton Roley (a TV-series vet whose big-screen assignments were almost nonexistent), a lackluster screenplay, and a drab assortment of characters who prove to be so lifeless and colorless, it's a wonder the bats can find any blood to drain from their veins. The performances aren't bad (Richard Jaeckel, Bradford Dillman, Diana Muldaur and Barbara Babcock are among the second-tier stars), but because of the time period in which this was made, we shouldn't be surprised that the principal character, played by Jackie Cooper, isn't a heroic figure but rather a petty, ill-tempered businessman who proves himself to be both a rapist and a racist. Oh, those wacky '70s.
Blu-ray extras consist of audio commentary by film historian Richard Harland Smith, and a trailer gallery.
Movie: **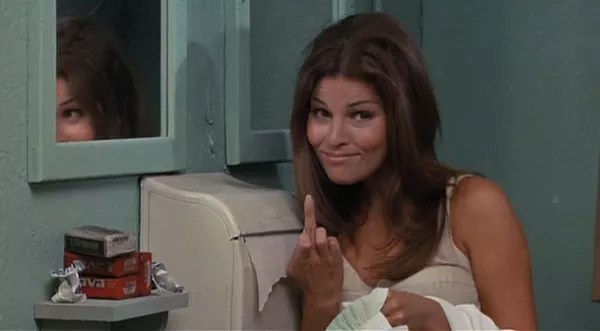 Raquel Welch in Fuzz (Photo: Kino)
FUZZ (1972) / THE LAUGHING POLICEMAN (1973). "This movie is so real it makes every other movie in this town look like a movie," promises one of the taglines that was used to publicize The Laughing Policeman upon its initial release. That blurb could also be applied to Fuzz, as both were early-'70s efforts that sought to add a realistic veneer to the traditional cop flick.
Fuzz attempts to do so through humor, but the disappointing film turns out to be no laughing matter. Adapted by Evan Hunter from the novel by Ed McBain — which, surprise!, was Hunter's nom de plume — the picture attempts to duplicate the satiric spin of such other early-70s efforts as M*A*S*H and The Hospital, but a heavy-handed approach as well as a scarcity of genuine wit renders it ineffectual as comedy or drama. Burt Reynolds, Tom Skerritt and Jack Weston play the irreverent cops on the force, Raquel Welch is awkwardly shoehorned into the proceedings as a policewoman attempting to nail a serial rapist, and Yul Brynner is badly miscast as a deaf man who's quite adept at extortion.
Walter Matthau and Bruce Dern in The Laughing Detective (Photo: Kino)
The Laughing Policeman sounds like it's a comedy, but it's actually a humorless affair — it's also the better bet among these two films. Based on one of the books in the popular Martin Beck series by Swedish authors Maj Sjowall and Per Wahloo (with the action shifted from Stockholm to San Francisco), this casts Walter Matthau as Jake Martin, a surly detective whose partner is killed in a massacre in which an unknown assailant opens fire on a busload of passengers. Alongside his new partner (Bruce Dern), a younger cop who frequently whiplashes between being sympathetic and being short-fused, Martin sets out investigating the histories of all the victims in an effort to locate clues that will help him solve the crime. Select scenes pop with an air of authenticity — especially ones featuring Louis Gossett Jr. as a fellow detective — and the gravity of the plot helps temper those moments when some of the actors — including Dern in some scenes and, as the police chief, Anthony Zerbe in all scenes — threaten to go overboard with their emoting.
Blu-ray extras on Fuzz consist of audio commentary by film scholars Lee Pfeiffer, Eddy Friedfeld and Paul Scrabo; an interview with co-star Paul Koslo; an image gallery; and a trailer gallery. Blu-ray extras on The Laughing Policeman consist of audio commentary by director Richard A. Colla, moderated by filmmaker Elijah Drenner (American Grindhouse); a "Trailers from Hell" segment with Oscar-nominated scripter Josh Olson (A History of Violence); and a trailer gallery.
Fuzz: **
The Laughing Policeman: ***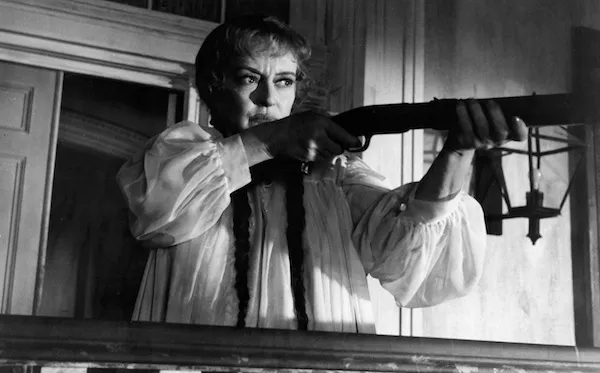 Bette Davis in Hush...Hush, Sweet Charlotte (Photo: Twilight Time)
HUSH...HUSH SWEET CHARLOTTE (1964). Thanks to the success of 1962's What Ever Happened to Baby Jane?, which found real-life nemeses Bette Davis and Joan Crawford sparring under the gleeful direction of Robert Aldrich, the rest of the decade and into the early '70s yielded several more films in which aging actresses took center stage in low-budget thrillers. Strait-Jacket, What Ever Happened to Aunt Alice? and Die! Die! My Darling were among the offerings, but the best of these knock-offs was arguably Hush... Hush, Sweet Charlotte, an atmospheric creepshow that reunited Aldrich and Davis, but not Crawford, who was cast but bolted after a few days. Davis essays the role of Charlotte Hollis, who's spent the last few decades holed up in her Louisiana mansion, going crazy over the possibility that she may have been the one to chop up her lover (Bruce Dern in one of his earliest roles) with a meat cleaver. But could the actual killer have been her housekeeper (Agnes Moorehead)? Her father (Baby Jane scene-stealer Victor Buono, seen here in the flashback sequences)? Her soft-spoken cousin (Olivia de Havilland, Crawford's replacement)? The family doctor (Joseph Cotten)? Or someone else entirely? Davis and Moorehead are both at their unhinged best here, leaving others to provide the more discreet villainy. This earned a generous seven Academy Award nominations (including a Best Supporting Actress bid for Moorehead) but lost in all categories.
Blu-ray extras include audio commentary by film historians David Del Valle and Steven Peros; separate audio commentary by film historian Glenn Erickson; a making-of featurette; an interview with Dern; and the original theatrical trailers.
Movie: ***
Daniel Radcliffe (center) and Pawel Szajda (right) in Imperium (Photo: Lionsgate)
IMPERIUM (2016). By sheer coincidence, two new-to-Blu titles — one released theatrically this year, the other released 50 years ago — can be lumped together under the double feature heading of Trump's America. Both, after all, show the hideous reality of what happens when self-centered white men — most of them not particularly bright — collectively appoint themselves judge, jury and executioner and proceed to soil the American terrain with their grotesque prejudices and violent activities. The older picture is 1966's The Chase, reviewed above; the other is this thoughtful drama that barely received a theatrical release this past summer but deserves to find an appreciative audience on disc. Daniel Radcliffe is impressive as Nate Foster, an FBI agent whose desire to make a difference finds him accepting an assignment from a superior (Toni Collette) bent on bringing down white supremacists. Nate goes undercover and becomes a trusted friend and ally of small-time neo-Nazi Vince Sargent (Pawel Szajda); this in turn leads him into contact with more organized — and therefore more dangerous — leaders like a humorless militia man (Chris Sullivan), a Limbaugh-like radio show host (playwright Tracy Letts) and, most startlingly, an unassuming suburbanite (True Blood's Sam Trammell). Working from a script co-written by former FBI agent Michael German, who himself had spent some time infiltrating racist right-wing outfits, director Daniel Ragussis has fashioned a timely treatise that shines a harsh light on this nation's deplorables and serves to remind discerning viewers that homegrown terrorism is no less a threat than the international brand.
Blu-ray extras include audio commentary by Ragussis and German; a making-of featurette; and interviews with Radcliffe and other cast and crew members.
Movie: ***
James Stewart in It's a Wonderful Life (Photo: Paramount)
IT'S A WONDERFUL LIFE (1946). Forget the Christmas connection: This all-timer can be watched any time of the year. It has the power to move viewers to tears, and it does so not by blatant button-pushing but by honestly showing how an individual's life is truly something to celebrate. James Stewart delivers his greatest performance as decent George Bailey, and he receives wonderful support from Donna Reed as his loving wife Mary, Lionel Barrymore as the Scrooge-like Potter, and, of course, Henry Travers as Clarence, the angel determined to earn his wings by helping George through his dark night of the soul. The movie grabs your emotional lapels from the get-go, and by the time it reaches the moment when George whispers, "I want to live. Please, God, let me live," it's best to have those hankies ready. Yet what's interesting about the picture is that, for all its uplift, there's real darkness found around the edges: Unlike Scrooge, Potter never gets bitten by the Christmas bug, nor is he ever punished for his multitude of sins; the bar owner's assistant (Sheldon Leonard) turns out to be a truly odious man in the alternate world Clarence shows George; and even George himself displays an ugly side, as the pressures force him to practically get (with apologies to Pulp Fiction) medieval on poor Uncle Billy (Thomas Mitchell). The great Gloria Grahame appears as the local party girl Violet, while Ward Bond and Frank Faylen make a great team as pals Bert and Ernie — reportedly not the inspiration for the Sesame Street characters, despite persistent rumors. It's a Wonderful Life earned five Oscar nominations, including bids for Best Picture, Best Director and Best Actor.
Blu-ray extras consist of a making-of featurette and the theatrical trailer. This 70th Anniversary Edition also contains a colorized version of the film (ugh) and six art cards.
Movie: ****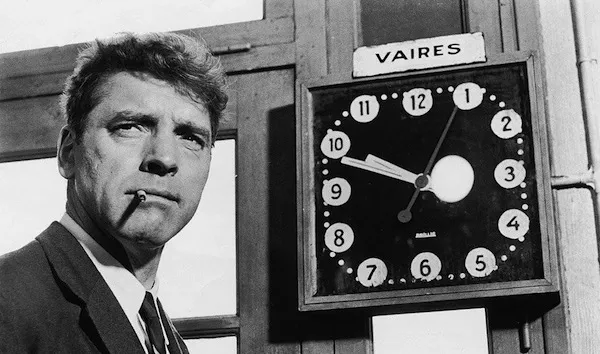 Burt Lancaster in The Train (Photo: Twilight Time)
THE TRAIN (1965). This World War II yarn from John Frankenheimer (The Manchurian Candidate) spins off from a real-life incident in order to ask the age-old question: Can Art-with-a-capital-A be worth as much as a human life? With meticulous direction by Frankenheimer and a complex, Oscar-nominated script by Franklin Coen and Frank Davis (based on Rose Valand's book Le front de l'art), this gripping picture places that philosophical query in the context of a rousing action flick notable for its astounding use of real trains — no models or miniatures were employed — and employing a cunning clash of wills between two formidable adversaries. On one hand, there's Colonel Von Waldheim (Paul Scofield), an erudite Nazi who plans to leave France with a huge shipment of artistic masterpieces by fellows like Van Gogh, Picasso, Renoir and Gauguin before the Allies arrive. On the other, there's Labiche (Burt Lancaster), a railway manager and French Resistance member who's uninterested in risking lives for paintings — despite them being tagged the nation's "pride" and "heritage" — until matters take a personal turn. Crisply filmed in black-and-white and sporting small but memorable turns by French icons Jeanne Moreau (as a pragmatic innkeeper) and Michel Simon (as a crusty conductor), the film nicely delineates its central characters through grounded exposition before eventually taking off with the high-charged power of — what else? — a runaway train.
Blu-ray extras include audio commentary by Frankenheimer; separate audio commentary by film historians Julie Kirgo, Paul Seydor and Nick Redman; the theatrical trailer; and an isolated track of Maurice Jarre's score.
Movie: ***1/2