(View From The Couch is a weekly column that reviews what's new on Blu-ray and DVD.)
Robert Redford in All Is Lost (Photo: Lionsgate & Roadside Attractions)
ALL IS LOST (2013). We don't know anything about the protagonist of All Is Lost, except that he's played by Robert Redford. We don't even know his name, since he's billed in the credits simply as "Our Man." What we do learn, though, is that he's in deep water, both literally and figuratively. Somewhere in the Indian Ocean, this man's yacht is suddenly struck by a large shipping container just ... there, floating along in the middle of the sea. It turns out that the collision was strong enough to tear a sizable hole in the side of his boat, so he sets about repairing it as best he can. But will it be secure enough to withstand the upcoming storm, not to mention the other hurdles that fate places in his path? Certainly, the plot will make it easy for some to tag this Life of Pi without the tiger, Cast Away without the volleyball, Gravity without George Clooney. But the script by writer-director J.C. Chandor is far more threadbare and streamlined, unfolding like an existential one-man show in which an individual must rely solely on himself to survive, doing his best to pass the cosmic exam placed before him. The film could stand being trimmed about 10 or 15 minutes — not because it grows tedious (it doesn't), but because the dire predicaments piled on this poor man's head almost become comical in their quantity. A radio that's kaput, contaminated drinking water and a visit from a school of sharks are just some of the myriad troubles faced by our hapless hero — it reaches a point where I half-expected the yacht to somehow float all the way to colder waters so our hero would be forced to emulate Uncle Tom's Cabin's Eliza and cross multiple ice floes with wolves snapping at his heels. The vacuum-sealed status of this character places some distance between him and viewers, although the presence of Redford in the role goes a long way toward closing the gap. The actor has portrayed so many immaculately groomed golden boys (Barefoot in the Park, The Sting, The Great Gatsby, etc.) that it's easy to forget his success in earthier roles that take advantage of his all-American ruggedness (Jeremiah Johnson, The Horse Whisperer, etc.). All Is Lost highlights one of his best performances in this vein — it's a strikingly physical performance, more so coming from a man who's 77.
Blu-ray extras include audio commentary by Chandor and producers Neal Dodson and Anna Gerb; interviews with Redford and Chandor; and the featurette The Sound of All Is Lost (an apt extra, since the movie's sole Oscar nomination is for Best Sound Editing).
Movie: **1/2
Lance Armstrong in The Armstrong Lie (Photo: Sony Pictures Classics)
THE ARMSTRONG LIE (2013). While the sports and entertainment arenas are packed with far too many arrogant pricks to count — Michael Jordan, Steve Smith, James Cameron, etc. — a key figure among this egotistical elite is Lance Armstrong, the cyclist who won the Tour de France an amazing seven times. On the surface, his story couldn't be more inspiring — a superb athlete, a cancer survivor and a great humanitarian. It's no wonder he was adored by millions, and no wonder that a film celebrating his achievements was being prepped as he returned from his 2005 retirement to participate in the 2009 Tour de France. But that was then, this is now, and the documentary that has finally seen the light of day has morphed from a celebration into a condemnation. Director Alex Gibney planned to call his ode The Road Back, but once the doping allegations that had plagued Armstrong throughout most of his career finally took hold, the project was dropped, resurfacing last year as The Armstrong Lie. Much of the footage still charts the cyclist's efforts during the 2009 Tour de France, only now it's sharing room with newer material, much of it taken after Armstrong's 2013 interview with Oprah Winfrey in which he admitted to taking banned, performance-enhancement drugs during his championship seasons. Gibney gathers interviews with many of the people circling Armstrong at the time, including teammates who were also caught doping (the film's underlying thread is the corruption of professional cycling, with most of the day's participants guilty of pedaling under the influence); the journalists who smelled something fishy from the start and never quit their pursuit of the truth; the sleazy doctor Michele Ferrari, who was responsible for Armstrong's highly sophisticated doping regimen; and the few who were courageous enough to stand up to Armstrong's bullying tactics and thereafter had to deal with lawsuits and slander. While never dull, the film is too long at 122 minutes, with much of the material feeling repetitive and far from illuminating. Gibney structures the film in a back-and-forth style that moves (sometimes clumsily) between years and incidents, and charting a more chronological path might have provided the movie with a cumulative punch at the end.
Blu-ray extras include audio commentary by Gibney; deleted scenes; and a Q&A with Gibney, producer Frank Marshall, journalist Bill Strickland, cyclist Jonathan Vaughters and Armstrong target Betsy Andreu.
Movie: **1/2
Georgia King, Keri Russell and Jennifer Coolidge in Austenland (Photo: Sony Pictures Classics)
AUSTENLAND (2013). Even with all the inherent dangers, it's better to buy a ticket to Westworld or Jurassic Park rather than Austenland, an opulent if insincere fantasy resort that has trouble delivering on its promise of a happily-ever-after experience. The same logic can be applied to the films showcasing these theme parks, since those who pay to rent Austenland will only feel regret afterward. Keri Russell stars as Jane Hayes, who's so obsessed with the works of Jane Austen that a "Darcy Was Here" banner hangs above her bed and a life-size stand-up of Pride and Prejudice's Colin Firth hangs out in her living room. Is her devotion fanatical? It's tempting to say yes, but it would also be sexist, since men have long shown similar fanaticism in their decór of all things NFL, Star Wars, Tolkien, automotive, etc. and yet rarely get called out for it. At any rate, Jane continues to feed her habit by booking a flight to the U.K. and staying at Austenland, a resort where everyone — hired actors and guests alike — is expected to dress, talk and behave like characters from an Austen novel. Writer-director Jerusha Hess and co-scripter Shannon Hale (adapting her own novel) may have had the template for a piercing social satire — one that sharply plays up the differences between our modern world and Austen's — but they squander it in favor of a movie that rarely rises above the level of a formulaic rom-com. And aside from tossing around the name Mr. Darcy, the movie's appreciation and understanding of Austen's works seem tenuous: Given its broad strokes, the film (and resort) might as well have been named Shakespeareland or Alcottland or even Sparksland. Jennifer Coolidge and Georgia King provide some comic bite as the other guests, while the men playing the romantic suitors (J.J. Feild, James Callis, Ricky Whittle and Flight of the Conchords' Bret McKenzie) handle what little is required of them. As for Russell, she's game but corseted by the one-note nature of her role. Incidentally, how much of a fan of the veddy British Austen can Jane Hayes truly be if she can't tell an English accent from a New Zealand one? Kiwi actor McKenzie's character speaks with a New Zealand accent, yet Jane admits that she thought he was British the whole time. Wouldn't this be the unlikely equivalent of an NFL fan yelling "Home run!" after his favorite team scored a touchdown?
Blu-ray extras include audio commentary by Hess and producer Stephenie Meyer (yes, the Twilight Stephenie Meyer); a Q&A with all the principal actors; and theatrical trailers.
Movie: **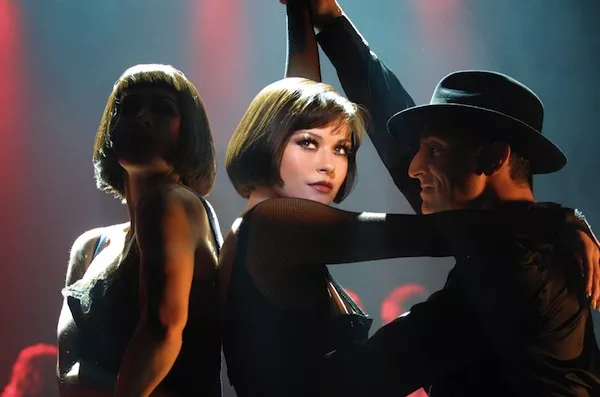 Catherine Zeta-Jones in Chicago (Photo: Lionsgate & Miramax)
CHICAGO (2002). Last rites for the movie musical were administered somewhere circa 1980, when the double-barreled blast of Can't Stop the Music and Xanadu finished off the genre. The mid-1990s through the early 2000s, however, saw the once-revered film genre trying to claw its way back via splashy, stagy, song-packed showstoppers. Yet pictures like Evita and Moulin Rouge almost seem like appetizers when compared to Chicago, a knockout of a musical that, among other achievements, finds Catherine Zeta-Jones in her best screen work to date, Richard Gere delivering his finest effort since An Officer and a Gentleman, and Renee Zellweger adding to her then-noteworthy string of unassailable performances. Not only for theater aficionados, Chicago is a musical for people who don't even like musicals, weaving its deliriously dark tale with enough cyanide-laced cynicism to win over folks who wouldn't know Oklahoma! from Oh! Calcutta! Director-choreographer Rob Marshall and scripter Bill Condon keep the proceedings both lively and lacerating, and if, after years of overexposure, the story's themes relating to the cult of celebrity have all the bite of a toothless gerbil, at least they're presented in an irresistibly engaging fashion. Zellweger handles the role of Roxie Hart, a starlet wanna-be in Prohibition-era Chicago who, like fellow singer-dancer Velma Kelly (Zeta-Jones), is behind bars for murder. Both women's public images are carefully handled by slick lawyer Billy Flynn (Gere), and all three work the angles to ensure they each land on top. Also thrown into the mix are the corrupt prison warden (Queen Latifah), Roxie's hapless husband (John C. Reilly), and a complacent media headed by reporter Mary Sunshine (Christine Baranski). Visually, Chicago might rank among the more claustrophobic musicals — most of the numbers are performed in dark interiors — but the actors' energy and Marshall's imaginative staging are strong enough that they make the entire picture seem as open-aired as Julie Andrews' hilltop warbling in The Sound of Music. Nominated for 13 Academy Awards (including nods for Zellweger, Reilly and Latifah), this nabbed six, including Best Picture and Supporting Actress (Zeta-Jones).
Blu-ray extras include audio commentary by Marshall and Condon; a new retrospective piece; the deleted musical number "Class," performed by Zeta-Jones and Latifah; and the featurette From Stage to Screen: The History of Chicago.
Movie: ***1/2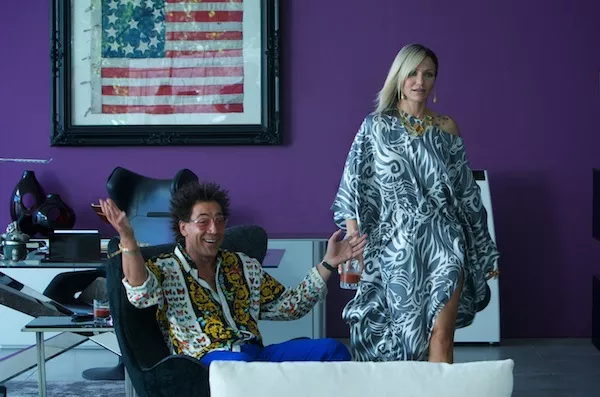 Javier Bardem and Cameron Diaz in The Counselor (Photo: Fox)
THE COUNSELOR (2013). No movie released in 2013 was as nihilistic as this overheated curio in which bad things happen to bad people, worse things happen to good people, good things happen to the worst people, and Cameron Diaz's vagina is summarily dismissed as looking like a "catfish." Despite Ridley Scott as director and a powerhouse cast, this was mainly touted as the first film written directly for the screen by Pulitzer Prize-winning author Cormac McCarthy. At its best, it's reminiscent of the philosophical slant often taken by the Coen brothers, particularly in (well, duh) their adaptation of McCarthy's No Country for Old Men. At its worst, it recalls the excesses of latter-day Oliver Stone, with a whiff of the awful Savages hovering around its edges. Of course, that's as much to do with the storyline as with anything else, given that both works center around the drug trade and its nasty practitioners. Here, the protagonist is a legal counselor played by Michael Fassbender, a character so one-dimensional that he isn't even given a name. His fiancée isn't any more developed — or interesting — but she at least comes with ID: Laura (Penélope Cruz), so innocent that she makes Mother Teresa look like Aileen Wuornos by comparison. Despite words of warning from two of the more benign figures on the scene, the colorful Reiner (Javier Bardem, giving the best performance) and the cautious Westray (Brad Pitt), the counselor opts to get involved in a major drug operation involving the Mexican cartel — a decision he regrets once everything starts going wrong. Like Mamet and Tarantino, McCarthy offers a specialized form of patter, and much of it is fresh and fun to follow. Unfortunately, he spends so much time on the dialogue that he critically neglects the plot — this is a film where any number of characters aren't identified and key relationships are never explained. Consequently, this lack of focus often moves the movie past appreciable ambiguity and into unacceptable incoherence. Still, its chutzpah makes it worth a look — audience members who labeled this one of the year's worst and gave it a "D" CinemaScore grade were clearly uncomfortable with its audacity, but remember, they also gave Transformers: Dark of the Moon an "A" grade. Nuff said.
The Blu-ray contains both the R-rated theatrical cut as well as an unrated version that runs an additional 20 minutes. Extras include an immersive, making-of experience with feature-length commentary by Scott and uncut viral pieces.
Movie: **1/2
Matthew McConaughey in Dallas Buyers Club (Photo: Universal)
DALLAS BUYERS CLUB (2013). "I ain't no faggot!" bellows Ron Woodroof (Matthew McConaughey) to the doctor (Denis O'Hare) who has informed him that he tested positive for the HIV virus that leads to AIDS. Ron's statement has already been corroborated by the opening sequence, which finds this Texas good ole boy banging a pair of women behind the scenes at the local rodeo. It's the mid-1980s, and AIDS is known as "a gay man's disease," so how the hell could he have it? Dallas Buyers Club relates the true story of Woodroof, who learns that AIDS is not just a homosexual disease and that it's going to claim his life in 30 days. But Ron is nothing if not a survivor and a pragmatist, so once he learns that the FDA-approved AZT is actually hurting instead of helping him, he begins to stock up on unapproved drugs. Realizing he can make lots of money, he starts selling these effective yet contraband meds to other HIV patients, all while trying to convince one of his doctors (Jennifer Garner) that he's doing more for those afflicted than the medical establishment. One of the best films of 2013 — and worthy of its six Oscar nominations (including Best Picture) — Dallas Buyers Club is tougher than most movies in the underdog vein. That's mostly due to the fact that director Jean-Marc Vallée and scripters Craig Borten and Melisa Wallack refuse to soften McConaughey's character until absolutely necessary. As Rayon, a transsexual and fellow sufferer who helps Ron rack up sales in the gay community, Jared Leto hasn't had a role this meaty since 2000's Requiem for a Dream, although there's no question this is McConaughey's movie. The actor's been on fire lately, with choice roles in Mud, Magic Mike and more, but this represents a new career best. I can take or leave the factoid that he lost 40 pounds for this role — that's not acting, that's dieting — but his actual performance is a keeper, playing a man trying to hold onto life as ferociously as a street dog clamping down on a bone. The most prominent criticism charged that a movie about a crisis that disproportionately affected homosexuals shouldn't have a heterosexual as its central character. Fair enough, except I think the fact that it does have a straight man as its protagonist is commendable, further emphasizing that this is a disease that affects everyone: gays, straights, adults, children, drag queens and even dirt-kicking Texas cowboys.
Blu-ray extras consist of deleted scenes and a behind-the-scenes featurette.
Movie: ***1/2
Ben Kingsley, Harrison Ford and Asa Butterfield in Ender's Game (Photo: Summit)
ENDER'S GAME (2013). It's been a long time coming, but best-selling author, Brigham Young descendant, former Rhinoceros Times columnist and all-around tool Orson Scott Card has finally decided to let someone make his popular 1985 novel Ender's Game into a motion picture. Card had held out as long as he could, even saying that his book was "unfilmable," but the author (or his accountant) finally relented, with Gavin Hood (X-Men Origins: Wolverine) being handed the plum assignments of writer and director. Not having read Card's novel, I couldn't say whether it was truly "unfilmable," but what ended up on the screen is indeed "filmable" in that we've seen these narrative threads countless times before in science fiction cinema. It's the future, and the great military leader Mazer Rackham (Ben Kingsley) has successfully defended Earth against hordes of insect-like invaders. Fearing they might return, Colonel Hyram Graff (Harrison Ford) searches for a new champion and finds one in Ender Wiggin (Asa Butterfield), a boy who believes in beating his opponents so thoroughly that they won't even think of attacking him again. Ender is shipped off to hone his skills as both a warrior and a leader, making friends and enemies alike and questioning authority almost every chance he gets. Best known for Martin Scorsese's Hugo, Butterfield is a likable actor, and that innate charm is necessary for us to warm up to a character with such fascistic tendencies. Indeed, the strength of the film is not in its conventional sci-fi elements but in the manner in which Ender relates to everyone around him, particularly the other kids. The rest is rather rote, though the late-inning twist provides a nice jolt. But because this was an international underachiever — its worldwide box office basically matched its expensive production budget — it's hard to envision the filming of Card's other Ender books, meaning this game might be over before it truly begins.
Blu-ray extras include audio commentary by Hood; separate audio commentary by producers Gigi Pritzker and Roberto Orci; deleted and extended scenes; and an 8-part making-of featurette.
Movie: **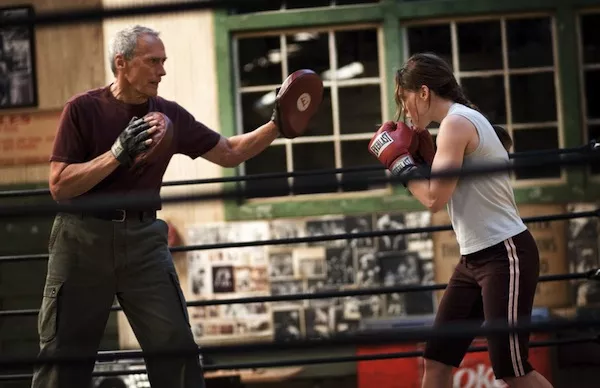 Clint Eastwood and Hilary Swank in Million Dollar Baby (Photo: Warner Bros.)
MILLION DOLLAR BABY (2004). The Academy got it right: Million Dollar Baby was the best picture of 2004, although Sideways came so close that I'd hate to live on the difference. Orson Welles once called Clint Eastwood the most underrated director in America, a designation that could be brushed aside once Eastwood received his due for the Oscar-winning Unforgiven. And now, despite some shaky efforts since 2004 (J. Edgar, Invictus), presumably even the few remaining doubters of the legend's prowess behind the camera dissipated in the wake of this picture. Whereas Unforgiven, Eastwood's revisionist Western, deconstructed genre conventions, turning them inside out to expose the inherent contradictions and compromises, Baby leaves many of the cliches intact, deriving its power not by upending them but by burrowing so deeply that it feels like we're witnessing familiar sights for the first time. Eastwood (capping his career with his finest performance) stars as a gym owner who's urged by his only friend (Morgan Freeman) to train a young woman (Hilary Swank) determined to make it as a boxer. Yet what starts out as a familiar story (though brilliantly told) eventually changes course and emerges as a profound and moving experience. There's very little about this movie that feels extraneous — it's tight, taut storytelling, anchored by three astonishing performances and helmed by a man still able to teach Hollywood's young punks a thing or two. Nominated for seven Academy Awards (including a Best Actor nod for Eastwood), this won four major ones: Best Picture, Director, Actress and Supporting Actor.
Blu-ray extras include audio commentary by producer Albert S. Ruddy; the new retrospective piece Million Dollar Baby: On the Ropes; a joint interview (by James Lipton) with Eastwood, Swank and Freeman; and interviews with writer-producer Paul Haggis and coproducers Ruddy and Tom Rosenberg.
Movie: ****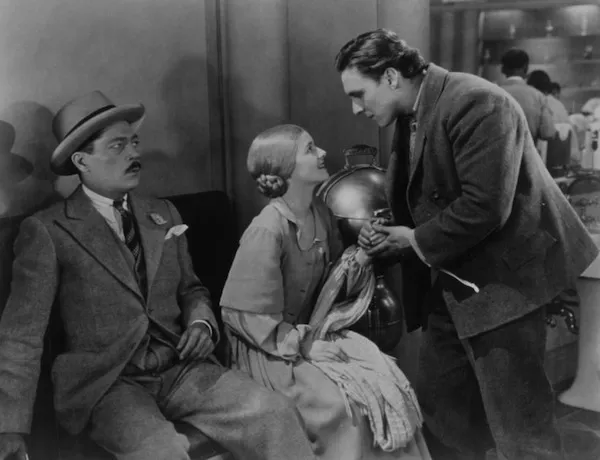 Arthur Housman, Janet Gaynor and George O'Brien in Sunrise (Photo: Fox)
SUNRISE (1927). The Academy of Motion Picture Arts and Sciences was created by MGM head Louis B. Mayer as a way to block the expansion of unions in Hollywood, and the idea of handing out annual awards only arrived a few months later. Among the designated 13 categories were two that could be considered the equivalent of the traditional Best Picture that would be introduced the very next year. The box office hit Wings won for Best Production while the box office flop Sunrise won for Artistic Quality of Production, and for whatever reasons (grosses doubtless being among them), Best Production was the category that morphed into Best Picture, thus making Wings the first official Oscar winner. Artistic Quality of Production, on the other hand, was retired after that first year, and it's a shame the Academy took this route, because Sunrise is a far greater motion picture than the so-so World War I yarn Wings. Subtitled A Song of Two Humans, the movie is an astonishing work — no great surprise since it was directed by F.W. Murnau, whose 1922 German classic Nosferatu remains the greatest vampire film ever made. The plot finds The Man (George O'Brien), a simple farmer, ignoring The Wife (Janet Gaynor) in favor of The Woman From the City (Margaret Livingston). The big-city temptress talks her conquest into drowning his meek wife, but when it comes time to do the deed, he's too overcome with guilt and grief to proceed. His spouse is heartbroken at his intention (understandably so!), but the power of love takes hold of the couple, and they spend a glorious day in the city before facing danger as they head back home. The story isn't the attraction here, although the passionate work by Gaynor and O'Brien sell it and the amusing big-city interludes (such as a visit to a photo studio) are irresistible. Instead, it's the brilliant imagery and ground-breaking techniques that make it such a timeless achievement: The visualization of the planned murder, the enormous moon over the field where the illicit lovers meet, and the background change from city to country to city again as the spouses smooch are just some of the highlights. The film also earned Oscars for Gaynor's performance and the amazing camerawork by Charles Rosher and Karl Struss.
The Blu-ray contains both the Fox Movietone Version (94 minutes) and the European Version (79 minutes). Extras include audio commentary by cinematographer John Bailey (Ordinary People, The Way Way Back); outtakes; and restoration notes.
Movie: ****