Page 3 of 4
Fresh Market, 4223 Providence Road in the Strawberry Hill Shopping Center.
REID'S FINE FOODS
When Reid's Fine Foods opened in downtown Charlotte in 1998, it spawned a bevy of condo projects. Before that, grocers had deserted the downtown area. Owners Chuck and Pam Richards also operated a store on Providence Road (which opened in 1931) in Myers Park, but consolidated these stores in 2002.
Chuck Richards is synonymous with wine in Charlotte and subsequently Reid's has a well-chosen wine selection and a popular wine club. In addition to wine, Reid's has always been known for specialty items. When Richards first opened Reid's, the only way to expand was through a catalog since they didn't have the floor space. Today Reid's has an astonishing selection of products available. Their collection of balsamic vinegars, for example, takes up several shelves. Reid's also carries local/regional companies such as Goodness Gracies, Salem Baking, and Immaculate Baking (love their lemon cookies). In their fresh produce is North Carolina shelled peanuts. In the prepared food section hangs a sign: "You've worked Hard! Let Us Make Your Dinner" and the menu offers worthy salvation.
REID'S QUICK TAKE
Layout: Easy; parking is free for 90 minutes.
Produce: Good selection; includes N.C. shelled peanuts.
Fish Department: Small but pristine.
Meat Department: Excellent; not much is displayed, but the butcher will get you whatever you want.
Bakery: Good; desserts by Tizzerts, fresh chocolate.
Prepared Foods: Large; catering, too.
Specialty Items: Superb; also sells baskets including the Charlotte Gift Box, North Carolina Basket and Life in the South
International: Mixed among specialty items.
Finds: Best wine selection in a grocery store, Reid's label salad dressings, Crooks grits, Peter Lugar Steak Sauce, cooking classes with Heidi Billotto and owner Chuck Richards works in the store.
Hours: Mon-Sat 7 a.m.--8 p.m.; Sun. 11 a.m.-6 p.m.
Reid's Fine Foods, 225 E. 7th St. Free 90-minute parking.
TALLEY'S GREEN GROCERY
Talley's Green Grocery, celebrating its 16th anniversary this year, is locally owned by Marc and Jyoti Friedland. Talley's was established as a one-of-a-kind natural foods supermarket in Dilworth. Jyoti Friedland is the chef behind the Café Verde which offers nitrate-free cold cuts and organic chicken. The daily salad bar offers mainly organic items. Spices can be measured and bought in small quantities. Fresh wheat grass is available for juicers.
TALLEY'S QUICK TAKE
Layout: Easy.
Produce: Excellent selection of organic products.
Fish Department: Small.
Meat Department: Small but organic.
Bakery: Small.
Prepared Foods: Café Verde is eat-in, salad bar has many organic items.
Specialty Items: Excellent for people with dietary restrictions, vegans and vegetarians.
Finds: Fresh wheat grass, spices that you can measure, owner Marc Friedland in the store, supplemental free reading materials, owner and chef Jyoti Friedland's vegetarian cooking classes.
Reward Card: Green Card offers special discounts to members and a Talleygram with a recipe of the week.
Hours: Mon-Sat 8:30 a.m.-8 p.m.; Sun. 10 a.m.-7 p.m.
Talley's Green Grocer, 1408 East Blvd., Suite C.
EARTH FARE
Earth Fare, with its interior colored like the earth, is based in Asheville and was founded by Roger Derrough in 1975. Currently, Earth Fare has more than a dozen stores in the Southeast.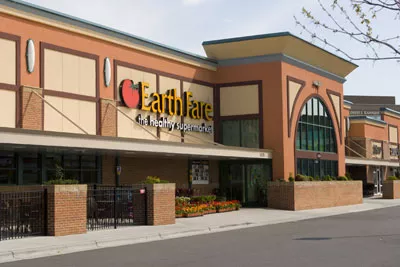 ORGANICALLY INCLINED: A look outside of Earth Fare
The Ballantyne Earth Fare offers a wide range of natural and organic products in a pleasant, through dark, atmosphere. Of particular note are Homestead (a dairy farm in the Virginia Blue Ridge) glass-bottled milk (the chocolate is a favorite in my house), a cheese selection with the animal listed on the label, shade-grown coffees and organic wines.
The eat-in café has a buffet line, sandwiches and salads.
EARTH FARE QUICK TAKE
Layout: Moderate; overall the store is dark and makes you feel like a mushroom.
Produce: Average but lots of organics.
Fish Department: Average but packed away early in the evening.
Meat Department: Above average; Australian grass-fed beef, bison ribeyes, whole organic and domestic legs of lamb, helpful meat cutters.
Bakery: Excellent; cookies, breads, lots of samples.
Prepared Foods: Eat-in café and many vegetarian ready-to-go items.
Specialty Items: Lots of products for people with dietary restrictions.
International: Not the focus here.
Finds: Frozen venison sausage, high-quality dry bin bulgur, local honey, rendered duck fat, water buffalo yogurt, goat milk yogurt, organic wines, cooking classes, microbrews.
Hours: Mon-Sat 7 a.m.-10 p.m.; Sun 8 a.m.-9 p.m.

Earth Fare, 12235 North Community House Road.
FOOD LION
Food Lion touts low prices, but the truth is that lower prices are found at Costco -- if you don't mind buying in bulk quantities. Food Lion LLC, part of the Brussels-based Delhaize Group, was born as Food Town in Salisbury in 1957. When the company went public, more than a few Salisburians became instant millionaires. Today Food Lion has 1,200 stores in 11 Southeast and mid-Atlantic states.