Paper or plastic are not the only choices confronting grocery shoppers each day in Charlotte. Where to shop is also a choice.
NOT-SO STRANGE FRUIT: Mangos at Compare Foods
Most people are territorial and finicky when it comes to food. They tend to shop at the local market -- the store closest to their neighborhood -- and the primary decision is made due to either price or quality. When "that" store is found, shoppers tend to return to it again and again ... only adding a monthly or bimonthly run out of their neighborhood to stock up on specific items exclusively found elsewhere.
Over the years Charlotte has seen a parade of grocers. When Hannaford Supermarkets, headquartered in Maine, showed up briefly, I stocked up on their pickled fiddleneck ferns and imported Italian arborio rice. Other regional and local grocers have departed or quit the game: A&P, Winn Dixie, Kroger, Colonial, Big Star, Piggly Wiggly, Pender's, Dixie Home, and Funderburks. (Bi Lo's parent company Lone Star recently announced the sale of Bi Lo, which owns 230 stores in the Carolina, Tennessee, and Georgia.) Even taking these disappearing stores into account, however, a ton of markets are still open for business in and around the area.
Recently, I visited a number local grocery stores stretching from Ballantyne to downtown -- from flagship stores to smaller specialty markets; I was on a mission to find out what was good about -- or lacking in -- Charlotte's grocery stores.
Now, until this close examination (fortunately no one thought it odd I scribbled in a notebook as I scoured the stores), I thought of grocery stores as formulaic, almost stagnant. But that perception was deceiving; like looking at a calm sea not realizing the vibrancy beneath the surface.
What makes a store good? What I found was food quality and variety are not enhanced by ambient lighting or music or even a knowledgeable staff. If a fish tastes of the ocean and that specialty dressing resonates with love-it-in-an-instant flavor, then the store buyers and warehouses are doing a good job. Do I wish Harrods Food Hall could be plunked somewhere in Charlotte (preferably walking distance from me)? Sure I do. But frankly those complaints are tiresome. OK, so Charlotte doesn't exactly have any markets like those on Rue Cler in Paris' 7th arrondissement. If you want that, then catch a flight to France.
That said, this is my take on what a handful of Charlotte's grocery stores have to offer:
HARRIS TEETER
When the Morrocroft Harris Teeter, also known by locals as the "Taj MaTeeter," opened, it clearly set a new standard for Charlotte grocery stores. The company, which is headquartered in Matthews, had consolidated two SouthPark locations to build this state-of-the-art market.
But, the Taj MaTeeter is more than a supermarket: Not surprisingly, given the neighborhood, this Teeter is a meeting place. Customers push carts to the side to chat and catch up. The prepared food area takes a sizeable amount of total floor space and has both La Brea and HT baked breads finished on site, a ready-made dessert area, a sushi station, rotisserie chicken, a sub station, salad bar and a hot food buffet offering breakfast, lunch and dinner. The Taj also features a large, staffed wine department. On the other side of the store are the meats -- HT Rancher brand, Smart chickens -- and a seafood department that carries mussels, clams, lobsters, shrimp (farm and wild) and a decent selection of fins.
HARRIS TEETER QUICK TAKE
Layout: Takes a few visits to get the pattern down.
Fish Department: Above average; features an abundance of shellfish, weekly variety of fin.
Meat Department: Above average. Will cut beef or grind beef to order. (Ground turkey, pork and lamb is prepackaged.)
Prepared Foods: Very good; sub station, salad bar and a hot food buffet offering breakfast, lunch and dinner.
Specialty Items: Average, but HT Trader items are typically a good buy.
International: Above average with a variety of Indian, British (Heinz British styled baked beans), Asian and Latino items.
Finds: Healthy Key on labels; manager specials often offer seafood at coastline prices; foods to go: call in the order and drive by to pick up.
Reward Card: VIC card.
Hours: Open 24 hours.

Harris Teeter Morrocroft, 6701 Morrison Boulevard.
LOWES FOODS
With more than 100 stores in the Carolinas and Virginia, Lowes Foods has garnered a reputation for carrying some of the best produce in the area. A large portion of this produce is organic, and the selection is deep. The pear section, for example, has varieties like comice, Asian, forell, bosc, red, barlette and d'Anjou. Also in produce are Glory's bags of pre-washed and de-stemmed collards and turnips.
AISLE SEAT: A look inside Lowes Foods
The pet section alone is worthy of a go; not only do they carry food, but they also stock toys, treats and sanitary equipment. Driving a cart through Lowes' wide aisles is a pleasure, and the products are attractively displayed. The organic cereals are located on the same aisle as the regular cereals, and the freezer section sports a labeled "Kosher" area.
LOWES QUICK TAKE
Layout: Easy to navigate; curved aisles.
Produce: Excellent; large organic and fresh herb section.
Fish Department: Small.
Meat Department: Will cut beef to order and grind beef. Organics available.
Prepared Foods: Very good with deft and knowledgeable staff.
Specialty Items: Above average, including kosher freezer section
International: Average
Finds: Italian Bread a la the American Northeast, ready-to-go Flan, Anderson County's Split Creek Goat Cheese, pet section and cooking classes.
Reward Card: Specials, Cash coupons mailed.
Hours: Mon-Sun 6 a.m.-midnight.
Lowes Foods, 10828 Providence Road, Promenade on Providence Shopping Center.
COMPARE FOODS SUPERMARKET
Compare Foods shops seem to spring up where other grocery stores have pulled out. Owner Eligio Peña opened his first store in 1978 in Queens, N.Y., and opened the Compare Foods concept in 1989. Currently the Peña family operates stores in New York, Connecticut, Rhode Island, Massachusetts and North Carolina.
While other American-styled supermarkets focus on healthy food choices -- organic, no trans fats -- Compare offers the food that the Latino market wants, which includes pork lard on the meat counter. The background music is Latino pop, and the aisle guides are in Spanish and English.
The produce aisles are amazingly aromatic and include dried codfish and shrimp, dried corn husks for tamales, and dried tamarind among the coconuts and fresh sugar cane. Trays overflow with dried chilies sold by the pound: ancho, arbol, chipotle, guajillo, Japanese, monta, pasilla, and puya. Fresh produce includes chayote conespina, Mexican squash, poblanos, serrano, bags of fresh banana leaves, Hass avocados, and baby bananas. The roots tables contain boniato, yams, malanga coco, panapen (breadfruit) and cassava, among others. Want corn oil? Compare stocks dozens of brands.
The meat bins are full of ox tails, goat shoulders, mutton, pig kidneys, large packages of chicken hearts, tripe, whole beef tongue, smoked pork neck bones as well as a variety of beef and pork cuts. In dairy, the store offers Mexican sour cream and a large assortment of Mexican cheeses. The bread aisle is filled with various brands of tortillas. Most of the cookies are made by Mexican companies, and in cereals you'll find both Kix and Nestlé La Lechera Flakes.
The international section focuses on the foods of Jamaica and Africa, and they sell palm oil by the gallon, fu-fu flour, semolina, and Jamaican curry powder. Oddly enough, between these products are cans of lychee in syrup. The prepared food section is limited to a handful of items, but the sandwiches are excellent, made on just-baked Cuban loaf bread.
COMPARE FOODS QUICK TAKE
Layout: Easy to navigate but plain.
Produce: Excellent, inexpensive, extensive root section and dried chilies: ancho, arbol, chipotle, guajillo, Japanese, monta, pasilla, and puya, dried cornhusks, fresh cactus and banana leaves.
Fish Department: Small, prepackaged.
Meat Department: Includes goat, Mexican cuts of steak, and offal.
Prepared Foods: Excellent Mexican bakery and sandwich counter; best Cuban sandwich in the city for $4.75.
Specialty Items: The entire store.
International: Small, but has African (fu fu flour) and Jamaican items.
Finds: Frozen empanada wrappers, spiced plantain chips by Goya and 5 limes for a buck.
Hours: 7 a.m.-10 p.m. daily.
Compare Foods, 5610 E. Independence Boulevard.
FRESH MARKET
The Fresh Market is a family affair. Owners Ray and Beverly opened the first store in 1982 in Greensboro and now have more than 60 stores in North Carolina and Tennessee.
The Strawberry Hill store, with a backdrop of classical music, is often crowded and difficult to maneuver. On hand are bins of dry goods, including forbidden rice and sea salts. New specialty items are brought in seasonally, including an excellent Christmas Stollen imported from Germany. Prepared foods have a following. Some shoppers like the stuffed chicken breast and ready-to-cook burgers. Others prefer the ready-to-eat rotisserie chicken, barbecue baby back ribs, salsas, sweet potato salad, and turkey meatloaf. Dairy items have always included quark as well as crème fresh, European butters and regional organic butters. The meat department takes orders for organic turkeys at Thanksgiving and will always ground and cut meat. They frequently have freshly ground lamb.
In the summer, shoppers at Fresh Market Strawberry Hill have the treat of buying McBee Peaches (which are legendary for sweet summer-forever taste) in front of the store.
FRESH MARKET QUICK TAKE
Layout: Small, difficult to navigate when crowded.
Produce: Above average; Florida strawberries, McBee peaches, and many locally grown items.
Fish Department: Small, but well chosen.
Meat Department: Excellent; freshly ground lamb available sometimes.
Bakery: Excellent cookies.
Prepared Foods: Above average; rotisserie chicken costs more, but it's worth it; salsas and sweet potato salad.
Specialty Items: Above average; especially in dairy and salad dressings.
International: Small.
Finds: Half Moon Chocolate, good Middle-Eastern-styled pita bread (the flat variety that many others stores no longer carry) and cooking demonstrations.
Hours: Mon-Sat 9 a.m.-9 p.m.; Sun 11 a.m.-8 p.m.

Fresh Market, 4223 Providence Road in the Strawberry Hill Shopping Center.
REID'S FINE FOODS
When Reid's Fine Foods opened in downtown Charlotte in 1998, it spawned a bevy of condo projects. Before that, grocers had deserted the downtown area. Owners Chuck and Pam Richards also operated a store on Providence Road (which opened in 1931) in Myers Park, but consolidated these stores in 2002.
Chuck Richards is synonymous with wine in Charlotte and subsequently Reid's has a well-chosen wine selection and a popular wine club. In addition to wine, Reid's has always been known for specialty items. When Richards first opened Reid's, the only way to expand was through a catalog since they didn't have the floor space. Today Reid's has an astonishing selection of products available. Their collection of balsamic vinegars, for example, takes up several shelves. Reid's also carries local/regional companies such as Goodness Gracies, Salem Baking, and Immaculate Baking (love their lemon cookies). In their fresh produce is North Carolina shelled peanuts. In the prepared food section hangs a sign: "You've worked Hard! Let Us Make Your Dinner" and the menu offers worthy salvation.
REID'S QUICK TAKE
Layout: Easy; parking is free for 90 minutes.
Produce: Good selection; includes N.C. shelled peanuts.
Fish Department: Small but pristine.
Meat Department: Excellent; not much is displayed, but the butcher will get you whatever you want.
Bakery: Good; desserts by Tizzerts, fresh chocolate.
Prepared Foods: Large; catering, too.
Specialty Items: Superb; also sells baskets including the Charlotte Gift Box, North Carolina Basket and Life in the South
International: Mixed among specialty items.
Finds: Best wine selection in a grocery store, Reid's label salad dressings, Crooks grits, Peter Lugar Steak Sauce, cooking classes with Heidi Billotto and owner Chuck Richards works in the store.
Hours: Mon-Sat 7 a.m.--8 p.m.; Sun. 11 a.m.-6 p.m.
Reid's Fine Foods, 225 E. 7th St. Free 90-minute parking.
TALLEY'S GREEN GROCERY
Talley's Green Grocery, celebrating its 16th anniversary this year, is locally owned by Marc and Jyoti Friedland. Talley's was established as a one-of-a-kind natural foods supermarket in Dilworth. Jyoti Friedland is the chef behind the Café Verde which offers nitrate-free cold cuts and organic chicken. The daily salad bar offers mainly organic items. Spices can be measured and bought in small quantities. Fresh wheat grass is available for juicers.
TALLEY'S QUICK TAKE
Layout: Easy.
Produce: Excellent selection of organic products.
Fish Department: Small.
Meat Department: Small but organic.
Bakery: Small.
Prepared Foods: Café Verde is eat-in, salad bar has many organic items.
Specialty Items: Excellent for people with dietary restrictions, vegans and vegetarians.
Finds: Fresh wheat grass, spices that you can measure, owner Marc Friedland in the store, supplemental free reading materials, owner and chef Jyoti Friedland's vegetarian cooking classes.
Reward Card: Green Card offers special discounts to members and a Talleygram with a recipe of the week.
Hours: Mon-Sat 8:30 a.m.-8 p.m.; Sun. 10 a.m.-7 p.m.
Talley's Green Grocer, 1408 East Blvd., Suite C.
EARTH FARE
Earth Fare, with its interior colored like the earth, is based in Asheville and was founded by Roger Derrough in 1975. Currently, Earth Fare has more than a dozen stores in the Southeast.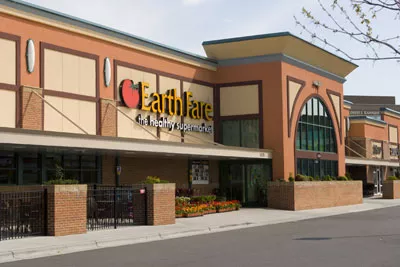 ORGANICALLY INCLINED: A look outside of Earth Fare
The Ballantyne Earth Fare offers a wide range of natural and organic products in a pleasant, through dark, atmosphere. Of particular note are Homestead (a dairy farm in the Virginia Blue Ridge) glass-bottled milk (the chocolate is a favorite in my house), a cheese selection with the animal listed on the label, shade-grown coffees and organic wines.
The eat-in café has a buffet line, sandwiches and salads.
EARTH FARE QUICK TAKE
Layout: Moderate; overall the store is dark and makes you feel like a mushroom.
Produce: Average but lots of organics.
Fish Department: Average but packed away early in the evening.
Meat Department: Above average; Australian grass-fed beef, bison ribeyes, whole organic and domestic legs of lamb, helpful meat cutters.
Bakery: Excellent; cookies, breads, lots of samples.
Prepared Foods: Eat-in café and many vegetarian ready-to-go items.
Specialty Items: Lots of products for people with dietary restrictions.
International: Not the focus here.
Finds: Frozen venison sausage, high-quality dry bin bulgur, local honey, rendered duck fat, water buffalo yogurt, goat milk yogurt, organic wines, cooking classes, microbrews.
Hours: Mon-Sat 7 a.m.-10 p.m.; Sun 8 a.m.-9 p.m.

Earth Fare, 12235 North Community House Road.
FOOD LION
Food Lion touts low prices, but the truth is that lower prices are found at Costco -- if you don't mind buying in bulk quantities. Food Lion LLC, part of the Brussels-based Delhaize Group, was born as Food Town in Salisbury in 1957. When the company went public, more than a few Salisburians became instant millionaires. Today Food Lion has 1,200 stores in 11 Southeast and mid-Atlantic states.
I visited a small, 13-aisle beige and blue Food Lion that was "the grocery store that time forgot." One aisle heading said "Spanish Food," but you won't find smoked paprika here, rather New World Latino food items. This store did have labels "Featuring N.C. Food Products." The cheese section is small as is the organic section and the pasta offerings. Canned goods are offered in large quantities, and most of the wines are under $10.
The Johnston Road store is larger with more products and seems to be in a process of reinventing its concept. The current word among retailers is shoppers prefer either the big warehouse food markets like Costco and Wal-Mart or the upscale spots like Harris Teeter. This 20-aisle store is undergoing a metamorphosis. Currently the aisles are curved to accommodate more products. The interior of what had been a Hannaford is painted yellow -- even the ceiling. Yellow is not a color I normally associate with food. I was disappointed in the rotisserie chicken, which was tough and had no time stamp.
FOOD LION QUICK TAKE
Layout: Large but crowded shelves.
Produce: Below average; small organic selection.
Fish Department: Small.
Meat Department: Some of the chicken has water added.
Bakery: Small; primarily celebratory cakes.
Prepared Foods: Rotisserie chicken is not recommended.
Specialty Items: Below average.
International: Small.
Finds: 32-ounce Texas Pete bottle.
Reward Card: MVP Card.
Hours: 7 a.m.-10 p.m. daily.
Food Lion, 7400 Candlewyck Lane.
Hours: 7 a.m.-11 p.m. daily.
Food Lion, 10120 Johnston Road.