Page 2 of 4
11 Explore a different religion: Whether you approach this as an earnest spiritual quest or consider it an anthropological expedition of sorts, Charlotte has many more religious communities than you might think. Some aren't even Protestant! Try the Unification Church on Dalesford Drive, or Scientology, which has a spot at 6300 East Independence Blvd.
12 Home Ec for adults: Concerned about nutrition or organic living? Talley's Green Grocery (www.talleys.com) and the Home Economist (www.homeeconomistmarket.com) often offer free classes and lectures. Recent HE offerings have discussed raw foods and acupressure relief for migraines.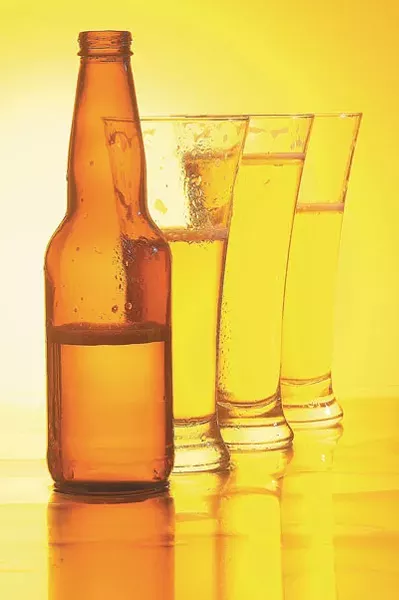 9 Scamming free drinks off friends
13 Free day at the museum: Many of Charlotte's museums offer free admission on selected days. The Mint Museum of Art, for instance, (www.themintmuseums.org) is free Tuesdays from 5 p.m. to 10 p.m.
14 Gallery crawl: The gallery crawl on the first and third Fridays in NoDa can be a great way to meet people and socialize. The Evening Muse opens up its doors (tipping is encouraged) to non-paying types. SouthEnd also has a gallery crawl on the first Mondays of each month.
15 Dollar-store bonanza: Get some cheap candy and plastic toys.
16 Count the condos: Make a bet with your friends on how many new condominium complexes are under construction inside the I-277 loop. Then drive -- or walk -- around and count them. It's not really worth $5, but it will keep you occupied.
17 Work out: If the YWCA's too expensive and you either haven't applied or are ineligible for its reduced-fee Pathways program, you can visit a recreation center of the Mecklenburg County Park and Recreation Department for $4 a visit. Or take advantage of those free trial visits that fitness chains are often offering -- just ignore the (sometimes) hard sell.
18 Join a Meetup.com group: This national networking site is a great way for people to connect locally with their own kind: stay-at-home moms, Barack Obama supporters, paranormal enthusiasts, Dachshund lovers, foodies, depressives, Christians, vampires, etc. Surely you can find somebody to relate to here.
19 People watch at Freedom Park: Here you can work on your tan, get some exercise and just hang out. Sure, you could do those same things in your backyard (if you have one) but then you wouldn't get to see all those other people. Take advantage of the free WiFi access (1900 East Blvd).
Attend a city council or county commission meeting: This is usually a recommended activity only if your Ambien supply runs out and you lack health insurance. But occasionally you get a live one, such as in 2002 when a guy raged about "rogue helicopters," "terrorist pussies," and the harassment he claimed to suffer at the hands of George Shinn. (If you haven't seen the video, go to YouTube and type the phrases in quotation marks above. Culture maven Little Shiva also has a link on the "current weirdness" page of her Web site, www.weirdcharlotte.com.) Less entertaining are the unintentionally comedic stylings of certain politicians whose decidedly unstatesmanlike comments -- whether against gays, "urban blacks" and whoever else lives in the moral sewer these days -- should embarrass us all. After attending one of these meetings, you might want to give No. 9 on this list a try.
21 Crash an AA meeting: On the classic sitcom Golden Girls, Rose is upset by her boyfriend's excessive frugality after Miles takes her on a succession of cheap dates, including an Alcoholics Anonymous meeting that he describes as "theater of the living." I don't know if this is a well-advised idea, but hey, when you only have five bucks you have to improvise. Just be as respectful as one can possibly be when crashing a self-help group based on anonymity.
22 Free salsa-dancing lessons: Yes, we hype this stuff each week in the weekly Cheap Thrills section. But you have little excuse not learning how to dance when clubs offer free dance lessons, as Latorre's does on Friday and Saturday nights at 10:30 p.m. Just stay away from the martinis, and your bank account will be fine.
23 Experience the history of NASCAR: Yes, some readers are fans while others sneer at its white bread mass-appeal, but who can't appreciate fast cars on some level? Auto racing is the closest most of us will come to driving 200 miles per hour. Hendrick Motorsports Museum and Team Store (4400 Papa Joe Hendrick Blvd., 1-877-467-4890) offers free self-guided tours. The "Dale Trail" is a self-guided free tour of Earnhardt landmarks in his hometown, Kannapolis (www.daletrail.com). The N.C. Auto Racing Hall of Fame in Mooresville offers $5 tickets for adults.
24 Crowder's Mountain: No, it's not in Charlotte, but this state park is about as close to the mountains as the city's going to get. It's gorgeous and free, unless you want to camp or rent facilities (www.crowdersmountain.com).