Page 2 of 4
Second Place
BERTILIO HERNANDEZ ECHEBERRA
Bertilio Hernandez Echeberra
Aliases: Wilfredo Echeverria, Bertilio Hernandez Echeverria
Career High: Eight drunk driving charges and four dismissals under one of his names in the county court system
Career Low: Arrested for driving the wrong way on a two-lane road
Echeberra, 32, was well on his way to becoming our drunk driving grand winner until he suffered a temporary setback in October 2004, when he was convicted of driving while impaired and began serving a year-long sentence. He's still in jail because he's also serving time for another felony habitual drunk driving charge.
Fans can write Echeberra at the Dan River Prison Work Farm, Box 820, Yanceyville, NC, 27379.
LEWIS JANT
Career High: Five drunk driving convictions in less than two years
Career Low: Charged with driving with a revoked license 12 times
Has Been Without a License Since: 1984
Fastest Speed Clocked: 61 mph in a 45 mph zone
Lewis Jant might also have been a contender for a first place finish in our drunk driving competition, but serving two consecutive drunk driving sentences in the last couple of years slowed him down. Jant, 44, has been in and out of jail for drunk driving since 1984, but with true dedication to his hobby, Jant has valiantly carried on the fight for his right to party behind the wheel of a car.
After he was released from prison in September 1996 after serving a DWI sentence, Jant wasted little time racking up more drunk driving charges, which landed him back in jail for drunk driving by July 1997. After his release in February 1998, he was drunk and behind the wheel again.
Jant got out of prison in 2003 after serving time on two more drunk driving charges, and is making up for lost time. He has another drunk driving charge pending.
Jant enjoys drinking alcoholic beverages in his car while driving drunk and has been known to resist arrest and to give fictitious information to officers.
MICHAEL KAY RIGNEY
Career High: Nine drunk driving charges; seven drunk driving convictions in just three years
Career Low: Charged with Urinating in Public
Has Been Without a License Since: 1997
Fastest Speed Clocked: 73 mph in a 35 mph zone
For three years, it seemed, nothing could break Michael Kay Rigney's drunk driving streak. The courts sentenced Rigney, 48, to five months at a treatment center and several months in jail between 1997 and 2000, but as soon as he was out, he was drunk and behind the wheel again. Nothing, not even his lack of a license, could stop him. During the three-year period described above, he was charged 12 times with driving with his license revoked, although the prosecutor dismissed all but three of those charges. By 2002, he was back in jail on drunk driving charges.
Rigney was Creative Loafing's 2003 grand winner, but he's spent so much time in jail that he has been unable to return to the road full time to consistently defend his title.
Rigney is a multi-tasker who likes to enjoy an alcoholic beverage or two while driving drunk at high speeds, a crime for which he has been charged four times but only convicted once. He doesn't bother with trivialities like auto insurance, and has been charged four times with driving without it, two of which resulted in convictions.
EDDIE HUDSON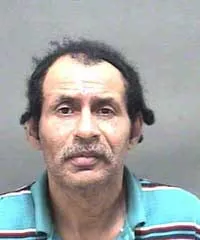 Career High: Greatest total number of driving-related charges of anyone in this contest
Career Low: Charged with driving with license revoked 17 times, and convicted six times
Fastest Speed Clocked: 58 mph in 35 mph zone
Has Been Without a License Since: 1985
Eddie Hudson, 49, has been jailed three times since 1999 on drunk driving charges. He began his career stealing cars and, in the past, has been pulled over while driving a car he wasn't necessarily authorized to use. Despite his age, Hudson shows no signs of slowing down. He was last convicted of felony habitual drunk driving in April 2002, less than a year after his last release from prison after serving another drunk driving sentence. When pulled over by officers, Hudson has a habit of insisting he's someone else, which has resulted in four charges of giving fictitious information to an officer and one conviction. He has done time for assault with a deadly weapon, and should be considered armed and dangerous both inside and outside of a car.
ROBERT HOWARD STONE
Career High: Retaining the best drunk driving attorneys. Stone racked up more than 25 driving-related charges over the last ten years, including six drunk driving convictions, one dismissal and currently pending felony habitual driving charges. But so far, he has managed to get away with serving just four and a half months in jail, a record for someone with a driving rap sheet of this magnitude.