Every day Plaza Midwood's walkable business district attracts Charlotteans from across the city to explore Central, Commonwealth and Pecan avenues. The local shops along the main strips include a tattoo parlor, guitar store, boutique clothing stores, a coffee shop, multiple pizza joints and various restaurants ranging from Caribbean to pub-style menus. In recent years, foot traffic in Plaza Midwood has been on the rise, and local business owners like it that way.
One shop — set smack in the eye of the Plaza Midwood hurricane on Thomas Avenue, just across from Thomas Street Tavern — is marked by a yellow canopy, framed by a windmill palm tree and a variety of shrubbery. It's hard to miss. The closer you get to the canopy, the store's sign comes into view: House of Africa. The door is almost always propped open and a mixture of frankincense and various other aromas strikes the nose, captures your sense of smell and pulls you in.
This time of year, yet another pop of yellow connected to House of Africa demands your attention. A large Juneteenth Festival of the Carolinas (JFC) sign is posted directly across from the open-door African art gallery. From June 15 to June 18 this year, the celebration of Juneteenth will take over the Plaza Midwood business district, as well as the nearby Elizabeth Traditional Elementary School.
Juneteenth celebrates the final announcement of the end of slavery. In June 1865, Union General Gordon Granger led a regiment of Union troops into Galveston, Texas, to tell the last group of enslaved Africans and African-Americans they were now free men and women. With the Confederate Army rebellion by then defeated, enslaved Africans and African-Americans in the South now had legal free status. The celebration of all Africans and African-Americans knowing their free status was transformed into an annual celebration on June 19; it was known as Juneteenth.
Juneteenth celebrations happen all across the United States and even internationally, each with its own unique characteristics and attributes. In Charlotte, House of Africa and the JFC committee have kept the great American celebration of liberation going for more than 20 years. The founder and current president of the local Juneteenth Festival is the owner of House of Africa, Pape Ndiaye. His view of a Juneteenth celebration extends well beyond celebrating freedom from slavery.
"Our aim at Juneteenth is not trying to recreate the past. Because slavery was here and was one of the worst things that happened to humanity. But we need to move further," Ndiaye says. "We need to be connecting the older generation to the next generation, teaching them. Not just focusing on slavery.
"We have to connect the young generation to the old generation in teaching the next generation about their rich culture and powerful heritage so that they can move forward with their life and be great in life," Ndiaye continues. "The next generation must understand we [people of color] are a great people. We come from great people. And that you [young people] come from great people."
The 20th Annual Juneteenth Festival of the Carolinas will take place from Thursday to Sunday. There will be four days of celebration filled with educational presentations, music, art, drumming, fashion, food, culture and more. This year, the festivities will move from its more recent venue in Independence Park to where it began, right in front of House of Africa on Thomas Avenue.
"We are bringing Juneteenth back to where it started. We moved it to Independence Park because it was getting so big," Ndiaye says. "But, we have to bring it back where it began to celebrate the 20 years."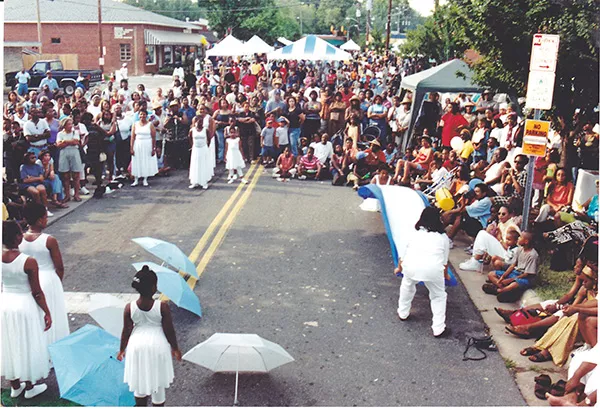 A shot from one of the first local Juneteenth Festivals.
All members of the community are welcome to come to the four-day event, which is free and open to the public. "It is not just saying black people, but black, white, burgundy, all people," Ndiaye says, adding that the goal is to make sure the festival has a little something for everyone, from a Youth Day Camp at Elizabeth Traditional to a pop-up Frederick Douglass Library, to an International Drummers Circle and other live entertainment. The variety of activities and breadth of information provided remains as it always has been: a celebration of moving forward, an integral part of what makes this Charlotte Juneteenth event unique.
The multi-day Juneteenth Festival started in 1997. Ever since Ndiaye, a Senegalese business man, decided to plant roots in Charlotte, his community work focused on celebrating African-American culture intermixed with the heritage of the African diaspora. In his thick Senegalese accent, Ndiaye shares the story of how the festival got its start.
"I got to Charlotte in late 1996. I started with a Martin Luther King Birthday celebration. That was the first thing I planned in Charlotte. It brought out 600 people," Ndiaye says. "Then [in 1997] I started to think what's next. What am I going to do. I remember hearing about Juneteenth everywhere in the country. They were celebrating big time. When I asked people around here, I kept hearing, 'We don't know about it.' That's when I said, 'Let me do Juneteenth.'"
Since then, the Juneteenth Festival has grown from a two-day Saturday and Sunday party on Thomas Avenue to a four-day festival that is expected to draw 20,000 people this year.
With the scale and variety of information and activities provided at the festival, Pape Ndiaye knew from the very start he would need to make this a community-involved effort to create a sustainable Juneteenth Festival in Charlotte.
"I started Juneteenth Festival in 1997 right in front of House of Africa on Thomas Avenue with 2,000 people who attended that year," Ndiaye explains. "The community was very, very supportive in helping to make the first Juneteenth happen. They were very helpful, because I could not do it by myself without the citizens of Charlotte and the community."
A shot form the 1998 Juneteenth Festival.
One such Charlottean who's instrumental in pulling things together for this year's festival is Rose Gregory. Gregory is the festival coordinator and, for many committee members, is seen as the glue that pulls everything together.
Sankofa Baba, the festival's history advisor, shares insight about the role of the festival's lead event coordinator Gregory. "Rose is probably the most crucial part of helping to bring the entire Juneteenth event into an actualized vision. She is the main person that does the planning as well."
Gregory provides insight about those early days of Ndiaye working to pull the community in to make Juneteenth a reality. "Ndiaye had come here from Senegal. The African-American community leaders met with him and decided there was a need to form some unified event that would embrace the history, culture and heritage of the African-American community. When they met with Ndiaye they decided to [collaboratively] form a Juneteenth Festival of the Carolinas committee."
Gregory explains that the foundation and vision for the festival was born of something Ndiaye's grandmother once said. "One thing we focus on is the quote from his grandmother, 'When you are traveling, you need to get direction. Culture and heritage is the only way to go to get direction.'" Gregory continued, "Here in Charlotte, with Juneteenth, we work to cover culture, history, heritage, recognition and unity. We try to pull the community together. This year's theme is cooperative unity."
With the diversity in the ethnicity of the crowd becoming a normal occurrence throughout the years, the cooperative unity theme this year is narrowing its focus on pulling in a younger demographic; primary school children and millennials.
Ndiaye believes children are our future, so from the inception of the festival, a Children's Day Camp has been integrated into the festival offerings. Children's Day Camp committee member Mia Ross is looking forward to working with the little ones. The end goal is to help inspire a sense of pride and empowerment in the youngsters so they become little Juneteenth educators for their family and neighborhood.
Ross is a teacher at West Mecklenburg High School and this is her first year serving on the Juneteenth Festival of the Carolinas committee. She will be pulling double duty as a Children's Day Camp facilitator and Welcome Center staffer. At the Children's Day Camp, Ross says the kids can expect drum lessons, dance lessons, storytelling, crafts and more.
"They will get to create little tangible things that they can take home to help them remember what they learned," Ross said. "Our hope is that through all the lessons, crafts, and other great things at the festival that the children will be able to embody, take home, and teach other people."
Ross' goal for the Children's Day Camp reflects the direction of evolution in the festival that long-time JFC marketing committee chair Sandra McMullen has noticed over the years.
"The educational piece has become more important. The books made available and the area for the children to go to. The cultural fare where children learn more about their heritage is very important also. They learn things they are not going to learn in school. I think that was an important addition."
McMullen sees education as the place to begin a growth process for an understanding and appreciation for heritage, culture, tradition and information. "Knowing your history is important. The idea of knowing where you come from and your roots [is important]. If you have knowledge of your roots, it helps you to understand what you come from, and what you can become."
Nokisha Barringer, a nurse for Novant Health, is an example of what the folks with the festival are working to do with its education of self goal for the festival. Barringer, now 36, started going to Juneteenth as a teen. "I was introduced to Juneteenth by Marilyn Turner, who is my godmother. She is good friends with Pape," said Barringer. "Ms. Turner was also the chairman of Juneteenth. I think that was just her heart, every time I would see her, was to talk Juneteenth and the House of Africa."
Shots from festivals past.
She continued, "I just remember, as a little girl, going over to Ms. Turner's house to see my best friend [Ms. Turner's daughter]. We would go over to her house and just play and Ms. Turner would have all these interesting things that Pape gave her. There were African masks and everything! We would always ask questions. And Ms. Turner would tell us about our history. She was really big on wanting us to know where we came from and our history. That is when she introduced us to Pape."
Ndiaye got Barringer involved in the Juneteenth Festival as a child model in the annual fashion show. Barringer points to the front of the store with a smile, her eyes glazed with nostalgia as she holds her 5-month-old on her lap with her other arm. "I remember when, right here outside of the store, when he had his first Juneteenth. We did the fashion show right outside there." She pauses and smiles, "I just remember that as a kid."
Those fond memories surrounding Ms. Turner, Ndiaye, the Juneteenth Festival and learning about her history and heritage is something she plans to pass down to her 9-year-old and 5-month-old as they grow. Barringer said that she most definitely plans to bring her kids to Juneteenth year after year. "I know that I can get my kids involved, because I want them to know their history. Know where they came from and know what it is all about."
While continuing to help educate and engage her little ones on their history at Juneteenth each year, Barringer also continues to attend the festival to honor her community elders. "My best friend, she moved away for a while, she is back now. I told her we have to come to Juneteenth this year in honor of her late mother, Ms. Turner. It will be a way to kind of celebrate, because I know that is what her mom would really want for us to do."
Marilyn Turner's legacy is impacting other youth in relation to the Juneteenth festival as well. JFC awards a scholarship named after Turner to a college-bound youth every year. The scholarship is just one more way the committee is showing its commitment to education and spreading the knowledge of self.
Although JFC contributes to education, at the festival itself, education comes in many forms. It comes from learning a new move from a Afro-Brazilian dancer as you join in the Kick-Off Parade and wind your hips to the drum cadence.
It comes in the form of a long-time committee member mentoring a millennial during their first year of coordinating and facilitating the Children's Day Camp.
It comes from a 9-year-old teaching their parents the meaning of the markings on the African mask they created during the day camp.
It comes during a Juneteenth community town hall where neighborhood ambassadors come to share good news and voice concerns about their community.
Juneteenth Festival of the Carolinas is a reflection of the perspective of the event founder Pape Ndiaye, "We are all related. Although blood may be thicker than water, it is the water of life that keeps us all connected. When I am free. You are free."
Activities Guide To the 20th Annual Juneteenth Festival of the Carolinas
Shots from festivals past.
With so many things to do at the Juneteenth Festival of the Carolinas, Creative Loafing decided to put together a little activites guide to help you decide what to get into June 15 - 18.
However, if you want to get all the details of what is going on each day, be sure to stop by the Juneteenth Festival Welcome Center located at the House of Africa (1215 Thomas Ave.) each day of the festival. There will be a volunteer and information available to let you know where and when things are happening during the festival.
Thursday, June 15th | Youth, History, Heritage
CL Recommends: Children's Day Camp
The kiddos will have a day full of education and entertainment at the Junteenth of the Carolinas' Children's Day Camp. The camp will be held at Elizabeth Traditional Elementary School (1601 Park Dr.). Your littles will experience the art of storytelling with professional storyteller Mother Minter. They will learn the significance of the markings on African masks as they create their own during an arts & crafts workshop. They will explore the art of tie-dye and its connection to African culture. Plus, a day with Juneteenth of the Carolinas would not be complete without African drum lessons and dance lessons to get those little bodies moving and grooving.
Juneteenth Festival Activities on Thursday:
Children's Day Camp
Celebration of History
Craft Workshops
Heritage Hour
Heritage Performances & Music
Friday, June 16th | Drums, Talent Show & Fellowship
CL Recommends: Juneteenth Festival Drum Circle
When it comes to the drums, Juneteenth of the Carolinas has got you covered. African drummers, latin drummers, hip hop drummers, marching band drummers, all the drummers. If you like to create rhythms by hitting our tapping on a surface, or you just like to hear those rhythms, then the Juneteenth Festival Drum Circle is for you. This is an international fellowship for the cadence makers and cadence lovers. It is a symbolic call to the ancestors and to communicate the jubilation has begun.
Juneteenth Festival Activities on Friday:
Drum Circle
International Drummers
Annual Talent Show
Community Fellowship
Saturday, June 17th | Parade, Street Festival, & More
CL Recommends: Juneteenth Festival Parade
The Juneteenth Parade is a festival kick-off event where the sideline onlookers quickly become parade procession walkers. All are invited to join in the parade, which will stream from Central Avenue to Commonwealth Avenue to The Plaza. In the parade, you can expect representation from all aspects of the the African diaspora. Vibrant colors! Beautiful outfits! Big smiles! Expect to see it all and be a part of it all to help kick-off the celebration of freedom, culture, heritage and the legacy of African-Americans and Africans who finally learned they were no longer enslaved in 1865, two years after the announcement of the Emancipation Proclamation.
Juneteenth Festival Activities on Saturday:
Juneteenth Festival Parade
Junteenth Street Festival
Food & Entertainment: Food Vendors, Music, Drama, Dance, Storytelling
African Dancers
Fashion Show
Talent Show
Children's Village
Health Fair & First Care Health Clinic
HIV/AIDS Seminar & Screenings
Sunday, June 18th | Education, Faith, & Father's Day
CL Recommends: Juneteenth Festival Sunday Service
The church and the mosque come to the streets of the Juneteenth Festival, an outdoor stage located near Commonwealth Avenue, University Park Ministries and representatives from area mosque will come together to share inspirational words and teachings from religious text. The diversity in religious teaching on the stage is designed to be a reflection of the diversity of religious beliefs across Africa and within the African-American community. Come worship on the streets with Juneteenth of the Carolinas. You don't have to necessarily subscribe to the religion to join in the act of fellowship and goodwill toward others.
Juneteenth Festival Activities on Sunday:
Juneteenth Festival Sunday Service
Gospel Explosion
Empowerment Stage
Tribute to the Fathers & Father-Daughter Dance
Marilyn Turner Scholarship Award
Youth Seminar
Talent Show
If you have questions about the events visit JuneteenthOfTheCarolinas.com.