Most of Henry's meals come from different churches and advocacy centers in Uptown. He's not sure where he'll eat this week.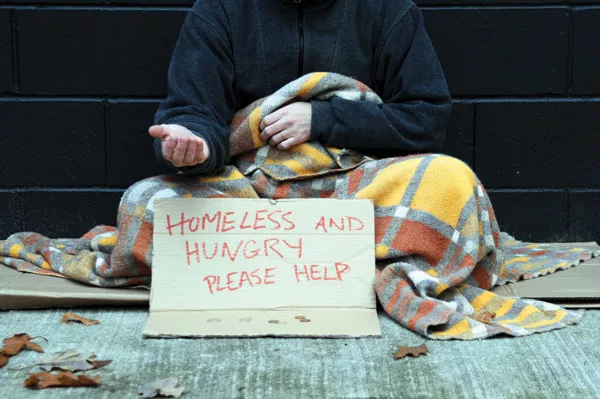 While the Democratic National Convention has created lots of positive buzz about Charlotte, it has caused a serious problem for the homeless. Though the city hasn't tried to "move" anyone during the convention — à la Denver's DNC in 2008, when the mayor's office handed out zoo and movie tickets to get people off the streets — little has been done here to communicate how such a large, high-profile event would affect Charlotte's homeless community.
The ambiguity has left some homeless people to assume that they're not allowed anywhere Uptown, not just the restricted areas inside the security perimeter. Just days before the DNC, Henry, who didn't want to give his last name, said he thought anyone with a felony wouldn't be allowed inside the I-277 loop.
Those who live or work within the security perimeter—the areas just around convention sites guarded by police and Secret Service­—have been instructed to show government-issued identification to get to their homes and jobs. Though Henry doesn't pay rent or work in Uptown, he spends much of his time there. Like many homeless people, Henry doesn't have government-issued identification. Finding other places to hang out and eat won't be easy in a city that's already ill-equipped to feed and provide shelter to everyone on the streets.
About 6,800 people, 3,500 of whom are children, are considered homeless in Mecklenburg County, according to the last available Point in Time survey, taken in late 2011. About 315 of those are considered street homeless, meaning they sleep in camps or under bridges. The rest presumably sleep in shelters or cars.
The Charlotte Transportation Center, which many homeless rely on to catch buses to and from work and shelters, has been relocated Monday through Wednesday from its regular Uptown spot for security purposes.
Charlotte Area Transportation Services have been preparing riders for the past month, holding information sessions during rush hour, sending emails and distributing flyers with route changes to riders. But it's still a confusing disruption that adds more hardship to an already hard life.
"[The homeless] are going to be at a great disadvantage as far as getting to a meal or to their jobs," said Rev. Yvonne McJetters, founder of Yvonne's Place Legacy House & Support Services for Veterans. "Their plight is already a challenge."
With limited "official" help communicating convention facts, advocates like Dale Mullinex, executive director at the Urban Ministry Center, are trying to make sure Charlotte's homeless know exactly what to expect, giving as much information as possible about the relocated transportation center and spreading the word that people with arrest records will not be kicked out of Uptown.
But communicating messages to such a transient population is difficult, Mullinex said.
"Our population is always on the move, so we can never get everybody in a room together," he said. "We are sort of relying on word of mouth."
When there isn't anywhere else to go, Charlotteans often head toward the Urban Ministry Center, just outside of Uptown, where they can send mail or eat a free meal. Henry said more dangerous characters act out when the community is forced to congregate.
"There's a lot of people who go downtown during the day to get away from the shady elements [at the center]," he said. "That week, everyone is going to be crowded into these few blocks. I'm staying [at the center], but I don't want to."