Even in Charlotte, the would-be crown of the New South, you occasionally hear the grumblings backstage — or in the boardrooms of our leading performing arts companies: "Our audiences are graying."
Who you gonna call? For Charlotte Symphony, this week's startling answer is their guest soloist, Aisslinn Nosky, a redheaded violinist — sometimes fire-engine red, when the mood hits — who usually rocks a punk hairdo.
A blatant appeal, you could say, to younger people who might otherwise be wary of a formal concertgoing experience or are just plain classical-averse. But that's not even half of the Nosky story. Far from dolling up or dumbing down the music she plays, Nosky is highly regarded as one of today's prime exponents of music from composers as varied as Antonio Vivaldi, Johann Sebastian Bach, Georg Philipp Telemann and Franz Joseph Haydn.
Born in Canada, Nosky has strong ties to three of the most important groups in North America that specialize in this music. She's a core member of the Toronto-based I FURIOSI Baroque Ensemble and the concertmaster at Boston's Handel and Haydn Society. Her 10 years with the famed Tafelmusik Baroque Orchestra culminated in the 2015-16 season when she toured as their featured soloist.
Although Nosky will be playing a modern violin when she teams up this weekend for a concert showcasing works by Bach, Telemann and Mendelssohn — while headlining Vivaldi's Four Seasons — she usually plays authentic period instruments when she performs and records with H+H or Tafelmusik. And she dismisses the notion that there's some kind of disconnect between her punkish stage persona and her punctilious preservation of authentic practices.
"I can see how on the surface it might strike some people as a jarring contradiction," Nosky admits. "What our current audience may not know is that the idea of classical music being a highbrow/conservative art form was born entirely in the 19th century.
Aislinn Nosky, (Photo by M. Marigold)
"In the 18th century," she says, "the star singers of the opera world and the most famous instrumental performers were treated like rock stars. One need only read contemporary accounts of audiences' reactions to someone like the great opera star Farinelli to have a glimpse into the excitement and glamor which was a part of experiencing Western art music in the past."
Many other classical musicians, conductors or academicians are on the record with similar observations about classical music's less stuffy, more spontaneous past. Nosky separates herself from those laments by living that bygone spontaneity right now. Check out the I FURIOSI website if you have any doubts. Or watch Nosky rocking out on Bach with Tafelmusik in a YouTube video.
There's something unusual here: Nosky is not only playing with the ensemble, she's directing it. And that's the plan for this weekend at Belk Auditorium. In both the Bach Violin Concerto No. 1 and Four Seasons, Nosky will be soloing while leading the orchestra. Although the ensemble doesn't figure to be as small as Tafelmusik's, with 19 full-time members, you can count on Charlotte Symphony to field a smaller armada of musicians than the one that played Brahms and Beethoven back in November.
Trimming the size of the ensemble performing Haydn and Mozart became a routine practice at Symphony during the aught decade, when Christof Perick wielded the baton as music director. But aside from Bach's B Minor Mass (2002 and 2009), a Vivaldi Piccolo Concerto rearranged by and for percussionist Evelyn Glennie (2005), nothing written before Papa Haydn was presented at the Belk to Symphony's Classics Series subscribers during those years.
Curiously enough, that Vivaldi Piccolo Concerto was conducted by Christopher Warren-Green, five years before he took over as Symphony's maestro for the 2010-11 season. So it figured that Warren-Green would be programming more baroque at the Belk than his predecessor.
"Musicians of a symphony orchestra are expected to be extremely versatile and be able to juggle different musical styles," says Calin Ovidiu Lupanu, Charlotte Symphony's concertmaster since 2003. "We usually switch from a classical repertoire to a more jazzy or Broadway type of repertoire, from modern classical to baroque.
"Especially with the arrival of Maestro Warren-Green in Charlotte, the number of baroque programs has increased," Lupanu adds. "I am sure that Aisslinn will bring her own interpretation and expertise to the stage."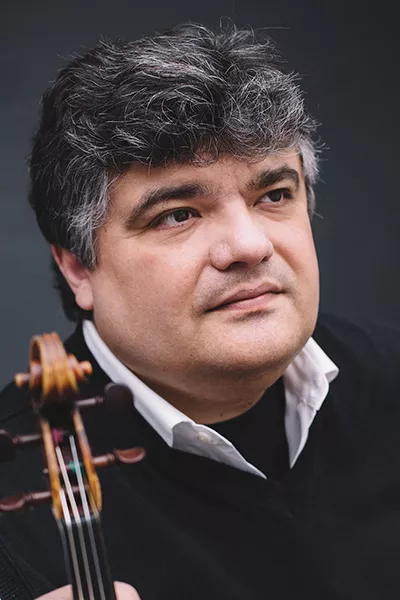 What might seem unusual — a concertmaster leading an orchestra while he or she plays the solos — is often the practice when performing Four Seasons, according to Lupanu. That didn't happen the last time Symphony presented Vivaldi's most famous composition in early 2010. Lupanu would know. On that January night, with Michael Christie as guest conductor, Lupanu himself was the soloist.
Nosky has a totally different perspective on compounding her instrumental work with conducting, reminding us that before the 19th century, concertmaster and director were interchangeable titles.
"Tafelmusik Baroque Orchestra was directed from the concertmaster's chair by Jeanne Lamon," Nosky recalls. "It never occurred to me that playing baroque and classical music needed to be done any other way. In fact, after a lot of research into the subject, I can say positively that the majority of orchestra music before the 20th [century] was directed by either the concertmaster or the keyboard player. People may forget that Vivaldi and Telemann and Bach initially achieved their enormous fame as performers!"
Both concertmasters, Lupanu and Nosky, cite chamber music as central to their tastes and training, so both are comfortable in reduced-size ensembles where all the musicians must keep a sharp ear out to blend and synchronize with their colleagues. Where the two seem to part company is in the outré flair that Nosky brings to the task.
"In a culture that is geared towards young performers playing for an older audience," Lupanu observes, "someone of Aisslinn's quality can be extremely helpful in bringing more of the baroque and early music repertoire in the concert halls. And maybe having the younger audience attracted to this kind of music."
Nosky pushes back against the notion that her spiky hairdo is modeled on anybody else's, whether Nigel Kennedy, Peter Sellars or — heck — Peter Pan. Or that it's calculated to position her as a Pied Piper for a new generation of classical audiences.
"All I can say is that my inspiration comes completely from what makes me feel comfortable when I perform," Nosky says. 'I couldn't possibly try to look like or be anybody other than myself. If I did, I would not be true to myself. Or the music."
Nonetheless, when Nosky moves from Handel and Haydn to the music of Vivaldi, her spiky red 'do inevitably takes on the tinge of an homage. Vivaldi, born in 1678 and ordained in 1703, was nicknamed the Red Priest because of his curly red locks.
It's uncertain how much red Nosky will be sporting onstage as she plays her concertos and leads Charlotte Symphony in a Sinfonia by Mendelssohn and a "Suite from Don Quixote" by Telemann. There's a 2013 video of Nosky clad in red lapels when she played with an H+H quartet at Le Poisson Rouge in Greenwich Village. On second glance, maybe those silky lapels were fuchsia.
One thing is certain: Just being herself, Nosky will surely be a redhead playing the Red Priest, often at a fiery clip. It will be interesting to see how many other punks show up.