"We've got gay, straight, black, white, Hispanic. This is what Glee looks like in real life," Corey Mitchell says of his students at Charlotte's Northwest School of the Arts, the magnet school on Beatties Ford Road where singer Kevin Mercury Carter got his start.
Mitchell's quote comes from Purple Dreams, a new film directed by Joanne Hock and produced by Robin Grey of the Charlotte indie GreyHawk Films. The movie documents the school's production of The Color Purple. Northwest was the second high school in the U.S. to stage the Broadway musical version of Alice Walker's classic novel focusing on African-American women in the South of the 1930s. Purple Dreams makes its world premiere at the Full Frame Documentary Film Festival in Durham this weekend, screening at 7:40 p.m. Friday, April 7, at The Carolina Theatre.
"We spent five years so far on our Purple Dreams documentary because it is a true passion project for both Joanne and I," Grey says. "It speaks to causes that Joanne and I have each volunteered for separately throughout our lives."
Among those causes is motivating at-risk youth to achieve their dreams. In the case of Mitchell's students at Northwest, those dreams are artistic. "Corey is a mentor, arts advocate and amazing theater director," Grey says.
During the filming of Purple Dreams, Grey and Hock also produced a short film to submit with an application to nominate Mitchell for a Tony award. In 2015, the Tony Awards and Carnegie Mellon University announced that Mitchell had won its first-ever Excellence in Theatre Education award.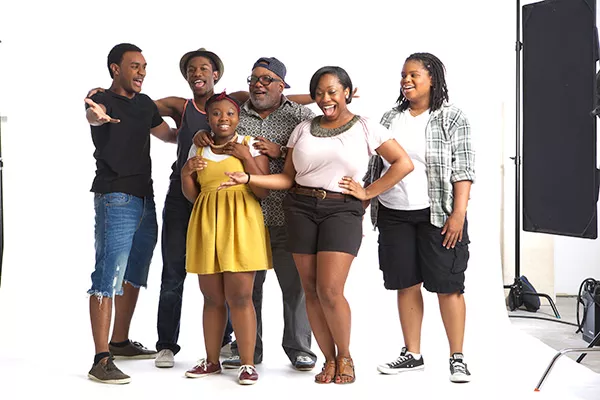 Courtesy of GreyHawk Films
Northwest School of the Arts instructor Corey Mitchell (center) and students
Grey was not surprised. "Corey is a consummate professional with incredible motivation and creative savvy that is hard to duplicate," she says.
Purple Dreams dramatically follows Mitchell and his students on a reality-TV like journey from the beginning of the production of The Color Purple to its opening. Along the way, Mitchell talks about his own motivations to do the play and his hopes for his students.
"I want this to be a transformative production for these kids," Mitchell says in the documentary.
Grey hopes the film "will be used as a tool by a variety of organizations to expose the urgent need to expand meaningful arts education as well as to inspire at-risk students to stay in school and understand that higher education is possible regardless of their circumstances."
Mitchell puts it more succinctly in the documentary when he raises his hand to explain the wrongheaded priorities of many educational institutions. "There is football," he says, then lowers his hand slightly, "and there's basketball," he continues, and then lowers his hand way down, "and then there's theater."
Purple Dreams — the title itself an appropriate mashup of two other classic films, Purple Rain and Hoop Dreams — aims to change those educational priorities.