Jason Jet strolls into Nova's Bakery in Plaza-Midwood on a sunny and oddly warm early March afternoon. His straight posture is perfect showmanship and his gaze is confident as he makes his way to the counter to inspect a smorgasbord of baked treats.
The winter sunrays flood the bakery floor in various rectangular shapes, a few of them dancing between the dreadlock ponytail atop Jet's head as he smiles at the cashier. He orders four small macaroons. One matches his emerald green short-sleeve Lacoste polo shirt. He then walks over to the corner where I am sitting and grabs a chair. With his back to the window, the sunrays continue their dreadlock shadowdance on the table.
Jet, 30, is an independent musician raising the pulse and pushing the sound of soul music in Charlotte. He is creating a genre he describes as electric soul, a blend of a smoother style of the vocal crooning you might hear from R&B-rocker Miguel set against the soulful afrofuturistic sounds of a Janelle Monáe album. His most recent album, The Great Escape, is filled with ethereal and spacey music that fits perfectly with his mellow vocals.
However, the song that keeps on pulling in new ears is Jet's gospel-tinged, soul-pop tune "Broken Black Faces," which focuses on sending uplifting messages to those impacted by the #BlackLivesMatter movement. Jet says he wrote the song from a place of love. In actuality, his entire oeuvre is about sending a message that we are all real human beings.
From noon to about 1:30 p.m. on Tuesday, March 14, Jett will perform an intimate, stripped-down version of his music in the After Hours Lounge in the Cone University Center at UNC Charlotte. "Unplugged ft. Jason Jet" is a free concert.
Today, though, Jet has come to Nova Bakery to share his life journey, and his face lights up as he sits down and says in a mellow, yet elated tone, "I love macaroons." As he pops the bite-size morsels in his mouth, I notice his closely shaven beard is growing back, as is the hair on his head, which is buzzed on the back and sides. His jet black hair reveals speckles of crystal white greys that are sparsely scattered throughout his beard and the roots of his dreadlock ponytail.
His green shirt, mahogany brown skin and scattered crystal white greys seem to be harkening back to the terrain of his birthland — Iceland.
Jet is a Navy kid. His dad, Terence Jones, was stationed in Iceland when his mom, Janeece, moved there to be with him. On her birthday in 1986, she got a most anticipated birthday gift: On July 15, she and Terence welcomed their son Jason Jones into the world. A year later, the family made their way back to the United States and landed in Charlotte.
The Jones' home was always filled with the music. Terrence was a music producer and songwriter who worked in gospel, R&B, and smooth jazz. With several albums under his belt including A Golden Touch, His Word, and Just for You, Terence Jones found himself opening for acts ranging from Usher to Earth, Wind & Fire.
It didn't take long for Jason Jones to get the musicmaker itch and begin following in his father's footsteps.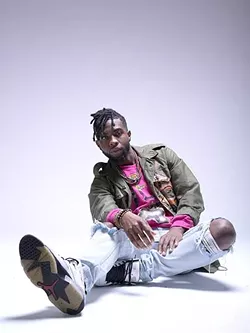 "We would go on long road trips to California and he would play his albums the whole way there," he remembers. "Just seeing how he moved with his music and how it inspired him to make music. That inspired me."
He transitioned from avid car-music listener to musicmaker when his dad got him his first keyboard and digital audio workstation Cakewalk. "That laid the foundation for me," he says. "I pretty much do everything that he does. I have been making beats since I was 10. From the age of 10 to 20, I had about 300 songs in my catalog. Nothing but instrumentals. I did not get into songwriting until I was older."
For a while, Jason Jones dwelled in the language of notation and computer coding. If he had not decided to change his name to Jason Jet and become a songwriter, he would have found his way into the information technology field. "Whether it is running diagnostics on a computer or making my own sound packs for my digital workstation, I am using code. It is good to know code," he says.
In 2007, Jones attended Full Sail University in Orlando, Fla., to pursue an associate's degree in recording arts technology. And it is there that Jason Jones the music-tech geek became Jason Jet, the singer-songwriter and performer.
"My entire time in Florida opened me up to the idea of becoming an artist," Jet says. "I had no ambition to be an artist. I just wanted to be a music producer before moving there."
While in Orlando, Jet hit the books, practicing his recording arts skills in state-of-the-art facilities and working the stages around Florida with the band Bop Gun. After he saw and began to understand the full spectrum of musicmaking with Bop Gun, he realized that adding performer to his list of talents would not be as hard as he initially thought.
He graduated from Full Sail in 2009, his final project allowing him to produce an album and generate an electronic press kit. With those tools, he was ready to take on the music industry back home in the Queen City. After returning home in 2010, Jet's first single, "Love Boulevard," received airplay on urban radio stations in Charlotte and Fayetteville.
Not long after that small victory, a fellow Full Sail alum reached out to Jet with the opportunity to jetset to New York City. His first album got him music management representation that eventually led Jet to label meetings with Atlantic, Warner Bros., and Interscope. He commuted from North Carolina to New York for two years, and in 2012 packed his bags and moved to NYC full time. "I went because I felt like that was where opportunity was and where my team was. It just made sense," Jet says.
Photo by Joseph Brown
Jason Jet performing
He lived in the Big Apple for less than a year.
The move shifted Jet's mental outlook. The fishbowl of top talent became extremely large and the "work-to-survive" mentally took over. His day job started to get more attention than his music. His romantic relationship began to siphon his energy and ability to create. So he moved back home and began to rediscover his creative self. The move back also helped him break from an internalized "victim mentality" and thoughts of being a "slave to your situation." While in Charlotte, he began growing again both as an adult and a professional music entrepreneur.
Jet is not only a performer, he also takes on recording clients at his home studio. His bread-and-butter job, though, is as a vocal and performance coach. Jet's vocal power workshops happen each Monday from 8 to 10 p.m. at 1121 Hawthorne Ave.
He recognized after returning to Charlotte that to make it here as a musician, he needed to have his hands in multiple musical buckets.
"I can teach. I can coach. I can go play piano for a church. I can do a wedding gig," he says. "If I need to produce a project for a client or be hired as a songwriter, I can do that too. If I need to be a studio engineer, that's in my musical skill-set too.
"For me," he continues, "the ability to know how to do 10 different things with music keeps me going. I think if I was just a singer-songwriter in Charlotte, there just would not be enough there to financially survive."
Jet is doing more than surviving in Charlotte's musical marketplace — he is strategizing, implementing, iterating. He is living solely off the sonic art he creates, and he's doing it in a most creative way.
Listen to Jason Jet's The Great Escape on Spotify.