Charlotte's only law school appears to be tanking, and it could take its students down with it.
The American Bar Association's November decision to put the Charlotte School of Law on probation for two years followed a two-year investigation and multiple warnings that the school did not disclose to students until November when it lost its appeal. CSL is the only school in the country currently on ABA probation.
The school stands accused of implementing lax admission policies, and, per the ABA, also lacks "a rigorous program of legal education." The Department of Education is also accusing the school of making "substantial misrepresentations" to students regarding "the likelihood that its graduates would pass the bar exam."
Now, following the abrupt resignation of a dean and a delay of the spring semester, students are supporting each other while the school's administration hides behind computer screens and refuses to answer the phone.
"They aren't talking to anyone," said third-year student Margaret Kocaj, who is one of the few to have managed to stay in touch with for-profit school's leadership. "I just emailed the higher ups and asked that they post the number to NC Bar Cares, which is the counseling service offered to students and attorneys. I have seen some troubling Facebook posts (from other students)."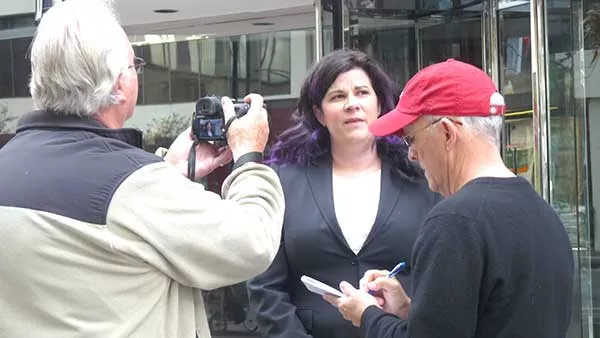 Rhiannon Fionn.
Charlotte School of Law student Margaret Kocaj speaks to reporters in front of the school. She's demanding the school's president and head dean be fired following recent investigations.
At publication time, CSL hadn't returned any of Creative Loafing's calls or responded to emailed questions with anything but unrelated answers that were already public knowledge.
On Friday, Jan. 6, after 8 p.m., the school sent out an email to students indicating that classes would begin on Jan. 17, only adding that administrators would update students on Monday. On Monday evening, another email informed students that the start of the semester had been moved to Jan. 23. Earlier that day, Camille Davidson, CSL's head of academics, told students in an email that she would resign after being asked to do so by the school's head dean, Jay Conison.
Kocaj said she and other students would like to see the school's President Chidi Ogene and Conison fired. On Monday, instead of learning about the fate of the school loans awarded to her months ago, Kocaj said she learned of Davidson's resignation. No reason was given for the resignation, and Davidson will stay at the school as a professor.
Depressed. Distressed. Angry. Devastated. Those are words students are using to describe the situation at CSL. Students have told Creative Loafing that they feel their goals and future are being "held hostage."
Kocaj said news that the school had been put on probation and lost its federal student aid ruined the holidays, too. "It was as if the school said, 'Happy New Year! We're not sure you're going to graduate,'" said Kocaj.
"We are given just enough attention to keep us hanging on yet not enough to stop the rage that is building," said Kocaj. "The administration was asked to please send the emails during regular business hours because it is unfair to send them late when the students have waited with baited breath all day. The emails come when we are putting our children to bed or winding down for the night only to be reinvigorated with questions and frustrating confusion over the vague email we receive."
More bad news came in December, as the U.S. Department of Education (DOE) declined to recertify the school's federal school loan program. That means many students may not be able to afford to attend during the spring semester, slated to begin on Jan. 17.
"I work full time," said third-year student Matt Blevins, "I don't have another $22,000-something a semester. Even with scholarship money, you have to take outside loans. There is no way to do this without federal funding."
The school has an estimated 1,300 students, nearly 1,000 of which rely on federal student aid.
The school published a press release following the DOE's decision stating, "We strongly disagree with this determination and are evaluating all available options to challenge the decision, particularly the Department of Education's mischaracterization of Charlotte Law's academic accreditation from the American Bar Association and our representation of that status."
Kocaj said she didn't panic about the school's snafu until she learned that CSL had not turned in a "teach-out plan" with the ABA. "It's the contingency plan that allows you to finish your degree," Kocaj said. "Why didn't they start working on that back in November?" Kocaj asked, noting that the plan must be approved by the ABA which doesn't meet again until March.
"I was given an offer to join a firm," Kocaj said, "but at this point if I don't get a degree and I don't get to sit for the bar and pass the bar then how in the world can I be an attorney?"
Kocaj, who thought she would graduate this year, led a demonstration at the school last week before meeting with CSL's President Chidi Ogene and Conison. Afterward, she posted an update via Facebook live offering information to her fellow students who had been kept in the dark.
Blevins also thought he'd graduate in May and said the school's troubles seem to come "out of thin air," adding, "I read about it online first. Some time later they sent us an email." He said the school has a habit of "skating over" bad news in its messages and that "it's kind of insulting to think that law students would overlook something like that."
The school was updating students via Facebook, though at publication time, its last post was published an hour before Kocaj's demonstration on Jan. 4.
Messages sent to students remain relatively vague and include lackluster options for students like transferring to a law school in Florida which is also owned by Infilaw, Charlotte Law's parent company.
"I can't pick up and move," said Kocaj who owns an accounting firm in Charlotte. "Moreover," she added, "if you get served a bowl of chili and it has a piece of hair in it and the waiter says, 'Would you like another bowl of chili?' – do you want another bowl of the hair chili? I don't want to go to another Infilaw school; it's the hair chili."
Kocaj said that she could be on the hook for her student loans even if the school closes and that it's too late for her to transfer. "Most universities will allow you to transfer up to 30 credits," she said, "The problem is I have 75." On top of that, she said, "The Department of Education will only fund 90 credit hours."
The students are considering an option called "defense of repayment," or loan forgiveness. Kocaj said students could qualify if "it looks like if there's fraud or misrepresentation – which, if you read the Department of Education's 14-page letter they clearly state that there's been, they believe, fraud and misrepresentation." However, she said, "If you get your loans forgiven, you relinquish the credits you've taken; that's my understanding."
As of Creative Loafing's press deadline, CSL officials said a detailed plan for the spring semester, including funding options, had been drafted and was awaiting approval by the DOE.
When you call CSL and wait for no one to answer a woman's voice says, "We are different by design." Surely all can agree that being sued by your students is "different." Two lawsuits are already in the works. Neither Blevins nor Kocaj are party to either of the lawsuits, but they could be involved by default if the lawsuits become class action suits.
"I think that there's an implied warranty between a law school and its students," Blevins said. "That warranty is that the law school has to provide accreditation and federal funding. And the students, we are required to work hard, pay our tuition and be prepared to pass the bar. We've done our part."
In January, Ed Hinson, a Charlotte lawyer, wrote a letter to The Charlotte Observer suggesting that UNC Charlotte take over CSL.
"I think that would obviously be favorable," Blevins said. "First off, the fact that it becomes a public school takes away all of this for-profit nonsense. Also, being a public institution makes you a lot more transparent in the way you handle business, and that's something Charlotte School of Law just has not done; they have not been transparent at all."
"In order to make things right, we think that they should take care of our tuition for the upcoming spring," he said.
"They have the money; they're required to have money on reserve by the ABA and the DOE," Kocaj said, "So, surely there's money there to help pay for the rest of the semester if the Department of Education doesn't reinstate the funding."
Blevins also pointed out that it isn't only students who are affected. CSL offers several clinics that assist low-income citizens and small businesses. "There are a lot of people who count on that pro bono support. It's got to be a negative effect on the indigent who can't afford council," he said.
As for himself, he said, "I've come this far; I'll have to do whatever I have to do to finish."