Day Brown is ready to 'Gift' you. (All photos by Emanuel Bell, except where noted.)
HE WAS 17 and on top of the world — Dayleen Brown, a kid from Charlotte, dancing on BET and appearing in commercials for AT&T, K-Swiss and Foot Locker. He was rising up the ranks in the dance world, having studied under some of the top choreographers in the biz: Tony Testa (Michael Jackson), Marty Kudelka (Justin Timberlake), Rhapsody James (Beyonce), Jamal Sims (Hairspray, Step Up).
"I was on the set for Hairspray," Brown says. "That was pretty cool."
Then he walked away from it all — the money, the travel, the brushes with celebrity. He wasn't comfortable with the lifestyle. "I started to see the politics in it, and as a young man I wasn't ready for all of that," Brown says. "You start seeing the people you look up to doing all these crazy things, like drugs and stuff, and you're thinking, 'This is wild, but I don't know if I'm supposed to be here.'" He pauses. "I mean, I was supposed to be there, because my talent permitted me to do it. And I'm grateful for that. But I needed to get away from it. I wanted to do something different."
A young Dayleen Brown (with Taaryn Wilson) dances his way to the top, in 2009.
Brown didn't want to be just a dancer in the background of TV commercials; in the shadows of celebrities, getting sloppy seconds of fame. He wanted to be front and center, doing his own thing, even it that meant just doing it in Charlotte. Brown wanted to be a rapper and a singer. So in 2011, he came back home and got busy.
Eight years later, Day Brown and his best friend Walter Boston III have put together a music collective, Gifted Musik, and Brown has recorded two albums, Midnight Blue, in 2016, and the new 199G. On April 19, the Gifted crew will throw a party at Petra's in Plaza Midwood, and Brown will perform a short set of songs from the new album on a bill with several other rappers and singers, including his partners Boston, as Walt B.3, and John Alex Harper, as well as Black Linen, Nige Hood, Th3 Higher, DJ SPK and others. It's a lead-up to the New Era Music Festival two days later, on April 21, at the New Era Music House on Old Concord Road.
The Gifted party is a way for Brown to reintroduce himself to the Charlotte music scene after a year-long stint in New York. "I've been adamantly practicing my set, working on stuff from the album, figuring out exactly how I want it to sound," he says. "Because I want to be very clear and concise as to what kind of artist I am."
Brown contemplates the "G."
THE KIND OF ARTIST Day Brown is, first and foremost, is positive. Musically, he draws from neosoul, with hints of the production style of Travis Scott, a little Miguel and even shades of D'Angelo and old Motown. When asked who his influences are, he name-checks Scott, then adds, "But I grew up listening to a lot of Common, Biggie, Jay-Z, Mos Def."
Brown reaches for his phone. "Let me pull up my current 'goods' playlist," he says, and then begins scanning it: "Michael Jackson, Justin Timberlake, Fats Domino, the Beatles, Led Zeppelin, Ray Charles, Bob Marley, Stevie Wonder, lots of Biggie, lots of Missy Elliott, lots of Lauryn Hill." He pauses. "In terms of a rapper who sings, Lauryn Hill is probably my biggest influence of all."
In one track on 199G, Brown incorporates a Motown-like melody in the hook, over music that has an almost Beatles/Sgt. Pepper's-like vibe by way of early De La Soul. The song, "You Know It," rides on a cool sample of Bill Withers' "Use Me." It's a love song in which Brown expresses mixed emotions.
"I had this young lady, very beautiful," he says. "But she knows she's very beautiful, and that's the part that attracts me, but it's also the part that scares me. Because if I know she's beautiful and she knows she's beautiful, then everybody knows she's beautiful."
He wrote lines for a hook: "I like when you know you're fine / And you know it, you know it, babe." Then he stitched together a rap to go in between, forming a nice mix of melody and flow that communicates those feelings.
"I was having a hard time, and then one day I just came to terms with it — like, people gonna think she's beautiful, regardless of the way I feel. So either I'm going to love her through that or I'm gonna have to choose to walk away. I can choose either one of those paths as long as I'm honest with her about it." He laughs. "Actually, I had a third choice — write a song about it."
Brown is sitting on the couch in the living room of his friend Boston's apartment near SouthPark, wearing a black shirt emblazoned with the letter "G," for Gifted, in red. He and Boston met at South Meck High School when they were seated next to each other in their ninth-grade homeroom class. "We were sitting there and I said, 'Yo, man, what's your name?,'" Brown remembers. "He said, 'Walter.' I said, 'I've never met a black kid named Walter.'"
The two became instant friends, Boston beat-boxing and playing drums, and Brown dancing, rapping and singing. "Our talents just naturally went together," Brown says.
The Gifted Musik project came about because the two truly felt they were gifted. "I said, 'We're gifted, so why don't we just call ourselves what we are?'" Brown remembers. "So Gifted is just about us being able to share our gifts with people and allowing them to share their gifts back with us. Basically, it's about sharing what we all do best as humans, and essentially that's love. But when you get more specific, it's music and art and food and laughter and joy and things like that."
The two came up with a logo — the letter "G" in red — that takes on an even deeper meaning. "When you think 'G,' you think gangsta. I wanted it to have a completely different connotation," Brown says. "To me, 'G' is your gift. You can be a gentleman, you can be gorgeous, you can be a genius, you can be godly, you can be the giver, the go-getter" — he pauses and laughs — "or you can be a gangsta, if that's what you choose to be. You can be anything you want. You can be all these different things, as long as it's your 'G.'"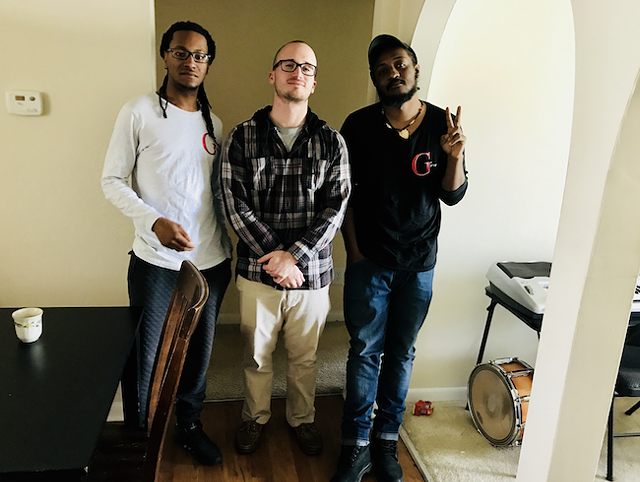 Brown (right) with Gifted partners Walter Boston III (far left) and John Alex Harper at Boston's SouthPark apartment. (Photo by Mark Kemp)
Brown named his new album 199G, because he was born in Brooklyn, New York, in 1993. "So 199G rhymes with 1993, and for me, that's the year of my gift — the genius, the gentleman, the godly. Those are the things I hold dear, and that's kind of what this album presents. If you listen to the songs, you'll hear each of those things in it."
In another track, Brown's gift is a blessing. In fact, "Blessins" is the name of the song. He wrote it about another girl — one he'd been dating in Charlotte before he moved back up to Brooklyn for about a year in 2017. When he returned in September, he met up with the girl again, and learned she had a new boyfriend. "I said, 'Whoa! That's crazy.' But then I was like, 'You know what? If that's what you want, then do it and be blessed.' And I was serious. So I wrote that song.
"It was about her at first, but then I realized I wanted it to be a blessing or a prayer for anyone," Brown continues. "So in the chorus, I sing, 'Blessing your time, blessing your home, blessing your mind, blessing your soul' — it's just a blessing to your complete life. Whatever it is that you're putting your energy into, I want it to be blessed. We're all up in this thing together — let's create, let's build, let's love. And however things happen from there, if it's done with good intentions, in time it'll be a blessing to you, it'll be a blessing to me, it'll be a blessing to us."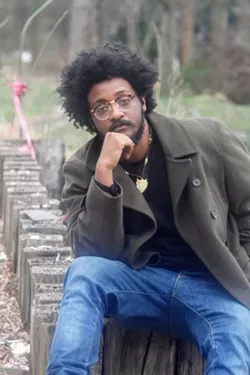 Intellectually yours, Day Brown.
DAY BROWN'S FIRST blessing came in 1998, when his mother decided to move him and his two older brothers — CB, then 13, and Ty, then 10 — to Charlotte. CB was already beginning to flirt with gang-banging in Brooklyn, and his mother didn't want that for her sons. "She's a single mother, and she couldn't take the New York thing with three kids," Brown says. "She was just 16 when she had my oldest brother, and she had me when she was 25. And we was living in the hood, we was in the projects, so she just wanted to get us away from that."
He had an aunt who lived in Charlotte. "She told my mom, like, 'Yo, this is the place!' So my mom prayed over it, as people do, and she was like, 'All right, I'm gonna go.' She didn't tell no one. She just grabbed us kids, got a little U-Haul and brought us down.'"
By then, CB was already heavy into hip-hop, and quite the rapper himself. "That's how I started rapping," Brown says. "He is uber-talented. He wrote more than any person I've ever known. I used to sneak and read his rhyme books. It was completely vulgar, but I didn't know the difference at the time."
In Charlotte, Brown's older brothers would hang out with their friends, playing basketball or Grand Theft Auto, and young Dayleen would try to join in. "My mother banned me from playing Grand Theft Auto," he remembers with a laugh. "She was like, 'You will not be playing that and you will not be listening to rap music.'"
He did listen to rap, though, and he learned to freestyle. "I would be in my PJs and go up into my room and mimic what they were listening to, put my own words to it," Brown remembers. "Then I would go outside with them and kick the freestyle I'd been practicing for like a week."
Brown was 12 when he joined Charlotte's Steps N Motion dance studio, and from then until 17, dancing was his life. By the time he decided to leave dancing and make a go at rapping and singing, CB had moved on. "He went to school and he welds now," Brown says. "He just figured like, rap wasn't for him. He thought it was a good thing to do when he was young, but for him, it wasn't his thing. But he told me, 'If you really want to do this, then chase it.'"
This is how Day Brown is feeling.
The first song Brown wrote was "How I'm Feeling," which he made a video for. "I was like, 'Yo, I want to write a hit, something people can sing along to," he says. "So I wrote, 'I might just drink tonight, because that's just the way I'm feeling.' I wanted it to be totally organic; the way I was feeling."
The first time he rapped in front of an audience was 2013, two years after he'd left dancing. His friend, the Charlotte rapper Jah-Monte Ogbon, was putting on a show at Area 15 and asked Brown to perform. "I had that one song," he says. When he performed it, he was shocked to find people in audience had seen the video and knew the words.
"I had no idea that people actually knew the song, so when we went up to play it and people were singing along to it, it blew me away," he remembers. "This was the first time I ever rapped for people, and people were singing along to my song. We killed it."
Day Brown hopes to kill it at Petra's in the same way he killed it during that first show. "There's going to be multiple performers, so my set won't be too long," he says. "But I'll give a good mix of stuff from the new album. I'll be doing a couple of sung songs and a rap in the middle, just to keep it simple, so people can see both sides of what I do. I really want people to grasp the melodies and things they can sing along with. I want it to be easy for them to remember it, to remember me."
____________________________________________________________________________
Watch Day Brown dance his way through the 2010 AT&T commercial "Rethink Possible," along with fellow Millennium Studio dancers Lisa Wright and Mary Vaccani:
____________________________________________________________________________
Listen to 199G: