From weddings to the ballpark, 26-year-old Laura Wolff can elegantly capture just about any moment as it happens. Laura's eye for composition and gift for capturing such striking scenes is creating a buzz as her photos go viral across social media.
After Wolff's incredible images began to go viral, the significance of her photography skills became apparent. It was also apparent that few, if any, other team photographers have captured ballparks the way she does.
Imagine getting off work for the day and then heading to another full-time job. What does that look like? An 80-hour work week. Take one look at her resume or daily schedule and you can tell she is truly exceptional. Laura maintains a corporate 8-5 job working in human resources but her grind does not stop there.  She is the team photographer for the Charlotte Knights and attends every home ballgame and major event that is at the ballpark. She photographs all game action as well as events like FanFest, concerts, corporate parties, etc. During football season, she works for the NFL as a Live Content Correspondent during the Panthers home games and events. She photographs both teams, game action, player arrivals, and player attended functions. But wait, there's more! Laura also has her own photography business, L. Wolff Photography, LLC. She photographs weddings, portraits, sports, families, and more. Her jam-packed schedule may seem overwhelming to some, but Laura embraces every moment.
A self-described outgoing introvert, Laura's camera lens has presented her both an invitation and social buffer to interact with others and bring her gift to life. "In my line of work, you can't be afraid to take charge and I think that forces me to be more of a presence than I would normally be. Don't get me wrong - put me in the right situation and I can hang with the best of them, but I am a people watcher at heart."
This former student-athlete is no stranger to a demanding schedule. She attended Virginia Tech where she played softball while studying Communications and Multimedia Journalism. She used her elective courses to build on her photography knowledge and took photos outside of classes for herself and HokieSports to gain experience and a professional portfolio.
I spoke with Laura about her photographs, her work with the teams, how she got to where she is, the next goals for her career and beyond. Scroll down to read the exclusive interview.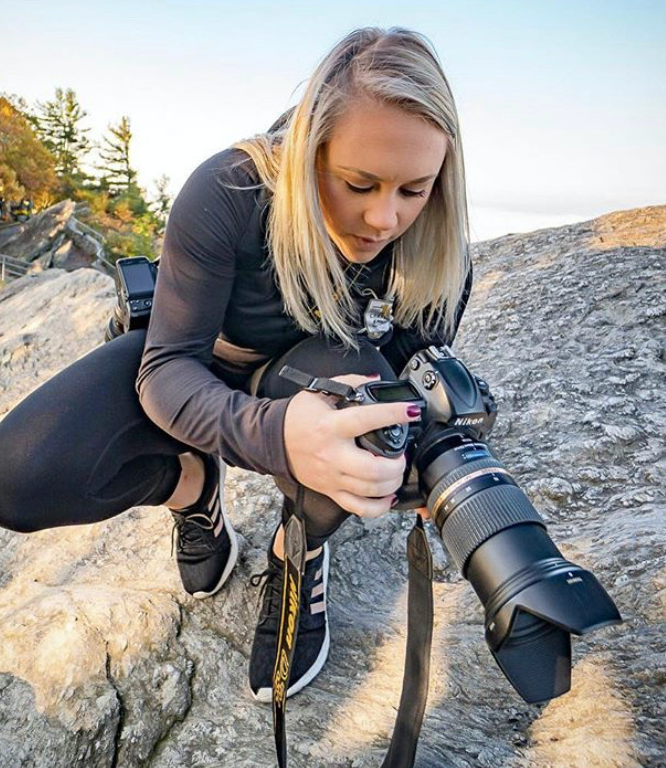 How did your photography journey begin?
 "In high school, my uncle let me borrow his film camera for my first ever photography class. It was a dark room/film class during my junior year of high school. It was challenging but I learned a ton about the technical side of photography. My senior year I took a digital photography class and that is where I found my niche. I loved all the possibilities that digital photography provided - instant images, digital manipulation, motion, being able to freeze time, all of it. That digital photography class sparked my interest. I love creating different images while capturing memories and exciting moments." 
Do you post-process your photographs yourself? After the shoots, what's the process of getting the photos from your camera to the client?
 "Yes, I process all my photographs myself. I like to edit my photographs based on the feeling and ideas they give me and I don't think anyone else would be able to do that if they were to edit my photos. As soon as I take a photo I know how I want the finished product to look. Most of my clients prefer digital images, as do I. As soon as I am done shooting I transfer my images from my memory cards to my computer/external hard drives. Then the sorting process begins. I go through all the images and select the best ones to edit. Editing the photos is fun to me because I get to bring my imagination to life. After I edit the photos I either put them in a Google Drive folder, Dropbox folder, or provide my client with a flash drive of the images."
What is it you most enjoy about working with the Knights/Panthers?
 "Working with the Knights and the Panthers is part of my dream. I love every second of it from the crazy wins and dangerously close calls, to the game delays and everything in-between. I wouldn't change anything about my jobs. I enjoy the action the most. My jobs are exciting, they are emotional, to me, they are deeper than just taking photos. For me it is capturing the action and emotion in the moment and delivering that to the viewer. If someone feels emotion - pain, excitement, anger, happiness, sadness, humor - then I have done my job." 
Which photo are you currently most proud of (sports related)? 
"There are actually two photos that I am most proud of. The photo I am most proud of is the photo of the field at Knights Stadium lit up for Christmas that went viral after the MLB posted it on their social media pages.
(see below)
That was a crazy experience! My social media pages and phone were blowing up nonstop. It was really cool to see my photo reach that kind of exposure. I am also proud of a photo I took during a Panthers game. I took a photo of Cam diving into the endzone over a Falcons defender and ESPN posted it on their social media pages. Steph Curry quote retweeted it as well so that was pretty cool."
What advice would you give to aspiring photographers? 
"The advice I would give to aspiring photographers is to just be yourself. Photograph and edit what you want, how you want. Don't try to fit a mold that you are imagining. It is okay to get inspiration from other photographers, but be your own image. Work hard, it isn't going to be easy. During baseball season, I work about 80 hours a week. I work my full-time job from 8:00 AM until 4:00 PM with no lunch break. At 4:00 PM I leave work and head straight to the baseball stadium. From 5:00 PM until 11:00 PM, midnight, sometimes even 1:00 AM, and I am working on my photos to make sure they are ready for my boss to post the next day. I drive home, get myself ready for the next day, set my alarm for 6am and go to bed.
When she has time to get away, she enjoys visiting with her parents at the beach in the summer and in Maine during the fall. Laura likes being with friends and family but also values her alone time tremendously. When she's not behind a camera, she channels her artsy flare into decorating her apartment. Refinishing and making furniture from scratch – add those to her list of skills. A cat mom of two, she also adores time spent with her two furry friends, Chado and Callie.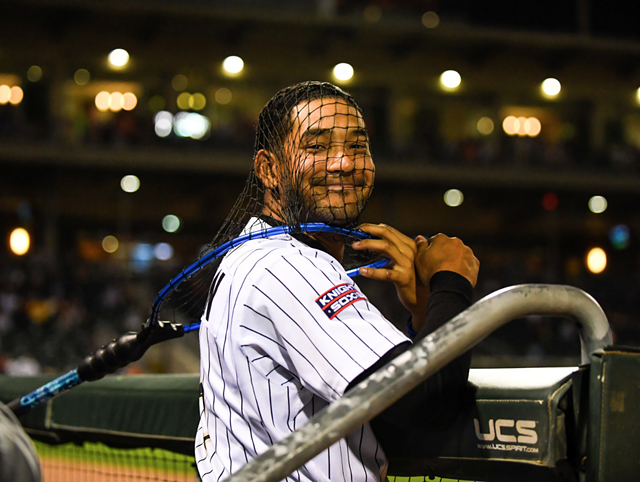 The more you understand sports, the more you appreciate the way she captures the game. That is the beauty of her work. She immerses herself into the action, capturing not only the thrilling, game-changing moments but also personality shots like the one above. Laura balances her unique artistic style with tried-and-true tricks of the trade. This line of work requires resilience and drive. The competition is fierce; however,
Laura is not intimidated by the process
. In fact, she has her sights on being the
photographer for an MLB team
.
It's only a matter of time before this Queen City gem earns her major league promotion.
Follow Laura on social media: @laurawolffphoto
Visit her website: www.lwolffphoto.com