We've all seen the #IMissTheOldKanye memes that have floated around on social media the past few years. Next week, Charlotte will be getting the "I Miss The Old Kanye" live event.
Believe it or not, the idea for "I Miss The Old Kanye," which takes place next Saturday, May 5, at Studio 1212 on East 10th Street, predates the rapper's latest shenanigans. But the timing of the show — featuring a variety of local artists including rappers Nige Hood and Raheeme, singer-songwriter and electronic artist Deion Reverie, and R&B singers Will Wildfire and Cyanca, among others — couldn't be more perfect.
Unless you live under a rock — or far away from any kind of media — your news feed has been inundated with the mercurial Mr. West's recent pledges of love to his mercurial "brother," the reality star (and, oh yeah, president) Donald Trump. "You don't have to agree with Trump but the mob can't make me not love him," Ye tweeted on April 25, before posting an image of himself wearing a red "Make America Great Again" cap.
Lamont Leak, the Los Angeles-based promoter of the "I Miss The Old Kanye" live music series, launched it back in 2016 in Los Angeles — just after Ye cancelled all remaining dates on his Saint Pablo tour. Even then, the timing of Leak's event was completely accidental, the promoter said by phone from L.A. on Thursday, the day after West began his most recent flurry of tweets.
"The week we did the first 'I Miss The Old Kanye' event was the week after he had the breakdown, and after that happened, people started posting 'I Miss The Old Kanye,'" Leak said. "We already had our promotion and were getting ready for the show, so we was like, 'Oh, man, this ain't no joke — we really do miss the old Kanye!'"
The event has now taken on a life of its own, traveling to Detroit, Philadelphia, Washington, D.C., and other cities. Leak, who works as a casting producer for The Voice and other music-based TV shows, formed theliveplaylist.com to produce immersive music and art experiences, and hooked up with the Charlotte-based music platform Disctopia, which helps him find local talent in specific cities.
"We were looking for artists of all genres, and Will Wildfire was one of the artists I was looking at," Leak said. "So our sponsor, Disctopia, which is a minority-owned platform in Charlotte, helped us. That's the reason why we're bringing this to Charlotte, because that's Disctopia's headquarters, that's their home, and they've been really helpful to us. They're the reason we've been able to do this in other cities all across the country."
The Kanye events, Leak said, initially came out of his love of Ye's music. "I was just like, 'Yo, I really miss the old Kanye,' and at the time it was more the music that I missed — like 808s and Heartbreak and Late Registration and Graduation," Leak said. "I really missed that particular era of music from Kanye. I missed what he represented, I missed him. I just missed the brother. So this was really just me creating what I wanted. It came from an honest place. I wasn't looking to make money. I wasn't looking for notoriety. I just love Kanye."
So do the Charlotte artists who signed on for the May 5 event here.
"Kanye West has been an influence on me for a long time," rapper Nige Hood said, "mainly because he was the breakout artist to transition hip-hop's cool from gangster to intellectual and cultured. I could relate to his expression."
Ye's Wednesday twitter rant hasn't changed Hood's feelings about the rapper. "I personally do not feel affected by his recent actions," Hood said. "I am more touched, so to speak, by the pandemonium that ensued afterwards — not by him, but by the public. The same public, I feel, has had enough experience with the media, Donald Trump and Kanye West to know that going crazy about this particular episode might be a waste of our energy."
Singer-songwriter Deion Reverie agreed. "Kanye supporting Trump doesn't all of a sudden make him less talented or less influential," he said. "Also, we all know that there's one thing Kanye is a master at, and that's getting people talking about Kanye. He has two new albums dropping soon, and headlines all over the internet are talking about Ye. Genius."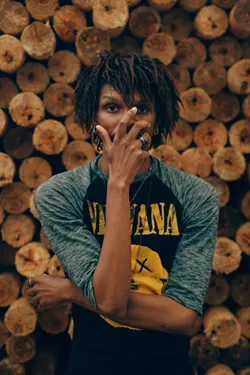 That's the way Leak sees it, too. "Kanye is one of the more brilliant marketing geniuses of our time. What I think — him doing this allegiance to Trump thing — I just think it's marketing," Leak said. He cited the TMZ video of West that appeared in the midst of the kerfuffle on Thursday, in which he rapped a few lines that may or may not be on his upcoming album, including, "Hopped off the Amistad and made 'I'm a God'" and "Parents are the strippers / Strip kids of their confidence / Teach kids white dominance."
"I saw the clip of him doing that short verse and it was very politically conscious, very Common, very laden with a message," Leak said. "So I really think Kanye is just using this to bait people. He did the same thing with Pablo. He went away — he wasn't tweeting, he wasn't talking, and then all of a sudden he came from out of nowhere sending all these random tweets, doing random stuff to get people talking about him.
"And so here we are now," Leak continued, "with one ballistic photo and a tweet that sends everybody into a frenzy. He's getting billion-dollar marketing and not having to spend a dime for billboards and things like that."
West's recent tweets certainly aren't his first declaration of support for Trump, a president who has said that all Haitian immigrants "have AIDS" and that Nigerians would never "go back to their huts"; called some of the Charlottesville, Virginia, white supremacists "fine people," and still claims the Central Park Five — the wrongly convicted black teens later proved innocent of a 1989 rape in New York City — were guilty. Yeezy met with Trump at Trump Tower in 2016, just after he told a California audience on his Pablo tour, "If I would've voted, I would've voted for Trump."
"He expressed his support for Trump pretty early into Trump's presidency," said Reverie. "I was a bit confused. I shrugged — and continued blasting Life Of Pablo."
Still, Ye's behavior certainly is not the "old Kanye" who rapped in "Never Let Me Down," from The College Dropout, "I get down for my grandfather who took my mama / Made her sit in that seat / Where white folks ain't want us to eat / At the tender age of six she was arrested for the sit-ins / And with that in my blood I was born to be different."
Maybe we just didn't know what West meant by "different" in those lines. Maybe different meant being totally counterintuitive about social change. Maybe different, for Ye, today means screwing with perceptions of how the public "expects" black people to react in any given circumstance. Maybe. And maybe not. It's hard to tell.
Later on Thursday, West was tweeting that he just wanted to spread love, not hate. Perhaps that means his acknowledged "support" for Trump may not be as it appears. One of his final tweets on Thursday was, "Artist transform tragedy into beauty."
While it may be impossible ever to parse West's words in a way that fully explains his true feelings, earlier today he seemed to be backing away just an inch. "I haven't done enough research on conservatives to call myself or be called one," he tweeted. "I'm just refusing to be enslaved by monolithic thought."
As for the local artists appearing at the May 5 "I Miss the Old Kanye" event, at least one of them isn't putting too much energy into interpreting Ye's behavior at all. Charlotte rapper Raheeme, who said he's never been "a Kanye fanatic," is just glad to be performing at the show.
As for Kanye, Raheeme said, "He lives his life, I live mine. He has his beliefs and moral foundation, I strive to do what's right and genuinely give back love to this planet while I'm here. I'm doing this event to provide a great performance experience for the city of Charlotte."