All photos of Charley Crockett by Lyza Renee.
If you're a male child of a certain age, grabbing a coon-skin cap and playing Davy Crockett, "King of the Wild Frontier," was just part of the ritual of growing up. For Charley Crockett, it was a little more than that.
True to his maverick ancestor's reputation, the 32-year-old singer and songwriter resolved early on to be the king of his own wild frontier, breaking out of his hometown of San Benito, Texas, and traveling all over the United States and as far away as Spain and Morrocco.
"I always feel the wanderer pulling at me, and I think that's different than a frontiersmen's spirit." Crockett observes. "Being a professional musician is a way of staying out on the fringe and in the gray area, which is where I prefer to be."
Crockett recorded his fourth and latest album, Lonesome as a Shadow, in the studio at the legendary Sun Records in Memphis, and it showcases a range of Gulf Coast musical styles, from the blues to Cajun to Tex-Mex.
He and his band the Blue Drifters will be appearing with Shovels & Rope at Creative Loafing's Moo & Brew Craft Beer and Burger Festival at AvidXchange on Saturday, April 28. We reached out to Crockett to find out more about his legendary bloodline and, of course, his music.
Moo & Brew Fest: Your famous ancestry is well documented. Do you feel like having Davey Crockett in your DNA compelled you to make some of the choices you've made in life?
Charley Crockett: What I've learned about DNA is that if you go looking into it, you're bound to find things about your heritage that will challenge what you thought you knew about yourself and the world around you. I feel connected to Davy through the conflicts and struggles that he faced in real life.
Like what?
Early on he was an Indian scout in the Creek War. Later, as a politician, he favored Native American rights against the Indian Removal acts sweeping across the frontier. The irony here is my grandmother had Creek Indian heritage while my grandfather has the direct lineage to Davy himself. This constant conflict is a powerful part of the American experience.
I think by the time Davy made it to Texas he was disillusioned with the U.S. government. But then after his death at the Alamo, he became a martyr and his name was used to rally public opinion in favor of the Texas Revolution, ultimately ending up as a state.
There are two different people here. There's Davy Crockett made famous in every household thanks to Disney and the nationalism that this image supports. Then there's David Crockett, the real man on the far outskirts of American civilization caught up in conflicts far greater then himself.
He represents rugged individualism, and I think this is more Texan than it is even American. It's most certainly part of what's driven me down deep, there's no doubt.
Mr. Crockett surveys the cotton.
Lonesome as a Shadow showcases a range of Gulf State Americana styles. Which songs have been the most enjoyable for you and the band to play live?
We like to call our sound Gulf Coast boogie woogie, and it's important to me to shed light on our rich and diverse regional heritage. I enjoy playing the whole record, but a couple that I really love to do on stage are "I Wanna Cry" and "How Long Will I Last."
Do you feel these styles get enough love from your generation and younger generations?
I think there's a big audience for traditional- and classic-schooled music out there. Look at the success of West Coast festivals like Hardly Strictly [Bluegrass] or Pickathon.
Money-driven corporate types may control a lot of the mainstream airwaves, but when people get a chance to hear honest music it hits them deep, even if they don't exactly know why at first. I think it's a renaissance we're seeing right now. I'm glad to be a small part of that.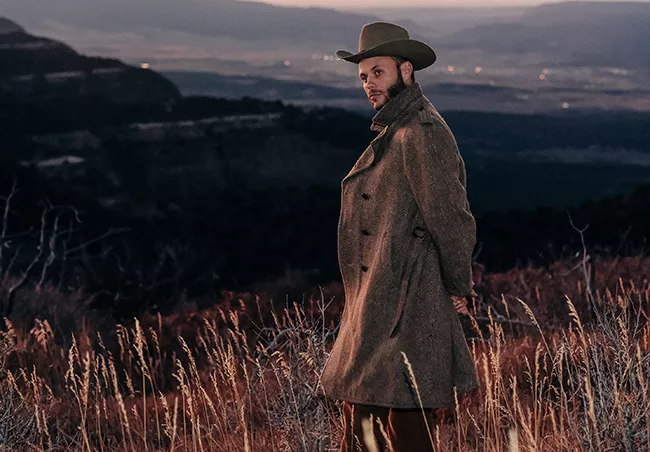 Charley contemplates the valley below.
Any specific musical styles you would like to explore in the future?
I'm heavily drawn to Appalachian folk music. I want to bring the banjo into my repertoire more and more.
When I was a street player in New Orleans I met and played with a lot of travelers coming out of a sound called "Appalachian Stomp," which is a bluesier driving kind of banjo and fiddle sound. I really like the music of Ralph Stanley — that minor singing style over the major key.
Just now, I've been paying attention to Texas-Mexican border ballads. The stories of courage in those songs are so inspiring and are really valid in modern times. [And] I'm forever digging deeper into traditional Cajun and Creole music.
You'd be hard-pressed to find a more unique American sound then the music of southern Louisiana.
(This story is sponsored by Creative Loafing's Moo & Brew Craft Beer and Burger Festival.)
Watch Crockett sing about the "Jamestown Ferry"